A Precious Commission
Recreating Christine's Wishing Dress from Phantom of the Opera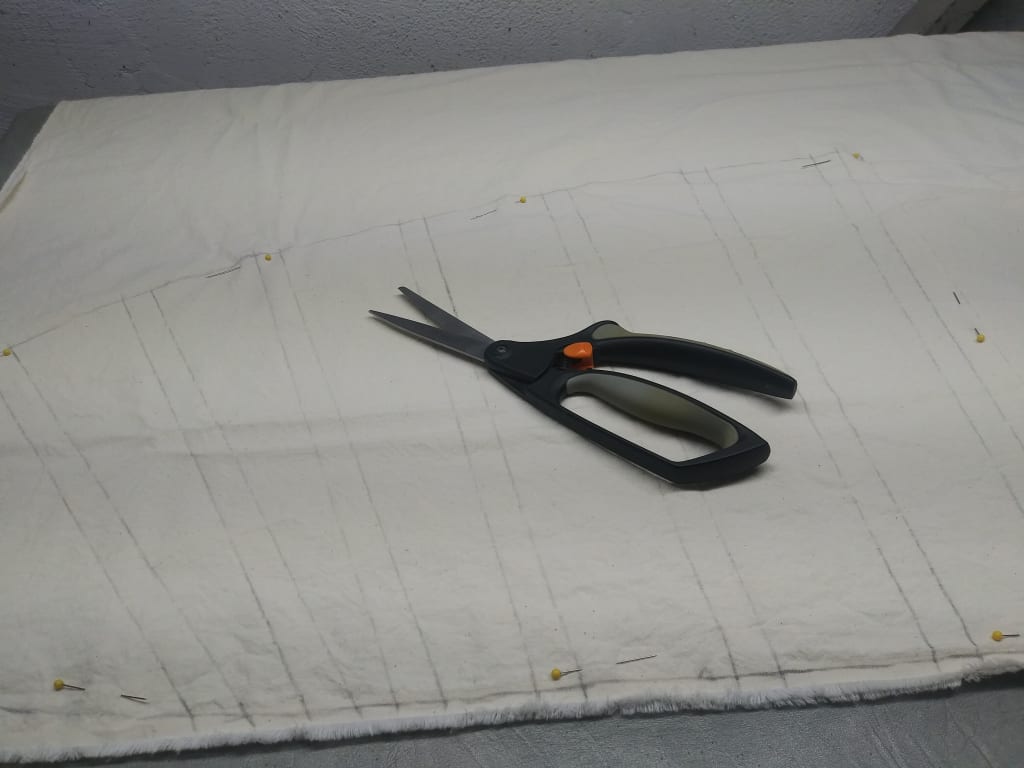 The back of the bustle, ready for cutting!
May 25th, 2021 I submitted a call for commissions on a page that connects SCA (Society for Creative Anachronism) sellers with buyers. I immediately received a few interested messages. As per usual, some didn't pan out, some are still in the initial bargaining phase, and one has already given the down payment.
I was near tears, not just because I was getting paid, but because of what the client had asked me to make.
She wanted the Wishing Dress from Phantom of the Opera. Not an exact replica, mind you, but close. It is a beautiful gown, and I have wanted to make it for a very long time.
That still wasn't why I was almost crying, however. Growing up in a small town with little to no spare money, I didn't get to see the touring productions of various shows when they came to the nearest city. So the first time I saw Phantom of the Opera was when the movie was released in theaters in January of 2005.
I didn't think I would go see it (I didn't really have money for a ticket), but a roommate/friend insisted that we all go.
My friend was making comments about what was different the whole way through. But when the music started up and the cameras showed Christine entering the cemetery, I began to cry.
I had just lost my father a few months before and the grief was still quite fresh. That moment in the movie captured exactly how I felt.
I have wanted to make the dress (from the stage production) ever since, and now this wonderful woman was giving me the chance.
I had helped with Victorian clothing during my theatre apprenticeship, but this will be my first time making it completely on my own. And in all honesty, I won't be alone. I will have the help of a wonderful historical sewing community if I get stuck on something.
So, here is the plan: research, draft, mock up, fit, fix, repeat until fit is perfect, cut, and sew.
I have already started researching the dress, both the stage and movie versions. I have found the fabrics I want to use and run them by the client, but am still searching for the perfect trims. I have a few possibilities in mind.
Next step is drafting the pattern. While I know how to hand draft, using the computer is so much faster and there are no erasure marks. Printing can get a little costly, but it's worth it to cut pattern time down from about 3 hours to 45 minutes. And the program I use will adjust to new measurements in seconds, so I only have to do a full draft once!
While I usually make my own patterns, I decided to use the Truly Victorian Imperial Tournure pattern for the bustle to save time and hastle. I have already started cutting it and plan to use it as the final piece, barring any unforeseen mishaps. Everything else will be drafted by me.
After I have the pattern, it's time to start cutting the mock up! Even though the program is very precise, human error is always a possibility. I like to make them out of inexpensive muslin that I can reuse over and over.
The mock up will get shipped to the client for fitting, either over a video call or with copious amounts of pictures. I'll have her send the mock up back to me with safety pins in where applicable so I know what needs changed and can adjust the pattern. If the changes are drastic, I will do a second mock up, reusing the first one if I can, and send it back out. Rinse and repeat until it fits perfectly.
Now that the pattern has been perfected, I will start to cut from the real fabric. These have been shown to the client for pre-approval. Assembly will begin in earnest and with great care. Once the shell is assembled, it will be time to add the various trims, appliques, and buttons that make the dress really pop.
I will of course provide a step by step update as I go along. There will be another post for each part of the journey, so follow along as I create a dress that helps me connect with the memory of my father.