8 Free Online Marketing Places for Lawyers
Online Marketing Places for Lawyers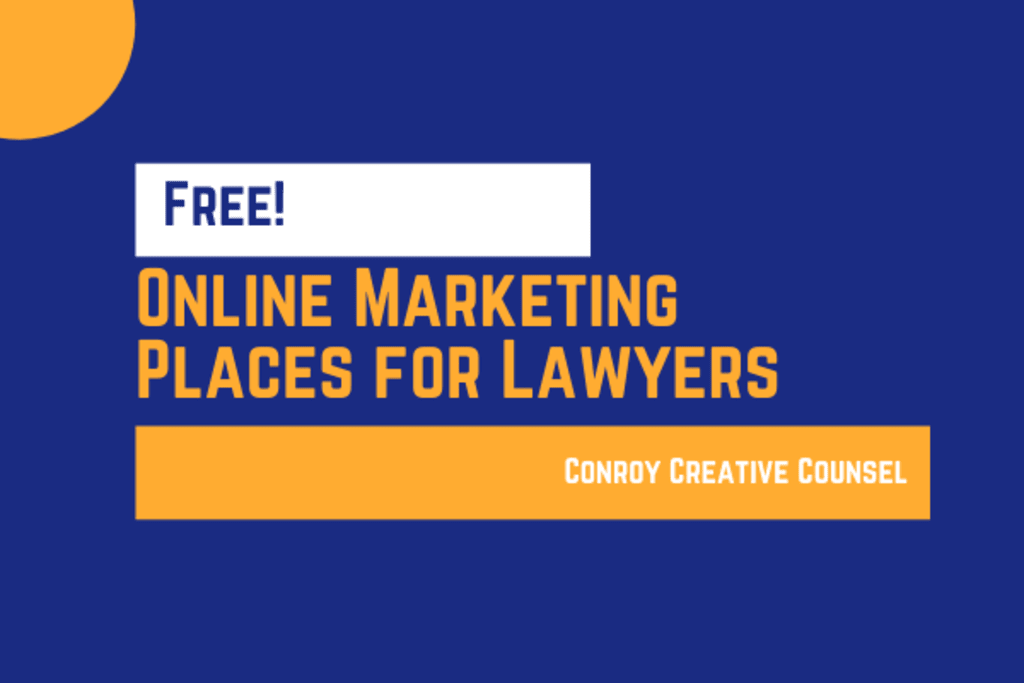 A significant portion of a law firm's operating budget is taken by marketing. It can include everything from advertising costs to website maintenance; it is an essential task that can turn into a substantial financial burden in the future. Thus it is necessary to understand and utilize the various free marketing tools available on Online Marketing Places for Lawyers.
If it is a resource that celebrates the professional accomplishments or showcases your skills, so free marketing is an excellent way of getting new clients through a gateway. It is essential for your potential clients to find you online, but you need to know you need to have way more than just a website or social presence.
1. Avvo.com
One of the best Online Marketing Places for Lawyers is Avvo.com. It offers customers with lawyer referrals besides providing a database of legal confirmation compiled with attorney answered questions. Typically, every lawyer includes integrated reviews, peer endorsements, and disciplinary actions.
Additionally, you can also add information to your profile after you have claimed it. Avvo also maintains an attorney rating system, which depends on the information in your face and data claimed from both local and state bars.
2. Yelp
One of the most useful tools for online marketing is Yelp. It is mainly due to the reviews that are most likely to be ranked higher amid your name in the search results. All it means that if a potential customer decides to look you up online and among all the search results, they will likely see your Yelp.
If you want to monitor your firm's activity, then you need to use your business's dashboard. It offers you information, including customer leads and user views.
3. Facebook
You need to know that Facebook is way more than just a platform to post your family pics or political arguments. Above all, it is an essential tool for law firms that leverage it correctly. You should undoubtedly get one if you don't have a Facebook page. You can make your Facebook page out if you use some exciting visuals and videos, and also you need to post regularly and often.
Above all, Facebook can be a great tool to attract your target audience. The platform offers some analytical information, including age, location, and gender of the page's visitors.
4. Your law firm blog
Though it may not be free entirely but as you are already paying for your website so that it's up and running but take advantage of this. It is a potentially valuable opportunity, so the blog is a fantastic way to establish yourself as a professional in your expertise areas.
Experts who offer services for internet marketing for attorneys, digital marketing for law firms suggest that the right blog can serve as an excellent first impression for your potential clients.
5. Guest blogs
One of the best ways to develop your content for a website besides your own is guest blogging. Though you might think that it is a counterproductive practice, it is one of the most useful marketing tactics. Guest blogging provides an offer to you to share your legal expertise with a large amount of audience.
Above all, you need to ensure that you integrate your details in all the blogs so that you can enhance traffic to your website. It would be best if you thought strategically when you establish your figure of authority.
6. Google My Business
You need to visit Google My business and integrate your law firm data if you haven't already done so. The tool gives you an opportunity to be listed on Google maps and on Google plus. In this way, when your potential clients Google about you and also quickly get information about the directions to your office.
Thus, your law firm needs to maintain your presence on Google and ensure the information is up to date.
7. Bing places
Experts who offer online marketing for attorneys, digital marketing for law firms state that you shouldn't forget about Bing. However, the platform isn't used as widely as Google but still a popular search engine that is used by millions of people.
Thus when you add your law firm to this platform, then you are most likely to enhance your chance to be found through the internet search.
8. Justia
Justia tends to offer the public with free legal information on different standard topics. Still, it also tends to create lawyer profiles that appear on the site and legal information Institute website. You can also consider personalizing your profile and links to your social media accounts.
If you tend to choose the best online marketing places for lawyers, all you need to know is that you don't forget to consider your ethical obligations. Lastly, it would be best if you were careful about undertaking any advertising that might lead to a confidentiality breach.
Author Bio
Sophia Dicosta is a digital Marketer by profession with hobbies of innovative and online marketing writing. She works with Conroy Creative Counsel, provide SEO for lawyers.