7 Signs That You Crushed Your Job Interview
7 Surefire Signs That You Crushed Your Job Interview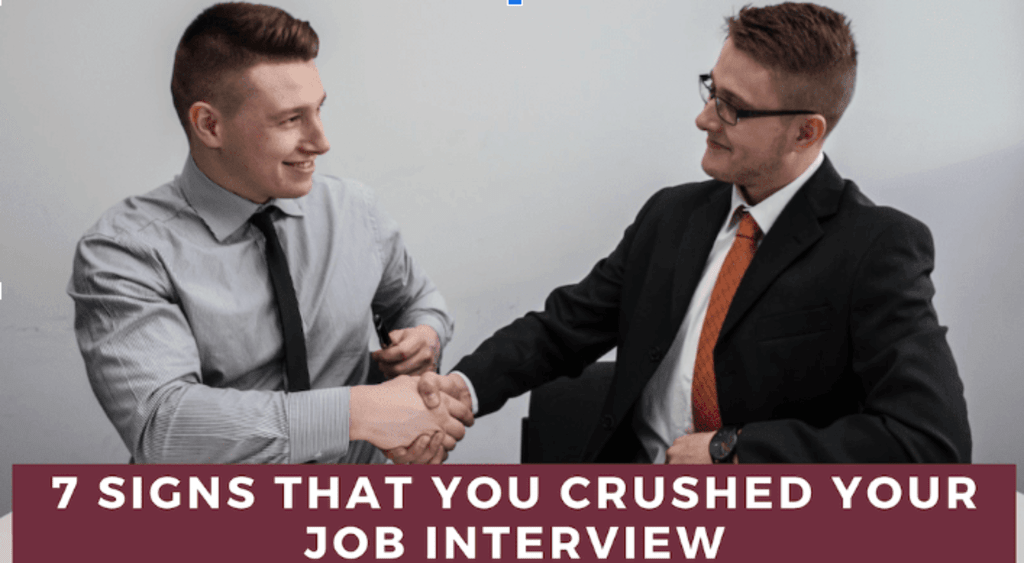 Job interviews can be super stressful. Sometimes, you know right away that it isn't going well or that the job isn't a good fit for you. And sometimes, when the interview goes off without a hitch, you leave confident that the job is yours.
But you can't always be so sure.
Wondering if your interview went as well as you think it did? Here are seven signs that you crushed your job interview (and that you just might get the job!).
1. The Interview Runs Longer Than Expected
Everyone is busy, including interviewers. If they don't like you, they'll probably rush you through the standard questions, get it over with as quickly as possible, and move onto the next person. A short interview is usually a bad sign.
A lengthy interview, on the other hand, is a great sign. It usually means that they think you'll be a good hire and they want to learn more about you.
A long interview also indicates that the interviewer is enjoying the conversation. The longer they keep you, the more likely it is that they're considering you for the position.
2. You Get Introduced to Additional Team Members or Management
Most companies don't hire on the spot, so you'll probably have to go through an interview process. This often entails a call-back for a second interview to meet with additional people.
If the interviewer brings more people into the conference room or introduces you to other managers, there's a good chance they want to hire you.
Some companies might introduce you to additional employees right then and there. Some may set up a second interview before you leave. Both are positive signs!
3. They Ask for References
Reference checks only come into play when an offer is made or about to be made. No one will ask for references if they don't intend to hire you. If the interviewer requests references at the end of your meeting, get excited.
Make sure you have a list of references ready in case your interviewer asks for them. It should include the names, titles, and contact information of everyone that you want to vouch for you.
Not sure who to list as references? Whoever you choose, make sure it's someone who will speak highly of you!
4. They Ask When You Can Start
They won't ask when you can start unless they're seriously considering you for the job.
And while they ask this question for scheduling purposes, it also sheds light on something else:
Your level of enthusiasm.
Your answer to this question will show how interested you are in the job. If you say "I'm not sure" or "I can start next month," it shows that you're not all that excited about the opportunity.
If you are currently employed, let them know you'll give two weeks notice to your current boss as soon as you receive an offer.
If you're not currently working and you're interested in the position, say that you can start tomorrow. There's no better way to show your enthusiasm than to volunteer to start immediately!
5. They Show You Around the Office
Nobody will waste time showing your around if they don't want to bring you on the team. The office tour is usually reserved for interviewees who are very high on the candidate list.
If you get a tour, listen to the language the interviewer uses while showing you around. If they say something like, "This is where you'll be working," you know you crushed it!
The longer the tour, the better your chances.
Maybe they take the time to point out the fridge full of free water and snacks. Maybe they mention how good the food is from the on-site chef in the cafeteria. Perhaps they even show you the treadmills in their fitness center.
If they start talking up their perks, they're trying to entice you to want to work there. And they won't do that if they don't like you as a candidate.
6. They Talk About Salary and Benefits
The topics of salary and benefits usually come up in the negotiation process, not the interview. If the interviewer raises these topics during your initial meeting, you can be sure they're interested in you. They might also talk about these things if they think you're interviewing for other jobs.
Salary, benefits, and perks are ways to woo you. The more they can offer you, the more likely you are to accept their offer and pass up others. If you're told that you'll start with two weeks of paid vacation and ten PTO days, it's because they want to win you over.
7. They Talk About the Next Steps
Usually, the candidate is the one to ask what the next steps are in the hiring process. So if the interviewer offers up this info without you asking, that's a sure sign that you nailed it!
In some cases, they may tell you that a second round of interviews is the next step. In other cases, they may say that they're close to a decision and will follow up within a few days.
Both mean you've done something right! There's simply no point in disclosing this information if they have no interest in you.
In Summary
No matter how great an interview goes, there's only one way to know that you truly aced it — and that's receiving an offer. But these are all good indicators that you interviewed well and made a great impression:
The interview runs long
You meet additional team members
They request references
They ask when you can start
You get a tour of the office
They discuss salary and benefits
You're informed about the next steps
Don't get ahead of yourself or quit your current job just yet. These are SIGNS, not proof that you're going to get the job.
Just don't forget to follow up with a thank-you email and ask if you can provide any additional info. Failure to follow up could negate that great interview altogether!
Author bio:
Angus Flynn has five years of property management experience working primarily in high-end apartment community living. His ability to deliver white-glove service to residents and prospects has propelled him into a successful career with Broadstone Market Station.