7 Free Ways to Support Creatives and Small Businesses During The Coronavirus Pandemic
A little can still do a lot.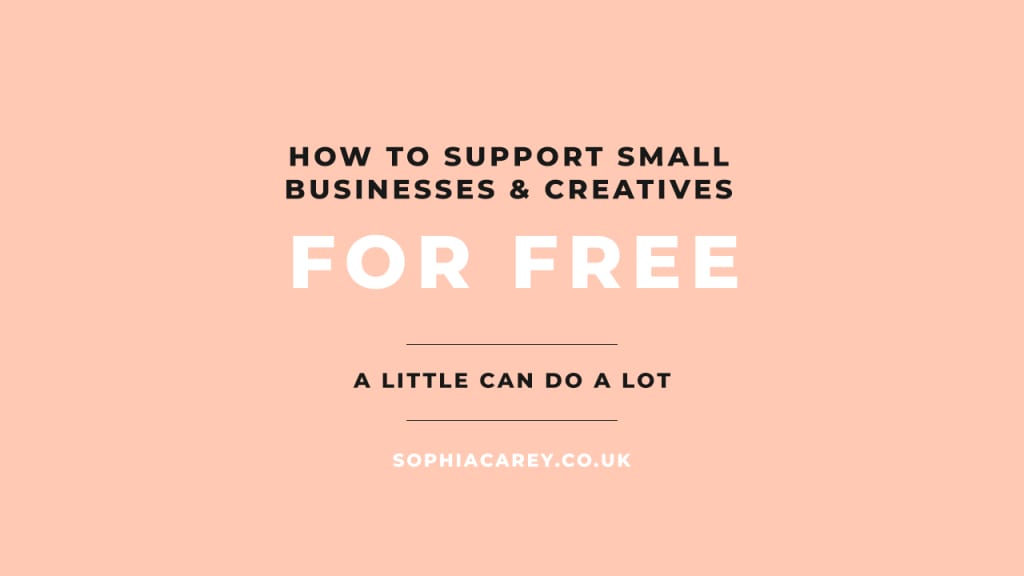 How to Support Small Businesses and Creatives for FREE
This time in the world is a scary and uncertain one. Almost all of us are taking a hit financially, and so it can be hard to find ways to support the people who need it. But, support doesn't have to have monetary value. Here are some FREE ways that you can support creatives and other small businesses during this pandemic.
Write a Review
This one will only take you 5 minutes, but could be a way that someone could find their future clients post-pandemic. If you've ever hired a creative, for example, or used a small business' services, write them a short testimonial (between 5 to 10 sentences long should do it). It's especially useful if you can share this testimonial to their business page (Google or Facebook are good) or publicly share it in some other way, such as on Instagram.
I know that, as a photographer myself, the testimonials I get are enough to brighten my day. Not only is it lovely to hear how someone enjoyed your service or your end product, it's also useful in providing credibility to my business.
Share Their Work
Sharing someone's work or business is not only free but it can be incredibly useful in widening their reach. Just because you can't offer them financial support or buy any of their prints at this time, doesn't mean the same is true for everyone. Your simple share could pitch the creative in front of their next customer or a future client for them.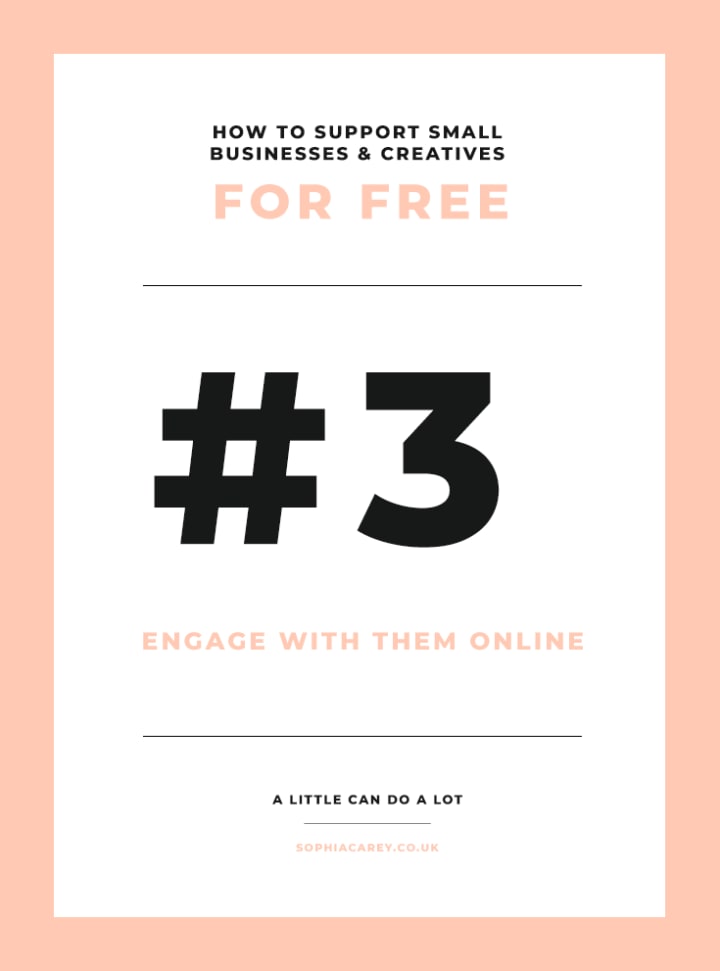 Engage With Their Online Presence
A simple way to help out a small business or creator is to engage with their online presence. By this I mean liking their posts, commenting on their posts, helping them beat that algorithm that is working against them. This one takes next to no time, and it probably the easiest one on the list.
Offer Your Own Services
If you have a service yourself, you could offer your services to them — whether it's in return for something or just from the kindness of your heart. For example, if you're a social media manager, could you offer a friend's business a free Instagram audit? How about a designer who could give a friend advice on their new YouTube thumbnails?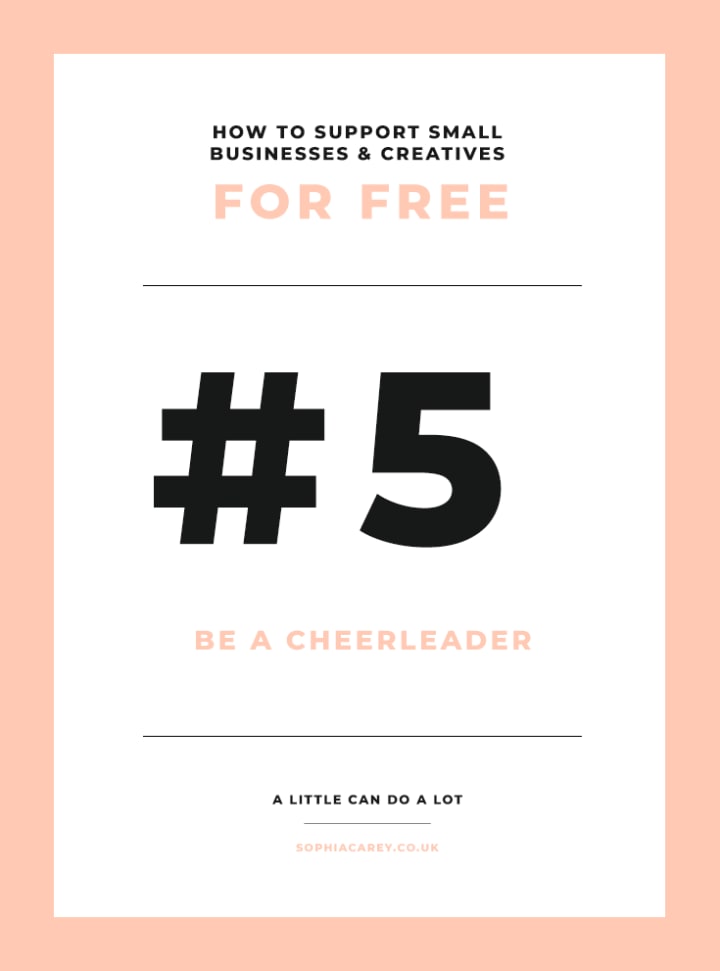 Be A Cheerleader
Simply offer them support. Cheer them on, listen to their ideas, help to motivate them. Send your favourite creator, or your favourite coffee shop, a direct message just to say how much you appreciate their work! Kind words can go a long way, especially at times when people might not be as motivated as usual.
Use Their Links or Engage in Their Ads
This one is more specifically aimed at assisting influencers or bloggers. If you know someone who runs a blog, how about using their affiliate links or clicking on their blog ads. These things require little effort but can go a long way in supporting a creator.
Postpone Instead of Cancelling
Whilst this one isn't really free, I think it still counts. If you had already booked in for a service which can now no longer be accessed, consider postponing it to a later date rather than requesting a refund and cancelling it all together.
Summary
I'm sure if you were to think hard enough that you'd be able to find even more ways to support small business for free at this time, but hopefully these ideas plant some seeds in your mind. Of course, if you do have some cash to spare, there are a breadth of ways you can support small businesses with a little money too, if you're feeling generous or are in the position to do so. One of my favourites is to consider purchasing a gift card which you can redeem post-pandemic, or you could even tip someone for their past services or current services (if someone, for example, puts out valued content online for free). The possibilities there really are endless.
If you're a small business or creative at this time, I wish you luck and also encourage you to engage with these ideas and support your fellow creatives and small businesses.