6 reasons why you should go for Microsoft SharePoint Development
SharePoint is basically a web-based application that is used for data storage, collaboration, and document management even in complex enterprise environments.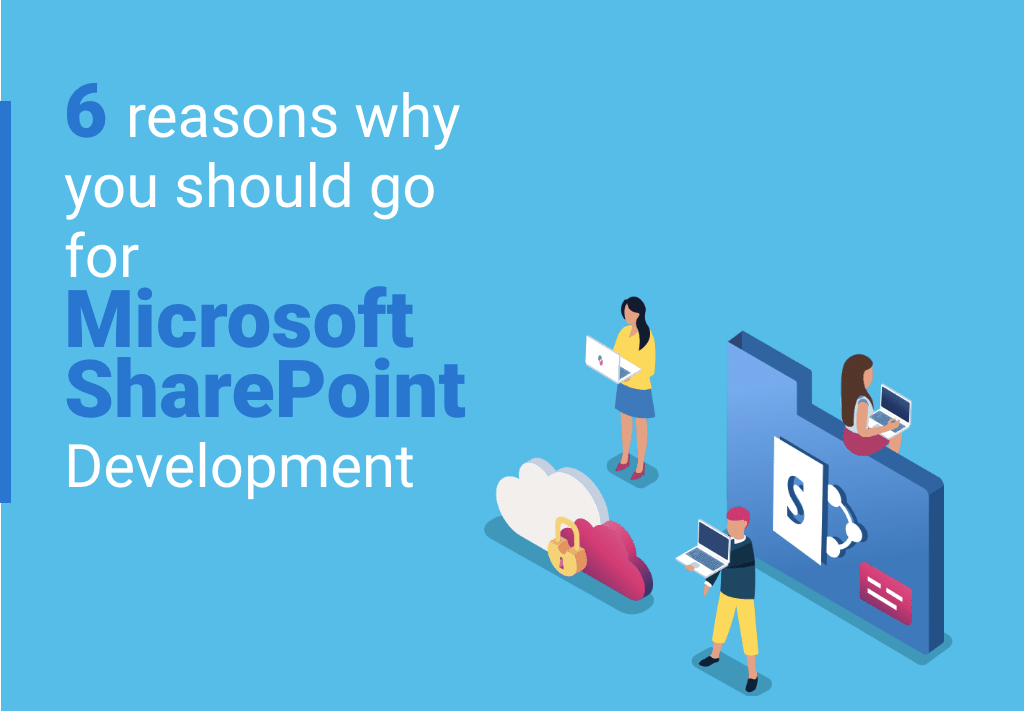 SharePoint is one of the most popular enterprise-ready web services offered by Microsoft with a user base of around two hundred million worldwide. Initially started as an application, SharePoint today has become a platform to help team members in software development collaborate and communicate effectively. With a wide variety of usage in enterprises and web-based app development companies, Microsoft SharePoint is widely being accepted as a robust solution. So, if you are willing to hire SharePoint developers, let us first discuss the various benefits associated with SharePoint development, let us first understand its core functionality and usage.
Introduction to SharePoint development
SharePoint is basically a web-based application that is used for data storage, collaboration, and document management even in complex enterprise environments. SharePoint is widely used for building great web apps. SharePoint development is highly beneficial when it comes to store, share, collaborate, and access data from multiple devices without restraint.
1- Multi-purpose functionality built-in
As the SharePoint is highly flexible, this collaborative platform serves as an intranet, which is simply a company's internal website for information sharing, scheduling tasks, contacts, and much more. Depending on the user's status administrators can assign different permission levels. Furthermore, the platform has robust functions for document sharing, file management, social networking, business information, and others that are typically involved in the day-to-day operations of your business.
2- Centralized administration
Ease of management is one of the biggest benefits of using SharePoint. The SharePoint dashboard panel displays all the business activities on a single screen. You can easily access application management features, manage system settings, manage security settings, perform backups & restorations, and change general application setting all in a single location. You can allocate work to your employees and can also get the progress reports from each one of them. You can simply open the dashboard to get vital information, notification, and updates. Thus, you have centralized control over all your business.
3- Easy customizable
Through SharePoint, you have the ability to keep the default features as they come or also build custom applications and components with ease. Your team has an option to customize the entire application interface keeping in mind your organization's branding through the drag and drop functions. This way you can tailor the SharePoint features as per your business needs.
4- Document management and collaboration
The best part about Sharepoint is that the team members can easily remain connected and share their files and updates while working on the app development project. The recent features of SharePoint allow you to have real-time streaming of information, providing you more ease in accessing and sharing information within an organization, that can be even accessed by mobile devices. This way, the employees can make better decisions, meet deadlines, understand the shared business strategy, and contribute in a better way.
5- Enhanced security
If you are concerned about security, worry not! SharePoint comes with great security and integrity features. Embedded with robust security features, the platform helps in protecting the integrity of the app data from all the unauthorised access. Some of the security and integrity features that make SharePoint an ideal collaboration platform include managing permissions, ability to see all the subsequent editing and revisions made to any document, and different layers of security both at the level of document and the overall app level. You can configure different settings that control shareability, storage, and auditing for unmatched data security.
6- Effective content management
Social networking in SharePoint enables you to share your ideas, updates, and content easily. You can publish office documents on the platform and can also share it within the company or outside the organization as per your requirements. Similarly, you can create and edit tasks from any device and convert documents to and from various formats, like PDF, Word, or Excel. This way, SharePoint lets you manage your business content effectively and allows you to use it whenever you desire in an organized manner.
There are several other benefits associated with SharePoint development with the addition to the above-mentioned points like scalable infrastructure, site consolidation, easy integration with existing apps, among others that can certainly grow your business. With a reliable Sharepoint development company, with expired Sharepoint developers on your side, can surely help you in leveraging these advantages and make the most out of this technology.