5 Best Free Tools For Vocal Creators
You want to count the word or write a better article on Vocal? This guide is for writers On Vocal.
I am writing on Vocal for over 6 months now and my articles got over 100,000 reads, so I thought to share some tools that I use that could help you in getting more reads and format your Vocal articles. I love Vocal. There are multiple factors that contribute to this thought, the one thought is that I am going to be on this platform till it exists. There is no way that they suspended my account because they accept only those articles that follow their guidelines.
All of the tools mentioned in this article are free to use, some give you limited access until you bought their pro plan. I am using their free plans and you could too if you want.
Grammarly
Grammarly is one of the best tools to find grammatical and finding spelling mistakes. Grammarly might not work perfectly on Vocal as it doesn't autocorrect a spelling on Vocal but it will help you identify one. As a non-native English writer, Grammarly really helped me write better stories. Grammarly is free but if you want more functions then you have to pay a monthly fee to access those features.
Word Counter:
I have read that a lot of Vocal creators have this problem with Word Counter. Now, with a free extension called "Word Counter Plus" you can count the words of your article. This will takes you two clicks. When you install the chrome extension. Click on the Ctrl+A command, this will select all words in your article, now "Right-click" and click on "Word Counter Plus"
As you can see the picture given below;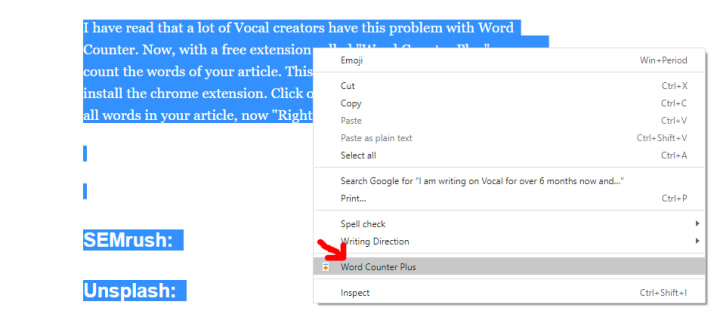 When you click on that option, it will display the number of words your article has. It is a straightforward process, and it might take you less than 30 seconds.
SEMrush:
SEMrush is a famous keyword researching tool. If you want to target search engine traffic then this tool is amazing. It will give you a daily search volume of a keyword and tell you how easy or hard it is to getting ranked on this keyword. Even though SEMrush is a paid product but you can perform 10 free daily searches on this tool. It is one of the best tools when we talk about search engine optimization or writing articles that get more traffic from the search engine.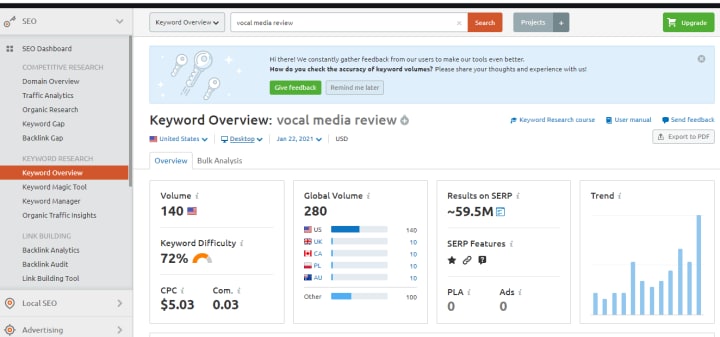 Unsplash:
Unsplash is a free website where you can take beautiful and professional pictures for your Vocal articles and that too without any copyright issues. There are millions of pictures on Unsplash that you can use in your Vocal stories. You can use Vocal to directly add images to your stories or you can visit Unsplash dot com and copy and paste an image. There is no copyright attachment with the pictures, but if you add a credit to the picture uploader, it would be nice.
Join Vocal+ through this link.
The following image is taken from the Unsplash website.
Canva:
Canva is one of the best tools for anyone. You can use Canva for a variety of purposes. As I am a YouTuber too so creating thumbnails is easy and free. Using Canva, you can create Logos, pictures for your Vocal stories, create text images, and even design your Vocal media header and profile picture. You can even create GIFs on Canva for free. Absolutely, they aren't free for everything but you have to use Canva.com for free for almost 80% of the things.
PS: Free tools for Vocal creators:
There are a bunch of other tools that you can use that could make your stories look attractive and different from the rest of the creators. I personally use these tools in my Vocal stories and it helped me a lot.
Read more of our stories we published about Vocal Media:
1. You can make a lot of money writing on Vocal Media
2. $4000 from Vocal media Challenges Sharing The Kathryn Mileswki Experience
3. Vocal Media SEO: How To Optimize Your Vocal Articles To Get Ranked On Search Engines?
4. A subtle Guide for Vocal Creators To get more views
If you are a creator on Vocal, we have created a Facebook group with the name "Vocal Media creator Hub" Join there and share your Vocal experience there.
Also: We donate Tips to charity. Even $1 could make a big difference in the life of poor people. Any tips coming from you guys will be donated to Charity helping poor people meet their needs in these difficult times.
Disclosure: There are some affiliate links in this story and we make money if you bought anything through these links, it will be of no additional cost to you.