3 Reasons Brands Must Monitor Google Shopping
Google Shopping is growing more than ever, with more retailers joining this advertising channel daily. Brands should be monitoring this channel to discover retailers, develop the right retailer mix for their brand, and measuring competition in the market. The following article highlights 3 big reasons brands should monitor the Google Shopping Platform.
Google Shopping is an e-commerce channel which is growing exponentially. About 92.6% of search traffic goes to Google and retailers are pushing to get listed and maximize clicks from the channel. With this in mind, below are 3 reasons why brands must monitor Google Shopping to maximize opportunities.
To Measure Volatility, Competition & Insight into Shopping Ads Dynamics
As a brand, you want your products to appear for the on-brand and off-brand keywords you are tracking. You want the right types of products to appear for the keywords you are visible for. You want to show up in the locations you've targeted and to appear at the times your buyers are searching the most. Unfortunately, Google does not provide this detailed visibility you want and need.
When you are gaining visibility versus other PLA sellers, you want your retailers to be using the best practices Google shopping advertisers use to optimize clicks. For example, you do not want your products to be priced exceptionally above or below the auction median price. You do not want retailers with low reviews and rankings to show up, as that is a deterrent to clicks. You do however want your retailers to use local inventory ad labels such as 'Curbside Pickup' or "In-Store Today", while offering the right promotions, like a price discount or free shipping. You may notice excessive competition between your brand and your resellers for the same keywords, thereby harming you both. Similarly, a retailer may be using all these best practices, but Google may not be showing the right products or attractive images. You may appear, but may not get the clicks.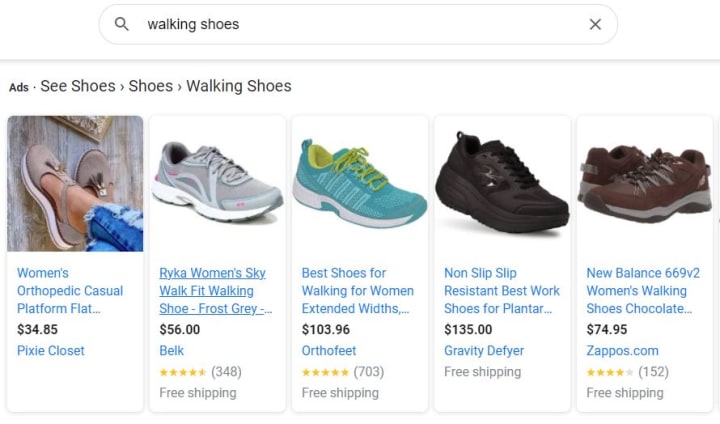 Moreover, Google is always adjusting. Per Search Engine Journal, Google makes thousands of changes in its search algorithm. Your retailers or their agency partners may not be on top of the latest techniques on Google Shopping. You need this intelligence to proactively educate yourself and your retailers, monitor, and support your retailers on best practices with Google Shopping to maximize sales.
To Discover Retailers Selling Your Product
From large to small retailers, authorized to unauthorized retailers, you will see dozens of resellers selling your brand's product in Google Shopping. For example, here is a list of sellers selling Sketchers women's shoes.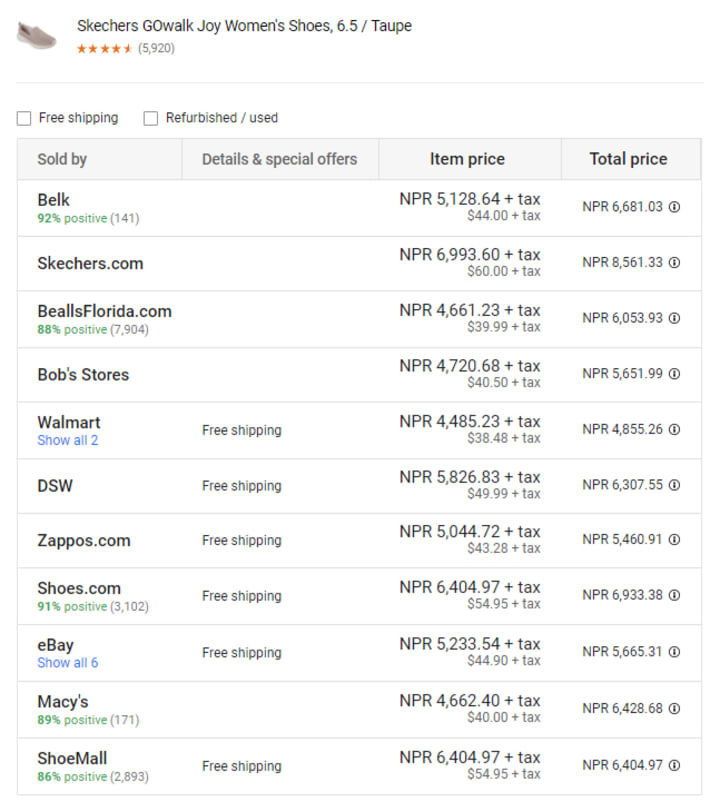 You can see sellers from DSW to eBay are selling this shoe. This visibility into your reseller list helps you understand whether you have the right types of resellers for your product brand. Are eBay sellers the right fit for your products? Are only premium sellers the wrong strategy for some of your value-priced products? You can see whether many of your resellers don't have reviews. Per Inc., 84% of people trust online reviews just as much as they do their friends. Your channel managers can utilize this insight to encourage resellers to gain reviews and share them.
To Monitor Channel/Price Policies Compliance & Gain Insight
You can track the compliance of your resellers to channel policies that you have created. In the above example, shoes are priced from $36.99 to $54.99. If these Sketchers shoes are to be MAP priced, then you can detect the sellers that are not complying with your minimum advertised price using this evidence.
Likewise, if selling on eBay is not part of your strategy and your sellers are not supposed be selling on this platform, you will know immediately which seller is selling on this channel. Similarly, you can also see how big sellers like Amazon and Walmart are advertising to gain market share. This may be part of your strategy, or a signal that your seller mix is shrinking and you may have to be ready for serious price negations.
You can monitor the activities of big retailers like Amazon, Walmart, etc. from this single channel and will not able to tell when they are pushing their ads. We tracked around 15K highly competitive keywords across all retailer categories. As shown in the graph below from October 14th to October 20th 2020, these two have pushed their ads.

Complement this with Google Trends data to see the long-term demand rises and falls of your products. You are now in a smarter position to forecast demand changes and reseller demand changes. Will you have to increasingly rely on the big resellers of the world or many retailers?

Brands MUST be vigilant on Google Shopping to track their reseller lists, how they are changing, who is complying and who is not, and proactively be pushing best practices of Google to their retailer partners that may not be maximizing the capabilities offered.