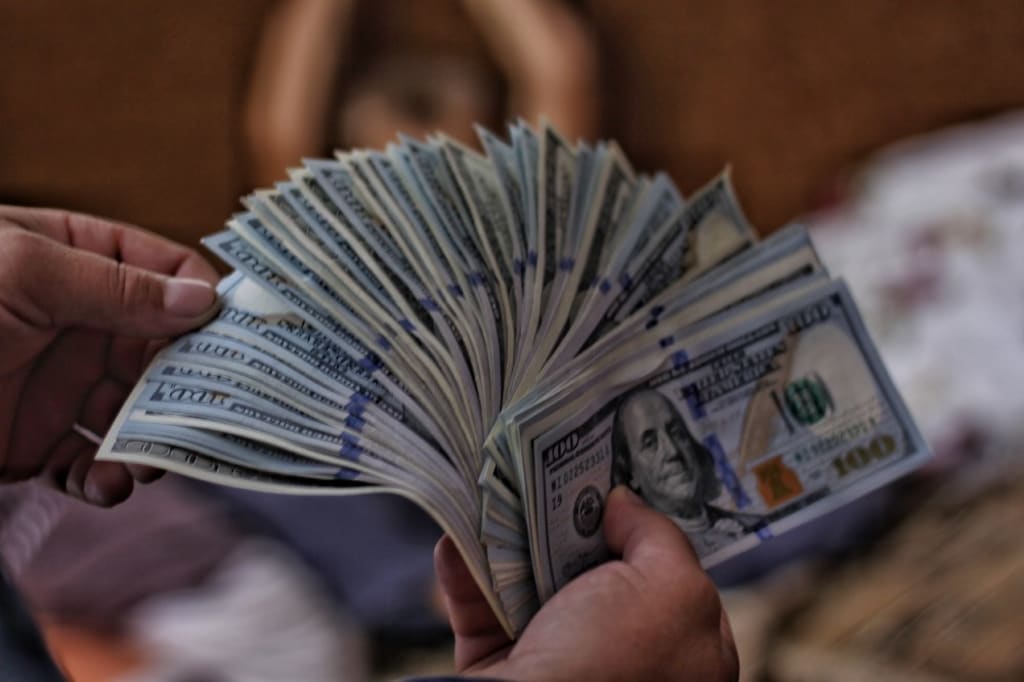 This isn't some fantastical hairy fairy fantasy. This is something you could do right now.
I do it all the time, and I'll show you 11 easy ways to start earning money while you sleep.
I'm going to show you 11 different ways to make money while you sleep, ranked from the worst to the best.
And they're all fantastic. So, let's get this party started.
11. A blog or a vlog
Many people ask, "What does it mean to blog?" or "What does it mean to write?" Yes. Writing articles is an excellent way to begin earning money on a consistent basis. You can either write a blog or create a video blog, which is known as a vlog.
And because this type of content is consumed almost constantly, it makes money while you sleep. Once you have a website with a blog and you're providing information, whether it's about cooking, real estate, photography, or how to potty train a child, you're ready to go. People can access information on the internet 24 hours a day, no matter what you write about or focus on.
And if you put something at the end where you either offer a product or a service, or if you have it on a monetized site where each person who visits that site pays you to read your content, you will make money. There are a lot of different ways to do this. For example, YouTube allows you to do video blogs and document some of what you're doing in your life or your expertise. They will pay you once you reach a certain number of subscribers and if you maintain consistency in your content, which is probably the most important aspect of blogging and vlogging. But the best part is that you'll always have money in your account as a result of people watching your stuff.
10. Create a product based on your knowledge and experience.
This is extremely simple to accomplish; however, many people believe it to be extremely difficult. However, it could be as simple as teaching your dog to use the bathroom inside, or perhaps you know how to potty train a child using M&Ms, or perhaps you are an excellent cook.
Whatever it is that you are good at and have a specialisation in. It could literally be as simple as teaching people how to fill out a mortgage application on their own, okay? I used to do that, and some of my students now run a business assisting people with their mortgage loan applications because they used to work in the mortgage industry. I have people who have worked as security guards and can teach others how to pass the security guard exam and find work as a security guard. So, once again, this is extremely simple to accomplish. However, you want to create a product based on your expertise, something very specific that only you can do, and the way you do it is proprietary.
9. Obtaining Royalties
Every other day, royalty checks arrive in my bank account.
You can earn royalties from music, books, and podcasts, and I have all three. So, once again, royalties are just one of many options. I don't make music myself, but I have invested in other musicians, some of whom do hip hop and some of whom sing.
And I've assisted them in releasing their songs, and I receive royalties from them. So, it doesn't have to be music that you produce; it could be music, books, or podcasts, and a lot of the time you can earn royalty income from things that you created many years ago while you sleep.
8. Memberships
Creating a membership website or group, such as Meetup, is an excellent way to begin earning money while you sleep. I have a few Meetup groups that are completely free.
However, if you have a group of people who get together for hiking, cooking, photography, or whatever else, one of the things we can do is charge for your membership sites.
You could make a membership based on that and charge people a fee to join your group? And it's incredibly easy to do, and it works. Many people believe this will be difficult; however, it is extremely simple. For example, on Meetup, you can create your own group, membership, and network for a very low price, and you can charge people $5 per month, $10 per month, or $100 per year. It's up to you how much you charge, and it's very simple to set up and operate. All you have to do now is schedule meetings. Because most of my meetings are virtual, I can earn money while I sleep. I'm always bringing in new members, which means money is coming into my membership group.
7. Buying and selling items on Amazon.
Has the reason why Jeff Bezos is the world's richest man.
Is it because he founded Amazon, which provides a means for entrepreneurs to make money? If you've ever wondered why Bill Gates, Warren Buffett, and Jeff Bezos are so wealthy, look no further. It's because they've created something that allows others to become wealthy, right? Amazon allows entrepreneurs to literally send their products to Amazon, who will then ship them to customers who have placed an order. For me, it's been a game-changer. I literally have Amazon sell my books, sell my products, and sell whatever else I can think of. I can literally do Amazon Fulfillment. I send everything to Amazon directly. Amazon then sells it and sends me a check. It is the most convenient way to earn money while sleeping.
Your products will be purchased on Amazon. It's already the most popular online marketplace. I believe that Amazon accounts for about one out of every three dollars spent on the internet. So, this is an excellent way to begin earning money that does not require a large sum of money from you.
6. Dropshipping
We have dropshipping, which is similar to Amazon and Fulfillment by Amazon. Dropshipping is when you don't have any of your own products or inventory. You'll make a profit. Then, once you've been paid for the product, you'll contact the manufacturer, who will ship the product directly to your customer. Mind-blowing. So, many years ago, before I really got into real estate and doing it full-time, one of the businesses I started was selling hair extensions.
But one of the things that struck me was how I was able to scale my business and earn over half a million dollars simply by selling hair extensions. "All right, I want some bundles, 12 inches or this colour," they'd say.
Then, once they'd paid me for the order, I'd contact my hair manufacturer in India, Brazil, or wherever I was getting the hair from. The hair would then be shipped directly to my customer. I never had to pay for anything out of pocket. Remember, I received payment from the customer before I received payment from the manufacturer. Once more, mind-blowing. It's a fantastic way to earn money while you sleep. It's also a fantastic way to make money before you spend any. The only thing you need to do on your end is create a website and upload product images.
That is all there is to it. You basically sell products that you don't have, and then you get paid. Then you obtain those items. Easy.
Photo by Mediamodifier on Unsplash5. Put money into real estate or the stock market.
It's impossible to avoid investing in the stock market. It's a fantastic way to invest in successful businesses. Companies that are listed on the stock exchange. And profit from their success, okay? As a result, it's an excellent way to begin receiving dividends and earning money. You don't have to actively buy and trade stock; you can buy stock and hold it for a long time or sell it whenever you want. However, this is an excellent way to begin earning money while you sleep. Because, once again, you're purchasing stock in a company that is already operational and profitable.
You delegate the hard work to them, and all you have to do is invest a small sum of money and withdraw some of your funds. It's very simple. Now we're getting down to business.
4. Peer-to-peer
This is how I was able to make a lot of money doing it. Before I got serious about coaching and mentoring. One of the methods by which I was able to make a lot of money.
If I had money, I would do a fix-and-flip, for example, and have $100,000 in cash. Of course, people will ask for a loan? So, as you begin to accumulate wealth, one of the unfortunate side effects is that people will ask you to lend them money. So, instead of borrowing money at no interest, loan it out, okay? I began to make loans to businesses, but only to small businesses. I lent money to barbers and hairdressers. I made loans to landscaping businesses. In addition, I would receive an equity stake in their company as well as interest on my funds.
So, once again, this is a simple way to begin earning money while sleeping. This is you profiting from your money. And this is exactly what the wealthy do.
You make money with your money. You don't want your money and capital sitting in a bank account doing nothing for you. You want to begin earning money with your funds. And one of the best ways to do that is to lend out small amounts of money, like 4,000, 5,000, or $10,000 at most. These are a few of the small businesses. In many cases, they would repay me with a sum of $15,000. Again, everything is legal, and you must sign a contract. And if they couldn't pay me, I'd take a stake in their company. Simple.
Photo by Shane on Unsplash3. Investment properties.
Property that is rented. Having income-generating property that you don't live in. This, in my opinion, is the simplest path to wealth.
Again, all of the properties you own are an asset; they have value, and they increase your personal net worth. Then this is a fantastic way to earn money while sleeping.
Your long-term or short-term tenants are paying rent. Then there's the money that comes into your checking account every day.
2. Renting out automobiles.
I know you didn't expect it, but this is a novel approach. This is brand new information that the majority of people are unaware of. You can literally have your own rental car fleet. There are websites called Turo, T-U-R-O, or car for hire, which are similar to Airbnb. Where you can take vehicles and rent them out to people in the same way that they rent out apartments and houses.
As a result, it's similar to Airbnb for automobiles. and I'll let you in on a little secret. Okay, some of my cars are literally making me more money than some of my houses. I literally have some fantastic, high-end automobiles that I demonstrated to you. I'll start showing them more in some cases because I'm getting more into this and I'm realising I have some town houses that I make $1,500 a month on. And for that townhouse, I pay 150 or $200,000, I don't know. I've literally been able to purchase used cars such as a Porsche, Mercedes, or Tesla.
For example, I make more money from my Tesla than I do from a house. Those cars can be rented for $100 to $200 per day. Then there are the mileage restrictions that you impose. Again, you can literally have a small fleet of cars (five or six) and earn a six-figure income solely from cars.
1. Crowdfunding for real estate.
We've also raised over $200,000 so far. Okay, I literally put money into that fund while I'm sleeping. You can start a crowdfund of your own. You can go to sites like Trucrowd, which is spelled T-R-U-C-R-O-W-D.
However, there are other websites that do it, and you can create your own crowd fund. You can go ahead and start your own crowdfund, market it for free, and people will begin to contribute. Every day, I literally wake up with thousands of dollars in that fund, which I can use to buy real estate, start assisting others in making money with real estate, and increase my own real estate profits. So, it's a win-win situation; people can contribute as little as $500, and we've managed to put it all together. Again, if each person contributes a small amount, we will be able to raise hundreds of thousands of dollars. In the next few months, we'll most likely have over a million dollars.
When you look in there every day, you'll see that we're raising $10,000 to 20,000 dollars per week. So you can look into that fund for yourself to see how much money we've been able to raise and how you can do the same thing. So, if you want to earn money while sleeping, crowdfunding is a fantastic option. You just want to make sure you're doing it legally, or that you're dealing with a legal company. We do it legally; we pay our investors every three months, and the Securities and Exchange Commission regulates us.
It's also a fantastic way for our investors to make money while they sleep, as well as for us to collect funds and begin raising funds for our properties while we sleep. It's a win-win situation.
Reader insights
Be the first to share your insights about this piece.
Add your insights