11 Unique Gift Ideas. Shop Fair Trade this Season.
Help a local community and shop Fair Trade. Top picks from Fair Trade online sellers.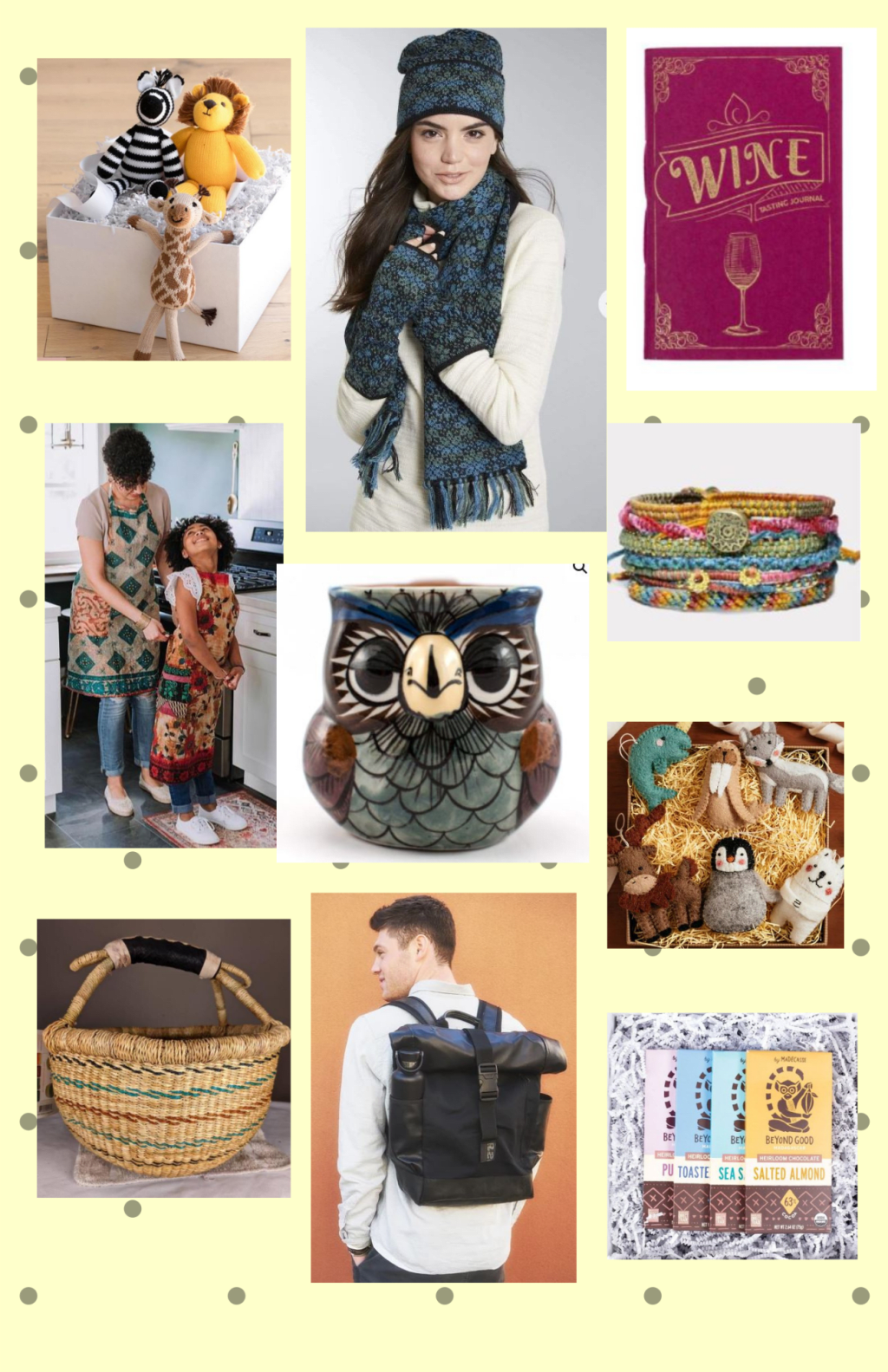 11 Fair Trade Gift Ideas.
We all know someone, a family member or friend, who is conscious about protecting our ecosystem. They love and appreciate those handmade items. They shop at the local farmers market on the weekend. They may be vegan or perhaps they just take the time to really care about their purchases and value where they come from.
I have put together a list of items that benefit artisans and communities around the world. These items are commonly known as Fair Trade. Wouldn't it be nice this year to present a handcrafted gift to someone special in your life?
I've narrowed down the list to 11 items. I chose these items based on likes, age, and price. There are so many wonderful handcrafted items out there it was very difficult to choose just a few.
1. Safari Animal Gift Set - What a sweet gift for any child that loves animals. These special handknitted stuffed Safari animals are created by Naguska, founded in 1997, created by artisans in Peru. Sold by The Little Market.
2. Coffee Lover Pouch - Who doesn't know someone that loves their coffee? Hand painted coffee cups with water based, eco friendly inks. This bag is made in India and empowers survivors of human trafficking worldwide. Sold by Fair Trade Winds.
3. Chocolate from Madagascar Flight - For the chocolate connoisseur. Made by Beyond Good, dedicated to serving local farmers in Madagascar. making chocolate from start to finish. Delicious flavors include Salted Almond Dark Chocolate, Sea Salt Dark Chocolate, Toasted Coconut Dark Chocolate, & 80% Dark Chocolate. Sold by The Little Market.
4. Daphne Alpaca Hat, Scarf & Glove set - Beautiful design and colors. Created from fine fabrics and sourced from family owned businesses in Asia & South America. By Invisible World.
5. Earth Bracelet - Everyone loves a wrap bracelet! They look so colorful and enhance any outfit. These handcrafted pieces create job opportunities for women in the rural villages of Guatemala. By Wakami Global.
6. Owl Mug - You can be sure this will be used daily. Handmade by Mayan artisans in Guatemala. Imported by Lucia' Imports. Sold by Fair Trade Winds.
7. Bolga Basket Fair Trade-M - Perfect for the farmers market or grocery store. Available in multiple sizes and colors. Organic, sustainable fabrics, Handmade from ESTROGFairTrade on Etsy. This shop has glowing reviews from their customers.
8. Sari Cloth Kantha Apron -Fair Trade -Reversible. Handmade from beautiful print cloths. Also available in child size. Handmade from ESTROGFairTrade on Etsy. This shop has glowing reviews from their customers.
9. Felt Arctic Animal Ornament Set - These whimsical creatures will adorn the tree for years to come. Made by women artisans in Nepal. Sold by Global Goods Partners.
10. Recycled Tire & Vinyl backpack - How cool is this backpack? Fully lined handmade in Cambodia, By Friends International. Keeping parents employed and their children off the streets, protecting them from human trafficking and extreme poverty. Sold by Global Goods
11. Wine Tasting Pocket Journal - Pair this item with a bottle of wine. Perfect for any wine enthusiast. 100% tree-free recycled cotton. Helping communities throughout northern India. By Matre Boomie. Sold by Fair Trade Winds.
2020 has been challenging to say the least. We've all been affected in some way or another.
We may have lost a job, or had our pay reduced. We may have known someone close to us who was infected with the virus, or worse we may have lost someone to this global pandemic.
Even though it's been a year we want to put behind us, it also gave us time to put our lives on pause. It gave us time to reflect about all the people we are grateful for like our friends, family, coworkers, and neighbors.
What a great way to end the year on a positive note and give the gift of Fair Trade.
From the bottom of my heart I wish you and your families a safe and Happy Holiday and a Happy New Year. May 2021 be filled to the rim with good health, prosperity and happiness.