11 Best Magento Extensions You Should Start Using Today to Double Your Sales In 2021
Let's admit the fact once and for all that Magento is one of the most popular, reliable, stable, and thriving eCommerce platforms in the market today.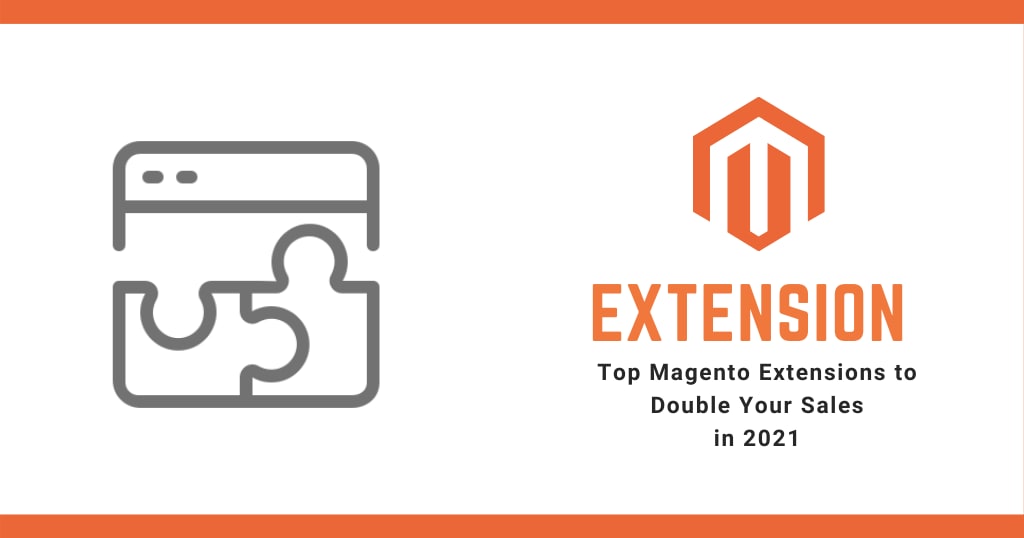 Since its inception in 2008, Magento has offered some unmatched services to its users. That said, Magento e-commerce development experts are helping millions of businesses reach greater heights of success.
I am sure, like any other e-commerce store owner, you too want to bring more revenue to your store simply & intuitively, righ Magento development & extensions can be of great help. Magento is a leading e-commerce platform, so why does it need extensions? Yes, I understand your confusion!
But...
Even though Magento is one of the top-performing e-commerce platforms and a behemoth in the e-commerce industry, it needs some third-party extensions to reap the maximum benefits, drive more sales, and generate better revenue.
Though there are hundreds of Magento extensions in the market, it's hard for merchants to choose the best ones to boost sales. No worries! I've handpicked the top Magento extensions to increase your sales.
Top 11 Magento Extensions to Skyrocket Your Sales in 2021
Magento 2 Google Analytics
Magento 2 Google Analytics is a must-have extension to help owners fetch enhanced e-commerce data from the stores and send it to Google Analytics more quickly and conveniently. By leveraging Google Analytics' built-in module, merchants can have a clear analysis of the insight into shopping, checkout behavior, and product performance. These reports help businesses to make the right strategies that help them increase their sales.
Magento 2 Customer Attributes
To improve the efficiency of the overall registration process of an online store, Magento 2 Customer Attributes extension offers a flexible approach of demanding additional information from users. Merchants can introduce options with radio buttons, text fields, image uploads, required messages, and more. Store owners can validate user fields and introduce a comment section beside any field. That said, merchants can also mark any field as optional or mandatory.
Pixlee
Reviews can make or break your e-commerce business. Customers often shop after going through the reviews and by analyzing other customers' ratings and sayings on your site. These types of Magento extension enables sellers to sharply include customer photos buying products that are present in their store for sale. Its incredible built-in integration system demonstrates the customer interaction that generated product curiosity among potential customers, leading to higher conversions.
Shop by Brand
If you want to enable your customers to shop for their preferred products with a whole new level of experience, Magento 2 Shop By Brand extensions is the right choice for you. This extension gives customers a chance to explore their preferred dedicated brand pages and proceed with the purchase. Shop By Brand extension for Magento 2 is well-compatible with layered navigation and offers instant search for brands.
Nosto
E-commerce demands personalization to grow profoundly, and that's where Nosto comes into play. Nosto is one of the best personalization extensions for Magento 2, enabling customized product recommendations online. Nosto offers AI-powered store personalization for retail and digital commerce leaders. It analyses data points across the entire store in real-time and allows store owners to build, employ, and optimize marketing campaigns with no dedicated IT resources.
SEO Optimizer
Believe it or not, SEO is a mainstay of any online business, and e-commerce is no different. With proper SEO strategies and techniques, online stores can acquire attention from potential customers and stay ahead of competitors. SEO Optimizer extension for Magento offers you a complete SEO pack, thus optimizing your e-commerce store like a pro. SEO meta tags, Sitemap, Rich Snippet tags, and multilingual Hreflang tags, etc.
Stripe Payments
Stripe is one of the best Magento extensions for payments. It is a widely used Magento extension that enables merchants to accept and process all major credit and debit cards and even mobile wallets like Google Pay, Apple Pay, etc., with one unified integration. Stripe is super safe, secure, trusted, and a must-have extension for anyone who wants to provide their customers a safe and convenient payment method.
Gift Card
Let me tell you a secret. Customers do like personalization. They often prefer to add personalization to their purchased items. That said, the Gift Card extension offers a substantial opportunity of choosing gift card design from various design options. Gift cards can quickly be sent through email or can also be posted on the physical address. Customers can include their wishes and their photos on the cards.
One-Step Checkout
No Magento store owner would want their customers to abandon the carts. Therefore, the Magento One-Step Checkout extension ensures a faster checkout process for your customers, thus generating more revenue with the existing lead generation. This Magento extension streamlines your checkout process, decreases cart abandonment to 65%, reduces the checkout time to about 85%, and increases the conversion rates by more than 40%.
LiveChat
It is a Magento extension for conversing with your customers while they navigate your Magento store. You can trigger messages based on customers' browsing behavior and ping your customers with the relevant texts. This can help you leave a lasting impression among your customers, thus strengthening your relationship with them. The best thing about the LiveChat extension is it has auto-templates, customization options, and built-in analytics.
Custom Contact Forms
Custom contact forms are vital to your Magento store as it allows your visitors to submit their queries right from your store. It indeed enables your potential customers to reach out to you quickly. Extended and custom contact forms allow merchants to create an unlimited number of online forms. It includes an email notification system, back-end form submission management, and easy-to-use form widgets.
Winding It Up
Magento world has several extensions that can help you double your sales. No matter which of these Magento extensions you choose to increase your sales, it's always advisable to do some research, find out your Magento store needs and demands, and then pick the right extensions that will work best for you and your customers. Don't forget to tell me which of these Magento extensions you're going to choose and why.
product review
About the author
15 plus years of experience in digitizing businesses & transforming Startups into Brands.
Reader insights
Be the first to share your insights about this piece.
Add your insights