Tuning IN (with Jeff)
Wanna be a guest?
My name is Jeffrey Kippel and I am the author of the book The Ridiculous Adventures of Serbinand. It's a blend of Hitchhiker's Guide to the Galaxy, Monty Python, Family Guy with some Star Wars thrown in. 
I am also an Ambassador for the rethinkFIT initiative which is all about spreading the message that being FIT goes beyond just strength and appearance, that it also includes mental, emotional, social, spiritual, financial and functional health too… and one of the ways I do this by being a mentoring people who want to empower others to love better how they think, feel, act, look and dream. Another way I do this is by connecting those who have a message to share or innovation to be experienced with retreats, workshops and strategic partners.
My newest project is being the host of Tuning IN (with Jeff). It is a talk and interview show featuring creators of all types —Writers, Artists, Musicians, Thought Leaders, Actors and Athletes. It is a platform to share a book, message, philosophy, lived experience, creation and innovation with the intention of inspiring, educating, entertaining and empowering others. It's also an opportunity to pause, tune in, and laugh, share some stories and get to know each other.
If you'd like to book a Pre-Interview visit: https://calendly.com/jeffreykippel
Speaking is something I love to do and I speak to audiences from kids to adults about creativity, mindfulness, science fiction and laughter, after all, it's one of the best "medicines"!
The Ridiculous Adventures of Serbinand helps to spread the message too as it is also about escapism, self discovery and growth, with a bunch of laugh out loud moments in between. It is on Amazon, Kindle and Audible:
https://amzn.to/3kMijJi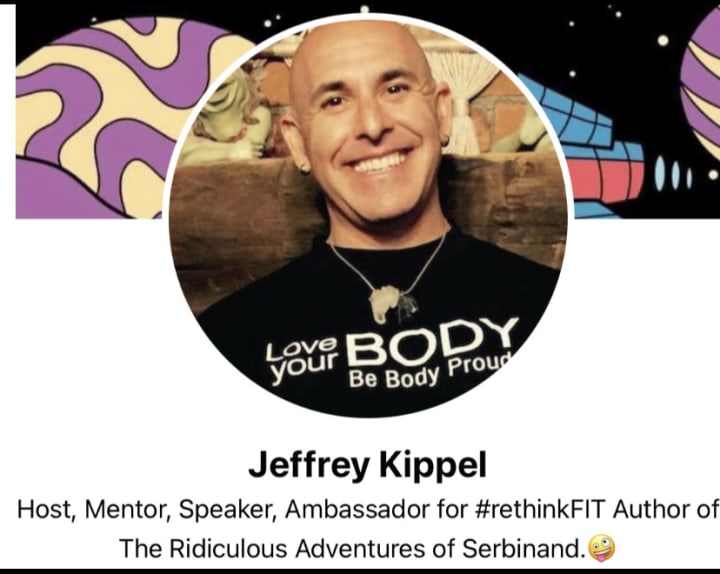 A Deeper Dive into who Jeffrey Kippel is: (my more formal bio)
Jeffrey currently lives in the Muskoka Lakes region of Ontario, Canada together with his exceptional wife, Mindy Blackstien, and their cat, Oracle Spirit Spirit who is better known as "Aura".
Jeffrey developed a passion for writing back in the high school days. He began The Ridiculous Adventures of Serbinand in his teens after being inspired by the Hitchhiker's Guide to the Galaxy, Fawlty Towers and Monty Python.
His second passion is to make a difference in the world. In 1990, he published Canada's first environmental magazine, Recover: Reduce, Reuse & Recycle. Then in 1998 he met his wife and together embarked on what became an illustrious career. They created the World Natural Sports Organization, founded the FAME Agency, produced the FAME World Tour, and published FAME Magazine.
​Their commitment to revolutionize the unhealthy components of the bodybuilding industry of the early 2000's led to the creation of the "Fitness Model" industry which debuted at their FAME: Fitness And Model Expo events, the largest fitness consumer shows in the world. Soon the FAME world Tour became a destination event for the fitness and wellness industry, attracting enthusiasts globally.
​As a result of their commitment to establishing a healthy fitness mindset, people from all backgrounds, experience levels, age groups and ethnicities successfully transformed into bodybuilders, models, athletes. Many went on to become cover models, sponsored athletes, world champions, business owners, coaches, trainers and even celebrities.
Reflecting on their FAME success, they noticed that looking like a superhero didn't always mean feeling like one. Becoming an artist to your physique, while commendable, does not mean you are happy, healthful, confident, nor a wellness expert.
In search of a solution to fill these voids and course correct, Jeffrey and Mindy were guided by a vision in 2008. Since then they mentored under experts in all areas of business, empowerment, nutrition, wellness and mental health, and even became ordained as Metaphysical Ministers.
Since then Jeffrey and Mindy have provided pathways and platforms to those able to inspire the fitness industry to take action beyond appearance. As a result, a gamified approach has been created in conjunction with a Life Map guidance system where anyone can learn to love how they think, function and feel. Prizes include retreat stays, healthful innovations and publicity.
About the Creator
Helping raise social consciousness with laughter, wellness & empowerment; with my comedy book, as a talk show host & as an ambassador for rethinkFIT.
www.jeffreykippel.com
Reader insights
Be the first to share your insights about this piece.
Add your insights