Talking With: Ashli Auguillard from ABC's 'The Rookie' and 'The Rookie: Feds'
Interview with actress Ashli Auguillard, talking about her crossover role as a baddie on two ABC police dramas.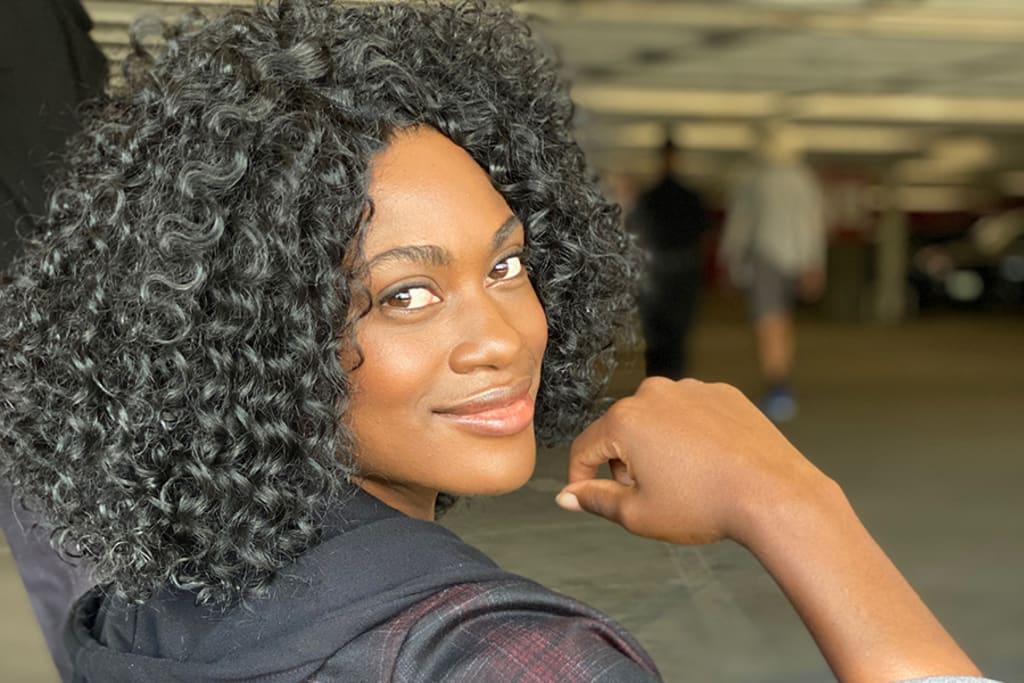 Actress Ashli Auguillard
This edition of Talking With focues on Ashli Auguillard, who surprises everyone as a criminal mastermind on the recent ABC crossover storyline during The List episode of "The Rookie" and The Silent Prisoner episode of "The Rookie: Feds."
Ashli guest starred as Amy Wright, a seemingly innocent woman that no one suspected was the leading "bad guy" during a bank vault heist.
The role is just the latest for this rising talent originally from Louisiana. Ashli previously gained fans for her appearance as Leon's (J.B. Smoove) first new girlfriend Mary Ferguson on Larry David's HBO show, Curb Your Enthusiasm. She has also popped up on USA Network, BET, Hallmark Channel, Facebook Watch, and Screambox TV.
To learn more, we are Talking With Ashli Auguillard:
Tell us about your role on both "The Rookie" and "The Rookie: Feds"?
ASHLI AUGUILLARD: I'm playing the role of Amy Wright. She's bold, fearless, and takes advantage of new opportunities without thinking twice. She is basically the walking embodiment of my New Year resolutions; except she uses those qualities for…crime. Amy is the criminal mastermind behind a heist crew that robs a bank vault, stealing a list that reveals the names of undercover FBI agents. The LAPD and the FBI team up, attempting to track down and stop Amy before it's too late.
What helped you the most in bringing this character to life?
AA: Being the bad guy is a bit nuanced, because as an actor you aren't supposed to judge your character. A lot of actors playing the "bad guy" take the route of finding a way to "justify" their character's choices, but that's easier said than done when your character is committing the types of crimes Amy's committing. We're not talking petty theft and simple battery here. A person must be at the height of desperation in life to do what she does, so I shifted my focus from justifying her actions to empathizing with her desperation. I created circumstances around Amy's life that could yield that level of desperation, even drawing from some of my own life experiences. In every scene, my mind was focused on her circumstances and desperation, so when it came time to do the "bad stuff," I felt less like a criminal and more like a defeated person with no way out.
Have you ever portrayed a criminal or was this your first time? And, is being bad more fun?
AA: I portrayed a criminal once before, and ironically, the role was very similar to Amy. In 2016, I played the role of Cleo from "Set It Off" in an industry masterclass. The masterclass took place at the Baron Brown studio, where I had just completed my 2-year Meisner intensive. If you're familiar with "Set It Off," you know Cleo is rough, robs a bank, and goes down shooting with law enforcement at the end (maybe Amy's long lost cousin?!). A lot of people think that black actors just have that type of 'gangsta' role in their back pockets, but HONEY, that role took me through the MUD emotionally.
In the final process of conceiving her character, I was walking around Santa Monica in Cleo's wardrobe (saggy pants, cornrows, walking with a limp, etc.) and was actually stopped by POLICE! It was the scariest thing, because my prop gun for the performance was sitting at the top of my bag. Luckily, nothing bad happened (AMEN). I cried after they left, but while it was terrifying, being profiled in that way was the icing on the cake for what I needed to know about what it meant to be Cleo. Everything finally clicked, and I was actually awarded by the industry panel and discovered by my manager Michelle Zeitliln by that very performance. Playing Cleo made it easier for me to empathize with Amy.
Being the bad guy is super fun. I love the action, stunts, and intensity and I can't wait to book even wilder roles where I can put my wire training to use.
Where do you start when preparing for a role? And does that change depending on the genre or other factors?
AA: When preparing for a role, I typically start with my character's background. I could dive deep into my process I created while in my Meisner conservatory, but we'd be here all day. This does change based on the genre sometimes. When I get an audition for comedy that has a specific style, I start with the show. I binge previous episodes and get a feel for the comedic style and where my character fits into that world, then I proceed with my character's background as I would with a drama.
There are several variables and contributing factors that can change my process at any given time, such as something shooting within day of me booking the job (auditions for project roles that shoot the next day have been common), how stylized the project is, etc. For instance, if my character has an impediment, I'd need to put more time into that. It's all relative, really.
What was it like portraying the same character on both shows?
AA: It was a dream being on both shows! I actually auditioned for "The Rookie" and "The Rookie: Feds" several times that month, and to finally get that 'Yes' for a role that appears on BOTH shows proves that every 'No' isn't always a rejection, but a redirection to something bigger and better.
The funny part was finding out Amy's fate. I was scheduled to shoot "The Rookie" first, so I had already done paperwork for it and read the script, but I hadn't started my paperwork or received the script for "The Rookie: Feds" yet. I had NO CLUE that Amy was going to die! One day, I got the script for Feds, and when I got to the part about my 'accident,' I assumed they'd be taking my confession from the hospital bed. But, as I kept reading and saw the word CORONER, it set in. I remember just sitting at my computer in shock. I couldn't believe my character would be dying on screen. It just felt like a huge detail to find out by surprise, and of course, I had to mourn that my character couldn't return to either show in the future. But after ten minutes of shock, I was over it, and got back in gear to shoot what would be the most exciting project I've ever worked on.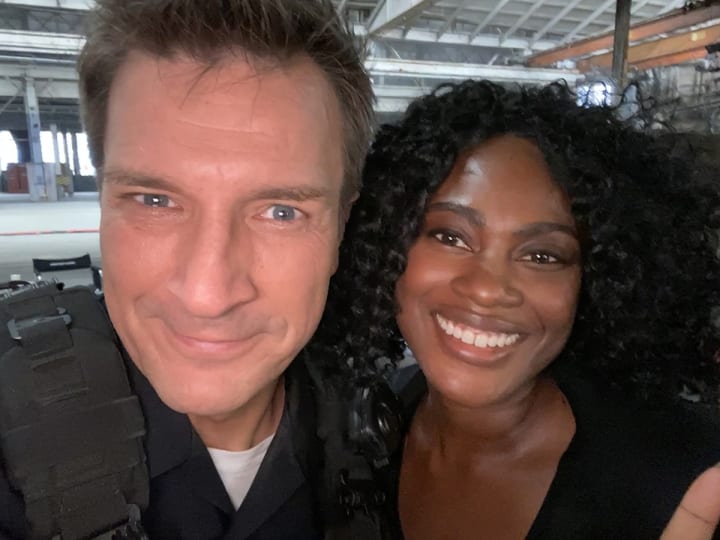 How was it working with both Nathan Fillion and Niecy Nash?
AA: Nathan and Niecy were amazing! Nathan was so kind and sparked up a conversation about his cat after I shared that my dog passed, and I was looking to adopt a new pet. He talked about the different cat types and shared adorable photos of his cat, recommending I stick with a smaller cat. He even gifted me a handmade keychain crafty he made in his trailer. I will never lose my keys again.
Niecy was just a ball of warmth. My whole family loves Niecy, and she was the sweetest. Ironically, I just finished watching the Dahmer series the night before meeting her on set, and I commended her for her portrayal of Glenda. I also joked that the dark show almost made me miss my call time since I could barely sleep after watching it. Both Niecy and Nathan were gems to work with, and I can't wait to work with them again!
Do you have a favorite moment from the set?
AA: My favorite moment from the set was probably establishing a handshake with director Robert Bella. We did a handshake, and I told him it wasn't good enough because he didn't do the explosion effect afterward. From that point, he always made sure to do the explosion for our handshakes, and it trickled into our working relationship because we definitely meshed well. I love directors who give you the info you need and keep the energy good on set. He told me what he needed, and I delivered. There was a lot of time-specific blocking to get some of the cool shots, like Amy barely escaping the hospital room right before the police emerged. I was able to follow through because Rob was brilliant in articulating the shot he wanted and merging it with my character development. I'd love to work with him again.
Why do you think fans enjoy these shows so much?
AA: I think fans enjoy these shows because of the high stakes. A lot of cop shows touch on things that happen in real life, but the action and drama that make it exciting tend to give people an adrenaline rush. I mean, I was at the edge of my seat the entire time I watched the crossover, and I already knew everything that would happen. If you can intrigue and excite those who literally know the entire plot, I can imagine the excitement fans get watching for the first time from a blank slate.
What inspires you the most creatively?
AA: I'm inspired by so many things, it's hard to pick one. Screenwriting is another creative outlet I enjoy, and I'll say that nothing gets me in the mood to write a new script like having a genuine heart to heart with those I love. Connecting genuinely with others and being able to be vulnerable with my emotions around others unlocks something creatively every time. I've had plenty of life experiences as a youth that required me to lock things in and be strong, so any time I can be vulnerable, less-calculated, and have a safe space to FEEL through things, it frees me up in a sense. My creativity is largely inspired by the parts of myself that aren't free.
Finally, is there anything else you'd like to share with us?
AA: Yes. As everyone saw in "The Rookie: Feds," Amy had an automatic weapon and did a lot of shooting. Although the gun was an airsoft gun, there were coordinators on set at the top of every scene test-discharging the gun to show it's fake, and allowing me to observe the gun and confirm my safety prior to each take. Director Michael Goi made sure that prop supervisors and safety consultants were ready any time I had a concern, and that reassurance allowed me to feel safe and comfortable with the weapon and stunts in each scene. Buzz about accidents on set can make an actor paranoid about shooting those types of scenes, but working on a production that was so conscious about my safety took all those worries away, and now I'm more eager to work in action films/shows than ever before.
Connect with Ashli Augillard at: AshliAuguillard.com and Instagram: @followashli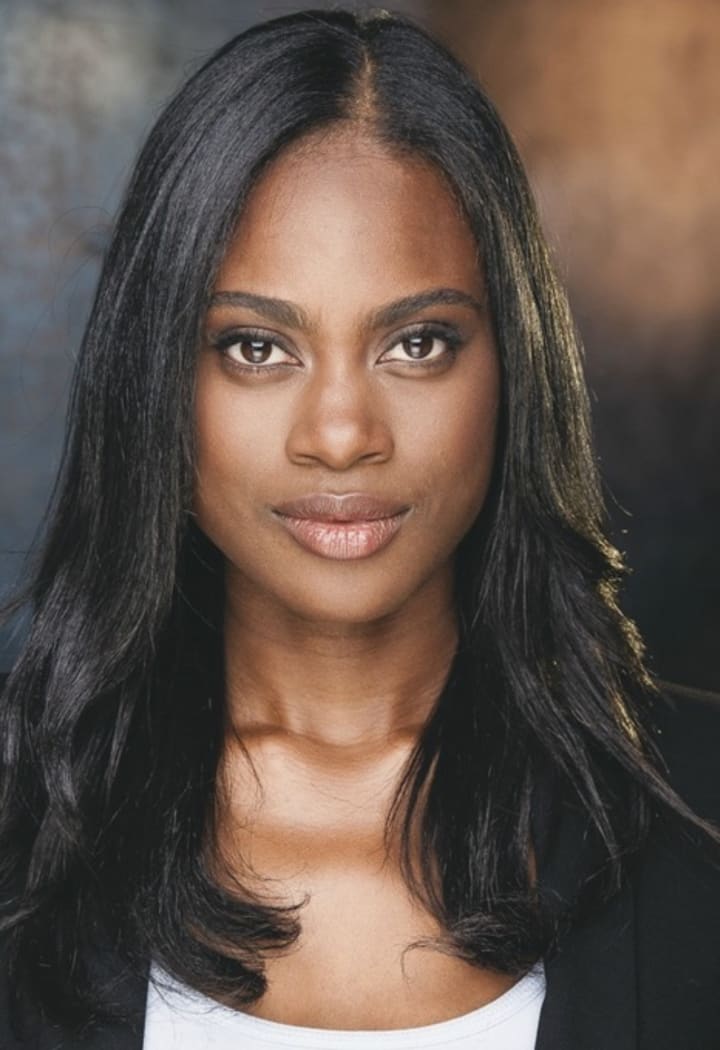 About the Creator
I write about entertainment and the inspiring people who create it. Interviews with actors and filmmakers revealing their latest projects and what influences them creatively.
Reader insights
Be the first to share your insights about this piece.
Add your insights