Season Two of "Reely Scared" Podcast Offers Discussion on Horror, Genre Films | Interview
The horror, thriller based podcast that livestreams every Thursday on Twitch, YouTube and Facebook at 8 p.m. EST is now featuring a new special guest each week to discuss a movie of their choosing.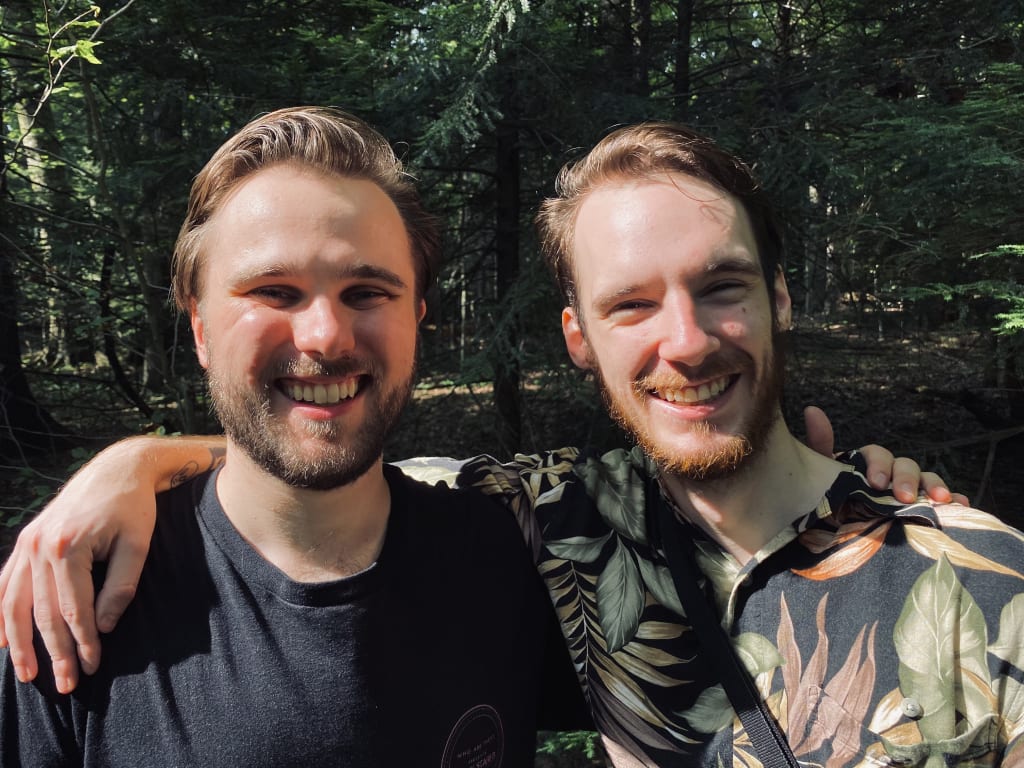 Taylor Cleek (left) and Conner Breedlove of Reely Scared
Over two years ago, the Cleveland-based podcast network, Who Are They? Reel Entertainment, was founded by Matt Thomas and Nick Muhlbach with the initial goal of spotlighting their fellow local filmmakers. Since then, it has expanded into five different shows consisting of various content, from move trivia to pro-wrestling, and has added several other on-air personalities. One of the many shows with the WAT network is Reely Scared, a podcast hosted by Taylor Cleek and Conner Breedlove, that ensues discussion on horror news, the reviewing of films, guest interviews and live watch-alongs of movies.
While Reely Scared was in its infancy some two years ago, the show featured Cleek as the only host and the audio was pre-recorded. "I did a few episodes, but it just wasn't capturing my imagination in the way that you'd hope," admitted Cleek. A reboot of the show came in May of 2020 once the channel started airing live, and Cleek brought on Breedlove, his friend and collaborator, to co-host. "Our sense of humor and tastes are pretty much aligned perfectly and we have a lot of shared experiences," shared Breedlove on his co-host, Cleek. "I wouldn't want to do this show with anyone else."
Cleek notes that the live format came as a result of the pandemic beings the two could no longer record Reely Scared together. Season one of the podcast brought viewers news items, talks on a newly released film, and the occasional interview with a director or actor regarding a recent movie they made.
This year, the show has introduced viewers to a new format as they enter season two: a new guest each week with a platform of their own and a passion for horror. Breedlove and Cleek will bring on a guest, included but not limited to filmmakers, actors, producers, writers, critics, streamers, podcasters, YouTubers, musicians and Instagrammers, to ensue discussion on a genre film of their choice.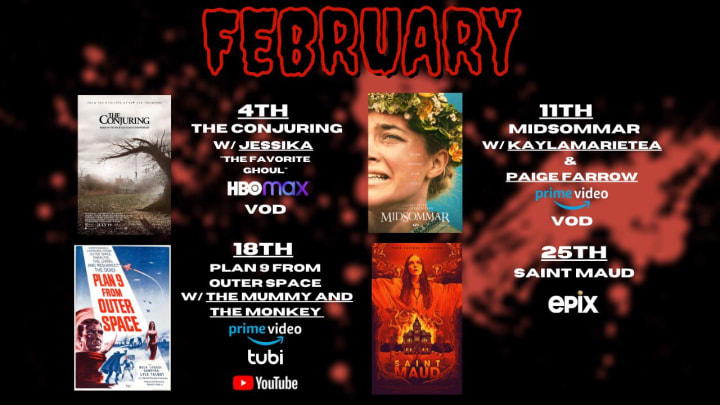 "It's a great and unique way to get to know someone and also discuss a film we may never have covered otherwise," said Cleek, with Breedlove adding that the show is booked through February.
WAT Reel Entertainment is slated to introduce a "table read" show this year as well, where Breedlove and Cleek will be seen conducting pseudo-performances of famous screenplays that never went into production, such as "Batman: DarKnight" and "Star Wars: Duel of the Fates".
Several months ago, the Twitch channel for Reely Scared earned the title Twitch Affiliate, which means the channel received recognition from Twitch for having met a criteria that includes matters of meeting a certain number in follower count, consistent streaming and maintaining the viewership average over a period of time. The new status on Twitch also opens more opportunities for earning income through paid subscriptions to the channel from audience members. Twitch Prime members can subscribe to Reely Scared for free. In return, subscribers receive custom WAT emotes.
"Affiliate status is a big notch in the proverbial belt of any Twitch streamer. It's a huge step in growing out our platform and we're so grateful to have achieved it," said Cleek. WAT has been working towards the Affiliate title for months and the collaborative group has the goal of becoming Twitch Partners in the future.
Streaming some of the shows from WAT, including Reely Scared, is one portion of the content on the channel's Twitch, but Breedlove and Cleek have also been gaming on the platform more. Over the course of last month, both have streamed their experiences playing Cyberpunk 2077 and in the past have streamed multiple horror games, including Blair Witch. Both have plans to continue streaming horror games and other gaming going forward. "I played lots of horror games, so people tend to tune in to watch me scream," added Breedlove.
Reely Scared has plans on doing more marathon streams for charity, a realm of streaming they ventured into last year, raising some $700 for The National Bail Fund Network. Breedlove and Cleek streamed live for 12 hours while watching all five of the "Twilight" films while inviting guests onto the livestream, some having worked on the "Twilight" movies.
According to Cleek, it was Thomas that had the initial idea to begin Reely Scared as he wanted to broaden the types of movies discussed on the WAT channel. Cleek and Breedlove met in college and enrolled into the same film program where they met Mulhbach, a director and cinematographer. Mulhbach grew up with and is the best of friends with Thomas, so he introduced Thomas to his two film school mates. Another personality to have joined the WAT crew is Chris Anthony Lopez, host of the podcast For Chris' Sake, who met Thomas at a live Movie Trivia Schmoedown event. "I talk to these guys every day and consider them some of my closest friends," shared Cleek.
For Breedlove, being able to hang out with Cleek each week is one of the most rewarding aspects of being a co-host on Reely Scared. "Taylor and I just always chat about movies and pop culture, along with everyone else on the channel, but we really love horror. It's one of my favorites. It's one of the many things we have in common, so it made sense to do it together," noted Breedlove. His other favorite thing about co-hosting is being able to meet others that share similar interests as the podcast duo. "The most challenging thing is scheduling. This year, we're booking up quickly and it's chaos with Taylor and I texting back and forth rotating dates and slots," Breedlove said.
Other shows on the WAT network include Reel Talk, for live movie news, discussion and guest interviews, Spin From The Reel, a Movie Trivia Schmoedown after show hosted by Thomas and Lopez, Wrestle Reel, for talk on pro-wrestling that is slated to begin airing live and having guests this year, and Dawg Check, a Cleveland Browns post-game talk show. Spin From The Reel covers the MTS at length, and according to Cleek, there's a lot of crossover from the Schmoedown to SFTR in terms of interests and the conversations the group has. Guests such as Winston A. Marshall and "The Barbarian" Craig Gaynier have joined Lopez and Thomas, with Reely Scared benefiting some crossover guests from the Schmoedown world as well such as Videodrew and "The Beast" William Bibbiani. WAT also has their own fan league called the Reely Trivia Showdown, a tribute to the big leagues and chance for the group to see how they'd do in that arena.
Rick Raddus, known publicly as The Rager, is a close friend and client of Cleek's, and made his appearance on Reely Trivia Showdown last year for several episodes to allow for character development prior to his entrance into the Movie Trivia Schmoedown's 2021 draft, held Friday, Jan. 29. Raddus was drafted into the Finstock Exchange, which Cleek shares is a perfect place for The Rager as it is, as Cleek describes, the "bad guy group that everyone wants to see fail". "Rick likes to have fun, put on a show, talk trash and chug hot sauce recreationally. He's a hell of an enigma and I recommend keeping an eye on him," said Cleek.
Cleek enjoys that Reely Scared is an outlet for personal expression. "It's very self-indulgent," the podcast co-host laughed, "to think that someone may care to hear what you have to say." He enjoys the interactions that recording the show live allows for, loves hearing input from others and the perspectives outside of his own. With WAT and its shows like Reely Scared being a collaborative effort, Cleek shares that he's never felt more like a part of a team than he does now. "Everyone brings so much to the channel and Reely Scared specifically wouldn't be half of the show that it is without co-host Conner and all of the support and energy coming from our group," he concluded.
Teespring currently has a variety of WAT merchandise available for purchase, from fanny packs to hoodies, and the merch represents each show on the entertainment channel as well as all of the different characters on Reely Trivia Showdown. Breedlove and Cleek are in talks to revamp the Reely Scared merchandise this year.
For the first time, Reely Scared has its first sponsor, the newly opened small business Wretched Apparel who sells clothing online that features horror inspired artwork. Cleek stated that one of the top ways to support the show is by using the coupon code "REELYSCARED" at checkout for ten percent off of any purchase.
Creative writing is Cleek's truest passion in life, and he's currently studying journalism and is an aspiring screenwriter. Noting that he hasn't produced a script since his time in the film program, he says a goal for 2021 is to make a short film. Breedlove directed a short that Cleek wrote, and he's been writing scripts of his own. "I was going to direct my first feature. We had everything ready to go and then the pandemic hit, and now we have to rethink what we're trying to accomplish," said Breedlove.
The two had an episode filmed for public TV for a show titled "The Video Store", a movie review show. Cleek and Breedlove covered the 2020 released film "Tenet", though, the episode never aired, and Breedlove credits that to the episode's "Tim and Eric-esque weird" nature.
As for Reely Scared, bringing in new listeners and viewers is both a goal and challenge, according to Cleek, specifically finding new ways to reach people, though he shares that it gives the group something to strive towards. "You'd always like for something like that to grow at a rapid pace so you can receive instant gratification for your hard work, but that just isn't realistic," he said.
Advice that Cleek has for those aspiring to begin a podcast of their own is to jump into it and remain consistent through the awkward beginning phase until one finds their rhythm. "Find that thing that you're passionate about or that idea that inspires you and chase it. You've got to be genuine or else it won't work. Don't get discouraged when the metrics don't spike right off the bat because, take it from me, they won't. They'll inch ahead at a snail's pace," he said. One viewer or 100 viewers, Cleek notes that he takes it just as seriously as it means just as much either way. He suggests that beginner podcasters should work hard, utilize social media, promote their work, use hashtags, collaborate with people they trust and respect and have fun. "Not only will your team keep you inspired, but they'll keep you accountable and help make the show as great as it can be."
Giving similar advice to new podcasters, Breedlove shared, "If you have something you like to talk about and are passionate and have a unique voice [and] insight on the subject, just sit down and talk into a mic."
As for a horror film, or any scenes in horror, that still get Breedlove Reely Scared, he shares that "The Evil Dead" (1981) is still a favorite. Cleek shared that "Nightmare on Elm Street" (1984) and "Candyman" (1992) have scenes that were traumatizing to him. The 2018 film "Hereditary" and "Midsommar" (2019), both from director Ari Aster, have moments in their respective first acts that Cleek said "absolutely leveled" him. "I won't spoil anything, but if you've seen them, you know," he added. Two final recommendations from Cleek for movies to get an individual Reely Scared is Turkish film "Baskin" (2015) and "Hosts" (2020).
Every Thursday night at 8 p.m. EST, Reely Scared streams live on the network's YouTube channel, Who Are They? Reel Entertainment, on Twitch @wat_reelpodcasts and on Facebook at WhoAreTheyMovies. If listeners are unable to tune in live, the audio is uploaded the following day to Apple Podcasts, Spotify, SoundCloud, iHeartRadio and anywhere one finds their podcasts.
Follow the podcast on Instagram @reelyscared.
Breedlove can be found on Twitter @prnce_avalanche and on Instagram @_iiceboy.
Cleek is on Twitter @taylorlcleek and Instagram @taylorcleek.
Stay in the loop with the shows at WAT Reel Entertainment by following them on Twitter @WATReelEnt and Spin From The Reel on Twitter as well @SpinFromTheReel.
•••
Thanks for reading! Leave a tip if you can, and follow me on Twitter @horrorwriterang!