Megan's Kryptonite
A look into the story that left fans perplexed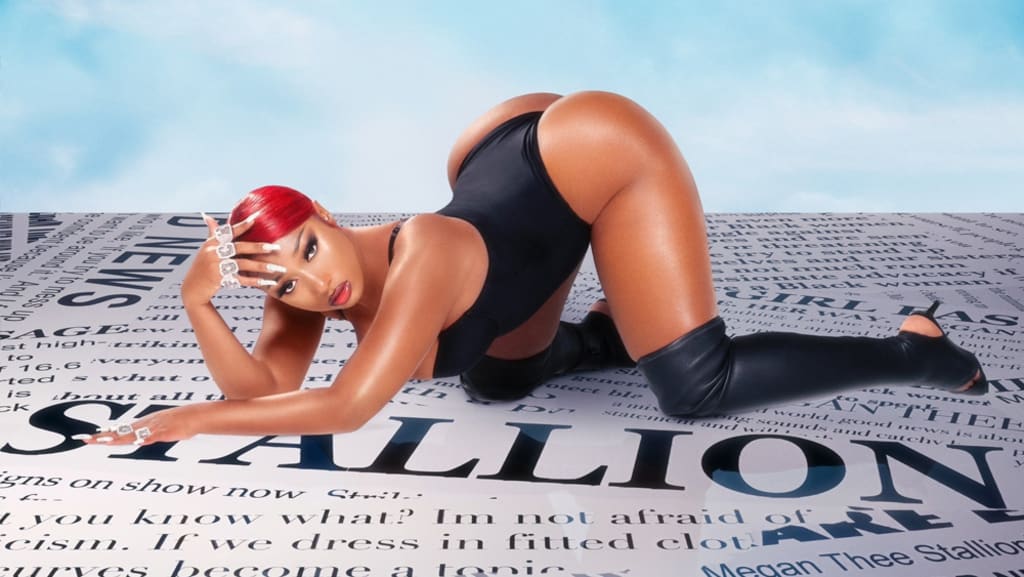 When Megan Thee Stallion entered the rap game, it was clear that she was a force to be reckoned with. Her powerhouse sound and brick house build catapulted her into Superstar status in a relatively short time, and her presence was embraced seemingly by everyone in the game... more notably, Queen Beyonce herself.
Her southern hospitality and fun going personality made it easy for her to find lovers and friends amongst peers and industry, so when the very same people she let in turned out to be responsible for placing her in danger, and being ridiculed in the public eye it came as a shock to everyone.
 No one could have been prepared for the disturbing event that had left fans bewildered and critics amused...
The trouble began in early July. Megan was gearing up for another "Hot girl Summer", hanging with rumored to be lover (musician Tory Lanez), and new friend, (influencer Kylie Jenner). On the other hand, her desire to have friends of the opposite sex together for a good time proved to be a toxic mix, as the effect led to a widespread scandal with alleged accounts of foul play.
Most accounts of the incident varied, with sources not 100% verified by the media. Nevertheless, this didnt stop the story being picked up and escalating down a path that would eventually lead to legal issues and unpleasant hearsay resounding throughout the Rap and Fan communities.  
The original story handed to the media was that Megan and Tory were involved in an altercation at a Hollywood house party. The couple then went to Tory's SUV where they continued their heated argument.
 At the time no details were released about a third party in the vehicle, only that an unidentified female may have been present. Since Megan and Kylie had been seen on a live together just hours before the incident took place, it was assumed that her place of residence was where the party had taken place. 
Somehow between the house and the car, Megan was said to have suffered a foot injury from broken glass. News that Tory was arrested and charged for possessing an unconcealed gun in his vehicle also created more confusion in the developing story.
Claims that Megan was envious of Tory and Kylie flirting may have been the root of the tension... other claims suggest after the altercation moved to Lanez' SUV, Megan was shot in an attempt to prevent her from leaving. Yet a source within Meg's camp says that the fight likely broke out due to Tory asking Megan for a 3-way with her friend Kylie…
 There is also the most amusing of all theories, in which sources claim that Megan was the actual aggressor, painting Lanez a victim protecting themselves from an" Amazonian goddess.
With so much up in the air, a troubled Megan decided to take to social media to clarify her account of the unfortunate incident...
She said on Instagram...
"On Sunday morning, I suffered gunshot wounds, as a result of a crime that was committed against me and done with the intention to physically harm me." 
She then verified that she was shot in both of her feet, and made clear to note she was not violent and was not arrested. 
"I was never arrested, the police officers drove me to the hospital where I underwent surgery to remove the bullets."
She said on her live while crying... "I was shot in both feet... I had to get the bullets taken out, was super scary, it was just th0e worst experience of my life."
She also told fans she was fortunate that the bullet did not hit any bones or tendons.
 Tory had not been named as one of the suspects, but, fans speculated that she may have been trying to be vague about the details of the shooter to protect her rumored to be boo.
Lanez was released six hours later on a $35,000 bail and has yet to speak on the tragic night that has left his name in controversy. Later, a TMZ video of Meghan exiting his vehicle, leaving behind bloody footprints provided evidence of a very real situation.
It's unclear whether there are just unreliable sources at fault, or PR attempting to create a "smear campaign to protect both Megan and Tory's public image. Regardless, it's evident that even after a heartfelt video to fans crying in tears about being traumatized, not everyone seems to be taking the young rap diva seriously.
That fact became more apparent when various people including celebs began making jokes about Megan's disheartening experience.
Draya (Basketball Wives LA) joked around on the Weed and Wine podcast, stating that she wished someone would have cared enough to shoot her and passion to prevent her from leaving.
"I predict that they had some sort of Bobby and Whitney love that drove them down this type of road," Michele joked. "I'm here for it. I like that."
She continued on with saying...
"I want you to like me so much you shoot me in the foot too," she added to the conversation, which would go on to draw criticism from many online who felt it was inappropriate to joke about a woman allegedly getting shot."
Although meant in Good humor, Megan's clap-back proved that she was not at all amused.
Dumb b**ch that s**t ain't f**king funny who tf jokes about getting shot by a n***a."
Draya later apologized on Twitter, saying:
"I truly don't glorify domestic violence... I was trying to say just love me deeply. But while trying to be funny, I offended many, including meg. And I'm sorry."
Apparently, Draya may have just had a little too much to drink on and was feeling herself... However Rihanna was not pleased with the insult, seeing as she had not been a stranger to domestic violence.
Megan had been a Fenty Savage collaborator at the time, as well as Draya, yet after being made aware of Draya's disheartening comments, Rhianna canceled Draya's Fenty X Savage modeling contract less than 24 hrs after her broadcast. 
  One Twitter user commented:
"Draya being cut from Savage X Fenty makes sense seeing how her "joke" not only makes a mockery of Meg's experience, it makes a mockery of other women's experiences too. Like Rihanna's. Who owns the brand."
Another tweeted:
"Rihanna canceling Draya's Savage X Fenty deal for making fun of Megan is the direct action I love to see,"
50 Cent the king of media bullying also chimed into the mix, placing Megan's head on a run-away mini-me from the movie Austin Powers... Captioning it "Run Ricky run!" And then there was Chrissy Teigen who tweeted that she had a "Megan Thee Stallion joke, but it needs to be twerked on".
Even after apologizing, Teigan has since had to set her page to private due to the threats and harassment from Megan's "Hotties". None of these jokes, however, was more disrespectful and debate-worthy than that of rapper Cam'ron. The old school rap artists posted an old meme via Instagram and said...
 "Tory saw that d*ck and started shooting...IDC what no one say."
Although both Draya and 50 apologize for the distasteful jokes, Cam'ron stood behind his, resulting in an Instagram campaign against him labeling the late rapper as "homophobic" and "misogynist".
In his defense, Cameron that he simply reposted a meme that was old… complaining that his good works such as donating to charities go overlooked….starting to sound like it may have been a clout move, with him justifying his ignorance by implying his good deeds weren't gaining enough traction.
Nevertheless, Cameron seemed to underestimate his influence, as well as the power of social media, as immediately fans began pulling up sources, trying to find receipts that validated Cam's claims. One video of Megan twerking on stage appeared to reveal an extra dangling piece of equipment between her legs. Loyal "hotties" however debunked the claims, explaining that her cheeks were to blame and not a male body part. Unfortunately, skeptics didn't seem to want to hear any convincing otherwise.
Soon various media claiming that Megan Thee Stallion was indeed transgender surfaced. One post even stated that her original government name was "Joshua Pete", which she later changed after transitioning.
Other critics commented on her body proportions, claiming she was rather narrow in the waist and hips for such a tall and thick female. Although Meg got her nickname "stallion" from the reference to her tall stature, many critics couldn't stop pointing out the fact that "stallion" is specific to male horses only... Which only caused more circulating conjecture around the theory that the rapper was born male.
Though Megan didn't speak out against the subject of her gender coming under questioning, she did speak of the vulnerability that black women face every day that leaves them "unprotected"…
"Black women are so unprotected & we hold so many things in to protect the feelings of others w/o considering our own,"
"It might be funny to y'all on the internet and just another messy topic for you to talk about but this is my real life and I'm real life hurt and traumatized." She posted to Instagram.
Due to so many inconsistencies surrounding the Tory Lanez / Megan Thee Stallion story, it seems that no one will ever know what truly happened on July 12th, 2020 between these two stars. Nevertheless it did not stop Tory from commenting to social media sources about the controversy that led him to several legal battles for the alleged assault. He made a point to clear his name of any claims that he apologized for shooting the Rap goddess, making clear that he never validated any claims regarding him owning up to the incident.
"Good D*ick had me fucking 2 best friends," he tweeted. "And I got caught. That's what I apologized 4 … it's sick how u spun it tho." was the statement tory released in his defense just before continuing his trial in April of 2022. His trial case is set to be continued in September of 2022.
Musicians
About the author
I am a freelance journalist thats been working since 2016. My specialty is cultivating brands with original content that correlates with the brand. My credits include Sophisticates Black Hair Magazine & SMM (Social Media Magazine).
Reader insights
Be the first to share your insights about this piece.
Add your insights