Interview with Tabitha Ashley a singer/songwriter and multi-talented artist.
Tabitha Ashley's new song "One Eye Open" hits hard from the very beginning and just keeps rocking throughout.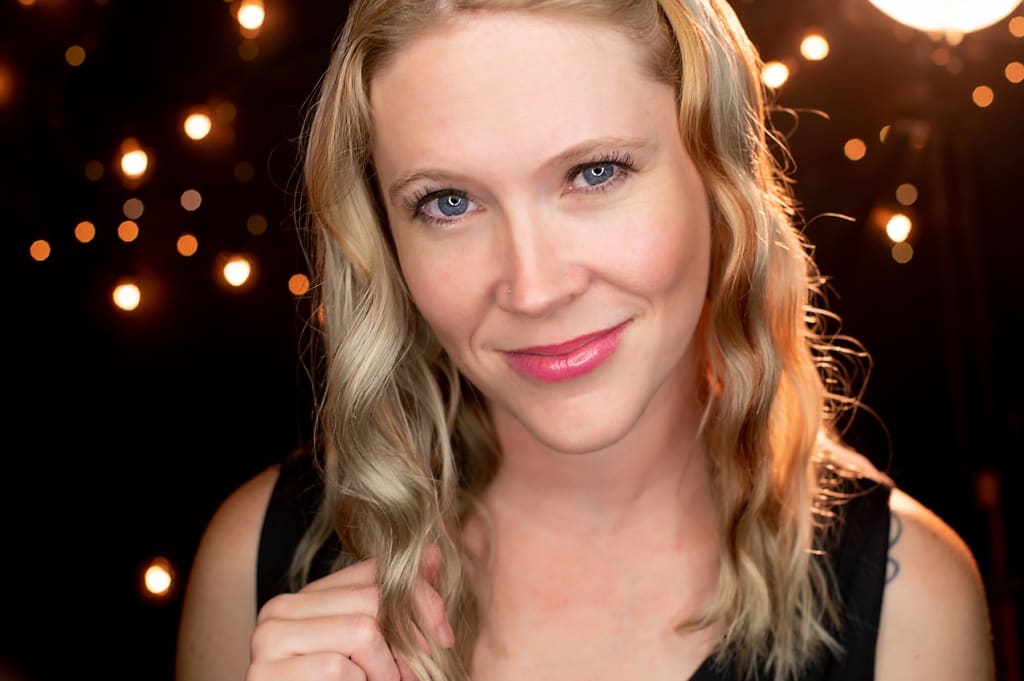 Tabitha Ashley
Q: Tell us a little bit about yourself. Do you come from a musical family? Your (music) background?
Yes, I come from a very musical family. When I was a teenager I sang in a local Christian rock band along with my family, called Kaptive Heart. My dad sang and played guitar, my mom sang and played the drums, and I occasionally played the flute and bongos, too.
I also enjoyed watching my father play lead guitar and sing in a separate rock band, who covered mostly 70's rock music. In my 20's, I had young children so I stepped away from the band scene for a bit to raise them. I still did some small singing gigs here and there, and had fun going to Karaoke with friends about once a week.
Now that I am in my 30's, I wanted to get back to music again. I enjoy having the freedom to write my own music now.
Q: Are you signed to a label, or would you like to be?
No, I am an independent artist. At this point in my life I don't think I have any interest in being signed to a label unless it was an undeniably great opportunity. I enjoy the freedom of creating music however I see fit.
Q: I have to say, this is a case of don't judge a book by its cover. Listening to your music I was like "wow, where did that come from?" Do you get that a lot?
Yes, actually. Many of my acquaintances, until recently, had no idea I could even sing since I have spent the last 10 years focusing primarily on my family and local business. (I only started making music again this year.) Even more so, many of them are surprised that I prefer to sing hard rock/metal music. I don't think I necessarily carry around that "rocker" vibe in every day attire.
Q: Do you write your own music, or do you collaborate?
I write my own lyrics and melodies/harmonies, and then I hire musicians to collaborate with to create the rest of the music for my tracks. I wish I could play the guitar better myself, but I don't let that stop me from creating.
For my new single, One Eye Open, I even found a fantastic bagpipe player to help me with my vision for the music.
If it wasn't for the ability to collaborate with instrumentalists, I don't think my music would come together as beautifully as it has. Since I don't currently work with a band, this has been a great alternative for me. I can only play one instrument really well, and that is the flute. So I do work that into my music wherever I see fit. I really love being able to add a Celtic edge to hard rock music!
Q: What is your creative process like? Where did the ideas come from, how were they transformed in your mind?
As I mentioned before, I love the idea of mixing in Celtic instruments with rock/metal style music. My Great Grandmother, who is still alive at 105 (bless her heart) came over from Ireland when she was a child. So we have a lot of Irish history in our family and I have always been fascinated with Celtic music and culture.
I also love minor keys. Most of my musical melodies come from that mindset. The writing process is an outlet for me. I can express anything I want through music and really does come easily for me.
I can sit down and write a song in less than 30 minutes, sometimes, but it has to be the right time of day. I can't write during the day when I am busy with stresses. I always write in the quiet of the evening when I don't have anything else pressing going on. This is my "me" time, when I can take all of the emotions out of my head and put them down on paper in a poetic way. It's a release for me to be able to express what is in my mind in an acceptable way.
Truthfully, the only time I can actually communicate my true feelings is when I write. Any other time, distractions take hold of my ADHD mind and my communications tend to get jumbled to the point where I can't accurately tell anyone else how I feel.
Q: Tell us a bit about your new song release "One Eye Open"?
This alternative metal/rock song is unique because it features the bagpipes in an unconventional, and very cool way. "One Eye Open" hits hard from the very beginning and just keeps rocking throughout.
I wrote this song to convey the journey of going through a toxic relationship and finding peace on the other side- but never forgetting to leave "one eye open" just in case trouble comes back around.
We're also working on a pretty cool music video right now to go with it, featuring a "Thelma and Louise" type theme. The video highlights what a toxic relationship looks like, and then tells the story of the journey to escape from it.
Q: It looks like 2022 has been a creative year. Does this have anything to do with the pandemic or just feeling creative?
Yes, the pandemic directly influenced my decision to get back into music. During 2020, I was forced to slow down and remember the really important things in life. I was also reminded that tomorrow was not guaranteed.
Suddenly, I could not work in my full time photography business for several months and that was the first time in many years that I could wake up in the morning and not have to rush around, staying busy until sundown. I finally had more quality time to spend with my family.
It was definitely stressful too, not knowing what was going to happen from day to day. However, I was gifted TIME. It was really important for me to gain that new outlook on life and take time to enjoy the things I used to enjoy. I started writing again, gardening, playing board games with my kids, doing home projects, and reflecting on why life is beautiful.
I also realized just how much I missed making music and that bringing it back was exactly what I needed to thrive again.
Q: What do you value more, creativity, or perfect execution?
Creativity. For sure. What is perfect to one person is not perfect to the next. Art and music are very relative and subjective.
Q: Do you create for yourself or for a fanbase?
Right now I create for myself and hope to connect with a fanbase who relates to my music. I think the whole point of being an independent artist is to be able to make your own decisions, even if it goes against the grains of what people want or expect. I think that's also what can really make or break an artist. Not everyone will relate or like what I do, but those that do will become loyal fans... and as it stands now, I enjoy being a bit "different". I never cared about blending in or being mainstream.
Q: Has your musical journey had a deliberate direction, or did it simply evolve in whatever direction it found?
It just kind of evolved on it's own at first, but now I am now taking a more deliberate approach as I create more music.
Q: Do you, or would you like to, perform live?
I have not performed my new songs live yet. I plan to start picking up gigs once the whole first album is complete, though.
Q: Which of your songs is, or do you think would be, fun to perform live?
One Eye Open, definitely. It has so much emotion behind it. I think it would be fun to portray that to a live audience. I have some other songs coming soon as well that I won't go into too much yet, but they would also be on my list.
Q: Share a crazy moment or positive experience that has happened through music.
I used to frequent Karaoke bars, and one time this guy, who no one in our group knew, just came out of nowhere and started break dancing and standing on his head during a song that someone was singing. That Karaoke night became kind of a full dance party and everyone joined in. Prior to that, everyone was seated and it was a pretty quiet group. I love how one person can just change the energy in a room like that through their own expression in music.
Who inspires you musically?
Hmm... I am a huge fan of Amy Lee and Evanescence. I love how Amy mixes her classical training and orchestral instruments with a hard rock/metal style music. Her songs are some of my favorites to cover.
I am also inspired with how Jethro Tull played the flute in such a dramatically awesome, rock and roll way. Halestorm is definitely on the list too. Linkin Park has always been a big influence as well. There are so many others, I don't think I could even list them all.
Q: What is your favorite/best outlet to connect with your followers Instagram, FB, Twitter? How would you want them to follow?
Tiktok and Instagram are probably the ones I am most active on.
Q: Do you plan to release one song at a time, or do you have plans to work on an Ep or album? Something we should look out for.
I am going to release about 4 or 5 singles first but I have an entire album in the works!
Q: Did I forget to ask something? Something you would like to say, that I did not address.
You covered a lot! The only other thing I'd like for everyone to know is that I currently have two additional songs in the works.
Two songs that are very meaningful to me... One is about celebrating my 3 living children and one is about mourning the 9 children I've lost through miscarriages. Both have intense meaning, but very different moods. I am bringing in all 3 of my children for the first one, to feature them each playing their instrument of choice, since the song is about them.
Just like I had that influence growing up and the opportunity to create music with my parents, I want to include my own children in my music as well. All 3 are very musically talented. So there are some exciting things coming up!
We are creating music videos for each one. The music video for my latest release, "One Eye Open" will be released within about 2 weeks so be sure to watch for that on YouTube!
Musicians
About the author
Music Fan plus Talented Musicians and Artist equals mySoundmusic