Interview With Dr. Norma McLauchlin
Writer Spotlight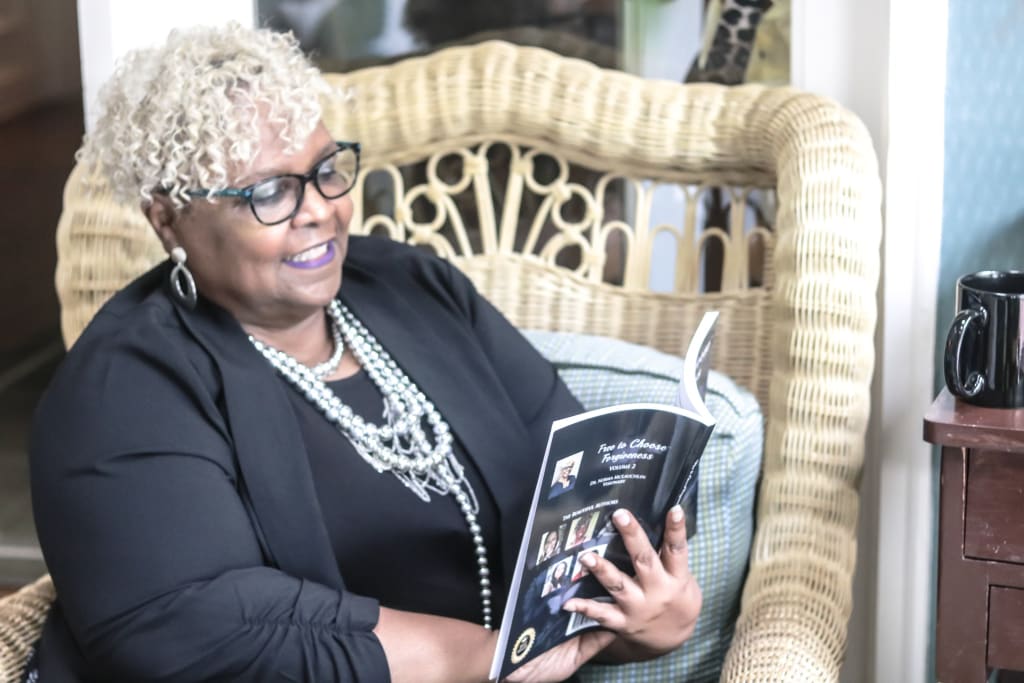 Dr. Norma McLauchlin was born and raised on a farm in Reidsville, North Carolina, a small town north of Greensboro near the Virginia border, until turning eighteen years old and graduated from high school. With a dream of seeing the world, she devoted the next two and a half years to the US Women's Army Corp as a Communications Center specialist. For six years following that, Fayetteville, NC, became her home before relocating to the Navajo Indian Reservation in Dilkon, Arizona, for almost three years. Experiencing the culture of the Navajo people added a layer of compassion for humankind before moving back to Fayetteville, NC, where Norma still resides. 
Norma is the founder and CEO of Chosen Pen Publishing, Norma McLauchlin Ministries, Lady Lifers Women's Conferences, the Free to ChooseTM book series, co-pastor of New Life Bible Church and New Life Christian Academy. Individuals know Norma in and around her community as one who inspires women to embrace spiritual change and live more fulfilling lives. Walking in her gifts and operating from the heart of her experiences as a wife, mother, co-pastor, and administrator, Norma has the expertise to help women develop their self-esteem and self-worth. Chosen Pen Publishing, Free to Choose books, Spiritual Growth Journaling, and Coaching are just three vehicles used to encourage women to access the tools necessary to bring about the transformation that will help them realize their gifts and potential. 
After earning a Bachelor of Science in Business from Fayetteville State University, Master of Leadership from Central Michigan University, Master of Business Administration from Virginia Technical and State University, and Doctor of Education from North Carolina State University, she embarked on a career in higher education where she was extraordinarily successful in impacting the lives of her students academically and spiritually.
In 1986, Norma entered into professional ministry at New Life Bible Church of America, Inc., where she currently serves as Chief Administrative Officer with her husband and partner in ministry, Pastor Allen S. McLauchlin. Since that time, Norma further developed spiritually through biblical courses and study. She continues on a path of success, achievement, and faith-based empowerment.
What does being an author mean to you?
Norma: I enjoy being able to publish stories. My goal is to bring healing and peace to the lives of the hurting through those who have overcome and help others become overcomers. 
Please tell us about the Free to ChooseTM book series' and how can we obtain it?
Norma: I value choice. I want more than anything for viewers to understand that everything they do, think, and ultimately feel is a choice. I want them to recognize and understand those choices and then help them succeed if they choose the path to publishing. The Free to ChooseTM brand is based on those principles.
The Free to ChooseTM Spiritual Growth Series is a series of studies designed for Christian writers called by God to provide answers to questions about their assignment. These spiritual growth studies allow the reader to dig deeper into the Word. Through the guidance of this resource, joined with the commitment to commune daily with the Lord, the reader will witness the freedom not only as a Christian but as a Christ-follower. Reading, meditating, studying, and journaling allow readers to discover that they have more to offer in their Christian walk.
The Free to ChooseTM Worthiness
The Free to ChooseTM Forgiveness, Journal, and Activity book
Free to ChooseTM Self Worth, Journal
You Are Free to ChooseTM textbook, study guide, journal, Artistic Expression Journal, and course
Free to ChooseTM to Write, and I've Got to Write! It's Like Fire Shut Up in My Bones is a compilation of smoldering, heartfelt stories of love, compassion, faith, hope, Forgiveness, and amazement inspired and told by the Chosen Pen Writers Group. 
You can find all of the above on the Chosen Pen website: chosenpen.com and Amazon.
What are your goals and mission as CEO of Chosen Pen Publishing?
Norma: My mandate from God is to publish stories that help others overcome. Based on that, my current goal is to publish one hundred stories a year. In addition, I plan to publish ten anthologies with ten stories each, inspirational works, novellas, and novels to operationalize that.
My overarching goal is to write and publish stories that bridge the gap between the stories and readers trapped in a place of terror and abuse and guide them to a place of healing and peace. That was the intent of the published anthologies You've Got to Write, Free to Choose Forgiveness, and The Voices of Mothers with Black Sons.
What have been some of the most memorable moments in your career so far?
Norma: The most memorable is the Holy Spirit urged me to write and publish stories and, in hindsight, God's sovereignty since that time.
Other significant memories center around readers' testimonies, saying, "Thank you for writing that story for me. It allowed me to overcome and move from that place of anguish and pain." In addition, receiving the Publisher of the Year award at the Path to Publishing conference will always be a time-honored memory. Also, receiving a master's in publishing from Path to Publishing cannot go unnoticed. The second two help make the first possible.
What do you like to do in your spare time?
Norma: Outside of traveling, reading, and spending time with my son and three grandchildren, I assist the students in New Life Christian Academy, of which I am co-founder. 
What can we be on the lookout for from you in the coming months?
Norma: Since one of my deepest passions is Forgiveness, I will embark on a Forgiveness Campaign between May and September. I believe that if Christians practiced Forgiveness, the world would be a better place, and it would be a joy to live and experience the goodness of planet earth. Therefore, the content for these months includes topics surrounding the topic of Forgiveness. 
I have written and published bestsellers' Children's books and anthologies on the topic of Forgiveness. I am currently delving into the Christian Fiction with a novella titled the Forgiveness Game and a novel titled Losing it All for Him. You can expect their release during the campaign.
I know, even as Christians, Forgiveness does not always come easy for the majority of us. Self-preservation is the first law of man; therefore, in our natural state, our first instinct is to protect ourselves when injured, physically or emotionally. Consequently, our Christ-like attributes of grace, mercy, and forgiveness tend to take a back seat when you believe you have been offended. Forgiveness is a conscious choice, a physical act involving the will, or is it a feeling, an emotional state of being? My Forgiveness Anthology, a Textbook with accompanying resources and guided journals, offers insight and answers to these and frequent questions surrounding the topic of Forgiveness. 
I mostly write in the inspirational genre. My kindle and print books include guided journals, devotionals, and how to write books. My most recent series is Lady Norma Asks which covers topics such as Are You a Godly Entrepreneur, Do You Love Yourself, Do you follow Godly Principles in Your Business? 
The year 2022 promises to be the best yet. Chosen Pen is a publishing house with multi-level branches. From Jamaica to the Dominican Republic, we hone your skills in a workcation atmosphere. At the end of these retreats, an Anthology fiction novel will pay homage to the best of the authors who attend. We are creating opportunities!
We will continue to provide Writer Bootcamps, conferences, retreats, virtual workshops on writing, editing, marketing, and our specialized service on creating your best seller.
What else would you like our readers to know about you?
Norma: I like them to know that my team is ready to serve each of you beyond your doubts and fears. We may not place you in bright lights (or maybe we can), but we can definitely put you in well-written, readable black and white.
What would you like our viewers to gain from this interview?
Norma: I value choice. I want more than anything for viewers to understand that everything they do, think, and ultimately feel is a choice. I want viewers to recognize and understand those choices and then help them succeed if they choose the path to publishing. Thus, they are Free to Choose.
Connect further:
Social Media:
Facebook: chosenpenpublishing
Twitter: @Norma McLauchlin
Instagram: chosenpenpublishing
YouTube: Free to choose
LinkedIn: Norma McLauchlin
Pinterest: McLauchlin Norma
Creators
About the author
Filmmaker/Actress/Writer/Journalist/Publicist
Award Winning Multimedia Creator
IG @TammyReeseMedia
Reader insights
Be the first to share your insights about this piece.
Add your insights