Interview: Composer/Writer Blair Mowat
Blair Mowat talks making his writing debut with Class's Queen of Rhodia finale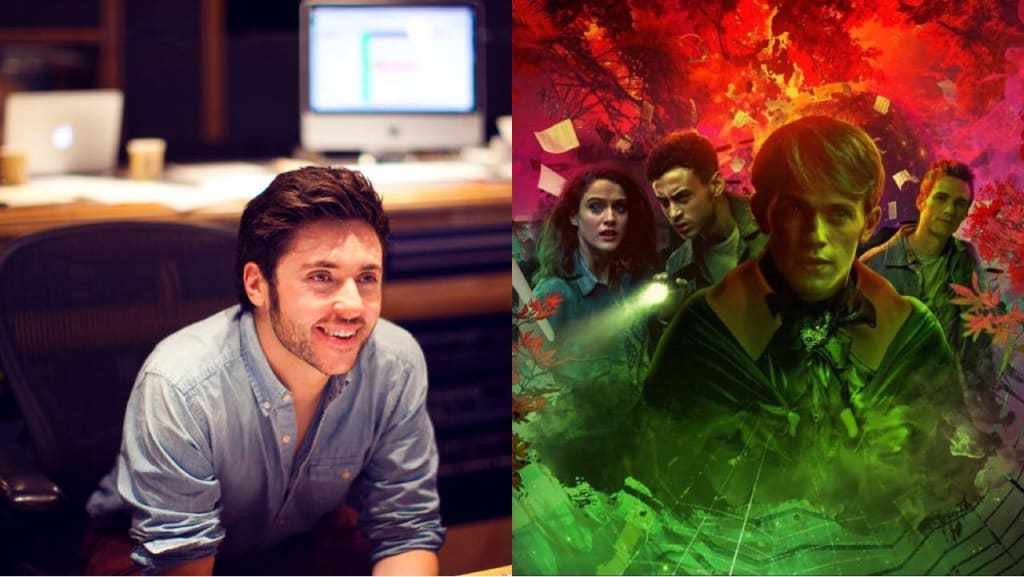 Composer Blair Mowat has an impressive music CV, ranging from screen to audio. However, after four years of working on Patrick Ness's Class series, he has made his writing debut with his audio drama Queen of Rhodia, the finale of the fourth Class box set.
It was a pleasure to get the chance to interview him and talk about writing dialogue for the characters he's previously written music for.
How did you originally get involved with Class? What attracted you to this production? /How did you find the sound of Class? /Was there a particular scene across the series that you enjoyed composing?
So, I think these questions are covered in depth in a previous interview here
How was it making your writing debut at Big Finish?
It was wonderful. I was in the hands of Scott Handcock who I know very well from writing the music to Torchwood, so I couldn't have asked for a better script editor. He kept me on the straight and narrow! I'd actually been planning a writing debut for a while so I'd been studying the craft of writing in my spare time, which I'd already dipped me toes into a decade ago. So it was really nice to be able to put that theory into practise. Writing is hard though – similar to composing it's about finding the seed of something interesting, then refining it over and over, which can feel like hitting your head against a brick wall sometimes. However, it's more than worth it when you get to the end. The reception to the story has been a wonderful reward, which has spurred me on to want to do more.
Without going into spoilers, what was the inspiration behind Queen of Rhodia?
I came up with two pitches to send to our lovely producer and director Scott Handcock. Scott liked both but for various practical reasons he leant towards Queen of Rhodia, so I began work on it. I wanted to try and do something ambitious with the format and also take advantage of it being an audio episode. That idea would have been rather expensive to do on TV so it felt like a fun one to explore. It's hard to talk about it without ruining the story, but I wanted it to be somewhat of a love letter to the show. It's quite 'knowing' - it's written with the assumption the listener has quite a lot of knowledge about Class, because let's be honest that's the audience here! This isn't for your casual viewer, this is for the person who has been on a journey with this show the last 4 years and knows these characters inside out. I wanted to reward that dedication within the fanbase, because it's been a bit of a rough ride for the fanbase over the years!
How did it compare writing dialogue for characters you've written music for in the past?
It was really helpful because I've had to re-watch scenes and listen to all that dialogue over and over again, whilst writing the music. As I result I've come to know the vernacular of the Class world very well - it's sort of ingrained in me now! I did have the odd moment where I'd think about the music and how it could work in the script, but the majority of the time I was focusing on dialogue and story. I won't lie, I did have the soundtrack on in the background whilst I wrote sometimes! Occasionally that was inspirational but sometimes it admittedly got too distracting and I went back to silence or white noise. Overall though it was just a lot of fun to write for some of these characters, especially Quill who the story revolves around. Those who have listened to it will see moments where I might have pulled an actor in a particular direction because I thought they'd be good at it and enjoy it. So that was fun too, having gotten to know some of the cast on a personal level outside of the show and what they're capable of it.
Would you be open to writing more audio dramas? If so, any you'd want to tackle at BF
I would definitely be open to it. In fact I have a couple of ideas brewing at the moment but I haven't approached anyone yet as they need a bit of refining. I've been busy composing the last 6 months for TV projects but as filming has stopped because of Corona Virus, I may find myself with more time to work those up. I'll keep them to myself for now as I know Big Finish love secrecy!
And finally, what are your hopes for the future of Class?
I was told there was a reasonable chance Queen of Rhodia may be the last ever episode of Class, so that carried with it a certain responsibility, which ended up working its way into the script. It's certainly the end for now. There's no more Class suddenly appearing this year as the license was for 12 episodes and that's been fulfilled, without a new one having been negotiated. I think we all feel a bit burnt by the trajectory of the show. It deserved better – those last three episodes of the TV show are where it really solidified in every respect and found its feet, but the sad truth is a lot of people wrote it off early on and never got that far. It's gathered a dedicated and growing fanbase since then, as people got round to eventually watching it on Netflix or BluRay, but then it was too late for it to have a TV revival. I'd love a season 2 continuation at Big Finish, even though it doesn't look that likely at the moment. In the meantime supporting the Big Finish releases, and fans talking about the show, help to keep it alive and increase the chance of something happening in the future. Only time will tell…
Thanks again to Blair for this great interview - You can listen to Blair's audio drama in Class: Volume 4 and his score on this series and many more HERE