How To Redact PDF- Online And Offline Solutions in 2022
Introduction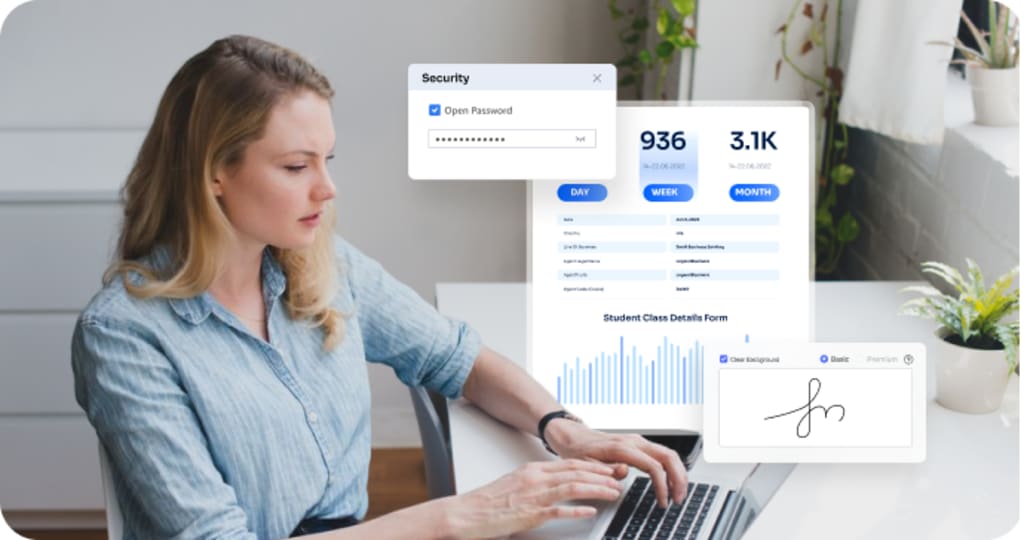 Pdf, being one of the easiest formats to access and send through various platforms, is popular among varied professionals. However, redacting a pdf would require a good online pdf editing tool. The Internet offers a combination of paid and unpaid tools, but picking the most appropriate one is a little confusing.
Moreover, locating the tools which match compatibility with your preferred device makes it even more complex. Are you tired of searching for the perfect tool to redact pdf online? To ease this difficulty, we have an incredible editing tool that will aid you in such scenarios.
Why Do You Need To Redact PDF Files:
PDFelement, a free PDF editor, has an intuitive user-friendly interface that can work on various devices such as Windows, Mac, iOS, and Android simultaneously. Redaction is one of the most powerful yet necessary tools which helps people around the world to convert, compress, combine and protect their PDFs.
The need for protection arises in our daily life too when we have to black out social security numbers or names of minors while sending some information regarding our law case to lawyers or court. Professionals like teachers, bank clerks, attorneys, etc use it to encrypt sensitive information when accessing PDF documents. Moreover, it frequently updates its features to provide maximum satisfaction to users.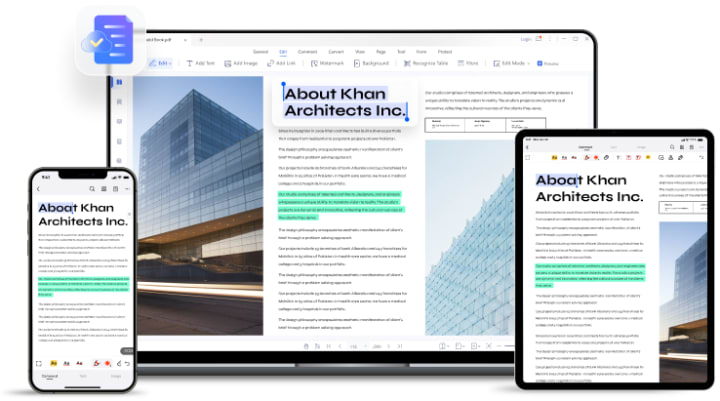 How To Redact PDFs With PDFelement?
To redact a document means to protect a specific text/image from viewing, commenting, editing, or copying. PDFelement is a wonderful tool that helps you set a password to keep your sensitive information confidential. It can be done at any time anywhere with just a few clicks.
To begin with the reaction process, one needs to download the PDFelement application on their device and install it. Then, follow the steps given below to redact on pdf from PDFelement.
Step 1:Open PDF Protector:
Log on to the application. Once you have reached the homepage, look for the 'Protect Tab' and click on it. Then, choose the 'Set Password' option from it. This will help you set a strong and unaccessible password for the pdf which you want to encrypt.
Step 2:Encrypt PDF Files :
Now that you have set up your passwords, it's time to decide on what actually and how much you would want to encrypt. Pdfelement allows you to protect your document in various ways. One can use either of two of the processes, protect the document from viewing by setting an open password or protect the document from editing and printing by setting a permission password. You can make changes to the settings anytime you want.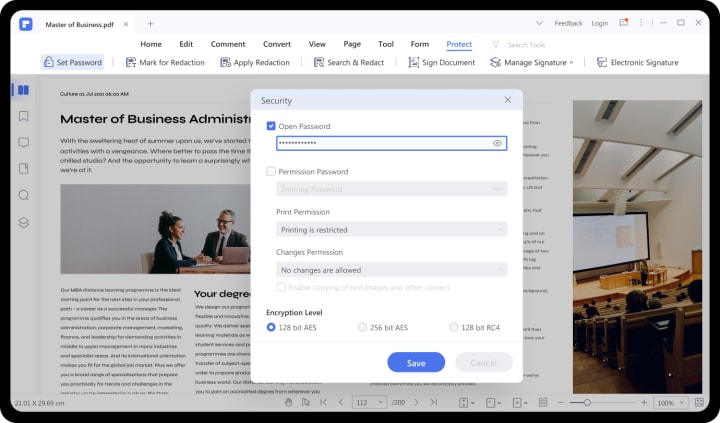 Step 3:Redact Text/Images In PDF :
Now that all of the encryption decisions have been made, you need to choose/add documents that you wish to encrypt. Select the texts or images and click on the 'Mark for redaction' option. Your desired document gets redacted.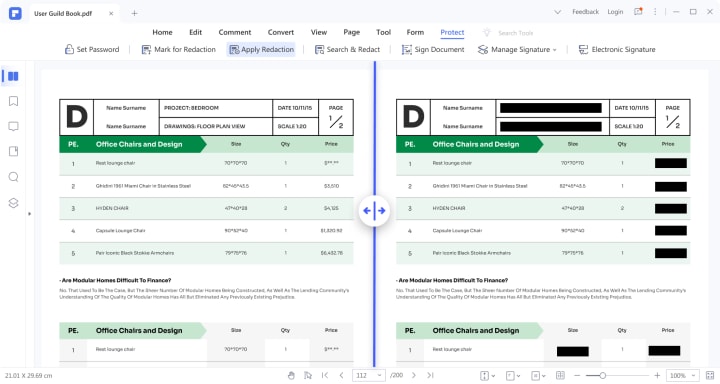 How To Redact PDFs With HiPDF :
HiPDF is another excellent editing tool that will help you redact PDF online in a faster and easier way.
To begin your redaction process with HiPDF, follow these steps:
Step 1:Open Redact PDF
Firstly, switch to HiPDF. Then, look for the 'All Tools' option on the homepage. It is usually located at the top bar. Click on it as you find it. Then, you will be moved to a fresh page. Scroll down and look for the PDF Tools section. Click on it to get access to the varied editing tools. Choose the redact pdf option from it.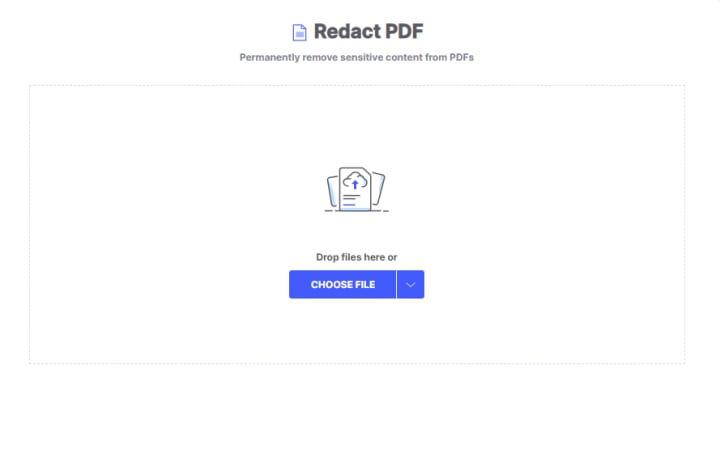 Step 2:Drop Or Choose Files
Next, you need to drop or choose the files/documents which you wish to encrypt. This can be done either of the two ways, one by choosing the file, and two by uploading the file from OneDrive. Once you get done with uploading/dropping, the selected file will be displayed on your screen.
Step 3:Redact Text/Images In PDF
Then comes the final step. Select the texts/images which you wish to redact by right-clicking on them. Now to save changes and redact them, tap on the Apply button. This marks the end of the redaction process.
Other Features of Wondershare Pdfelement
Wondershare Pdfelement is one of the faster, smarter, and handier ways to get all your pdf solutions without needing to download different applications. Curious to know more about its features? Let's begin.
Edit Pdf Files
It offers an easy editing solution for both mobile and PC users. One can add and edit texts, fix formatting errors, and edit text, and font size. Pdfelement has an in-built spellchecker to check and ensure effortless writing. You can also customize it by adding images, watermarks, and hyperlinks to pdf with ease.
Read And Annotate PDF Files
Reading and annotating pdf files is easier and better. People usually face eyesight issues by spending more time with devices. To ensure minimal discomfort, Pdfelement has an eye-protection mode with dark and light modes to suit your preference. It also has powerful annotation tools like text markup, shape, and eraser, stamps, comment types.
Fill And Sign PDF Forms
Signing a pdf becomes a bit difficult when done from other devices. But not with PDFelement. One can create an e-sign and use it anywhere, anytime through any device. It also acts as a perfect form of pdf filler. One can also find many free, customized, and well-designed pdf form templates.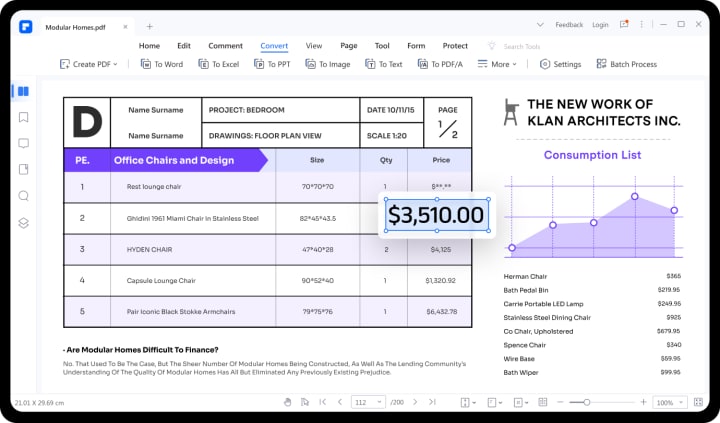 Verdict
Wondershare Pdfelement is a great online pdf editing tool that can be accessed through Windows, Mac, iOS, and Android devices. It can be used to encrypt any document within minutes. One can make changes to their encryption settings anytime anywhere which makes it a very convenient option.
Moreover, the file selection process is made much handier with an uploading option that allows you to upload the desired file through cloud storage. It has an intuitive interface that offers a three-step encryption solution for users. The e-sign and e-stamp options enable you to fill e-forms from various devices. These all features make it an excellent tool that can help you to redact pdf.
Reader insights
Be the first to share your insights about this piece.
Add your insights