Doll House Rap Stars
The origins of Rap's budding Diva dolls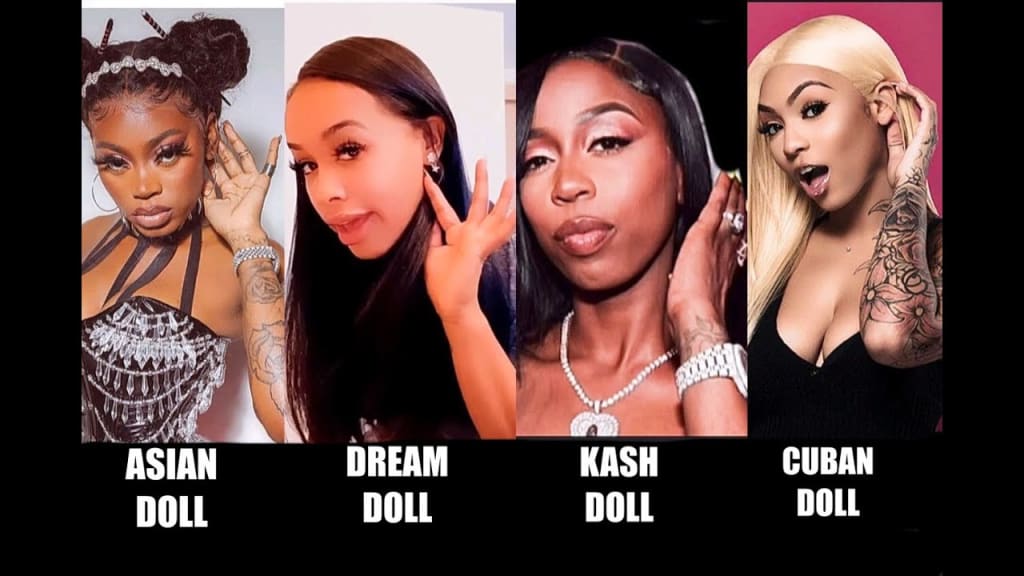 Kash Doll
There are many "Dolls" out on display, but not many are quite as refined and established in mainstream than Kash Doll…
Arkeisha "Kash Doll" Knight hails from Detroit Michigan. She grew to Fame after promoting herself through social media platforms like Instagram to establish a fan base. Kash doll's striking beauty is unmistakable, and this curvaceous female rapper knows how to draw attention…her smooth Hershey complexion working to her advantage.
It was in 2015 that she remixed singer Tinashe's "2 On", which was the beginning her buzz as an artist.
In 2017 she broke through the underground threshold when she featured on "So Good", with Big Sean (produced by Metro Boomin). After her song "For Everybody" went viral, there was no stopping this dog from raking up the cash. "Ice Me Out" proved to be Kash Doll's arrival into the mainstream music scene, which she released after signing with Republic Records (a subdivision of Universal Music Group). The single proved to be a radio sensation.
Though Kash has a long road to travel to get the household recognition she deserves, is clear that her heavy work ethic and immense talent continue to drive her forward. Collaborative projects with major artists such as Lil Wayne and Iggy azalea has continued to expand her visibility, as well as display her impressive versatility as a rap artist.
Nevertheless, this female MC is aware of the challenges that come with the record business regarding gender and colorism. Although she previously denied ever experiencing colorism in her career, she posted a tweet later that stated quite the contrary...
"It's crazy how I remember saying I haven't witnessed colorism just yet in the industry karma will happen. This guy didn't even want to clear this beat because of my skin tone, or unless I get another woman on the hook that's a lighter complexion... Just wanted to share that with you guys". She tweeted to her 863,000 followers whom she calls "Kash Bratz".
Known as the pioneer of the "Doll" Moniker, Kash has been vocal about her frustrations with the slew of upcoming rappers using the "Doll" handler. When addressing colorism, and comparisons to her lighter-skinned predecessors, Kash openly Tweeted...
" LOL Cuban Doll and Dream Doll are not bigger artists than me... Secondly, I believe in God in his timing. I will not let society make me believe my fine ass skin tone is the reason I'm not as big of an artist... Oprah is black! Anything is possible be positive!"
Kash Doll continues promoting herself on major platforms... such as her appearance on the 2019 BET Music Awards, as well as her recent feature promoting her hometown Detroit via billboard for the $3.2 million Census fund. Kash Doll's optimistic Outlook and determination continue to enable her to break barriers, as she refuses to acknowledge stereotypes and proves that she's here to stay!
Dream Doll
Most recognized for her role in (Love & Hip Hop New York), and as "Tabitha", from the TV show (The Bad Girl's Club), this doll baby is perhaps the one who receives the harsh or end of criticism regarding her talent…Likewise, her voluptuous figure and baby doll face ensures that she continues to capture criticism from those who think she's just another video vixen type turned Rapper.
Although Dream Doll receives a ton of traction from haters who often label her a "TV personality", and "bottle girl," (referencing her role as a bartender in Starlets strip club of Queens New York) this Rap newcomer has racked up 2 million YouTube views, catching the interests of Atlantic records.
Dream Doll's most recent single, "Who You Loving", Featuring G-Eazy released a day before Valentine's day 2020, proved to be a smooth introduction into the mainstream. The song went on to the past 3 million streams via Spotify, and proved to critics that Dream has the potential both as the lyricist and Rap artist... illustrating her potential to succeed in the Rap game.
Distinct from the other dolls, Dream Doll's colorful fashion sense and bubbly persona have enabled her to focus her energy on establishing herself as a "brand", as opposed to just an artist. This fact likely contributes to the falsehood that the female Rap artist is lacking in bars! However, utilizing her marketable image by creating an Enterprise as a hustler, (hosting events, and even developing her own makeup line) has proved to be a wise career strategy.
Despite the controversy and skepticism surrounding her Rap abilities, Dream used her charm and business savvy skills to propel her to the top. However, her determination and infectious personality hasn't slowed the haters down… which happens to include both fans and industry peers alike.
When a feud between Don Q and Tory Lanez resulted in Dream's name being exploited, the beef inspired Dream's diss record" On Your Head" in which Dream Doll proclaimed that Tory took a trip "down south", and even proposed a threesome with her and a male! Although an unfortunate event, the record proved to great tool to bring out a grittier side to the rapper, and revealed a passionate MC side that even gained Hip-hop "old head's" respect. Unfortunately, this was only one of a few beefs she would encounter upon her entrance into Rap.
Dream Doll is also rumored to have ruffled Nicki Minaj's feathers when she was allegedly forced to depart from New York's 105.1 radio station... Conspiracies suggest that Minaj's infamous blackballing was at play, due to the doll's affiliation with her nemesis Lil Kim.
Although the beef was said to be one-sided, with a puzzled Doll left in the wind, the beef was nowhere near as heavy as the smoke from Bianca Bonnie (L&HH).
Bianca later pinned the diss track "Nightmare on Lenox", where she shades at the artist, depicting her as a clout chaser and industry thot! The beef was said to have stemmed from alleged subliminal shots Dream Doll initially fired at Bianca throughout several of her songs.
The two have since ended the feud, with Dream Doll leaving all beefing to rest and focus on her budding career. Her song "Ah Ah Ah" Featuring Fivio Foreign was released July 2020, the single has garnered quite positive feedback online. DreamDoll unveils her latest single "Ice Cream Dream," a collaboration with rap artist French Montana (released April 2022 ) that has everyone comparing the young rap princess to legend Lil Kim herself! It seems that this beautiful rap artist may have a few tricks up her sleeve… and may just be the doll who's got next.
Asian Doll
Asian doll, also known as "Asian Da Brat," is a Dallas Texas native who has achieved prominence after being discovered by Gucci mane. She later signed on with his label as the first female rapper, venturing on tour with major artists such as YNW Melly and Blue Face.
This doll's name contains origins derived from her love of Harajuku fashion, which she is incorporated into her image… combined with her rich mahogany skin tone, and high cheek bones, give her image an edge that enriches her exotic appeal. Asian's witty bars, and rapid flow contains a rather unique cadence that distinguishes her from the others in the dollhouse.
So how did Asian get along with her doll mates? Her name "Asian Da Brat", known to be a second name, is actually a name change inspired by the problematic issues that followed her adopting the trending "Doll" theme to her alias. Her beefs with Kash Doll and Cuban doll were both made public throughout social media. To add fuel to the fire, Kash put Asian on blast via Twitter, claiming that the bad blood was fueled by a male lover they were rumored to have once shared in common.
"Asian been not liking me over a ni**a I didn't even want. She be fronting to y'all. I'm a grown a** woman, I never had beef with her, I think she's like 20... but you can't keep popping off when you was a fan before and I embraced your lil a**." She concluded in her rant.
Asian caught wind of the tweet and replied...
"Been on my d*ck since I was 19 b****get a grip already. Shut up you talk too much not enough recording".
The beef was later squashed, and interesting enough Nicki Minaj (infamous for starting beefs with other female rappers) was the one to encourage Kash and Asian to end the feud.
Asian's beef with Cuban was actually due to a personal friendship split, which resulted in a complex drawn-out media scandal that was both petty and messy. She later dealt with Rico Nasty's claim's that she was biting her style. Even with all the drama, Asian was adjusting well to the limelight, appearing on several media outlets to promote her projects. However, she would soon come to express nostalgia in regards to being an underground artist, in which she took to social media to exclaim to her fans.
Just two years later Asian got her wish, and she was granted release from her deal, and returned to being an indie artist. Surprisingly, this move didn't seem to be a factor in her obtaining higher heights, As her latest track "Pull Up", with King Von ( fellow renowned Indie rapper) circulated a massive 3 million views on YouTube... some of her highest views to date.
Since the break from being a major artist, Asian Doll has released her mixtape "Doll SZN Reloaded" which includes her collaboration with King Von, as well as the single "Come Find Me". SZN Reloaded available everywhere April 8th!"
She had originally tweeted.
"B**** I'm backkkkk independent". She declared proudly to her followers.
With a tenacious spirit, and her video views and streams rising higher than ever, this former doll has proven when following your heart and working hard… you can make a name for yourself...Major label or not.
Cuban Doll
Perhaps the most troubled of all the dolls at the dollhouse, Cuban Doll is the baby of the other three in terms of her experience in Rap, and a Dallas Texas native like Asian. This Young MC has a reputation for being pretty, yet gritty... Musically this doll can really spit, and is far from being shy on the mic... yet her bad-girl demeanor has led her to get involved with physical altercations with both men and women in the industry, (former friend and rap doll Asian Da Brat, as well as rap artist Tadhoe.)
Her domestic violence incident with lover Tadhoe was publicized when she was seen in a video at a hospital showing physical proof of the assault. Tadhoe had reportedly beaten Cuban for appearing on a live with rapper Tekashi 69, Which he later made threats for him to lose her number.
Her dark experiences in the industry seem to mirror her early years prior to fame... as she had to endure a childhood without her mother due to her being locked up. However, Rapping served to be the perfect outlet for Cuban to release her pain and repressed aggression.
Though Cuban hadn't had the experience that the other rap dolls had, the artist had already obtained Fame as an Instagram model with a following of over a million fans before launching her first mixtape entitled Cuban Link. In fact, it was her fans that encourage her initially to do music. She made the decision to follow her fan's advice, considering she had already gained great insight through attending countless studio sessions.
Though "Cuban Link" was a great start-up mixtape, it was her follow up release "Aaliyah Keef" (inspired by her favorite artist Aaliyah and Chief Keef) which gained her fan's stamp of approval that she had arrived as a rap artist.
Originally signed in 2018 to Capitol records, much like Asian Doll, she recalls her lackluster experience with being creatively limited as a mainstream artist. Cuban Doll subsequently followed in the footsteps of Asian, dropping the "Doll" handler altogether, and opting to go by "Cuban Da Savage" while dropping out of mainstream music altogether.
Since resigning from the secular music world, Cuban has managed to stay afloat… releasing music on her own terms. She also expressed long-term goals of developing a clothing line and music label.
Although quite awkward and interviews, and often perceived to be unintelligent...Cuban Doll has shown herself to be a complex young woman trying to find herself, and adapt into an industry that she still is learning. Her "shy" exterior likely the reason for her inability to express herself verbally… rather a reflection of vulnerability from rough experiences, than a reflection of her intellect.
Regardless, Cuban Doll's resilience… and the fact that she is underestimated… may well be the reason why we shouldn't count her out just yet…
Celebrities
About the author
I am a freelance journalist thats been working since 2016. My specialty is cultivating brands with original content that correlates with the brand. My credits include Sophisticates Black Hair Magazine & SMM (Social Media Magazine).
Reader insights
Be the first to share your insights about this piece.
Add your insights