Catching up with acoustic rock pop singer songwriter Jay Elle.
Jay Elle's 12 song album "Ride the Wave" is available on major music platforms.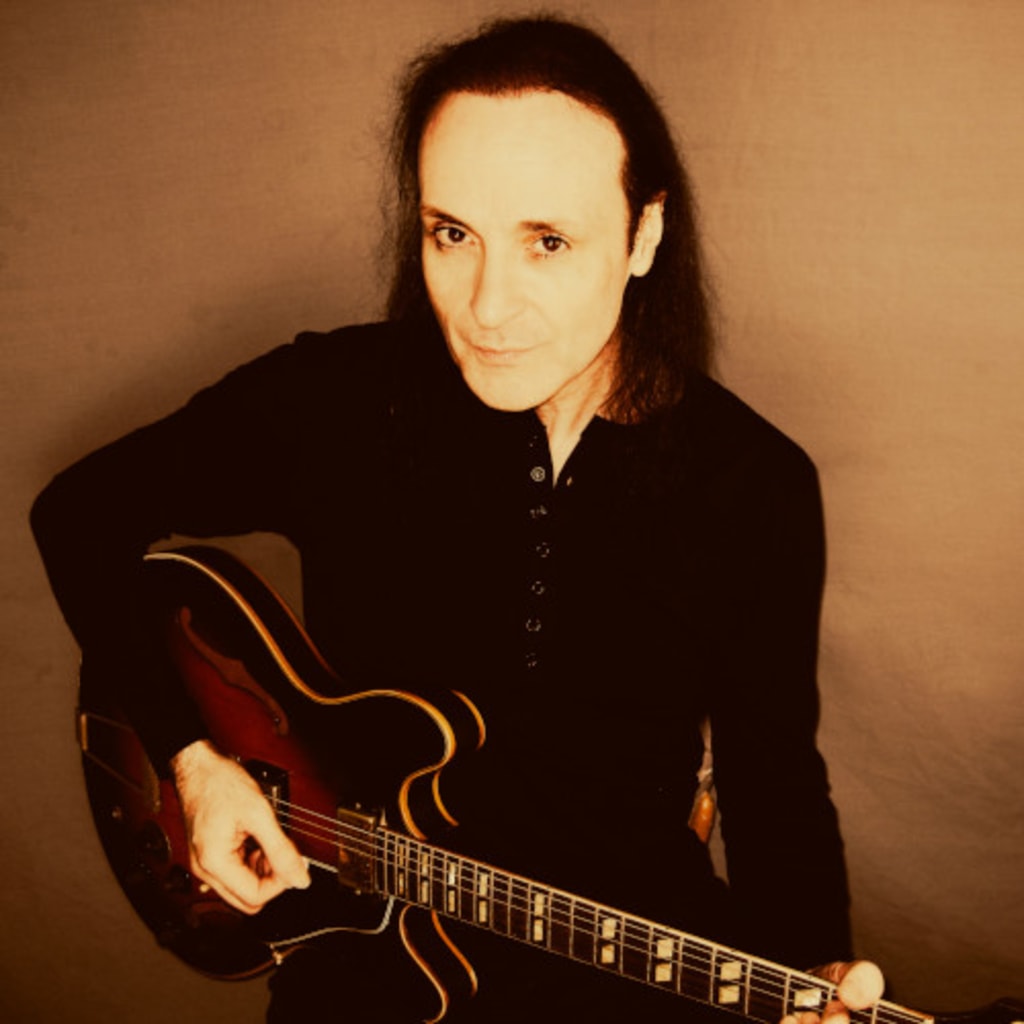 Jay Elle
Jay Elle is an acoustic rock pop singer songwriter who brings warmth and energy through diverse, well-crafted, "five star", guitar-driven melodic songs. His soft inviting voice will uplift and soothe your spirits and his witty lyrics will provoke deeper thoughts about the world while sharing optimistic, positive, upbeat messages that will "have you carry on with your day with a smile".

Jay Elle's latest release, the 12 song album "Ride the Wave", was recorded, mixed and produced by Caleb "kbc" Sherman (Cygnus Sound Studio). The album was mastered by Paul Logus (plxmastering.com). "The pandemic feels like one of those endless rainy days that I hated as a child. Boring!!!!!" says Jay Elle. "Back then, on rainy days I couldn't go out. According to my mom, if I were to get my hair wet I would most certainly catch a cold. Apparently, everyone else's mother thought so too. There was no one to hang around with on rainy days. At home, I was on lock down with the same old toys. No guitar then. No Internet. My new album, RIDE THE WAVE, is about how to best enjoy yourself while waiting for the sun to shine again." (Spotify bio)
Q: How long have you been creating music?
Hello everyone. Thank you so much for the opportunity to chat.
I have been singing and playing guitar for over 20 years. I started writing a few years after that. I played in bands in high school. Blues and rock.
I also studied classical guitar. As I learned more about guitar playing I discovered new music and writers. Regardless of the style of music, there are writers who can create wonderful songs and I thought that it would be great if I could learn how to do that.
Q: What is it about music that makes you feel passionate?
I really enjoy the hope and energy I get when I listen to a great song. I do my best to recreate that in my songs and pass it on to listeners. There's nothing more uplifting than a great song. It can make the time seem to pass faster or slower depending on the situation. If I am listening to great songs while exercising, the time goes faster for me. I don't like to exercise that much so it's great. A great song can really make your day. It can change your mood, give you courage, and give you the strength you need on occasion.
Q: Are you signed to a label, or would you like to be?
I am signed to Halfmoon Records and Publishing. They are great and have some cool artists. All great writers, singers and musicians like Margaret Dorn for instance, and The Accidentals.
Q: Do you have a preferred genre?
I listen to everything that I can get my hands on. But I write acoustic pop/rock songs. All my songs are guitar based. I do include various sounds and instruments depending on what each song inspires. Sometimes it's just guitars, and sometimes it can get busier with keyboards.
Caleb "kbc" Sherman did a magnificent job producing my last album "Ride The Wave". He included some great sounds that really complement each song. If you listen to the bass lines for each of the songs, they are all different and yet super cool. He is a brilliant musician.
I like albums that have more variety than not. "Ride The Wave" has 12 songs and they all are unique and have their own colors and flavors.
Q: Do you write your own music, or do you collaborate?
I rarely collaborate. When I do, it's when I write lyrics and other musicians write the music. Songs come up in my head and I go through whatever stages I need to go through to bring them to life. It's as if they are all ready but it takes me a while to get them out. I don't know that I could work that out in a collaborative situation.
Q: Tell us about your new single, "Miss Mess".
"Miss Mess" is the first single from my new album "Ride the Wave". "Miss Mess" is a song that reflects on the strange "relationship" I developed with the TikTok algorithm while on lock down. I get served these incredibly entertaining posts by women from around the world. The ladies are dancing, joking around, acting, shooting arrows, exploring beautiful sites, playing with their pets, venting about their boyfriends, playing pranks, flying helicopters, etc. They seem to be in total control of my life for 30 seconds or so. And there's nothing I can do but watch and listen. Of course I could stop watching… But I am liking it. A lot. There is always some "messy" elements to these posts. And some of these ladies are reckless and sometimes flawless in their recklessness.
I love watching puppies. I had dogs. Cavalier King Charles. They all passed away, sadly. I wrote a song titled "Angeling™" in their memory. But TikTok doesn't serve me a continuous stream of videos full of doggies for some reason. Mostly ladies… Some of these ladies are pretty intense. You've got to see the gymnasts. Wow! Intense. Some great actresses lip-synching to movies and TV shows dialogs. Very funny ones too. I don't always understand the thrill of some of the stunts, like jumping from the roof of your house into your pool. But, to each her own. After all if there isn't a "tsunami" hitting your shores, you may as well create one. Make a TikTok.
Q: Do you have any other plans relating to this release? A video?
We released a video of "Miss Mess". It was directed by Caleb "kbc" Sherman, who produced the album "Ride The Wave". Adela Sutac is the beautiful dancer in the video. She wears a little black dress. She's amazing.
As far as other videos, I am hoping to make a video for the second single we released, "Tequila Kiss". "Tequila Kiss" is getting a lot of great feedback and made it to number 19 on the Top40 Chart from nationalradiohits.com. "Tequila Kiss" is about the star of The Vampire Diaries TV Series, Nina Dobrev @nina. I spent a great deal of time binging on TV shows during the lock down. I loved the show and I thought Ms. Dobrev was really, really good, playing two characters to perfection. Ms. Dobrev has a lot of energy and is very emotional. Always very precise and totally engaging. Then I followed her on Instagram. She does things that I would never do, like swimming with sharks and jumping off airplanes. She travels a lot. She's definitely a daredevil. So I found myself living vicariously through her posts. She supports great causes and loves animals. And I read that Tequila is her favorite drink. So, it inspired a song. A fun, tongue-in-cheek appreciation for Ms. Dobrev's ability to entertain us. This fan/follower imagines getting to meet her… I don't know if Ms. Dobrev has heard the song yet. We did ask her agents if she would be available to appear in the video. They said that "there is availability and we should discuss the fee". Nothing since. Who knows…
Q: You have an impressive discography. Where did the ideas come from? What is your creative process like?
Ideas come up almost every time I play guitar and sing. I usually block time and focus on writing for a few weeks. I sort through these ideas and develop some of them further until I have a good pool of potential new songs. Then I narrow down the list further and lock down the melodies and lyrics. Then I record the basic tracks and select the songs that I think can make a great album or EP. I started this process again in January 2021. I was going to release an acoustic album, just my voice and one acoustic guitar. Caleb "kbc" Sherman contacted me via Facebook. We hadn't talked in a while. Eventually, he listened to 30 of my new songs and picked the ones that inspired him the most. We ended up with a 12 song album ("Ride The Wave"). Now, the focus is on promoting the album. 0I will still store up whatever new idea come up but I won't block writing time for a few months.
I write the melodies, lyrics and structures on my own. It can take a while to complete some songs and others come up very quickly. It's not consistent. A few notes usually peak my curiosity and won't leave me alone until a full song is completed but I can go through a hundred ideas before something grabs me. Then it's a tedious process of bringing everything together. It's a process of weaving notes and words that complement each other. It's great when it comes together but not all finished songs survive. Some of them just don't quite make it even though I record a version with just the lead vocal and one guitar. Only a few of these get to the next step. That is a full blown arrangement with a band and finally getting recorded for an album or EP.
Q: In terms of the overall composition, do you have a favorite song and why?
They are all quite wonderful for many reasons. I enjoy them all. My favorite is "Angeling". I think it really captures what I'm about: great melody, fun singing, witty lyrics and really cool fingerpicking guitar. And Caleb did a magnificent job building it up from beginning till end. The song is about my puppies.
Q: What song do fans seem to favor?
"Tequila Kiss" has gotten a lot of great feedback. I'd say it's definitely the favorite of a lot of my friends and fans. It also got a lot of great reviews. And it's doing great with radio stations. We are on over 100 stations in the US, not counting Internet stations. It made it to number 19 on the Top40 Chart from nationalradiohits.com.
Q: Do you, or would you like to, perform live?
I look forward to performing live of course. It will depend on opportunities and of course on what we have to do to keep people safe from COVID.
Q: Which of your songs is, or do you think would be, fun to perform live?
They are all challenging and bring out different emotions. I think it depends on the venue. I can sit in a coffee shop and do an acoustic set or perform with a full band. There are some cool rocking songs on the new album. "Ride The Wave" is one, "Insane" is another. I hope we'll get to play loud gigs soon.
Q: Have you seen growth in yourself from beginning to the present? If, so how? And what spurred that growth?
Great question. I practice a lot and write a lot. I'd like to think that practicing helps getting better performances out for the audiences and of course I am hoping that my writing gets more interesting for them as well. I don't know of any other way but practice, practice, and practice some more.
Q: What is your favorite part about this line of work? Your least favorite? Why?
The creative process is super fun. Taking an idea and developing it into a song is a great challenge and is fun to do for sure. Though sometimes a little bit frustrating when a song takes its time coming out. The rehearsing and practicing is tedious but you have to do it. Or I certainly do. But it can be tiresome. Of course, performing and connecting with an audience is the ultimate fun.
Q: Share a funny moment or positive experience that has happened during your career.
I was attending the Conservatory of Music of Geneva, in Switzerland. One night I went to see this band, Shakin Street in a club in Geneva. There weren't that many people in the club. But, I clearly remember the half a dozen rowdy young punks there to support a local punk band that opened up for Shakin Street. After the punk band finished its set, these guys stayed in front of the stage, monopolizing the dance floor, thrashing around to the music the DJ was spinning while Shakin Street's crew readied the stage. I was nowhere near the melee. Just standing on the side. I process music slightly less physically…
The DJ welcomed Shakin Street to the stage. The lead singer was a young woman. I don't remember anything about the band except for what happened to her right after she came on stage. The minute she started singing, the rowdy punks rushed close to the stage and started spitting on her! Screaming their heads off. Was their animosity rooted in something she said in an interview about punk music? It might just have been a "punk" thing. In any case, the punks just wouldn't let up. They were at it as if they were never going to run out of saliva…
Had the stage been slightly lower, the punks might have tried to get on it. It was a good five feet high. They were good "spitters". The lead singer couldn't take it. She stopped singing and walked out in the middle of the first song, returning backstage. A few seconds later, this stout roadie came out from behind the stage brandishing a microphone stand that he started waving at the posse of punks. He was serious… It wasn't a warning. He was cursing at them. "I'm from the Bronx motherf…ers…, let's do this!" He was taunting them to get closer. And when one of the punks did step closer, he would swing the stand even harder, aiming at clubbing the "spitter" on the head. Undeletable images in my head to this day. As far as I can remember, things settled down eventually. I don't have any other memories from that evening.
Fast forward a few months. I decided then that it was time for me to visit one of these cities, homes of vibrant music scenes. Paris didn't sound that vibrant for the kind of music I was into. For me, the latest and greatest always came from the United States or England. I didn't have any connections in England. Chicago was an option because one of my father's cousins had moved there, but she did not want to be responsible for me. I would be going out to clubs, etc. Not something she wanted to deal with. A high school friend was finishing his college degree at Wagner College on Staten Island, NY. I took him up on his offer to pay him a visit. Plus, I figured, if that "skull crushing" roadie was an example of the values held by New Yorkers, coming to the defense of a lady in distress, I was good with that. Let's face it… I didn't step up to defend Shakin Street's lead singer. Should I have been more courageous?
So, New York City was the place to visit first. It was late spring. While enjoying hanging out in New York City and going to clubs, I decided to answer an ad in the Village Voice. A CBS recording band, Sorrows, was looking to replace one of their members with a new singer, guitar player. "What have I got to lose?" I thought.
The audition went well. It was fun. The drummer asked me where I was from. I told him I grew up outside of Geneva…
The drummer: "My brother was there a few months ago. He was the tour manager for Shakin Street."
Me: "I saw that band in Geneva! These punks were spitting on the lead singer."
The drummer: "Yes. My brother told me the story. He came out on stage and tried to whack these guys with a microphone stand."
Me: "I saw him. That was your brother!?!"
And there you have it. Is that six degrees of separation? A few less? I was offered the job. I accepted. We recorded an album and then the drummer and I recorded another four albums and countless songs. It's a small world…
Q: Are there any musicians who inspire you? What qualities do you admire about them?
I am so grateful that I have been able to work with so many talented artists and music industry folks. I learned and continue to learn so much from each and every one of them. I wrote with Margaret Dorn, John Dubs, Warren Schatz, etc. I learned a tremendous amount from Bill Aucoin and other business people.
I started a rock band with a friend of mine from the Conservatory, Alex Diambrini. He was a great guitar player, singer and writer. He passed away from cancer at a young age, unfortunately. After graduating, he moved to L.A. where he joined a Reggae band. Because he was Italian, born in Rome, the band members used to call him a "Pastafarian". They loved him. It was a great band. I got to see him play in L.A. That was the last time we saw each other. He taught me a lot.
My most recent and intense learning experience is the time I spent working with Caleb "kbc" Sherman who produced my last album "Ride The Wave." Caleb is really brilliant. To this day I listen to the album and appreciate the amazing work Caleb did. I always seem to find something new in each of the songs. You have to listen to the details, the finesse, the cleverness of the orchestrations and the sounds Caleb selected. Everything on the track is there to support the song. It all stems from the lyrics and melody. Listen to the bass lines on every song. 12 different songs. 12 different approaches to the bass, not just in sounds but how it complements the melody and the grooves. Check out the bass line in "Tequila Kiss". Phenomenal work. It's really a great record. You would expect me to say that because it's mine but Caleb did a phenomenal job. He is a brilliant producer.
Q: Other than fame & fortune, is there something you hope to achieve through music?
Great question. I would say 3 to 4 minutes of total blissful escape every time people listen to one of my songs. I would love for listeners to get a burst of energy that transport them to a great place emotionally. I got into songwriting to recreate this exact feeling. It's how I feel when I listen to a great song. I hope to pass this energy on to others through my songs.
I love a great show where the audience sings along. I've seen a number of bands at Madison Square Garden. Nothing like 20,000 souls singing along to a great tune. One U2 concert was phenomenal. The band came on stage and the audience stood up. Everyone. And no one sat back down until the end of the show. Bryan Adams was great too. I remember him walking to the microphone to start singing "Summer of '69" and then stepping back as the audience started singing from the first line of the song. He did not sing a word for half the song. He let the audience sing the song to him. You know he was having a good time. That kind of energy coming from audiences is just fantastic. That's what playing live is all about.
Q: What is your favorite/best outlet to connect with your followers Instagram, Spotify, FB, Twitter, iTunes? How would you want them to follow?
I don't think that I have a favorite. I am on all the platforms and I leave it to folks to decide which they like best. It's fantastic that there are so many ways for people to listen to music and connect with artists.
Q: Are you currently working on any projects we should look out for?
I am constantly writing but I don't have a time table for the next releases. There is still a lot of work to be done to let folks know about my latest album "Ride The Wave".
Q: Is there something you would like to say, that I didn't cover?
First and foremost thank you to all the people who have taken the time to listen to my music. I am so grateful for their patience. Time is precious. Some have been generous to the point of sending me comments and helping out sorting through my ideas. It's fantastic. It means the world to me.
Thank you very much for the opportunity to chat. I hope everyone stays safe and that we can return to some sort of "normal" life soon.