A RISING STAR OUT OF NEW-ORLEANS !!!
As we veer Into the world OF Shawn Taylor, IS HE UP NEXT ?!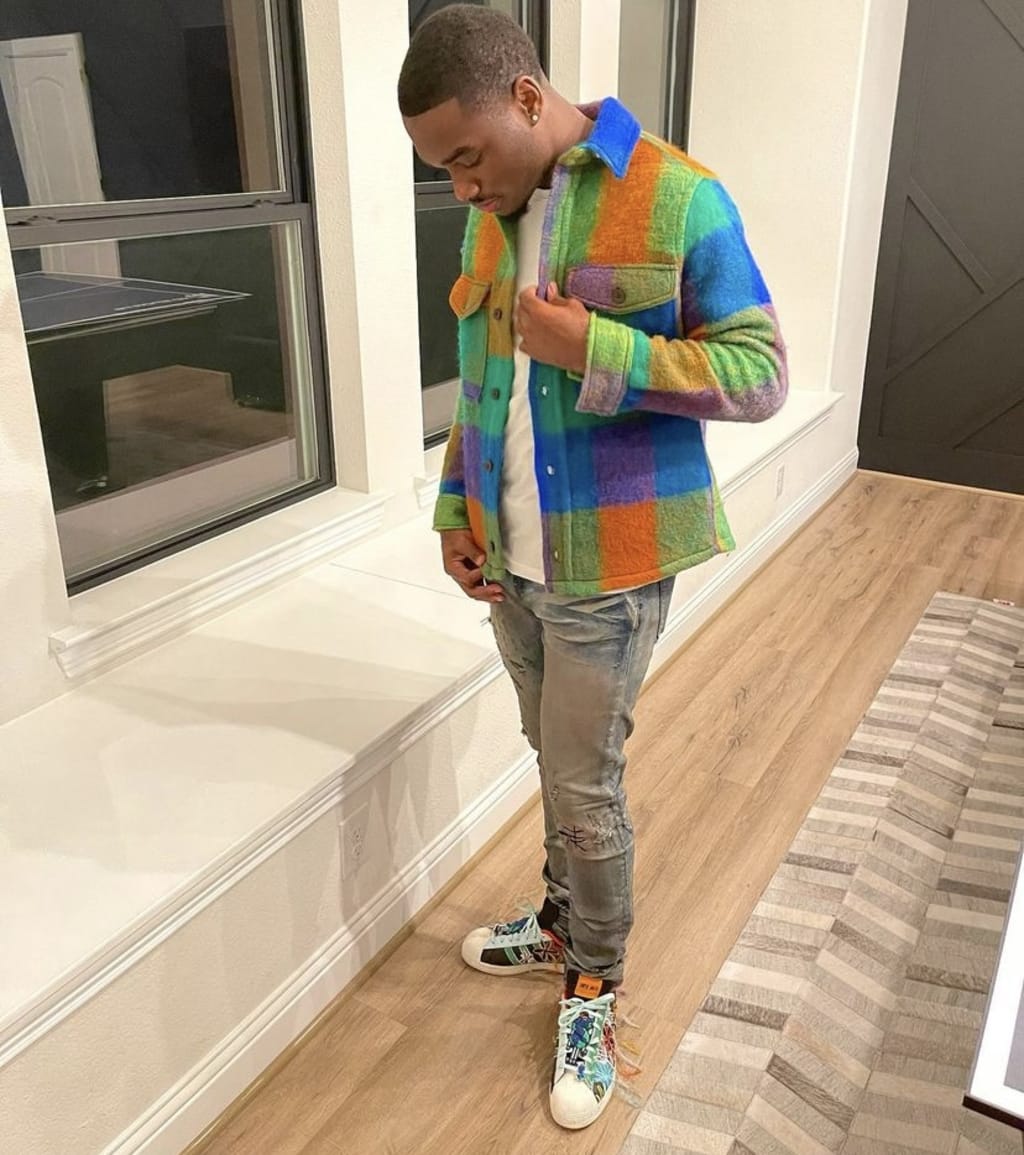 Sauced up Taylor
1. What is your name/stage name?
Shawn Taylor (A.K.A) Subtweet Shawn
2. When is your birthday?
9/23/1998
3. Where are you from?
New, orleans LA
4. What do you do?
i do it all man sing, rap , write, produce basically im not a one trick pony. ive always been multi talented. within this entertinment business
5. How long have you been making music?
since 2016 when my song Hit the dolphin blew up on social media doing promo and advertisment.
6. What was your first song/project?
Hit the dolphin man it was very impactful song that touched all demagraphics
7. Who's your inspiration?
honestly, myself. i wake up every morning wanting to be better and do better. the motto is to atleast become1% better than i was yesterday. so therfore i am my own motivation. but if i had to put a name it would be Childish gambino simply because he transcends past the social norm while breaking barriers that you can dabble into multiple streams of art/entertainment
8. What genre of music do you create?
with me you get everything, from rap to pop, RnB , Raggae , Rock, neo soul. growing up in a house hold where MTV jams played while getting dressed for school it not only helped cultivate myself but added flavor and gusto too my tatse in music.
9. Do you come up with your video concepts?
most definetly only i can paint the picutre but its up too you to capture the imagne and retain the message behind the image. you are the outside looking at Shawn Taylors Body of work.
10. What was it like working with _____________
honestly i love working with influencers they help me and allow me to connnect with the youth and it helps me write better music because im connected to whats hot and steering clear of whats not. Also Chance The Rapper, one of the most down to earth people I've ever met
11. What are some features you have?
i have multiple right now, one with Mannie Fresh, another with FRESHxRECKLESS, Rob49 and im currently working on a jawn for a well known artist . i cant give away any details right nwo but youll see goin crazy in the video.
12. What are some features you want to get?
would most likely collaborate with Chris Brown, Tems, Wizkid BurnaBoy REMA and many other i have yet too name but its a lot. i love everyones style and sound.
13. Who's one person, dead or alive, that you'd want to work with?
definetly Michael Jackson for sure but alive right now it would have to be Beyonce&Jayz and lastly Drake and chance the rapper for the surreal feeling of accomplishment. Well for me atleast.
14. Are you signed to a label?
unforutunetly no, but who knows one day that door may oen for yah mans.
15. Do you want a record deal, a distribution deal, or none?
Right Distribution is suitable for my needs but far as any record Deal it'll have to Be pretty suitable to my lifestyle
16. Who are your biggest supporters?
my biggest supporter would have to be my family. the ones that know absolutley know my family is my support system and they go hard behind me. with much love support and jokey jokes.
17. Where did your name come from?
My first viral video I made that involved me yelling "Subtweet" the entire time about these females yelling on my TL
18. Do you write your own material?
always man, not saying im not open to being a vocalist for someones art im just fasinated with myself when it comes to writing my own material.
19. Do you create your own music video concepts?
most definetly only i can paint the picutre but its up too you to capture the imagne and retain the message behind the image. you are the outside looking at Shawn Taylor Body of work.
20. What's your favorite music to listen to?
with me you get everything, from rap to pop, RnB , Raggae , Rock, neo soul. it really helps with my music especially being versitile
21. What are you currently working on?
right now im helping my Guys FRESH X RECKLESS work on their EP for this upcoming year and its been an amazing process.
22. What is your latest release?
right now we have multiple songs releasing this summer of 2022 man its gonna be crazy but im all for the love and attraction. but its definetly : Tonight ft Kenneth Brother & Dominic Scott
23. When is your next release?
B**** where ? releases this upcoming summer man im excited for the world to hear that joint for real
24. Are you the type to pull up alone or with a group of people?
i be solo dolo, man im human just like you so if you see me speak cause ima definetly leave you laughing and in good spirits.
25. What is one stage you want to sell-out?
maddison square for sure no matter if its my lyrics or me performing i know thats one of my biggest goals. and it will be mines soon
26. Where is one place you want to travel to perform?
south africa man i wanna see my people i know it love on the other side so id love to one day do a live concert across the globe with some of my favorite artist right now.
27. What's the biggest crowd that you have performed for?
when I was 16 I performed at Jazz Fest. But the biggest crowd i performed at was rolling loud it was adope event and i cant wait to get back there for sure.
28. Who's someone you can see yourself on tour with?
who i could see myself with on tour? it would probably have to be between Chris Brown because of the energy and Drke because his performances are always surreal and young thug man. honestly i think we have something coming up with thug and post malone so the world will just have to stay tune. and keep there eyes on us as we get it poppin this summer.
29. Who produces your music?
its multiple people but right now ive been working with my Guy Cas Bangz. He's the one to get me right. and this new Marketing agency im working with theyre about to get me right so its love over there. S/o to Joxdy.B and the Boys on our side. its Love
30. Where do you see yourself in 5 years?
isee my self working on major projects for top artist and being a big influencer within the community. If GOD gives the oppurtunity id definetly love to be on the big screen before the year is up.id definetly want that 100%.
31. What's your favorite clothing brand?
I'm hard on the billionaire boys club ( big Pharrell fan ). rigth now since im heavy into sports wear it would have to be between Adidas or Nike but if we talking sponsorships hey, ima go where im celebrated .
32. Where do you shop?
bro im human i go where the discounts at . so marshals, Ross and burliton like my Guy im true to myself. but far as my suit collect those are custom pieces made by designers of my choosing. i just like buying cheap sweat pants. i like to think of myself as a SS Mustang its either slacks or sweats for me. most of my shopping comes from online shopping i rarely go out to shop but if i want it ima cop it. as you can see i stay fresh and up to date with my style and figure. this is a brand and i carry it well.
33. What's your favorite type of car?
i dont really like driving honestly so a tesla is for me im boogie on a budget so it may be a tesla but i gotta put it onna chagrer . now a jeep wrangler is a close second simply because it fits my lifestyle as well. it adds flavor to my style.
34. What's your favorite place to travel to?
my favortie place to travel is most def to the crib man, anywhere is good for but the crib !! gettting in bed and relaxing or wind down time .. AWW bro it gets crazy how long i could be inside just chilling
35. Did COVID change your career for better or worse?
unfortunetly yeah and No man. Worse but I rose again . Had a chance to do the Wild N Out tour in New Orleans but COVID hit . and then family and close friends due to untimely cirumstances passed away. which set me back becuase it was hard to over come but through countless hours of therapy i was able to over come the tramatic loss and become a better version of me. it was the Worse but still i rise yah know.
Musicians
About the author
Providing Engaging Articles that help promote our #MentalHealth,#HIPHOP and #HealthyLifestyle. On or website is where you can purchase #aromatherapyproducts & #EssentialOils that helps P.H.Balance and relaxation
www.bodyaura.org
Reader insights
Be the first to share your insights about this piece.
Add your insights