Washington Irving and The Legend of Sleepy Hollow
"'Faith, sir,' replied the story-teller, 'as to that matter, I don't believe one-half of it myself.'(The Legend of Sleepy Hollow)"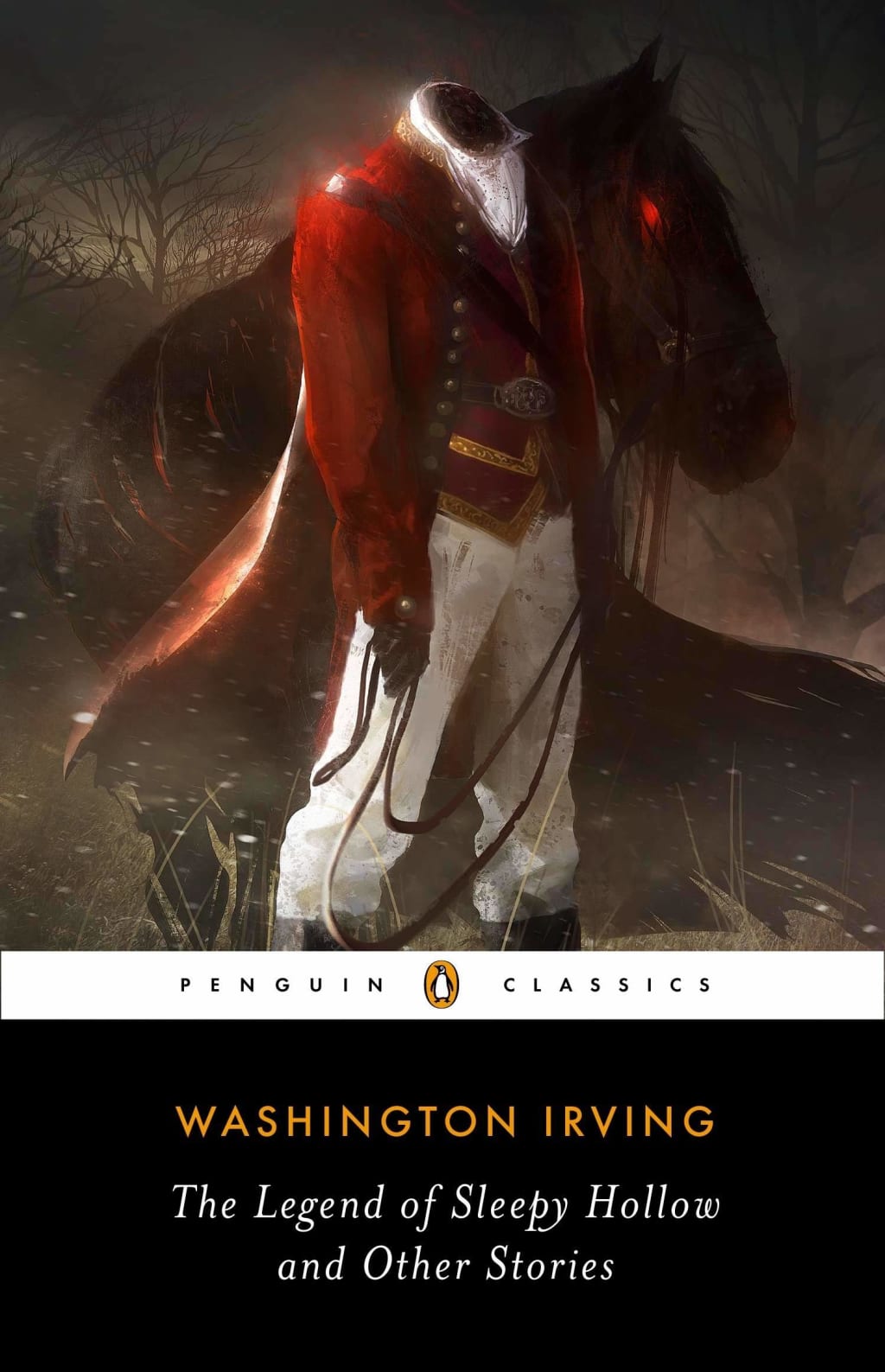 Washington Ivring and The Legend of Sleepy Hollow
part one: setting and time period
Ivring was a writer who wanted to bring folklore and fairy tales to the real world. He wanted to us to feel as if this was a legend that had truly happened in some forgotten little town full of sleepwalking people. Its is in this tiny town that a ghost lurks at night, riding down dirt roads and past new churches into the unknown wilderness that lie before the residents of Sleepy Hollow.
Ivring wrote The Legend of Sleepy Hollow when the war and Independence were still fresh in American's minds, still learning how to be our own people and how to set up this new government and thrive when everyone else had expected us to fall. Sleepy Hollow (the town and the story) are set on the edge of the unknown. American still being the new country that it was has massive amounts of land still unexplored and filled with unknown dangers and threats. I feel that this is alluded to when the horsemen rides out to the edge, almost as if he is daring someone to follow him, asking if they are--for lack of a better term--"man enough" to brave the wilderness that lays beyond the confines of their safe haven.
One of the many things that I found interesting about this piece was the fact that while it intended to be a piece for entertainment, a-scary-story-to-tell-around-a-campfire type of atmosphere. On the first page of the story it states "A drowsy, dreamy influence seems to hang over the land, and to pervade the very atmosphere. Some say that the very place was bewitched by a high German doctor, during the early days of the settlement; others, that an old Indian chief, the prophet or wizard of his tribe, held his pow-wows there before the country was discovered by Master Hendrick Hudson." It talks of a witching atmosphere and hints at magic running through the ground before the Americans' claimed state. Ivring is mimicking the tone and atmosphere in the story, making goosebumps scurry along arms and twist the howling of wind into the screams of beasts.
Ivring gave birth to a new genre, to a genre that is used correctly can play with the readers' psyche and doubt what they know to be true.
part two: the purpose of ghost stories and why they carry over from generation to the next
The Legend of Sleepy Hollow is one of the most well known ghost stories of all time, even if someone has not read the story, they still know the general premises--a man haunts the town at night and ends up taking a lanky, awkward school teacher who attempts to swoon a young women off her feet so he may live comfortable for the rest of his days. People have this odd carnal desire to be scared, to have something make them scream as if they are about to be murdered, even though they know that they are in no real danger. It is one of the many reasons that people go to haunted houses during Halloween and watch horror films in the middle of the night all alone.
But, ghost stories, much like films, evolve in a unique way over years and decades. When Frankenstein came out in 1818, people said that is was one of the most disturbing and truly terrifying things they had ever read. While many people today find it hard to connect with that same terror that was so easily accessible when they first read it. Even while I was reading The Legend of Sleepy Hollow I still found myself holding my breath at the end when Ichabod was riding across the bridge in the end to try and escape the Headless Horsemen; watching as they both stood on opposite sides waiting until the horsemen threw his head and Ichabod disappeared.
If there is anything that about this story that still draws readers in, I think it is the unknown of what happened to Icabod Crane at the end-- it is what happened when the horsemen threw his head and why a pumpkin appeared in Crane's place.
Work Cited
Ivring, Washington. "The Legend of Sleepy Hollow." The Heath Anthology of American Literature. Paul Lauter and Richard Yarborough, Seventh ed., B, Wadsworth Cengage Learning, 2014.
———
If you like the content I produce, please consider checking out my blog or donating to my Ko-Fi!
Thank you for reading!