Villainess Review: Vivian Tyrell (Vampires vs. The Bronx)
A ruthless villainess looks to literally sink her teeth into the home of the New York Yankees in this 2020 Netflix film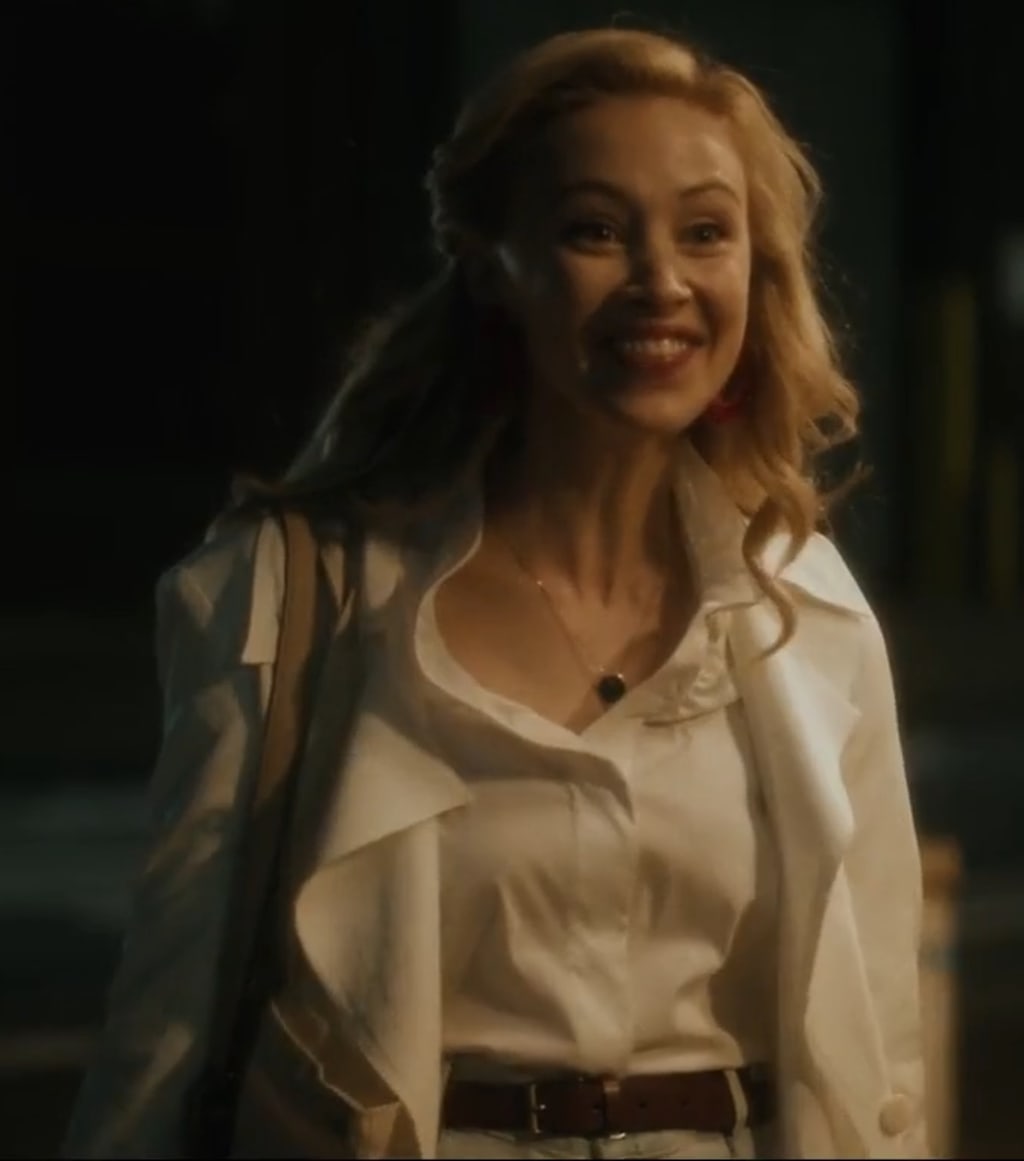 Sarah Gadon as Vivian Tyrell
I was quickly drawn to Vampires vs. The Bronx when this hit Netflix in October of 2020. You could say that I was sold, and "sold" was the operative word in this film, as a lot of properties in The Bronx were being sold to a real estate group known as Murnau Properties. Among them was a nail salon owned by Becky Perez, who was shown discussing the sale with her last customer, Vivian Tyrell. The deal is made after Vivian leaves, as broker Frank Polidori finalized the sale, but suddenly, Becky is attacked and killed by a vampire! Boy, they weren't lying when they say that realtors are bloodsuckers.
We later meet the film's young protagonists: Miguel Martinez (nicknamed "Lil Mayor") and his friends, Bobby and Luis, and the triumvirate was planning a block party to support Primo, a bodega owned by Tony, who happened to be the owner of a baseball bat signed by Sammy Sosa. They had been hearing about Murnau buying up businesses in the neighborhood; the word "gentrification" was thrown more times in the Bronx than a 100 MPH fastball by Aroldis Chapman. Anyway, the trio encountered Vivian late that evening, and to their surprise, Vivian greeted them warmly (they feared she would call the police) and voiced her support for their cause, adding that she wanted to get to know her new neighbors.
The boys later witness a vampire attack connected to Murnau, leading them to realize that the company is a front for a vampire coven. They quickly suspect that Frank is one himself, and the group's leader, so they attempt to get the proverbial goods on him. The trio managed to acquire a USB file from Frank's desk, with their run-in with Vivian helping them in their goal. The drive ended up confirming their suspicions, as it contained footage of vampires at rest in their coffins, while Miguel also took a skeletal key, though neither he nor Bobby and Luis knew what it opened.
However, their attempt to prove that vampires exist fell shorter than Giancarlo Stanton's fly ball in the Wild Card Game in Fenway. They learned the hard way that vampires don't appear on video, and as for Frank, well, let's just say that actually appearing publicly in broad daylight definitely doesn't help the cause, either. Meanwhile, that very evening saw Vivian inside Primo asking for Miguel and making purchases. As Tony looked at the security camera, he noticed something very odd: he was the only one on video. Oh dear.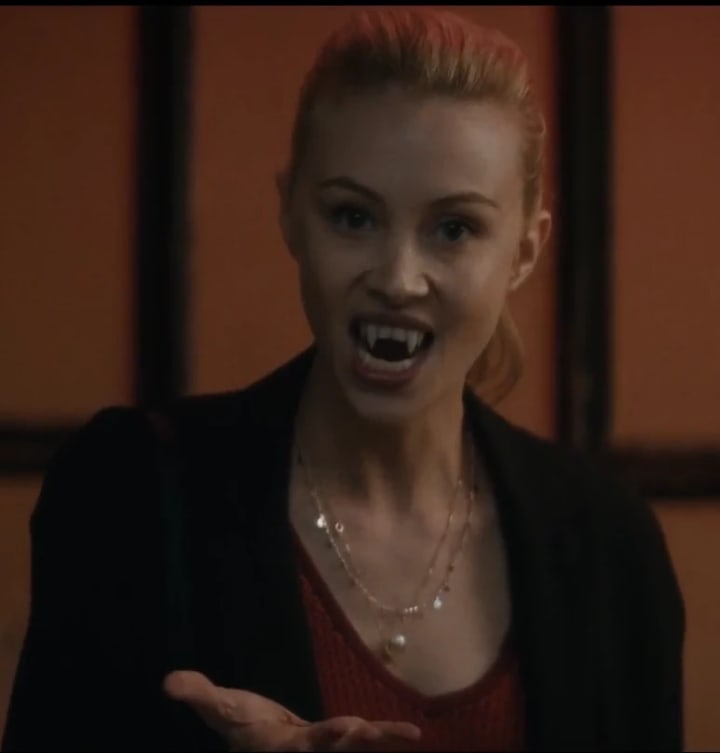 So Vivian (as I figured beforehand) is a vampire, and after flashing her fangs, she kills Tony, but not before her hand is burned by Tony's crucifix. The boys encountered Vivian on their way to Primo, only to find Tony deceased, after which Vivian took Miguel to his home. As Vivian greeted Miguel's mother, Carmen, the boys noticed a few things: she was still outside the threshold, and the holy water they armed themselves with...was bubbling near her. Two and two were put together, and it equaled the boys realizing that Vivian was a vampiress.
As Vivian revealed, she wasn't just any vampire, she was the commander (yes, you read that right!) of the Murnau clan, and she was in charge of finding a permanent home for her nest, and decided that The Bronx would do. She admitted to killing Tony and demanded the key, only to have holy water splashed on her face in response. So where does Frank fit in? Well, he was actually the clan's human familiar (a nice way of saying "pet"), and he presented Vivian with the deed to Miguel's apartment building, which would allow her access to enter without an invitation.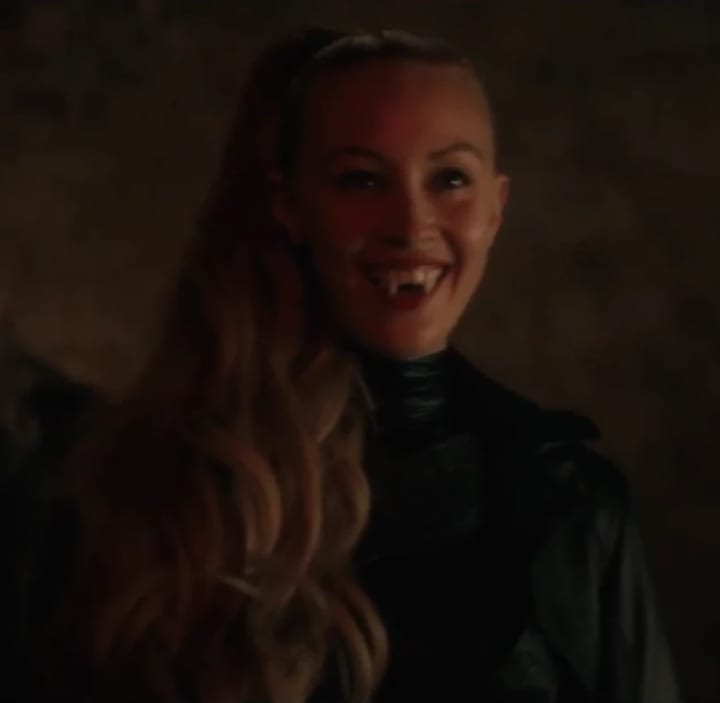 I just want to say how bad-ass Vivian looks in her villainous attire, absolutely love it! Anyway, Miguel, Bobby, and Luis went to the Murnau office on the following day, as they planned to off the vampires at dawn. They did get two of them before Vivian and two others rose, but Miguel's attempt to have the sunlight eliminate them failed, as it had become dusk. Vivian later took possession of the aforementioned key, which opened a box that contained the ashes of the very first vampire, and she planned to use the ashes and her bite to turn the entire neighborhood into vampires, meaning that Gerrit Cole's pitching won't be the only thing that sucks in The Bronx.
After one of Vivian's henchmen was eliminated (thanks to Luis tossing garlic powder at the trio), Frank later appears, though Bobby managed to get through to him by getting him to realize that he would never become a vampire and would always be below the clan. Frank helped the boys escape, but was killed by Vivian, who boasted that she had survived for seven centuries and was superior to not only the boys, but The Bronx as a whole. Of course, the neighborhood didn't take too kindly to the vampire villainess denigrating their home, and they all went after Vivian, who fought off their attacks and held Bobby captive--with plans to use the ashes to turn him into a vampire. At that moment, Miguel arrived on his bike and sped towards Vivian with a shard of Tony's Sammy Sosa bat, which he used as a makeshift stake to kill Vivian.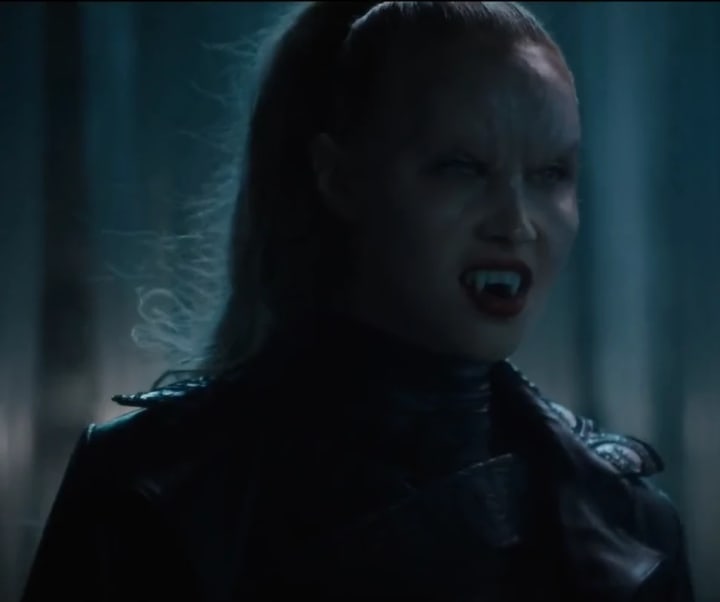 Oh goodness, where do I start with this villainess? To say that I absolutely loved Vivian Tyrell would be a bigger understatement than saying that Aaron Judge is a good hitter. Canadian actress Sarah Gadon played Vivian Tyrell in this awesome movie, and she really nailed it in her performance! Vivian was introduced as a kind and sweet woman, but once the fangs came out, we see her deliciously evil demeanor come to life in the film's second half. I figured that Vivian would be a vampiress, but I was so surprised and elated that she was the Big Bad. Even now, when vampire factions are featured in films and TV, we don't really see women leading them, which is a huge shame. They rank from henchwomen/minions to as far as second-in-command, but in the case of Vivian Tyrell, she was the boss, the alpha, the Head of the Table, if you will, and that was absolutely epic!
I loved everything about Vivian Tyrell; her ruthless demeanor, her malicious cackle, her awesome attire, and the fact that she was flat out vicious. Gadon acted out Vivian's sweetness very well in the beginning, but she truly shined while acting out every facet of Vivian's evil and malevolent personality. Gadon has also appeared in episodes of Flashpoint, Murdoch Mysteries, and Letterkenny, as well as the HBO series, True Detective.
Thank you for reading this review and putting up with my Yankees references! If you like it, click the heart; if you loved it, feel free to leave a tip (if you want)!
Click here for Vivian Tyrell's profile on Villainous Beauties Wiki!
Reader insights
Nice work
Very well written. Keep up the good work!
Top insight
Eye opening

Niche topic & fresh perspectives
Add your insights