Vera the Ventriloquist
Makeup Art and Short Story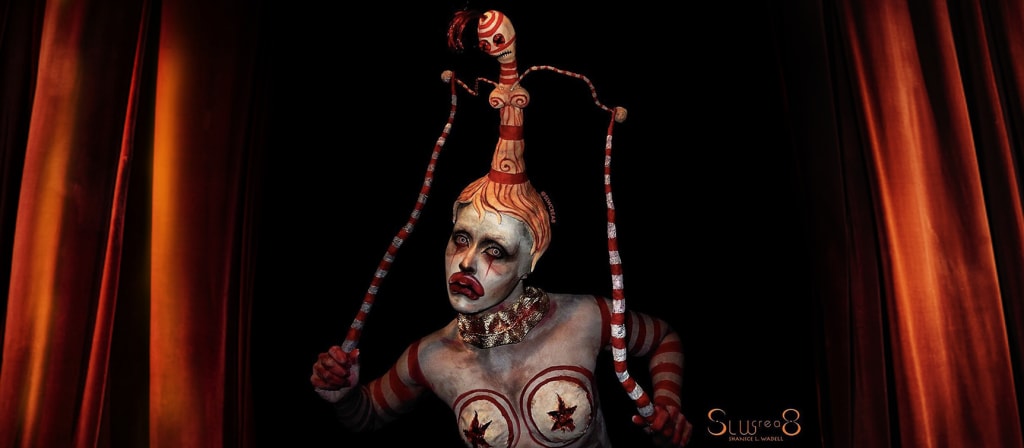 Makeup Art, Model, Photography, Short Story ~ Shanice L. Wadell (SLWcrea8)
For those of you who are new to how my brain ticks…
For every makeup art or costume I design, I usually have to create an entire unique backstory in lieu of it all. I feel it brings more personality and depth into the visual aspects of the makeup art itself and puts the cherry on top for my characters final touch. In fact, I usually write out my short stories before hand so that I can fully act out and personify my characters to the fullest once I am done creating the makeup look itself.
This look here… this was a quirky little sinister treat to style. For those of you who don't know me, creepy clowns have always been one of my favorites to anthropomorphize into makeup, especially around Halloween! Before I go any further on how this look was created, how about we pause for a second and come to know… Vera the Ventriloquist.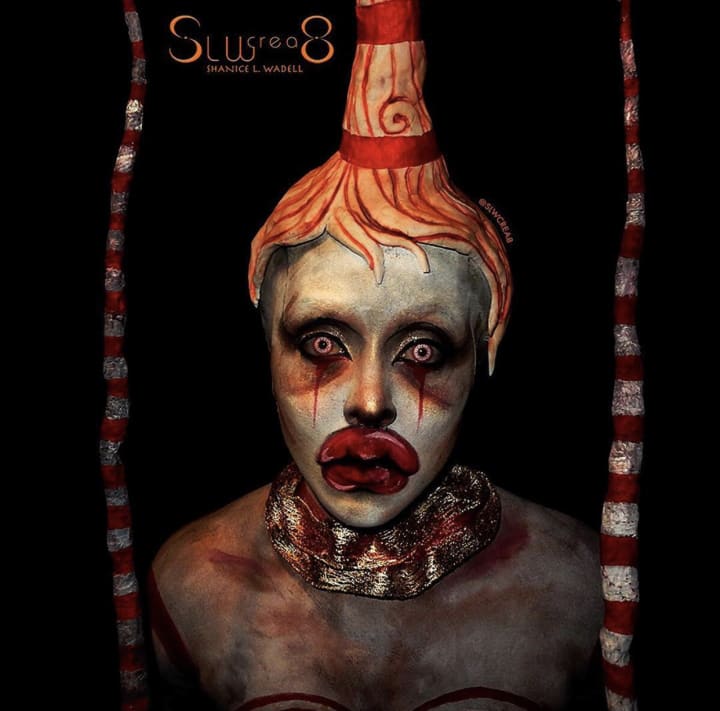 Vera the Ventriloquist ~ A Short Story By: Shanice L. Wadell
Poor little Vera. She was always the lonely clown out. You see, she didn't quite fit in at the circus. Too timid to interact with the large rowdy crowds, too soft spoken to be heard over the robust circus activities, too forgettable to be noticed by her squirrely obnoxious circus peers.
The night was dark and musky this particular night. A circus top that was once populated with indulged parents and spoiled laughing children, now deserted and barren. The show itself was riveting of course, but Vera, again excluded from it all. That is until the dirty work needed to be tended too. You see, Vera's duties only amounted to a glorified one-gal cleanup crew.
While the triumphant circus crew went off to celebrate, drink, and be merry… Vera was left picking up sticky cotton candy, and dirt covered popcorn off the ground. Nothing new for little Vera. It was a task she did night after night. However, this particular night, would change her life in a most devilish way. While cleaning up the ungodly mess, Vera stumbled across a pitifully looking little doll. It must have been forgotten by one of the brattish children from the show, she thought. As she stared deeply into this dolls dark soulless eyes, she started to feel an immediate connection. For the doll looked just as lonely and forgotten as her. Vera decided to take the doll as her own.
As weeks past, Vera became closer and closer to her new found "friend", which she now named Dolly. She became so attached, in fact, that it almost seemed as they started to became one. Soon, Vera would carry on conversations with Dolly… and Dolly would talk back. Or was that Vera with a new Ventriloquist act?
As time went by, her fellow clowns continued their undesirable harassment and bullying tactics, taking advantage of her soft-spoken coy nature. If it were a few weeks ago, Vera would allow this unwarranted behavior by her peers. But now, things were different, she had her new found friend. Now, Vera would rebuttal back and simply say, "Dolly Doesn't Like When You Do That".
On a looming blistery night, the circus crew gathered onto the Big Top Stage to prepare for yet another one of their famous acts. However, this night was different from the rest. As they made their way through the curtains they came across Vera who was standing on center stage, next to a mass of… something. As the crew grew near, they realized Vera was hovering over a freshly blood-soaked fellow clown. So fresh, that they could still see the warmth rising through the icy air from the lifeless body.
Vera turned around with a smile and simply said, "Dolly Did it".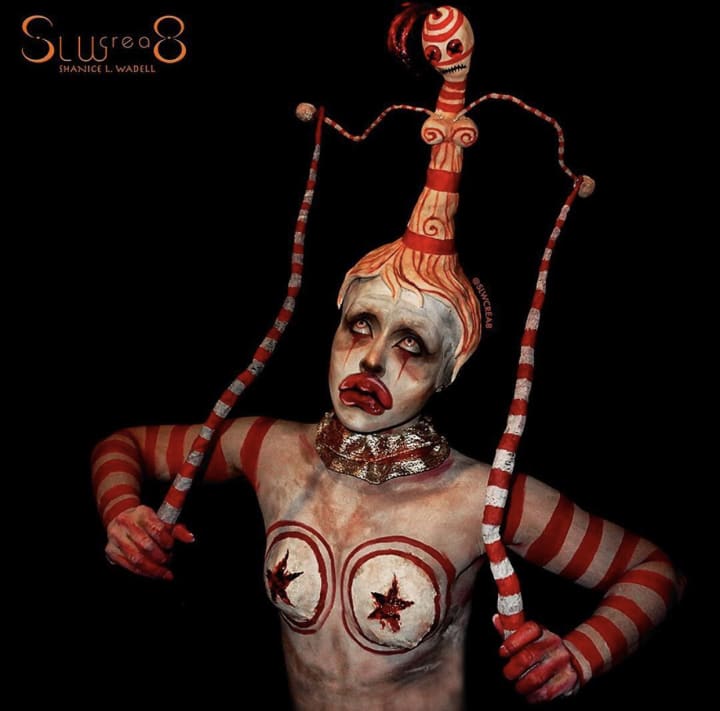 So, what do you think?! This was one of my favorite short stories that I have written. With the backstory out of the way, let's dive into how I actually created this look. Firstly I would like to say, I definitely drew inspiration from Adrian Borda who is an oil painter that has wonderful dark, super surreal, and creepy vibes to his work. The particular oil painting that I drew inspiration from for my makeup art and character costume was simply called "Happy Feet". He's style of oil painting is so dark and grungy, I just fell in love, and it inspired me to create an entire backstory of my own along with creating a character that was more humanized and realistic in look.
The Making of Prosthetics and Accessories
In all, this makeup essentially took me about 3 days of preparation to hand make the prosthetics and accessories.
The carved star breast prosthetics were first sculpted out of clay and then duplicated using about 6 layers of liquid latex. Between each layer, I let the liquid latex fully dry.

The "Dolly" head piece was made out of a combination of tin foil, modelit clay, wire, latex, acrylic paints, synthetic hair, gems (for the eyes), and hot clue. I built up the "Dolly" figure/shape on a Styrofoam head mold (which can be found at any craft store). I did this so the figure could fit perfectly to the shape of my own head.

Lastly, I created a quick ruffled collar out of wire, wide gold ribbon, red tulle, and hot glue.
Body Paint and Final Look Products Used
The most rewarding part of this whole process is the body paint and putting it all together!
Mehron AQ Paradise Paints in: Yellow, Red, White, and Black
NYX Cosmetics: Ultimate Brights Palette
NYX Cosmetics: 10 Pod Avant Pop Palette
NYX Cosmetics: 10 Pod Perfect Filter Palette
NYX Cosmetics: Black Jumbo Pencil
Graphtobian Makeup: Pros Aid
Graphtobian Makeup: Magic Blood Powder
Graphtobian Makeup: Blood Paste
Tarte Cosmetics: Energy Noir Palette
Contact Lens Hub: Bloodshot Contact Lenses