Vatican City (Ending)
The Ending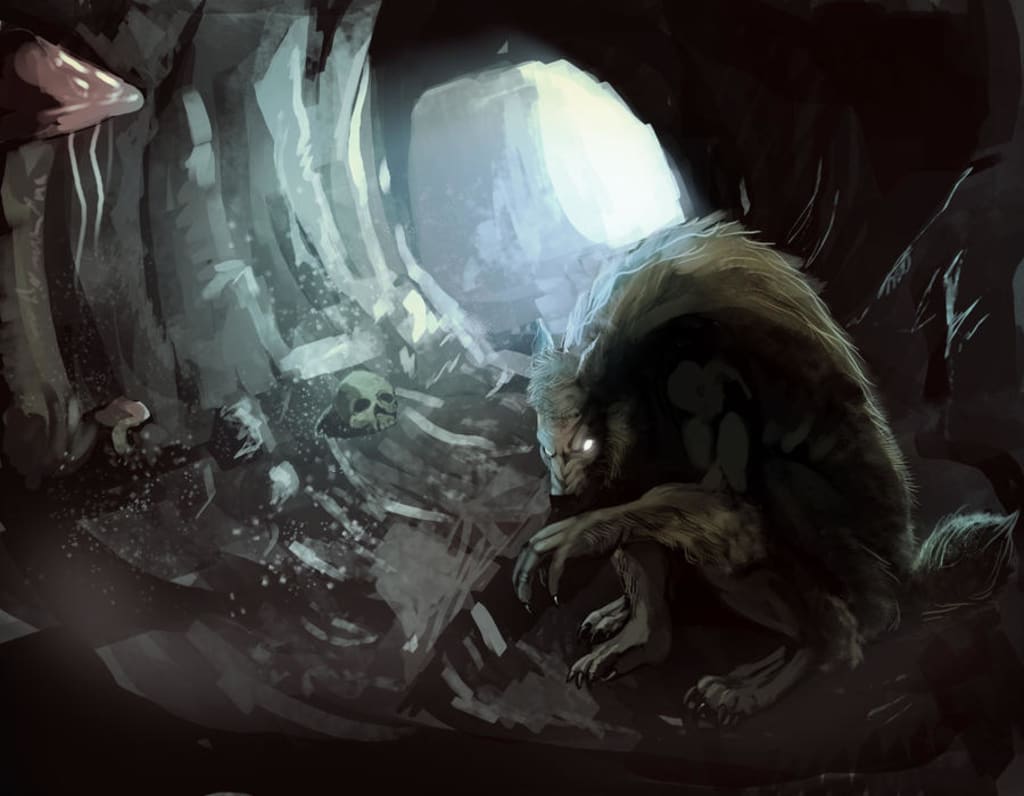 CHAPTER 6: ANOTHER NEST, ANOTHER DIME (Continued)
The Lycan-Hybrids spot the hunters and four of the five Hybrids charge.
Ramona flips over the first Hybrid's back and plunges one of her daggers in her back.
The second Hybrid charges at Jason, and he slides under her slicing her belly open, eliminating one of the five.
The Den Leader goes to charge Jason in retaliation, but is intercepted by an unknown creature with wings.
The creature grabs the Hybrid by its talons and tosses the Hybrid across the cave.
The fourth Hybrid charges Ramona and catches her off guard, sending her other blade flying across the den.
The two are at a stalemate for a while until Ramona's true Lycan form shows and her and the last hybrid face each other claw-to-claw.
The third hybrid glares at Jason and roars before charging.
This one is stronger than the rest and Jason has to dodge a few of its strikes before he is able to plunge his dagger into the creature's side.
GENEVIEVE CARTER [DEN LEADER]
"I'm afraid your help didn't fare too well..."
She holds the wounded siren by his throat and flashes his now broken wings.
He is far too damaged to shift into his mortal form, as the shift would most likely be fatal.
The Hybrid Leader throws the siren across the cavern into the shallow water.
Ramona is still in her Lycan form as she digs her claws into the Hybrid's side.
Jason charges at the Den Leader only to be struck down.
He turns and faces the battered siren, who is lying in a pool of his own blood mixed with the muddied water.
The Den Leader advances towards the downed hunter only to be charged by Ramona's Lycan form.
The two fight for a while as Jason regains his footing.
Jason goes to help out but with Ramona's form being new, he is unsure of who to attack.
He goes to check on the downed siren.
JASON
"Hey, you're fine. You've seen worse days."
He goes to turn the siren over only to find that his wings are torn at the base and his side is badly clawed.
JASON (CON'D)
"I didn't know anyone could be damaged that badly."
Their one-sided conversation is short lived as Ramona is tossed near Elias and clawed.
Jason grabs his dagger and charges the leader.
GENEVIEVE
"Do you really think that one little dagger could stop me?"
She dodges his thrust and grabs his wrist, she twists his arm causing him to drop the blade.
She sinks her teeth deep into Jason's neck. Ramona scrambles to overwhelm the Den Leader.
She shifts back into her human form and retrieves her other dagger.
Ramona quickly slides near the leader slashing her Achille's heel and plunging her other blade into the Hybrid's shoulder.
Jason grabs his blade with his other hand and drives it deep into the creature's side.
JASON
"Maybe not this one dagger. But it looks to me like our job is done."
He pulls out the blade and push kicks the leader into the water and blood surrounding Elias.
Ramona and Jason pick Elias up and go to bring him to Jason's apartment.
JASON, RAMONA, AND ELIAS LEAVE THE NOW CLEARED OUT DEN.
JASON, RAMONA, AND ELIAS ARRIVE.
JASON'S APARTMENT
Elias is laid on the couch as he slowly shifts back into his mortal form.
Ramona goes to retrieve the bounty from their last mission.
Jason is cleaning his tools in anticipation for the next hunting assignment.
Ramona comes back with just shy of 1,200 florins.
RAMONA
"Looks like we have more than we were expecting."
JASON
"We'll probably need it. His wounds are a bit more severe than I thought."
RAMONA
"Do you think we'll need to buy medical supplies?"
JASON
"I dunno, I'm used to hunting creatures, not fixing them."
RAMONA
"He might just need to feed."
JASON
"That kinda goes against our code, doesn't it? Plus I already had to save one of his snacks from earlier."
Ramona points at his wings, as they have shifted into a middle state of human and siren.
RAMONA
"If he is stuck in that form he will surely die."
JASON
"How rare are sirens?"
RAMONA
"Relatively, I'd say if he dies, we probably wouldn't encounter another one for a few years."
JASON
"Well... if he feeds off of one person... it's not like... that bad."
RAMONA
"He'd have to kill them in order to gain the necessary strength to shift."
RAMONA AND JASON EXIT THE APARTMENT TO FIND A VICTIM FOR ELIAS.
CHAPTER 7: I GUESS WE'RE EVEN?
TOWN SQUARE
The two are scouting the town to find the perfect candidate, someone who won't be missed, but healthy enough for the siren to gain his strength back
While they are in a dark alleyway they are approached by a few muggers.
MUGGER #1
"Give me all your money!"
MUGGER #2
"Every last cent. Don't try anything funny 'neither."
MUGGER #3
"I'm watching you guys. Pull anything weird, and I shoot."
RAMONA (FAKING)
"Look... please don't kill us. We'll give you everything we have. We just don't have it here. It's at the apartment."
MUGGER #1
"Fine. We're all just going to go for a nice stroll to your apartment. Again, try anything funny..."
JASON
"Yeah... yeah..."
RAMONA, JASON, AND THE MUGGERS ARE AT THE APARTMENT.
JASON'S APARTMENT
When they arrive Elias's, condition is still the same.
MUGGER #1
"What the fuck is that?!"
He aims his gun at the creature.
RAMONA
"Don't!"
She grabs his arm and breaks it causing blood to gush out of the broken mugger's arm.
The spilled blood awakens the wounded siren and he quickly rushes at the mugger and sinks his fangs into him, draining him within seconds.
The second mugger activates his switch blade and goes to attack Elias, only to be knocked off his feet by The Harpy.
Once on the ground, the starving siren quickly finishes off his next victim.
Upon feeding on the second mugger, Elias's wings start to mend and his clawed side slowly starts to heal.
The last mugger tries to run only to be met with the bloodied siren's long claws gripping his throat.
He lifts the mugger up and turns him around, sinking his fangs into his final victim.
Once finished, he tosses the drained mugger to the side and shifts into his human form.
He takes a moment to revel in his now returned strength before he leaps off the balcony and shifts into The Harpy once more and flies off into the distance.
RAMONA
"I guess a thank you would have been too much."
JASON
"Well, there are certainly worse goodbyes."
RAMONA
"Leaving three dead bodies isn't the worst goodbye?"
JASON
"Well, at least we have our coin still. We could say they were in our last nest."
RAMONA
"True enough, I guess three missing muggers aren't really going to cause much attention in the town."
Ramona goes to pay the town mortician to carry the bodies.
Once she is done with that the two hunters clean their tools and sharpen their blades in anticipation for their next hunt.
For better or for worse, the siren is now at his full peak soaring high above the town...
THE END