Vandalism Reaching Iconic Ghost Town
Nelson's Ghost Town, Nevada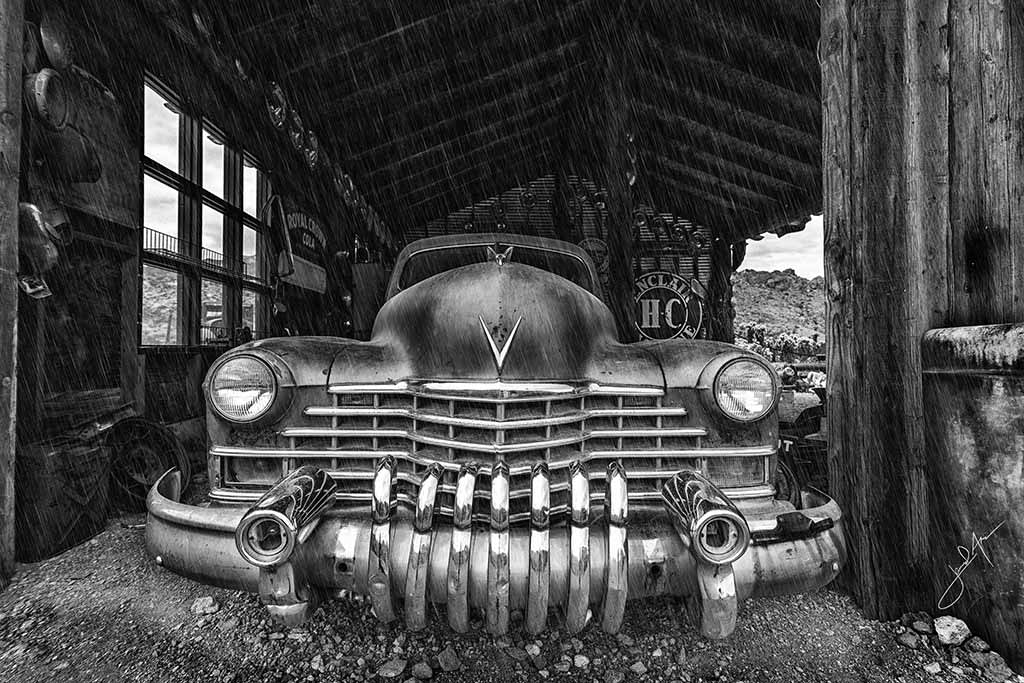 Rainy Garage Days | Jarrod Ames Photography
Vandalism and theft has reached this small iconic ghost town just about an hour outside of Las Vegas, Nevada. In Nevada sets Nelson's Ghost Town, an eclectic spot to photograph and see some very unique items. Here you will find two planes that were crashed and now are being preserved, one with its tail up, and another missing an entire wing. You'll also find lots of old cars and some unique buses or conversions along with some interesting buildings. These buildings are homes to even more eclectic and unique items and rooms which are fun to see and great for photography. The trade of here is that you pay to visit the property since it is private and you must be aware at all times about rattlesnakes that are indigenous to the area. Because of these unique items and scenery, Nelson has been a popular spot to shoot music videos (Journey has been one) and movies. Now sadly, this beautiful location has been reduced in size because of vandalism and theft.
Amidst the shutdown in late March and through May, Nelson's Ghost Town suffered something almost unimaginable to most living here in southern Nevada. They were vandalized and property was destroyed as well has items were stolen including some personal items given to the owners as gifts. Some of these items stolen were given by movie and music stars as thank yous to show their appreciation for the property. The owners were left with having to hire security to monitor the property during the shutdown. I recently went there to film some quick shots for a commercial I am working on and talked with one of the owners about what happened. She was pretty upset still about what happened and a couple of the items that were taken from the property. What's worse about this story is that it is still a problem they are having at night. Now that they are able to be back on the property, they can monitor it a little bit easier but that shouldn't be the point. She said with people still being out of work and going down to the river, just 8 miles down the road, we are still seeing people coming here at night on their drive back.
What has it cost everyone else? Well for starters, the owners have blocked off several parts of the property to the public. Namely the car and garage shown in this story. It took me several tries to finally get a photograph that I was really happy with of this particular car and garage. And I had to stand out in the rain to get it! Apparently, people where stealing items and breaking the windows in the garage. So now it is closed off and they have even reshaped some of the paths to it so that you can no longer access it. The large barn where I have filmed a music video in, shot the "Creepy TV Room" photo that was published has also been closed due to vandalism. Chained up and no longer accessible to the public. I am saddened by this because there is so much to see and enjoy there at the ghost town. So many new visitors will never get to experience some of the most interesting parts they have to offer at the ghost town. Here is to hoping that one day they will reopen these attractions to the public and things will get back to some kind of normalcy.