Underrated Horror Films from the 70s You Must See
Horror films from the 70s don't really get enough love. These are excellent examples of some you may have missed out on, but shouldn't have.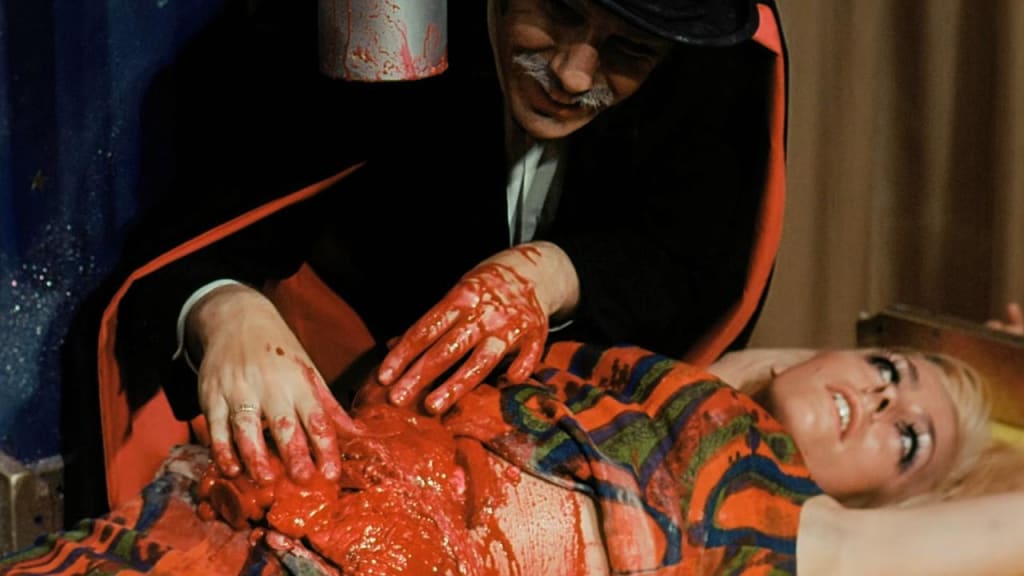 Horror movies are seriously underrated. Though there are some that have managed to create multimillion-dollar franchises, most horror movies are "flash in the pan" successes at best—and that means that many of them are criminally underrated or forgotten.
During the 1970s, Hollywood went through a "dry spell" in terms of quality horror, or so it'd seem. The truth is that there are a ton of great horror films from the 70s. We all just forgot about them, or didn't see them for the genius they were.
If you're looking for some good retro horror that aren't Dawn of the Living Dead, The Hills Have Eyes, or Texas Chainsaw Massacre, these 70s flicks will make your movie night filled with thrills and chills...
Perhaps one of the most thought-provoking horror films from the 70s was Don't Deliver Us from Evil. The entire concept of this eerie psychological thriller is about what happens when rebellion goes to excess.
The storyline follows two girls who go from reading erotica under a bedsheet, to realizing the hypocrisy of the church, to sacrificing their souls to Satan. It's dark, poetic, and a brilliant commentary on the weird-double standards of society.
Sure, it's sexy and borderline porn at some times, but it's hard to ignore the message within. Besides, it was banned in the US for blasphemy and that somehow makes it even better.
The House that Dripped Blood is one of those rare horror films from the 70s that is just pure chaos in its finest form. Well, okay, it's not chaos per se—it's four different plots going on at the same time.
The premise of the film is equally fun and 70s-riffic. In it, a Hollywood movie star vanishes and his disappearance leads Scotland Yard to a haunted house. Seems normal enough, right?
The movie branches out into four plots that involve a little girl obsessed with witchcraft, a Hollywood actor who finds a black cape that gives him vampire powers, a wax statue that two men become obsessed with, and a reanimated creature.
All the plots add something new to the film, making it one of the most underrated movies you'll ever see.
Everyone loves watching a good movie involving a magic show, but did you know that one of the better slasher film titles of this era involved a little classic magic? Montag the Magnificent ends up being the Wizard of Gore when his "harmless tricks" end up causing volunteers to drop dead in similar methods shortly after the show.
Enough animal innards end up in this film to make this one of the most delightfully gory horror films from the 70s. It's the insanity that people expect from the 70s, plus a little over-the-top weirdness. That's why you'll love The Wizard of Gore.
Dark humor meets a dark double feature in one of the more classic horror films from the 70s, Girly. In this surreal film, adults "play house" like kids—and Mummy and Nanny decided to ask Girly and Sonny to go out in the world and find new friends to play with.
They go and find homeless men and other adults, and bring them back home for play time. There, the guys have to play by the rule or find themselves killed.
Not to be confused with the 2000s remake featuring Nic Cage screaming about bees, the original The Wicker Man was one of the most terrifying horror films of the 70s. The entire movie follows an inspector from Scotland Yard searching for a missing girl on a remote British Isle.
Everything seems normal, until he realizes that the girl never really went missing—and that the entire island was involved in a pagan cult. The full ruse of the cult gets revealed beautifully, and makes you realize that the dark history behind Burning Man is a lot more terrifying than you'd imagine.
A ridiculously large amount of people assume that the Texas Chainsaw Massacre was the only 70s movie inspired by Ed Gein, but this is just not true. One of the more obscure horror films from the 70s is Deranged: Confessions Of A Necrophile—and as the name suggests, is a very realistic movie based on Ed Gein.
Deranged has all the horror elements that you'd expect from a Gein-based movie: the crazy mother, wearing someone's skin, and of course, a really unhealthy relationship to a dead body. This is one of the only horror movies out there that really walks a seriously fine line between true crime and slasher, and it's all the better for it.
Fans of scream queens never have a shortage of fun horror films from the 70s to watch, but few really come close to Countess Dracula in terms of thrills. This movie has become known as one of Ingrid Pitt's best works, and it's easy to see why.
This movie follows the story of an aging Countess Elizabeth, who finds out that bathing in the blood of virgins keeps her looking young. To keep the attention of her lover, she sets off on a killing spree.
Surprisingly, this is based on true historic events. Countess Elisabeth Bathory was known for bathing in blood as a way to keep her face looking youthful.
It just wouldn't be a good list of horror films from the 70s without involving at least one movie that makes you feel unsettled in a hallucinatory way.
Vampire Circus follows the story of a circus coming to town offering "a thousand delights" to a town that has been battling plague and blight ever since they stopped being under vampire rule. Considering how poorly the town has been faring, a circus seemed perfect to help boost morale.
Unfortunately, this circus isn't about providing fun. It's a circus filled with vampires, and it's all about vengeance.
Jessica has just finished up a six-month stint in a psychiatric ward, and has just been sent home to recover from her time out. She's at home with her husband and best friend—but then soon realizes a young girl named Emily is also there.
Emily is not alive... or is she? Who is Emily, and why is she out and about?
Let's Scare Jessica to Death brings that eerie, unsettling feeling you get when you know something's not right to the forefront masterfully. It's one of the best horror films of the 70s for folks who love a slow burn.
The Baby is one of the only horror films from the 70s to approach mental illness without actually fully turning it into a slasher flick involving a psycho killer. I'll give it that credit, but, that's where the normalcy ends.
This involves a CPS worker noticing that a family is treating an adult man like a baby, and believing that the man may be able to normalize if given treatment. The family may be loving, but they're also abusive. They will not have someone take their baby away!
Though The Baby isn't exactly classy and approaches the topics involved in the plot with zero tact, it's got its appeal. It's as bizarre as horror films get.

Iggy Paulsen
Iggy Paulsen is a fan of anything and everything wholesome. He loves his two dogs, hiking in the woods, traveling to Aruba, building DIY projects that better humanity, and listening to motivational speakers. He hopes to eventually become a motivational speaker himself.
See all posts by Iggy Paulsen →