Twisted for Twizzlers
Sweet Tooth Aliens
Makeup Art / Photography / Model / Story: Shanice L. Wadell ~ SLWcrea8
Breaking News!
The date, October 28, 2020, only three days away from Halloween Night.
Everything and ANYTHING is happening this year. We should have known it was only a matter of time before out of this world creatures disembarked onto earth.
It is day 53 of the Alien Attack.
For week's special forces have been trying to figure out what these invaders want from us… Where they came from… How to communicate with them!
The only thing that seems to put their destruction to a screeching halt is...
Strawberry Twizzlers. Go Figure... They Love Sweets!
So this Halloween, make sure you stock up on Twizzlers for your Trick-or-Treaters, because this year, you may just find an Extraterrestrial with a sweet tooth knocking at your door.
~ Short Story By Shanice L. Wadell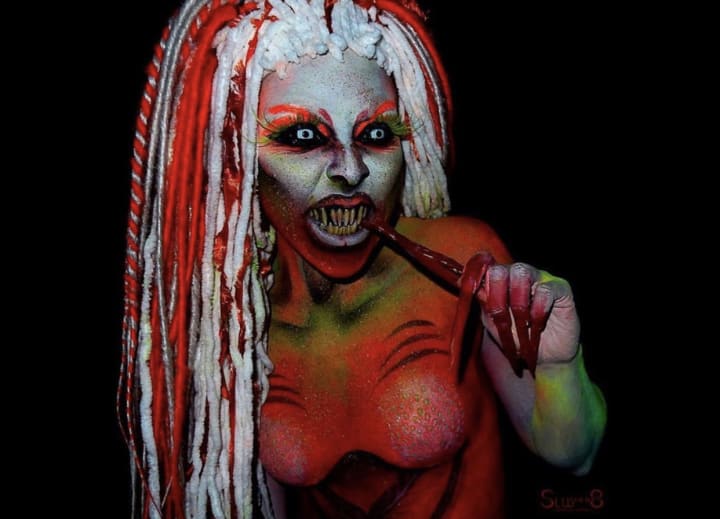 When it comes to Halloween, you can't leave out the Aliens when considering a costume!
This concept I created out of pure imagination… clearly. And how did I come up with this idea you ask? Well, I was searching through my cabinets for some sugary goodness, and it just so happened that Twizzlers were the only thing I could find. And in that moment, I KNEW… I HAD to create a hybrid Strawberry Alien. Because that's what any other sane, logical person would immediately contemplate, right?
The Body Paint
Before I get into detail, you can view a quick tutorial below of how I accomplished the full body paint.
I didn't want to go too literally with the strawberry concept. Instead I went the subtle route, using the typical colors that one would relate to this particular fruit. I also decided to incorporate black and white into the look itself to bring some dimension and depth and to break up the red and green. Furthermore, instead of going with the classic red and greens that a strawberry typically has, I decided vibrant shades would give the full look more of an out of this world vibe.
One of my favorite and simplistic techniques that I used to give this character more texture is the speckle method. All you do is take any toothbrush, damp it with water, swirl it around in your given water activated body paint color, and with your thumb begin to flick the bristles of the brush onto the given area of your body and you will get a nice organic speckling texture. Basically like giving yourself some faux freckles.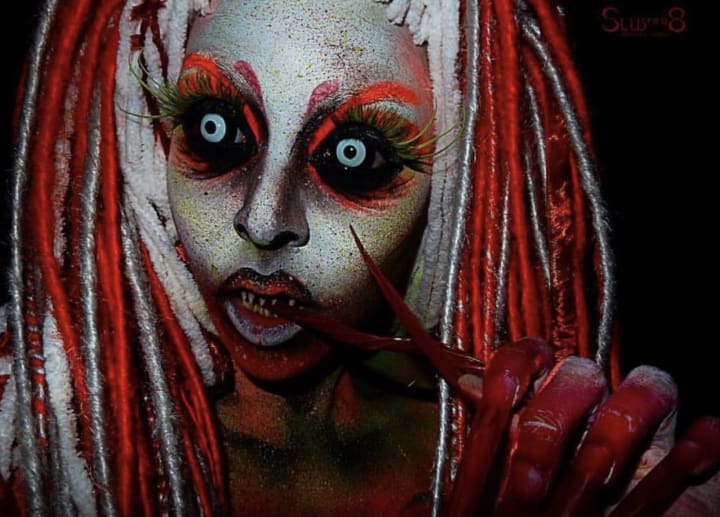 Prosthetics and Accessories
For the initial head piece, I crafted it using a combination of tinfoil, hot glue, and yarn. Initially, I took my trusty styrofoam head and formed a thin layer of tinfoil around its noggin to create a bowl like shape. I then cut TONS of individual pieces of red and white yarn. There was no need for measuring the length of the yarn because I preferred that they be different in length to give a more layered feel as well as have it look and move more organically. I then began to hot glue each individual stand of yarn to the tinfoil cowl.

I also incorporated "Kat Atomic Falls" Custom Red and White Dreads. Kat Atomic Falls creates beautifully made to order dreads out of synthetic hair. I actually had received mine as a gift and I felt this look gave me the perfect opportunity to utilize them!
https://www.instagram.com/kat_atomic_falls/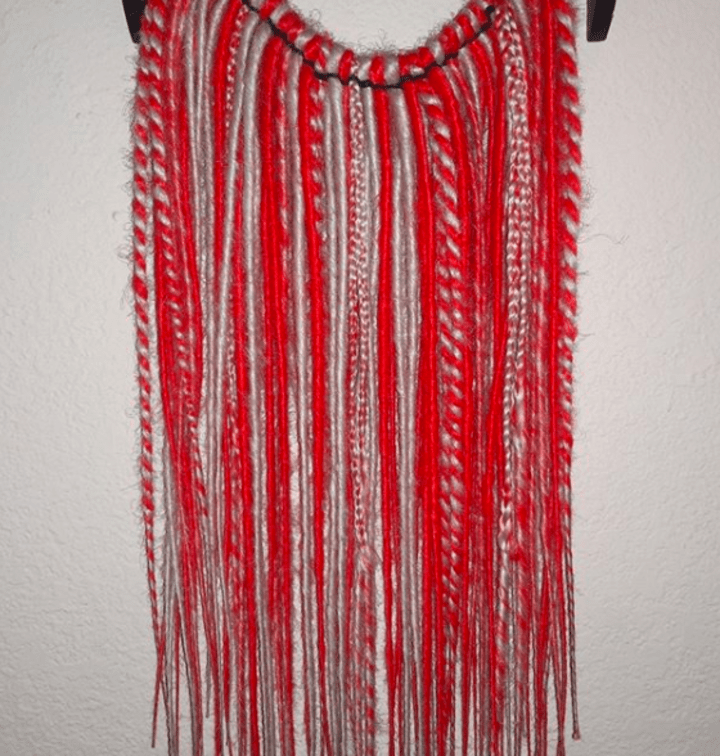 For my wicked chompers, I used Moonstruck Effects Godjira Upper and Lower Teeth. These are my all-time favorite prosthetic teeth I own. Moonstruck Effects creates outstanding realistic prosthetic monster teeth and can be customized from an array of different tooth shapes, and certain details upon request such as what shade or stains you want the gums and teeth to be.
http://moonstruckeffects.com/personalize/86-godjira-teeth.html
For the eyes I used Sclera Lenses Dotcom Negative Sclera Contact Lenses 22mm. Now let me just say, 22mm Sclera Contact Lenses are NO JOKE! They are HUGE and can be a one heck of a rodeo trying to pop in. These sized lenses do cover the entire whites of your eyes and they give such an amazing completed feel to any costume or character. But again, they do take a bit of practice learning how too successfully apply them. If you are new to contact lenses, I suggest you start off slow and begin with the classic smaller 14mm lenses. You can also try the mini sclera lenses that are 17mm in diameter (the in-between of the 14mm and 22mm).
https://www.sclera-lenses.com/product/sclera/negative-sclera-contact-lenses-_1-pair_-/10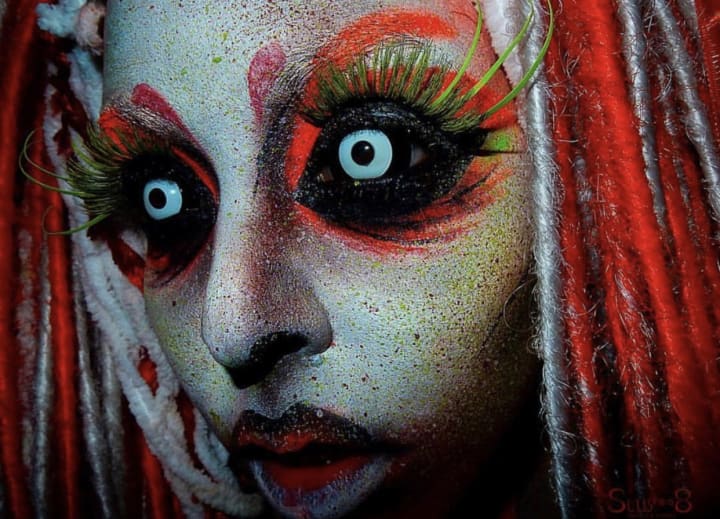 Lastly, I want to discuss the two individual chest pieces I hand crafted. Again, being that this was a Hybrid Strawberry Alien, I want to give subtle hints that his creature was of "The Land of Strawberries". So I create two pieces that looked like that were textured with strawberry seeds. To accomplish this, I first sculpted the initial shape out of modeling clay. I then went through the steps of creating a negative cast out of plaster (this way I can duplicate as many as I needed. Taking the negative mold, I used multiple layers of liquid latex to build up the chest piece form (letting each layer of latex dry completely in-between). I did that step twice, to have two identical, yet individual chest pieces.

Other Products Used
Andy Candy Makeup
• Bleeding Heart - Loose Pigment
• Unearthly Creature - Loose Pigment
https://www.andycandymakeup.com/
Mehron Makeup
• AQ Paradise Body Paint White
• AQ Paradise Body Paint Red
• AQ Paradise Body Paint Black
• AQ Paradise Body Paint Lime Green
• AQ Paradise Body Paint Maroon
NYX Cosmetics
• Liquid Suede Stone Fox
• Perfect Filter Palette - Gloomy Days
• Epic Ink Eyeliner
https://www.nyxcosmetics.com/hom