Top 5 Horror Movies of 2017
Jordan Peele and Pennywise dominate a weak year for the horror genre.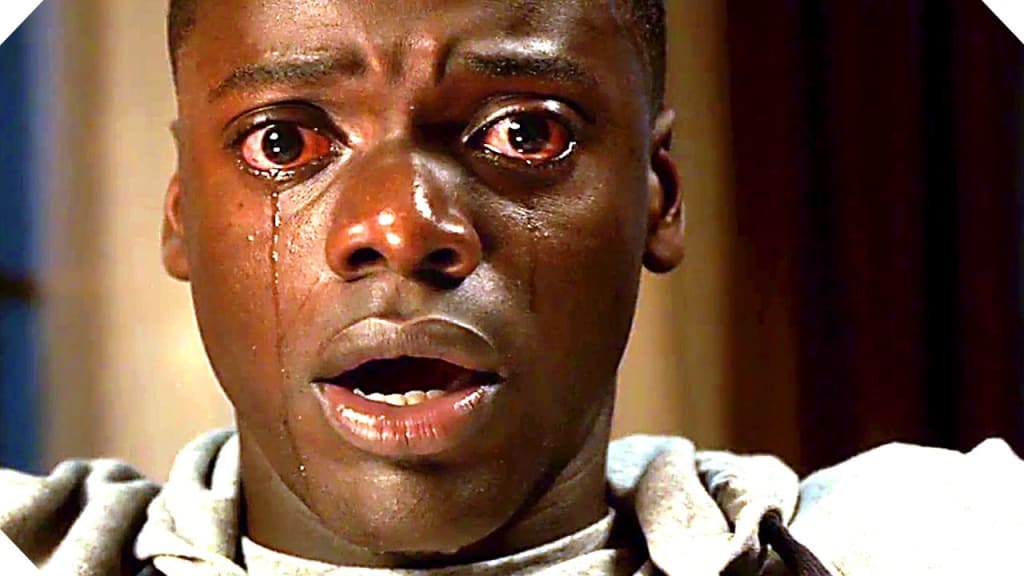 2017 wasn't a great year for mainstream horror. The genre suffered through a year packed with terrible sequels, prequels and remakes. It was a year that featured the return of the Chucky Doll to little to no mainstream notice. We got the backstory of Leatherface and watched another horror legend fail to make it past the On-Demand world. The Hellraiser franchise returned again and was met with almost universal ignorance. The biggest return of 2017 was Jigsaw and what a letdown that was. Jigsaw came back and underwhelmed by forgetting what made the previous entries in the Saw franchise so entertaining.
Some Hollywood executives felt we needed remake of Flatliners (Gah!) while another banked on the return of the stupid video tape in Rings. We even went back to the Amityville well one more time. Annabelle led the way in terms of prequels and did well at the box office but stunk badly as a horror movie. Netflix may be the one place where the genre is still thriving. The streaming company adapted a pair of Stephen King stories, Gerald's Game and 1922 to good reviews. But mainstream horror continued to struggle and find a place at the multiplex.
The horror genre in 2017 turned out only two major hits in Jordan Peele's remarkable; Academy Award contending Get Out and the Stephen King rehash It. Otherwise, horror fans were left in a scrambling search for movies to sate the desire for a good scare.
Here are the 5 best horror movies of 2017:
5. 'Happy Hunting' – Directed by Joe Dietsch and Louie Gibson
Happy Hunting barely received any attention when it received limited release in September. The film has no big name stars, but what it lacks in star power it makes up for in gritty, punishing intensity. Happy Hunting sets up a premise where a man is told he has a child somewhere in Mexico and his ex-girlfriend needs him to come there to take the child. Along the way, our hero, played by Martin Dingle, finds himself in a small town where he becomes the prey in a most dangerous game. He must kill or be killed to survive the game and try and make it to Mexico and the potential for a new life. It's not an original premise as a number of other movies have made use of the Richard Connell–Most Dangerous Game story in the past. What makes Happy Hunting so much fun is the gritty setting, colorful killers and a terrific lead performance from Martin Dingle who gives us a tough, smart, and resourceful character out of his depth but with a cockroach level of survivability. Happy Hunting is reminiscent of the work of Jeremy Saulnier, the rising director of Blue Ruin and The Green Room. It has a similar style and grit and is smart with gore and violence in the same way Saulnier's work is. If Directors Dietsch and Gibson can find a voice more authentically their own we could be seeing a great deal more from this directorial duo.
4. 'It Comes at Night' – Directed by Trey Edward Shults
Trey Edward Shults is a terrifically smart and unique director. His 2016 feature Krisha was a stunning character study that surprised audiences from beginning to end, a rarity in this day and age. His follow up, the horror thriller It Comes at Night is a slight step down from Krisha but in a weak year for horror, it stands out. Joel Edgerton plays the head of a family that is dealing with some sort of plague. It is unclear what the evil in It Comes at Night is; all we know is that the family does not go outside at night and if someone gets sick, they can't stay, they have to put to death to save everyone else. The film sets high stakes from the start and sets about keeping the audience off-balance throughout. The introduction of an intruder with a family of his own seeking shelter amps the tension and Shults does a terrific job of moving his camera through this unique cabin in the woods set that becomes a character all its own. I didn't fully embrace It Comes at Night, certainly not in the way I did with Krisha, but taken as a simple horror film and not the work of a future auteur, it's quite a good B-Movie and in a low year for the genre, It Comes at Night really stands out.
3. 'Happy Death Day' – Directed by Christopher B. Landon
The biggest surprise of the horror genre in a very long time for me is the movie Happy Death Day. By any account, Happy Death Day should have been just another teenage horror movie. It looks like just a standard slasher movie with a hinky premise. I had written the movie off before I sat down to watch it. What a wonderful surprise to find that this bizarre mix of Groundhog Day and teen slasher film works incredibly well. Director Christopher B. Landon and radiant star Jessica Rothe strike a perfect tone of comic horror as we watch Rothe's Tree Gelbman murdered repeatedly on her birthday only to wake up and live the day again over and over and over until she can stop the person who's been trying to kill her. That we never learn why she has this ability to keep waking from death could be seen as a cheat, but if you get past that, the premise is really fun and Landon and Rothe make incredibly fun choices in how they keep these plot wheels spinning. Happy Death Day is darkly hilarious, combining all sorts of Final Destination-style death scenes with the whacked humor of Groundhog Day.
2. Stephen King's 'It' – Andy Muschietti
Another movie I went into with very low expectations was the latest iteration of the work of writer Stephen King. It had been made as a rather awful television mini-series back in the 1990's. The TV movie is a lengthy bore filled with stock characters portrayed by television comedians and dopey kids and centered on a silly, over-the-top performance by Tim Curry as the villainous Pennywise. The TV movie makes a solid argument that Stephen King's It was not something that could be converted from the page. Enter director Andy Muschietti. Tossing aside the adult plot of the TV mini-series, Muschietti and his collaborators boiled the story down to the story of a group of engaging kids who battle a genuinely terrifying villain. The Pennywise of this version of Stephen King's It is creepy and dangerous rather than goofy or over the top. Ben Skarsgard inhabits Pennywise not by relying on his terrifying clown suit; he gives a full bodied performance that includes voice and body language, and his bizarre acrobatics are nearly as frightening as his physical attacks on his victims. Then you have an incredible cast of child actors, including Jaeden Lieberher and Stranger Things star Finn Wolfhard. Getting the casting right is arguably the biggest factor in making Stephen King's It one of the best horror movies of this generation, let alone this terrible year for the genre.
1. 'Get Out' – Directed by Jordan Peele
I have said it before and I will say it again, I love a good surprise. Being a movie critic for 17 years, I can tell you that surprises are so rare. When I am actually surprised by a movie it's a huge thrill and Get Out never stopped surprising me. First, it was directed by Jordan Peele from Key & Peele, a guy I was not aware of as a director or filmmaker. I was aware that Peele was funny but I had no idea that he would prove to be a masterful director and storyteller. Get Out may not be gory or even all that bloody but it makes up for that with some serious creepy. The political tone of the film, which takes limousine liberals to task while also engaging in a complicated conversation about Black identity, is absolutely riveting and bringing this conversation to the mainstream genre of horror was a terrific surprise. Get Out is thrilling, exciting, smart, and funny while also remaining genuinely scary in how it makes us fear for and root for our hero, played by Daniel Kaluuya.