TOP 15 SUPERNATURAL SERIES ON NETFLIX
15 SUPERNATURAL SERIES ON NETFLIX TO WATCH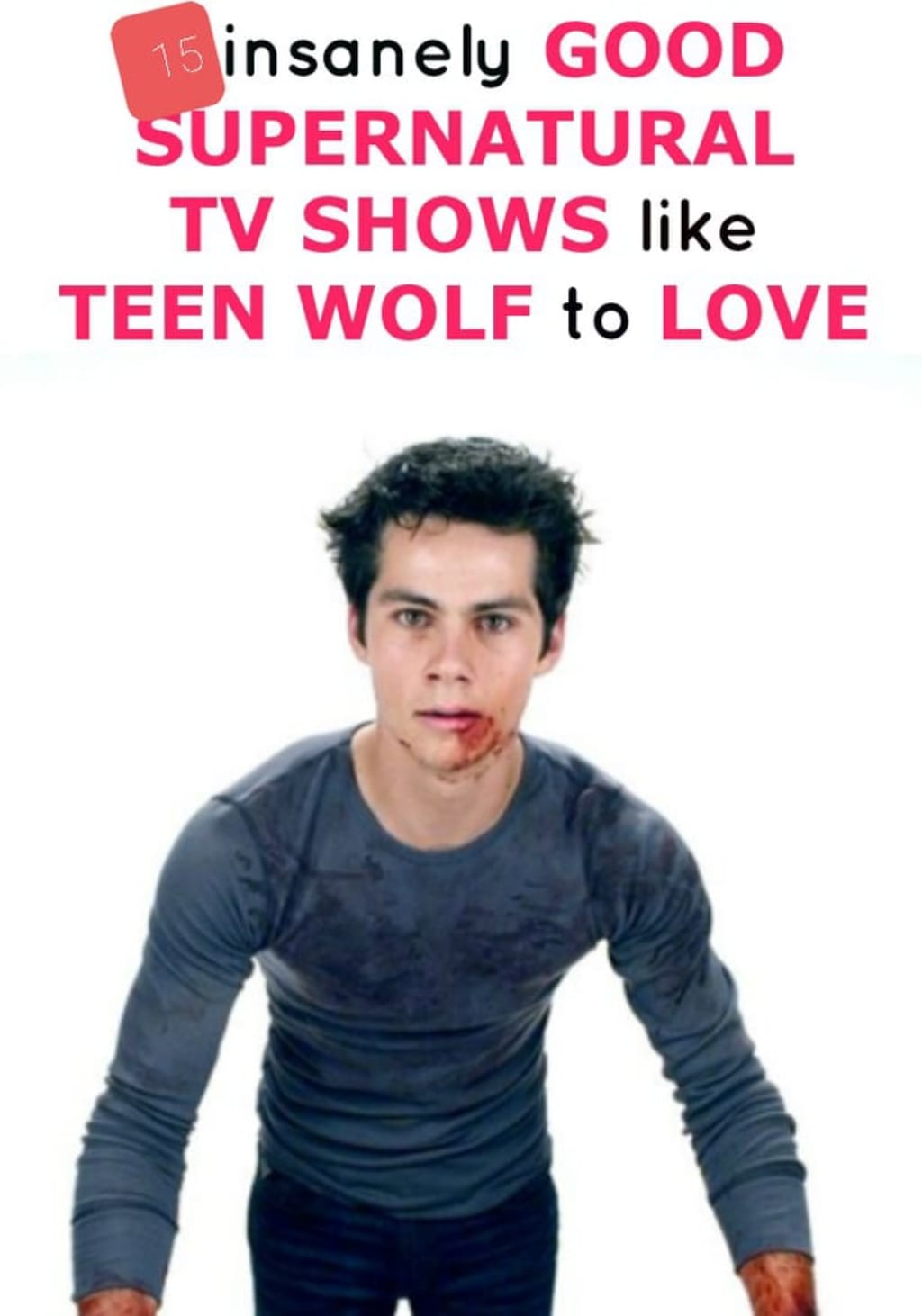 To b e honest, i really love what Netflix is doing for people and that they have a lot of good, wonderful movies and series about everything. All you need to do is just to click two times and make a choice about "what you want to watch today".
Because of this pandemic we all was blocked in our houses and my opinion is that Netflix helped us to not become crazy sometimes.
During this period, i personally watched a lot of movies and series, some of them really great, others not so much.
Speaking about supernatural series, for me it's not just about something scary things and magic, but more about really cool and amazing series that everyone would love.
I'm not going to spoiler, just make a list of amazing supernatural series and a little review for each of them.
Let's begin.
TOP 15 SUPERNATURAL SERIES ON NETFLIX:
15. THE ORDER 2019 : for me this series deserves to be on the 10 place because i watched till the end and never skip a part or a moment. What i really appreciate about this series is that here are a lot of funny moments, all the cast was well choose and they're playing very good. By the way, i found this series interesting and definitely not boring, what is very important for a series. In middle of the actions are some teenagers with the supernatural powers, a university order and a lot of things happening around them. Werewolf and magic, teenagers who have no idea about what to do, the perfect series to watch this summer.
14. SHADOW HUNTERS 2016 : is an supernatural drama television series based on the popular book series The Mortal Instruments written by Cassandra Clare. The main character is a girl named Clary Fray who finds out on her eighteenth birthday that she comes from a long line of shadowhunters, human-angel hybrids who hunt down demons, and has to deal with the struggle of forbidden love. The cast of this series is just amazing, because the're really cool actors and is a pleasure to watch. Katherine McNamara, Dominic Sherwood, my favorite one Matthew Daddario and others.
13. WINX SAGA. FATE:THE WINX SAGA 2021 How you may already understood, this series is based on the Nickelodeon animated series WINX CLUB. To be honest, i never watched that animated series when i was little, because it was just too much magic and stuff like this. But this is not about this version on Netflix.
12. SHADOW AND BONE 2021 this one was waiting in my list for a very long period, and i don't know why at first i was thinking it's gonna be not good enough. The series is about a young girl Alina Starkov, an orphan mapmaker who unleashes an extraordinary power that could change the fate of her war-town world. If u didn't saw this series yet, you need to do this, because another season is coming and it's really amazing.
11. SWEET TOOTH 2021 , is an fantasy drama streaming television series based on the comic book of the same name by Jeff Lamire. It's about a lovable boy who's half -human and half-deer across a post-apocalyptic world with a gruff-protector searching for a new beginning.
10. ORIGINALS 2013 , is an amazing and wonderful series about vampires, witches and werewolf, but to understand it you need at first to watch THE VAMPIRE DIARIES. Anyway, The Mikaelsons move to New Orleans and form an alliance with local witches in an effort to rule the city once again. The cast in this series is just amazing and you'll definitely be in love with them.
9. THE VAMPIRE DIARIES 2009, this series is about two vampires brothers Stefan and Damon who are trapped in adolescent bodies and both are in love with a teenager Elena Gilbert. Starring Nina Dobrev, Paul Wesley, Ian Somerhalder and others amazing actors who will make you crazy about this series.
8. TEEN WOLF 2011. At first, i watched this series 3 times and soon i'm gonna watch it again because i love it. Maybe it's more for teenagers and that's why i'm so crazy about it, but still worth it to take a look. An animal bite turn a high school student into a werewolf and he suddenly becomes a star athlete and chick magnet. But he also faces a lot of new problems. It's about love, friendship, family, scary stuff and how you can be still a good person even in the most strange situations. Starring Tyler Posey, Crystal Reed, Dylan O'Brien (he'll will blow your mind for sure).
7. THE WITCHER 2019, Geralt of Rivia (Henry Cavill), a mutated monster-hunter for hire, journeys toward his destiny in a turbulent world where people often prove more wicked than beasts. From the start, it's not for the children's eyes because this series have a lot of erotic scenes, scenes very beautiful created. Trust me, you'll gonna like it.
6. MERLIN 2008, this family oriented retelling of the King Arthur legend finds Merlin arriving in Camelot, where he hones his magic skills with the help of his uncle. So. it's something like a story of Merlin and how he found all his magic power. Definitely worth it to watch.
5. BLACK LIGHTING 2018, in this series school principal and retired superhero Jefferson Pierce leaps back into action as the legendary Black Lighting after a gang threatens his family. It's a nice series, but it's not scary at all and sometimes it feels like it's more for a children to watch. Anyway, if you like superhero movies this series is for you.
4. RICK AND MORTY 2013, even if it looks like an animated series, trust me it's not for your children. Brilliant but boozy scientist Rick hijacks his fretful teenage grandson, Morty, for wild escapades in other worlds and alternate dimensions. For me this series it's about the people's problems but in an original way to explain and if you're gonna listen carefully what Rick it's saying you'll understand that this is just a masterpiece from Dan Harmon and Justin Roiland.
3. STRANGER THINGS 2016, when a young boy vanishes, a small town uncovers a mystery involving secret experiments, terrifying supernatural forces and one strange little girls. This is the debut series for Millie-Bobbie Brown and it's just a must-see for everyone who love supernatural movies. Starring Winona Ryder, David Harbour, Finn Wolfhard and a lot of amazing actors.
2. LUCIFER 2016, in this series Lord Of Hell, bored with being in hell for a long time , relocates to Los Angeles, where he opens a nightclub and forms a connection with a homicide detective named Chloe. How wonderful is this series i can't explain with words because it's something unreal and worth it all the applause in this world. Starring Tom Ellis, Lauren German, Kevin Alejandro.
1. BEHIND HER EYES 2021. I'm telling you from the start, this series will blow your mind. A single mother enters a world of twisted mind games when she begins an affair with her psychiatrist boss while secretly befriending his mysterious wife. It's a mini-series, because there are just 15 episodes and that's all. But what a season! What a series! I watched all in just one day because it is so captivating i couldn't sleep without watching the whole season. I hope you'll enjoy this series as i did.
THANK YOU FOR READING THIS LIST, I HOPE I WAS HELPFUL
IF YES, YOU CAN SEND ME A TIP AND I'M GOING TO POST MORE LISTS WITH SERIES AND MOVIES TO WATCH.
About the Creator
Communication and public relations student, Moldova
Instagram profile: maria.ostasevici;
mother of two awesome Dobermans.
BEST VERSION OF YOURSELF- THAT'S TRULY EPIC
Reader insights
Be the first to share your insights about this piece.
Add your insights