The Woman In The Bathtub
A campfire ghost story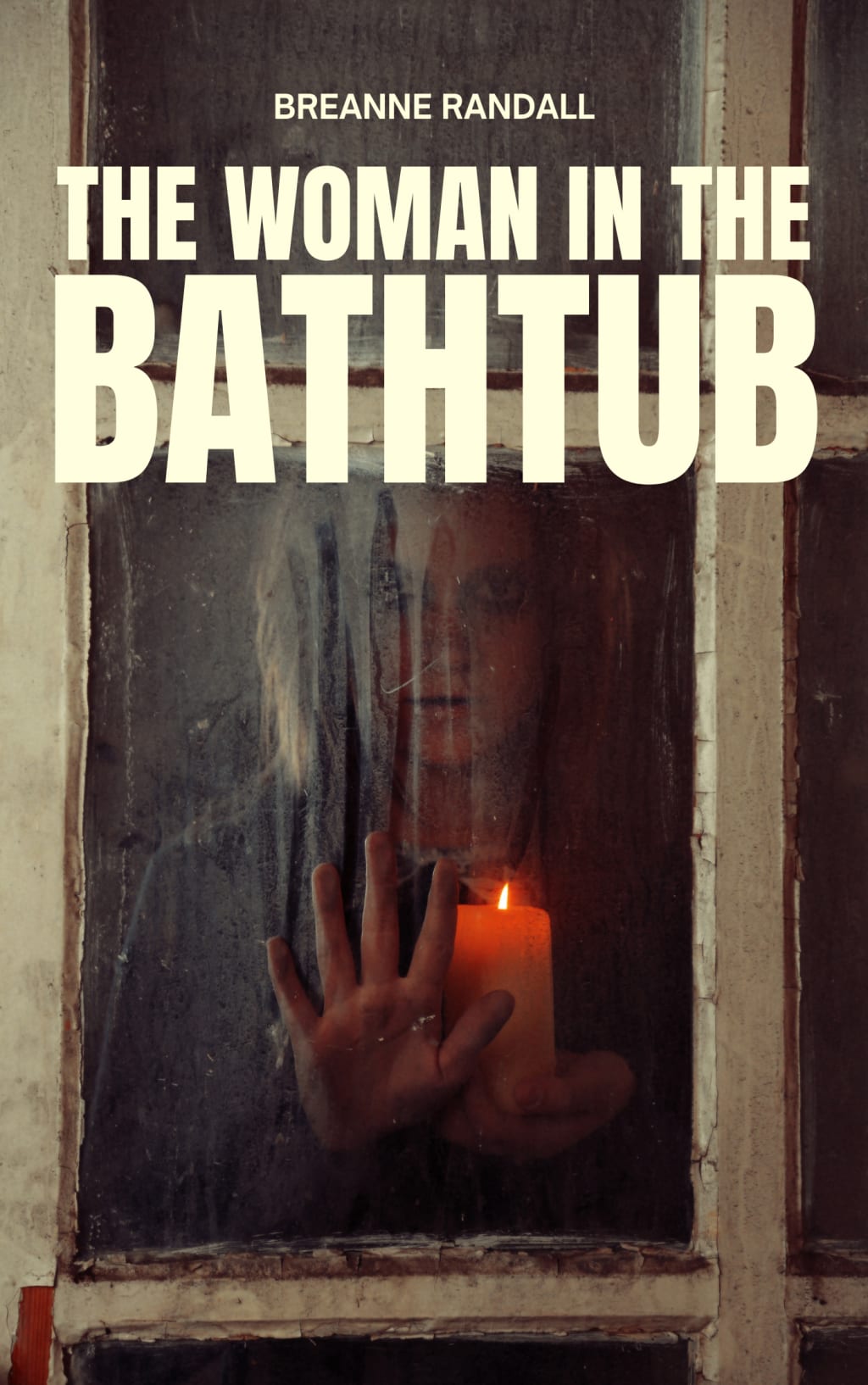 *A creepy story trailer is awaiting you at the end!
"The cabin in the woods had been abandoned for years, but one night, a candle burned in the window."
"That doesn't sound very scary," Melody cut in. She was eight and her stick straight hair was pulled back into a tight ponytail. Her pale skin was flushed from the heat of the firepit and the flames danced where they reflected in her green eyes.
"Shh," her sister said. Selah was fifteen and the opposite of Melody in every way. Her wild hair was curly and stuck out in every direction. It was a fire hazard in and of itself. "That's just how it starts. And don't forget this is a true story. About that," she pointed to the edge of their yard that abutted the forest, "cabin right there."
"But that's not a cabin. That's the place where Nana and Poppa stay when they come to visit. It's all new and pretty."
"It wasn't always that way," Selah lowered her voice and looked around to make sure her parents had really gone back inside. "The last couple who owned this house, they hadn't fixed it up yet."
"This is supposed to be a ghost story. Shouldn't it start with a bang? I'm getting bored."
"Melody!" Selah said, frustration finally getting to her. "Just shut up a second. It's called 'framing the story.' I learned about it in English class. Don't you want to know why mom and dad got this place so cheap? You're only eight but you're old enough to realize we don't have enough money to buy a house this size."
"First of all," she held up a finger. "I'm almost nine. And second," she held up another finger, "Daddy's good at making deals. That's his job or something." Melody shrugged her delicate shoulders. The Tennesse air was warm and muggy and Melody's focus was diverted for a moment when a firefly buzzed nearby.
"No, dummy." Selah yanked gently on Melody's ponytail to get her attention. "The couple who lived here before? They couldn't have children. They tried everything. Prayer and potions, doctors and medicine. Nothing worked. Every time she got pregnant, she'd lose the baby. The woman got so depressed she never got out of her nightgown. She'd just float around the giant old house like a specter with her long black hair."
"What's a specter?"
"Like a ghost," Selah rolled her eyes. "So, she floats around. Depressed. And she takes refuge in the cabin. There's a big copper tub out there. The kind they used back in the old days. And one night, a neighbor sees her carrying buckets of water out to the cabin. She's still wearing her white night gown and takes trip after trip until the tub is finally full. The neighbor knew she was an odd duck, but this really took the cake. I mean, a bath in a creepy old cottage?"
Here, Melody looked toward the cabin at the edge of the woods. For some reason, her heart was beating faster even though still, nothing scary had happened in the story. A warm breeze blew the sweet smell of honeysuckle toward her and she shivered in a way that had nothing to do with being cold.
"And?" she demanded.
"The neighbor watched her go in. A single candle burned in the window. The neighbor had a funny feeling in her stomach and waited for hours. She watched until the candle burned down, but the woman never came back out. Not alive, anyway."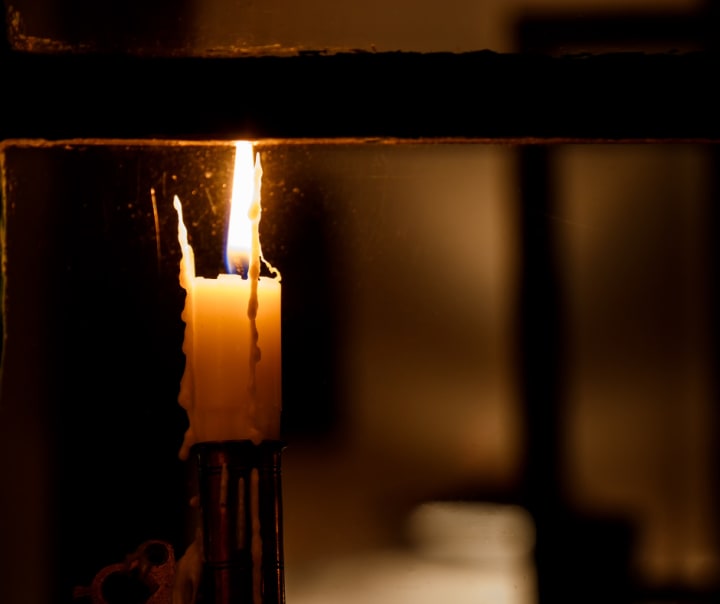 Melody gasped, and Selah nodded sagely.
"She drowned herself. Her husband found her the next morning and put the house up for sale. That was like, three years ago. He knew the rumors and finally redid the cabin, hoping it would add enough value that someone would put an offer in. And well, mom and dad are atheists, so they don't believe in ghosts. But the neighbors? They all moved. Some said they saw her wandering the property at night, her wet nightgown clinging to her pale skin. Others said that when they bent down to wash their face at night, they could feel a tingling on the back of their neck. Like someone was watching. But worst of all, it was the kids. Two kids off this street were abducted and never found. And people swear it was the woman. She couldn't have kids of her own, so she stole other people's."
"You're making that up," Melody whispered, pulling her blanket tighter around her. Selah turned up her nose and shook her head solemnly.
"I wish I was," she said.
The back door opened, and their father poked his head out.
"You kids still want to sleep outside tonight?" he asked.
Selah looked to Melody with a raised eyebrow. It was a challenge. The eight-year-old opened her mouth but nothing came out.
"Yeah, we're good here," Selah answered for them.
"Okay, time to turn in then." He turned the gas off on the firepit they'd been using earlier to roast mrashmallows and kissed each girl on the head.
"I have to go to the bathroom first." Melody's voice squeaked out and her legs felt like jelly as she climbed the three steps to the back patio. The door seemed heavier as she pushed it open. Selah waited for her to return before they both slipped into their sleeping bags. It was hot, but the fabric lent some kind of protection against the lingering memory of the woman.They both glanced toward the cabin before looking at each other.
"It's just a story," Selah reminded her sister.
"You said it was a true one."
"Only if you believe in stuff like that," Selah shrugged. "But a kid at school told me a poem about the woman. Want to hear it?"
"No," Melody whispered.
"In the night she waits ," Selah started anyway.
"Childless and alone .
In the cabin by the woods
Where she drowned long ago
Now she haunts the children
Looking for her own
When the candle in the window blows out
She's taken another one home ."
Silence blew between the sisters and the air seemed to tremble with expectation. Selah turned on her side away from her sister to hide her smile.
"Night," she called over her shoulder.
The neighborhood was quiet and the sky, with its fingernail moon, didn't provide much light. And despite making some of it up, Selah couldn't fall asleep. Her eyes kept darting to the cabin. Did she imagine it, or was there a candle in the window?
"Melody," she whispered, shoving her sister in the shoulder as her heart pounded in triple time.
"What," she hissed back groggily, rubbing sleep from her eyes.
Wordlessly, Selah pointed to the cabin at the edge of the woods.
"If you put that candle there to scare me, I'm telling mom," Melody said, but there was a tremor in her voice.
"You see it, too?"
"Selah, stop. I don't like this."
Before Selah could answer, there was a rustling in the brush. Panic scorched along Selah's skin and she grabbed her sister's hand. They both watched as a figure stepped out past the tree line. She was wearing a white night gown that clung to her skin and her long black hair hung limp down her back as she glided through the grass to the door of the cabin.
Selah made a choking noise as the terror seized her and the woman turned her head sharply toward the sound. Her bare feet were quick and silent as she walked toward the girls who wordlessly scrambled out of their sleeping bags. Melody tripped on the steps and as Selah grabbed her arm, she turned to look for the woman. She was a few feet away now, her arms outstretched, her face looking down at the ground as though she sensed instead of saw them.
They'd barely reached the back door when a cold, clammy hand wrapped around Selah's arm, and she screamed.
"Go!" she shrieked to her sister as fingernails bit into her skin. But when she looked to Melody, her sister was leaning against the glass door clutching her side. Had the woman already gotten to her? Her stomach turned leaden as she struggled to get out of the vice like grip. She heard a choking noise come from Melody and the panic gave her a shot of adrenaline that had her ripping out of the woman's hold and stumbling toward her sister.
When she reached her, Melody looked up, and Selah saw that she was laughing, clutching her side not in pain, but in mirth.
"I don't- what?" Selah turned toward the woman, wondering what kind of madness the ghost had inflicted on her sister, only to find that the specter was laughing, too.
"You should have seen your face," her sister wheezed.
And that's when the woman finally looked up. Reaching toward her head, she pulled the long black hair off to reveal a messy, chin length bob.
"That should teach you not to scare your sister," her mother laughed.
Selah, who was on the verge of throwing up, sat down on the wood deck before she passed out. The sudden rage and humiliation of being duped made her eyes burn and throat clog.
"When I said I had to go to the bathroom, I went in to hatch a plan with mom," Melody said, still laughing but rubbing a soothing hand across her sister's back. "I told her to grab my Mulan wig from Halloween last year, and that gross old nightgown from the dress up chest."
"Yes," their mother laughed as she patted Selah's knee. "And then I got in the shower to get everything wet. I'm sorry, sweetie," she added. "I thought it would just give you a startle. I didn't think it would scare you this badly."
"But the story is true," Selah croaked. "I heard the realtor tell you guys. I was listening at the door. The woman who lived here before really did kill herself in the bathtub out there."
"She was troubled and didn't have the help she needed. And yes, sadly, she took her own life. But you know there's no such thing as ghosts, sweetheart."
Selah nodded. She'd asked around at their new school and pieced the rest of the details together herself. It felt too real. And the candle was still burning in the window.
"Now, come on in. It's almost two in the morning and we have a housewarming party tomorrow."
"No," Selah said firmly. "We'll still stay out here." She didn't want to let them know how much they got to her. "You're right. I was being silly," she added for good measure.
"Suit yourself," their mother said. "And sorry again, sweetheart." She kissed both girls on the head just as their father had. "I'll be right inside if you need anything. Night."
"I'm so going to get you back for this one day," Selah muttered as they climbed back into their sleeping bags. "And where did mom get that candle, anyway? She hates candles."
"I don't know, I didn't tell her about that part," Melody said on a yawn.
"Yeah, okay. Whatever," Selah rolled her eyes.
It took a long time for Selah to fall asleep as she listened to the sound of her sister's gentle snores. And when she woke up as the early morning sun began to make her sweat, Melody's sleeping bag was empty.
"This is getting old," Selah groaned as she made her way into the house. But twenty-four hours later, her parents, wild with worry and terror, filed a missing persons report.
The only witness was a neighbor who said they'd been unable to sleep because of a nightmare. They'd gone outside to have a cigarette at four am and saw a woman with black hair and wearing a white dress walking in the woods. The candle in the window was gone.
**This story was inspired by a house my parents bought (very cheaply) back when I was around five years old. It wasn't until after they signed the papers that they learned the woman who lived there before had drowned herself in the master bath and the husband just wanted it sold quickly. I will never forget walking to my parent's bedroom one night. There was a long window behind their bed and as I walked through the door, I saw a woman, dripping wet, with long black hair and wearing a white night gown. Her mouth was open, like she was screaming. It wasn't until many years later I learned about the woman who had drowned herself. Of course, maybe it was a dream or the imagination of a five-year-old. But it felt very real.
Click play below to watch the story trailer!
***If you enjoyed this story, please leave a comment and/or reader insights! Thank you so much!
urban legend
About the author
I'm an agented author with IGLA, writing short stories and sharing traditional publishing/querying how to's while my book is on submission. Thanks for stopping by!
Find me on Instagram @houseofrandall
Reader insights
Outstanding
Excellent work. Looking forward to reading more!
Top insights
Excellent storytelling

Original narrative & well developed characters

Easy to read and follow

Well-structured & engaging content

Eye opening

Niche topic & fresh perspectives
Compelling and original writing

Creative use of language & vocab

On-point and relevant

Writing reflected the title & theme

Masterful proofreading

Zero grammar & spelling mistakes

Heartfelt and relatable

The story invoked strong personal emotions
Add your insights