The tale of the reaper plague doctor
By Trinity Day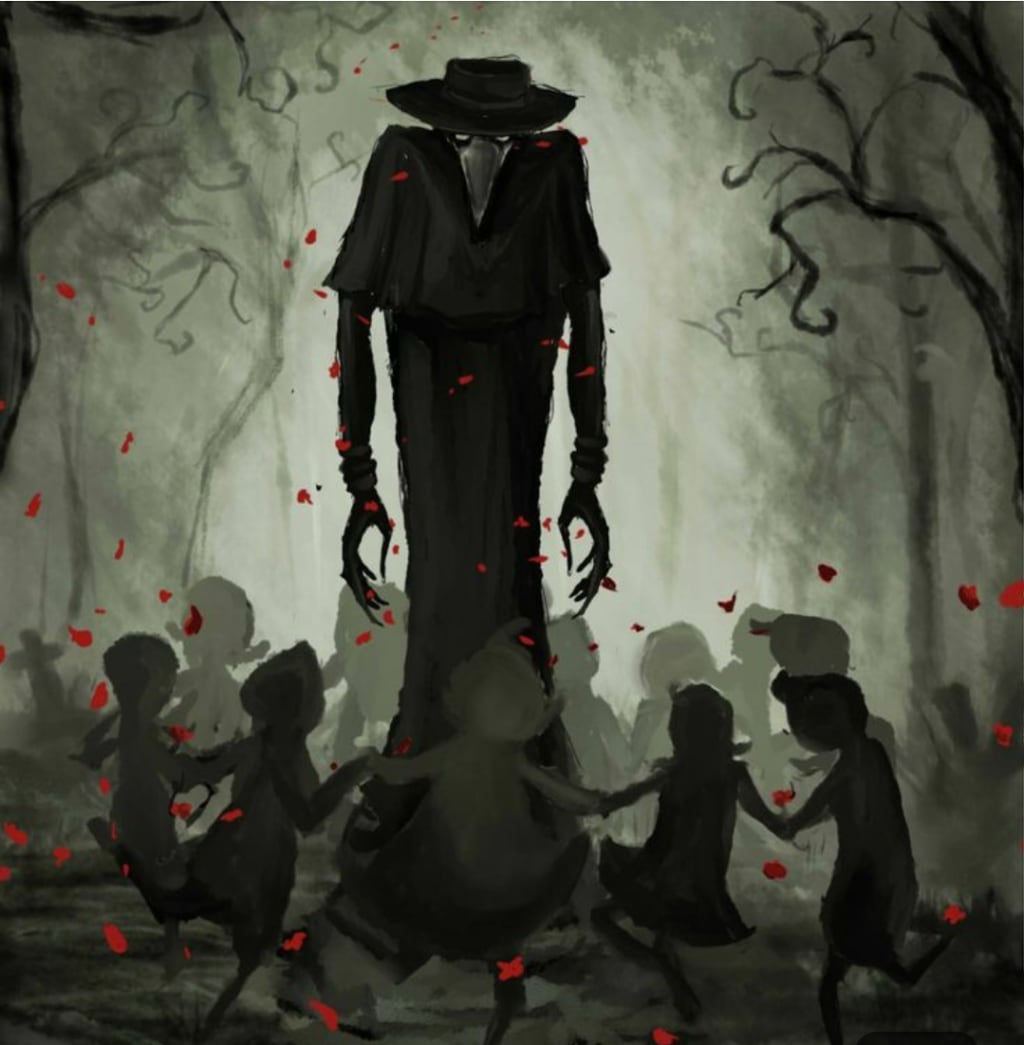 There was a tale once told by many others, maybe not well known to others. A scary story many teens told back in the day. They called it "The Legend of The Reaper Plague Doctor". The legend was that if you dance ring around the rosie's five times in a graveyard, the reaper plague doctor will collect the souls that is there in her presence and leave one alive to tell the tale.
 Many of her victims were scarred for life. Some went on a killing spree to get rid of her voice in their heads. Some even ripped themselves apart like the Russian sleep experiment and ripped out their guts to stop the madness. The reaper plague doctor originated from when the black death happened. She was once human herself, she tortured many in her practices. Many thought she was in witchcraft, others thought she was gifted. She had witnessed the Black Plague, and watched others die. A grin upon her face upon the death count. She loved the smell of death that came around.
Others tried escaping from her screaming bloody murder as she held a huge needle of liquid that was experimental. The needle looked sharp and bright as death calls upon her victims. Scraping off the scabs that look black as death, and mixing it up into her doctorly brew. She may have seemed like Jack The Ripper, but way more messed up in the head.
One night, she had killed 100 of her patients, so proud of her glory and death counts. She decided that she wanted more than this type of power. She wanted to be more than a serial killer disquised as a plague doctor. So she went to her home, set up a pentagram, and started chanting. She pleads as she chants in order for her call to be made. A demon pops up and asks,"what do you seek in our power mortal". "I want to be more than mortal, i want more power, more glory, I want blood on my hands forever, i want to be more than death!", she screams. "I see, your wish may be granted by satan himself, but in order for that... you need to make a big sacrifice", the demon explains. "I'll do anything you want, anything what is the sacrifice? do i need to kill more than average?" she pleads. "In order for your power, you need to sacrifice your life in order to become what you want" the demon said.
She agreed to what the demon has to her. She knew the right spot to die. She traveled to the cliff for those that were unfortunate to live their life. She climbs her way up to the top. For the last time in her life, she took her sacrificial blade and sliced every artery in her body. Slowly backing away with seconds to death. Slowly seeing death, she falls to her death, bled to death with a cracked skull. The ones that survived her, told the tale for years. Even in modern days, her name is always spoken upon her legend. This is how her legend officially started.