The Summer My Cousin Died
The police never looked for him
The following contains graphic depictions of a violent crime, and may trigger some readers.
He was missing for three days and the police never looked for him. It's hard to know, so many years later, if the police in Philadelphia routinely didn't look too hard for missing children living in a homeless shelter. Christopher's fault was that he liked to trade baseball cards, and at the age of 12 still had a friendly, trusting nature. Baseball had a dark underbelly in its trading cards.
Christopher was special in the fact that he was my cousin. He was tall and lanky with bulging eyes like other children with Graves disease. He also ate a lot, and really liked to play baseball. Perhaps that isn't special enough to stay alive beyond 12, but he was special to me.
I had just graduated from 8th grade. Cocky, shy, bookish, and opinionated. I was excited for the summer because I had plans to do nothing but listen to my Walkman, and finish the John Jakes trilogy "North and South." On a Thursday following my graduation, my parents got a call that Christopher was missing, he didn't return home for dinner. I didn't think much about it, I was sure it was a misunderstanding.
My parents packed up their suitcases, however, and in less than an hour would be making their way to Philadelphia. Chris's father was also missing, and no one could locate Chris's three siblings. I stayed with my maternal grandparents (Chris was on my father's side).
When I woke up Saturday morning my grandmother told me that Chris was dead. His body had been found dressed in a woman's top and shorts next to a chain link fence in the neighborhood where he went missing. My father drove the hour back that morning to pick me up and take me with him to Philadelphia so we could all be together.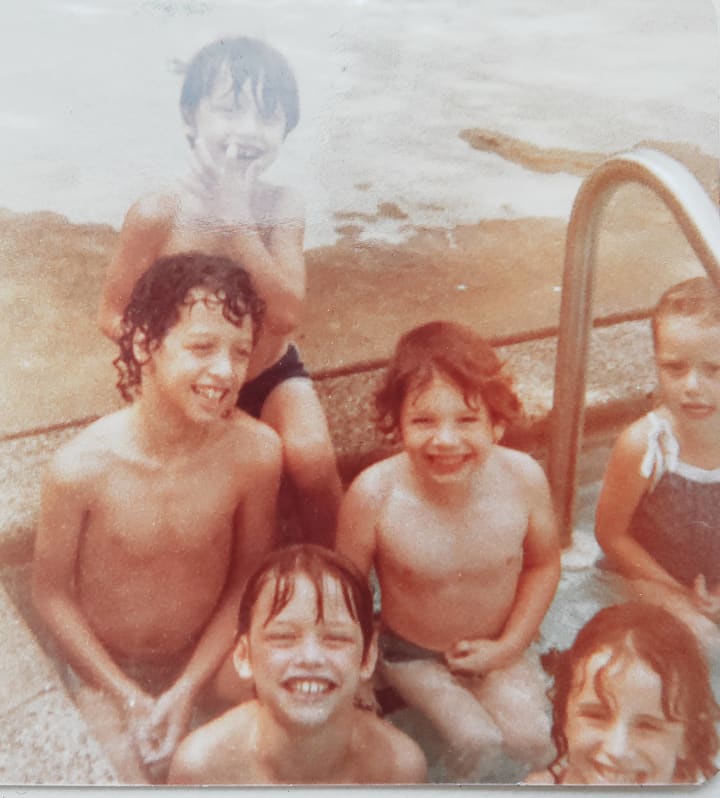 My grandparent's house became a staging area for saying goodbye to Christopher. All the adults were trying to look busy, and the kids stayed outside trying to stay out of the way.
The day before the funeral, my mother leaned out the sliding screen door and told everyone to get in the car. She took all of us kids to Kmart to buy clothes for Christopher's siblings to wear to his funeral. She bought everything down to underwear and shoes. She combed the aisles of the boys section throwing button down shirts and pleated pants into her cart. She didn't say too much, possibly grateful for the distraction.
She went to the girls section putting several different flower sundresses into the overflowing cart with packs of underwear and socks. She was overwhelmed that her niece and nephews were living without a refrigerator in a homeless shelter. It was supposed to be a secret, but Chris's death brought to light that my uncle and cousins had been living in a shelter since February. She got a second cart and added t-shirts, shorts, jackets, and sneakers in all different colors, anything that my cousins said they liked. At the register she had three different credit cards in her hands, and I'm pretty sure she crossed her fingers each time they processed her payment.
We buried Chris under a clear blue sky on a summer day. He was buried in his baseball uniform. The cemetery was on a hill and 20 minutes was spent making a path to get my grandmother's wheelchair up the hill. The casket was closed and there would be no viewing. A small marker with his name was placed on the grass next to his casket. There would never be a headstone put at his grave. Not one person in my family could bear the pain of his loss to even visit him at this cemetery ever again.
Jason was only 16 years old, but acted much younger. He was described by friends as "slow," and having "learning difficulties." When Jason was two years old he was pushed out a two story window and landed on his head, suffering "brain damage." He entered foster care at age 6, but his foster father passed away only a few years later.
When Jason became a teenager, his over 6' frame was too hard for his foster mother to handle. Jason would curse, throw tantrums and was "flagrantly disobedient." He entered a series of reform schools. Despite being "slow," Jason managed to escape these facilities and hitchhike the sometimes 100 miles back to his childhood foster home on Osage Ave, in North Philadelphia.
In June of 1988, Jason had escaped from a facility in Norristown, PA, but when he got to his foster home, his foster mother was on vacation in Florida. He broke a back window and let himself in, sleeping in what was once his bedroom.
He started hanging out in the neighborhood with some of his old friends. None of his friends ever described Jason as violent. One afternoon, he hung out with some kids after school and met a new friend who also liked baseball.
Jason invited Christopher to his foster home to trade baseball cards one Wednesday afternoon. According to Jason, they had some kind of argument about the trade and Jason knocked Christopher unconscious, perhaps accidentally.
Jason dragged Christopher to the basement and tied him to a pull out sofa along a cement wall without windows. When Christopher woke up, Jason sexually assaulted him and beat him with a baseball bat, striking him several dozen times.
Sometime after midnight because there was a knock at his door. On the other side was Christopher's brother, looking for Christopher. Jason replied he hadn't seen him, and he was definitely not there.
Christopher's father filed a missing person's report at 12:35 am Thursday morning. He had been looking for Chris all evening, and he knew Chris was not one to run off. At 3:00, police officers arrived at the shelter, not to follow up on the missing person's report, but to take Chris's father, David, in for questioning as the main suspect in Chris's disappearance.
The police interrogated David for over 24 hours about his son's disappearance. They had no evidence, but handcuffed him to the chair. My uncle David was not allowed to make any phone calls. All day Thursday the Philadelphia police would try every tactic to get my Uncle David to admit his guilt.
Friday morning they released him. When my mom saw him that morning she said, "he was a total mess, his hair was greasy, his clothes dirty and disheveled, and his face tear strained and pale." Still, the police made no attempt to look for Christopher, suspecting the 12 year old had just run away. Children and families at the shelter where they were living, though, had spent the night combing the streets looking in every dumpster for signs of Chris.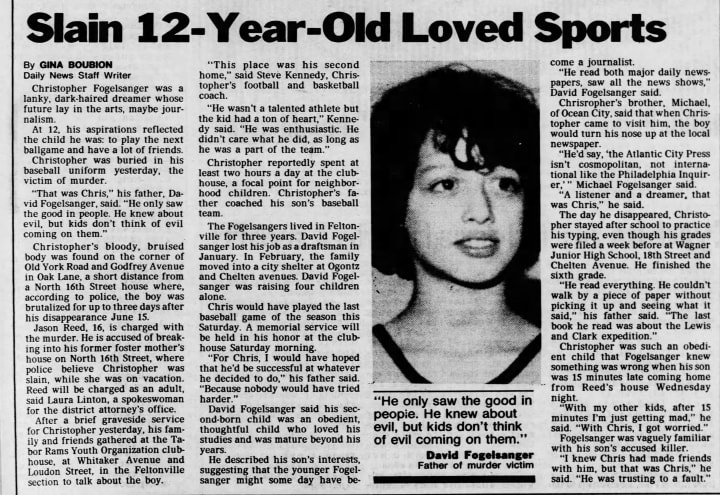 Jason spent Thursday beating Christopher and sexually assaulting him until Chris would pass out. Christopher's blood was splattered on the white concrete wall behind the pull out couch in multiple stages of drying. At one point, Chris scratched at Jason, getting pieces of Jason's skin under his fingernails.
Chris tried desperately to escape, even when he had been in and out of consciousness from multiple beatings. Jason would notice that Chris's face and body were becoming unrecognizable covered with blood and bruises. Jason told the judge at his sentencing that he "went berserk," and "didn't know what happened."
Sometime on Friday, Jason beat Chris in the head too many times, and Chris began bleeding into his brain and down his spinal cord. Even at the very end, Chris was trying to untie the ropes cutting into his skin and tying him to the bed. Chris tried biting the rope knots, and damaged both wrists trying to escape.
Naked, and laying in a wet poll of his own blood and brain matter, Christopher died. Jason dressed Chris's body in his foster mother's clothes, dragged him down the street, and propped him up on a chain link fence behind a trash can.
Then, he went back to his house, walked down to the basement and hid behind a dresser. His bloody footprints leading police to his hiding place. When he died, Christopher had over 450 bruises on his body, 11 broken bones, and a collapsed lung. He had just finished 6th grade.
Christopher's death would tear apart my family. Chris's parents divorced, and my remaining cousins moved to Tennessee. I would never see them again. My father's family could no longer stand to be together, there would be no more holiday dinners, boring summers at the pool, or any shared memories.
When Chris died our whole family died with him. He was that kind of special. No one in my family could talk about Chris, and yet together Chris was all we could talk about, it seemed. Chris's sister admitted that in her move to Tennessee it felt as if "Chris just stopped existing because no one talked about him, even happy memories were gone."
I tried hard to move forward without really understanding, or grappling with the level of violence and suffering someone I loved so much endured. I had so much grief, anger, and confusion.
Sometimes, Chris's memory is still stuck in his passing. The fact that he is truly gone still feels surreal. Sadness and grief feel less now, but I still feel confusion about his death.
I think that if I knew the whole story, or if I could put all the pieces together this feeling would go away. I strangely want to know the minute to minute detail of his death. Maybe, I would feel less confused. I could move forward. Still, 32 years later, some things I am just never going to know. I still need to accept that, and aim to keep him alive in the happy memories of his life.
Playing tag by the pool, the look on his face when he first saw the ocean, how he could eat an entire pizza, his face buried in a book, his long thick curly hair we all admired. In these memories there is no confusion, in this joyful remembrance he can never die.
Joy Ellen Sauter is a freelance writer living in Seattle, Washington with her partner, Nathan, two teenage boys, and two cuddly pit bulls. She writes about parenting, mental health, popular culture, history, disability, the foster care system, and human rights. She is the Editor of TURNED UP, a publication about Cultural Theory. Joy's work has appeared in Mamamia, Scary Mommy, and YourTango.

joy ellen sauter
Joy lives in Seattle, Washington, but is a native east coaster. She has kids and dogs- all adopted through foster care. She writes about mental health, history, pop culture, foster care, trauma, human rights, and parenting.
See all posts by joy ellen sauter →