The Southern Book Club's Guide to Slaying Vampires - Book Review
A book review of author Grady Hendrix's 2020 horror novel.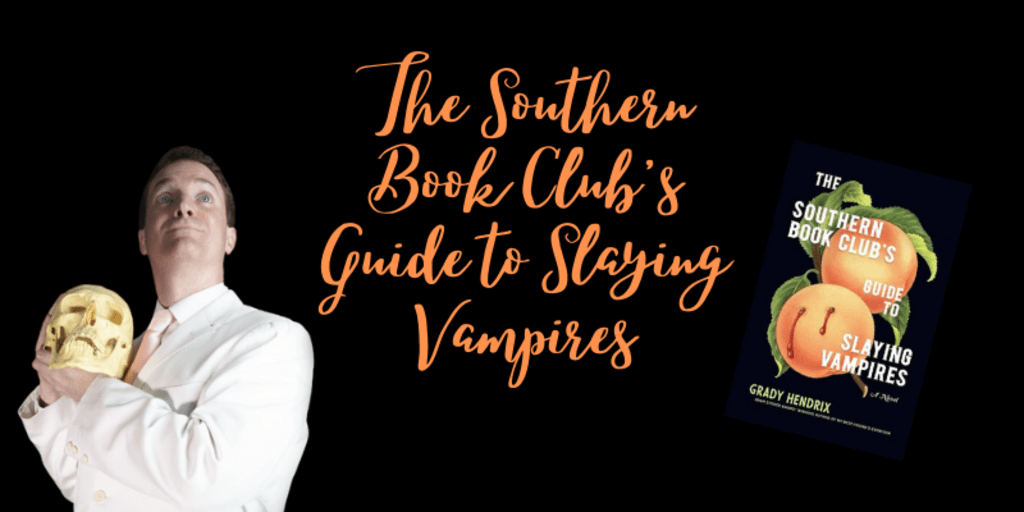 Poster by Eta George (Canva)
The Southern Book Club's Guide to Slaying Vampires is the latest book offering by author Grady Hendrix.
It's Fried Green Tomatoes and Steel Magnolias meet Dracula a Southern-flavored supernatural thriller set in the '90s about a women's book club that must protect its suburban community from a mysterious and handsome stranger who turns out to be a blood-sucking fiend.
Patricia Campbell had always planned for a big life, but after giving up her career as a nurse to marry an ambitious doctor and become a mother, Patricia's life has never felt smaller. The days are long, her kids are ungrateful, her husband is distant, and her to-do list is never really done. The one thing she has to look forward to is her book club, a group of Charleston mothers united only by their love for true-crime and suspenseful fiction. In these meetings, they're more likely to discuss the FBI's recent siege of Waco as much as the ups and downs of marriage and motherhood.
But when an artistic and sensitive stranger moves into the neighborhood, the book club's meetings turn into speculation about the newcomer. Patricia is initially attracted to him, but when some local children go missing, she starts to suspect the newcomer is involved. She begins her own investigation, assuming that he's a Jeffrey Dahmer or Ted Bundy. What she uncovers is far more terrifying, and soon she and her book club are the only people standing between the monster they've invited into their homes and their unsuspecting community.
Overview:
I listened to the Audible version instead of reading on Kindle. As a multi-tasker, I find Audible an extremely effective method of listening to a story while exercising, cooking, or doing any work around the house.
After I finished listening to this audiobook, I had to go on YouTube and see some Kelly Stamps videos to make myself feel better.
This book - oh my god. More than the horror element, it was the highly realistic character struggles that traumatized me. I was really mad on behalf of the housewives who had to endure chauvinistic husbands and bratty kids without question. It also brought up a few unpleasant memories since I am a child of a dysfunctional family. Grady Hendrix's skill as an impactful author is unquestionable. I am amazed at how well he can portray women realistically. His characters (both good and bad ones) have bottomless depths. And God, does he know how to push an unpleasant or horrifying scene to its absolute limit. He's merciless with his punishments of the leading characters.
It's a powerful book, but does it have a powerful message to convey? Not really, the book only conveys the message that mothers take a lot of punishment in actual life, but nothing is uplifting about it. Even though the housewives triumph over the vampire, in the end, they take heavy losses.
Are there any plot holes? Yes.
But if I started quibbling about them, there would be no novel published at all in the history of fiction.
Will this book stay with me after I've finished reading it? Hell yes.
This book has depressed and kind of traumatized me, not going to forget that easily. But now that I have had a good break from it, I would like to listen to it again! Grady Hendrix's writing style takes a bit of getting used to.
Did I fly through this book?
I finished listening to the audible version in 3 days flat.
Title:
Catchy, but not quite accurate. Yes, this story is about a group of Southern ladies book clubs in the 90s but at no point in the novel do they have any guide on how to slay a vampire. When they slay the monster, it is pretty haphazard.
Negative:
The biggest issue I had with the book is the pacing because the story setup takes WAY too long. At first, it made sense because it's a period piece and he needed to set a proper atmosphere for the story, but then I remembered that Margaret Mitchell wrote an entire saga on the American Civil War and I do not recall being bored at any point.
The story also does not flow seamlessly. Just when you think whoa - the story has finally started, yay I'm finally strapping in for the ride - it slumps into a long and boring patch. It felt a bit like the boring part of the story was written separately, and he wrote the action scenes as stand-alone scenes.
I enjoy Grady Hendrix's sense of humor, but I also found that the humor element within the novel drops off with the death of Patricia's mother-in-law.
And I find it hard to believe that a 90s mom had such a subservient attitude and lived a life under the thumb of her husband like a pre-WW1 woman.
Positive:
This is one of those books which was made to be listened to.
Bahni Turpin is fantastic. She had to portray so many characters, and she did a stellar job on most of them. Each character has a unique mannerism which made it easy to distinguish them. And her portrayal of each character's emotional depth is mind-blowing, too. If there was an Oscar for audiobooks, I would nominate Bahni ten times.
I loved Patricia's mother-in-law! She is kooky and hilarious. I also loved how not all the leading characters are these white, privileged women. A black nurse who takes care of Patricia's mother-in-law plays a huge role throughout this novel. I also appreciate how he has portrayed the disparity between how people respond to attacks on white people and black people.
The horror element is so effective in this story. It lurks in the background for the most part and isn't the primary focus of the story. And when the horror is revealed, it's incredibly creepy. This is a fresh and unusual take on the vampire genre.
Conclusion:
From the title, I was expecting a kitschy cozy horror mystery (which personally I would have really enjoyed) but this book is bloody and brutal. It had a distinct John Carpenter-ish vibe, which is a fantastic 80-90s element to incorporate.
It's a great period piece and a book of contrasts. But I found that the women in this book are much less empowered than the title suggests, which is a bit disappointing. Unfortunately, Grady Hendrix has ended up stereotyping the suburban housewife. But it works for the story he wanted to tell. The story is not really about the vampire - it is all about the main characters.
Apart from that - extraordinarily engaging and well written. I hope however that that was not his Magnum opus. And that he is still working on something else. Because I want to read more stuff!