The Shedding
It's Only Skin Deep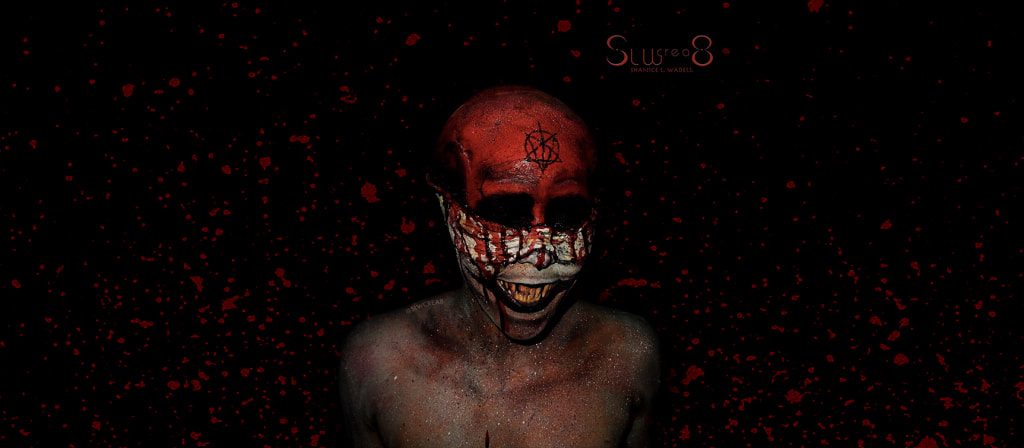 The Shedding
Just as the serpent sheds its skin, so do the wicked... right down to their bones . ~ Quote By: Shanice L. Wadell
Before I begin with the nitty-gritty of how I created this look, I want to start with what inspired me to create this grisly Halloween look.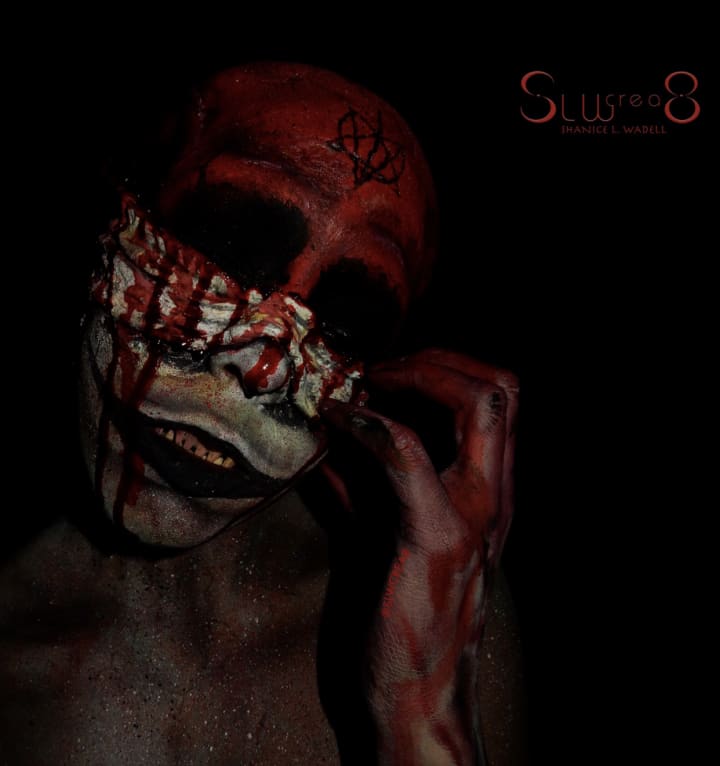 Usually, I prefer to conjure up and create my own characters… picked straight from my quirky noggin of imagination. But there are times that I come across an amazing painter's page or artwork and I stop dead in my tracks and immediately KNOW I HAVE TO BRING THAT PIECE TO LIFE! And that is exactly what happened in this case. This makeup was inspired by the wickedly talented Omega Black's painting called "Fresh Peel"... his work is killer… literally killer! Omega Blacks artwork is just so surreal, dark, and certainly, one of a kind and I connected to his style instantly.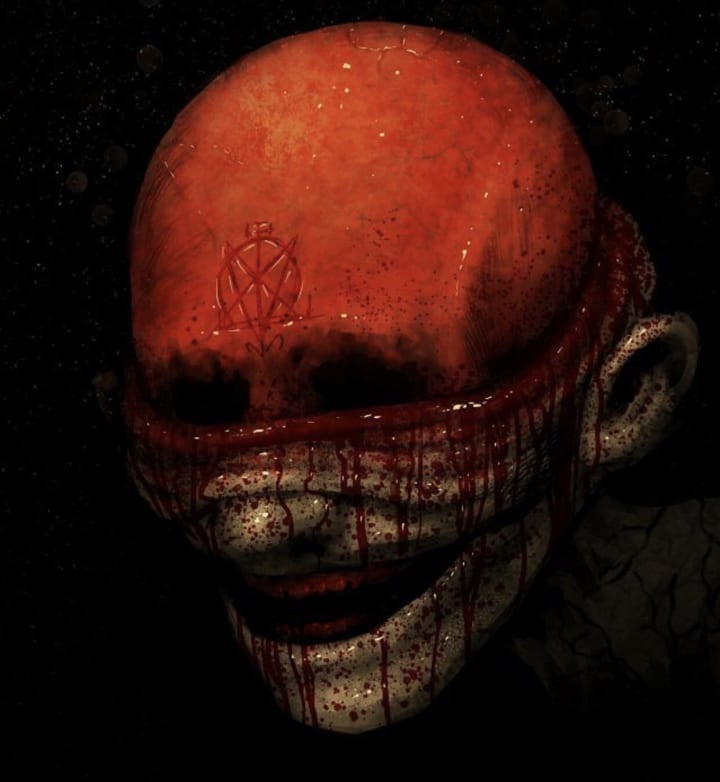 Before I created this Halloween look, from back in October 2017, I personally reached out to Omega Black and messaged him asking if it would be alright to reference his painting "Fresh Peel" and transform it into one of my body paints. When I got the green light, I got to work right away! When I completed this look and posted it to my social media pages I, of course, gave Omega Black credit as the inspiration for this particular SFX makeup and body paint. Remember folks… if any of your artistic work is HIGHLY influenced by another fellow artist (of any medium or form), it is ALWAYS important to give credit where credit is due. And with that Omega Black was gracious enough to share my work on their own personal page… and the caption was pretty epic in my opinion. Click Here for Omega Blacks repost caption. It was definitely an honor, and I look forward to recreating more of his awesome creatures in the future!
Some Differences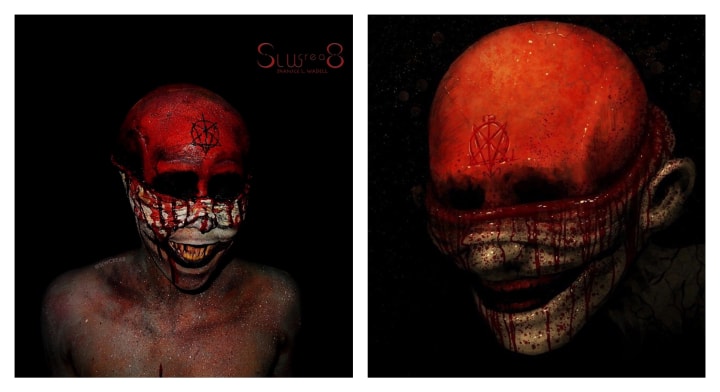 As you can tell from my body paint version and Omega Blacks original painting there are some subtle differences. First off, I decided on my recreation look, I didn't want to have ears. I also wanted to use my favorite prosthetic chompers (Moonstruck Effects Sharp Godjira Upper and Lower Teeth). In Omega Black's original piece, he gave his character standard human-like teeth.
A Bloody Good Time - Body Paint & Prosthetics
I am sure you are all wondering, "Shanice… how every did you ever manage to peel down your face so effortlessly?". Well, my friends, the answer is easy… Modeling Wax. I started off by putting on a generic bald cap to cover and protect my hair, as well as give my head a nice smooth surface to look like a skull as referenced from Omega Black's original version.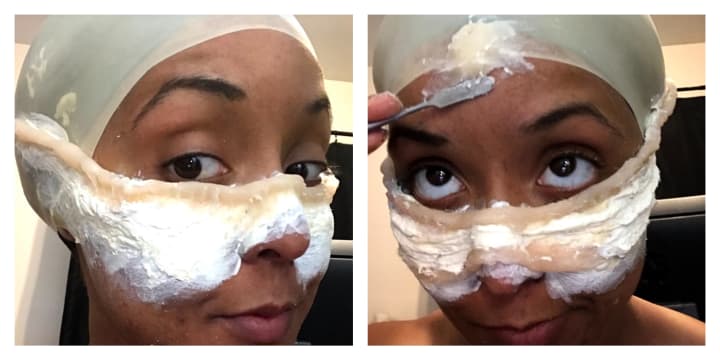 Next, I took my Pros-Aide and put a thin layer around the circumference of my head where the "fold skin" would lay. For those of you who do not know what Pros-Aide is, it is one of the best special effects adhesive you can use to keep your prosthetics in place all night and day! I let the Pros-Aide dry down to a tack texture and then I started slowly applying my Mehron Makeups SynWax. I meticulously worked on this step the longest because I felt his aspect of this look would really sell the overall appearance that my skin was pulled down.

When I was finally satisfied with the "wax skin" and how it formed up. I went onto the body paint. My favorite part about the body paint was the red skull and painting in the subtle chips and cracks within it. I also love giving myself a completely new lip and mouth shape. Just a little bit of shading can do wonders!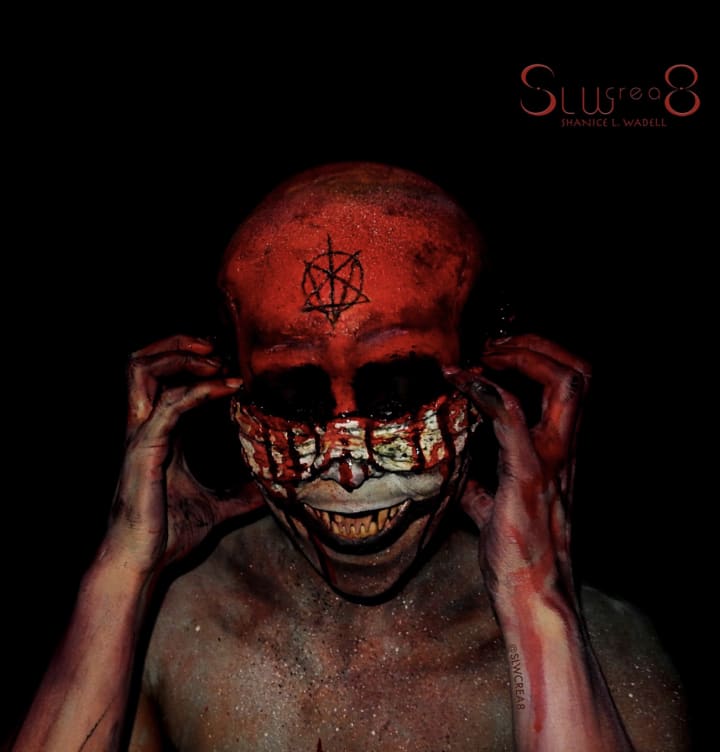 All Products Used
• AQ Paradises Paints in Black, White, and Red
• SynWax (used for folding skin around my head)
• Fantasy FX Cream Makeup in White, Liberty Green, and Monster Grey
• White Neutral Setting Powder
• Ultimate Brights Eyeshadow Palette
• 10 Pod Avant Pop Palette
• 10 Pod Perfect Filter Palette
• Black Jumbo Pencil
• Modeling Wax (used on forehead to make symbol)
• Magic Blood Powder
• Mass Casualty Sized Blood Gel
• Blood Paste
•Godjira Upper and Lower Teeth
Other Products
• Pros-Aide
• Bald Cap