The Hitcher: The Highway Horror Story
The Cat and Mouse horror story of the highway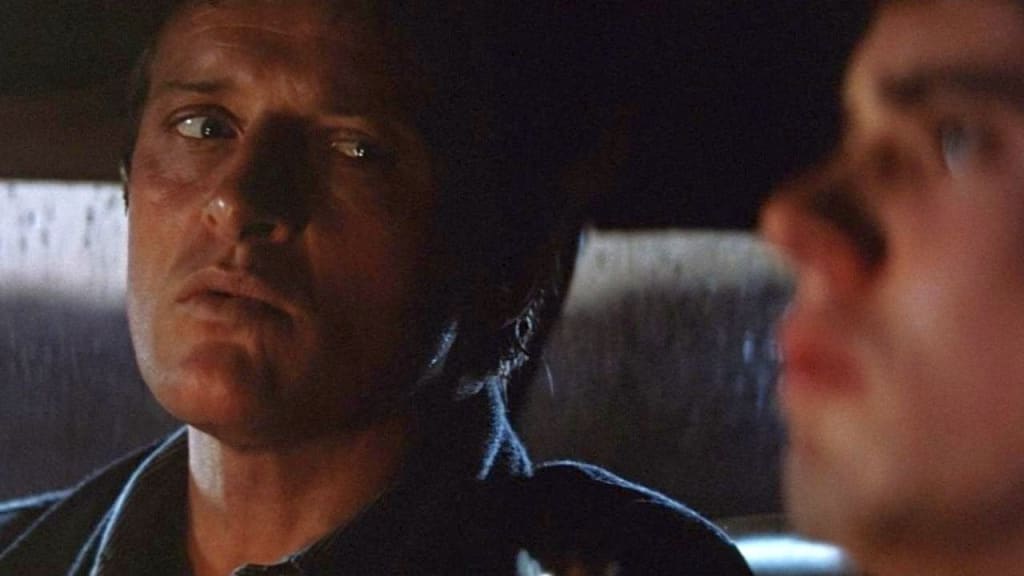 Our deepest fears that ended up in the passenger seat
It's the lesson we've always been told: Do not offer to drive a hitchhiker. This character's decision to do that led to the cat and mouse game for his life.
This is a film that didn't have to try hard to make chills down your spine. Hell, all Rutger Hauer had to do was just look at you to make you think about having your light on at night.
The hitchhiking premise in horror films is an experimented troupe that isn't used often in the right way. This is one of the only few films that has ever done that correctly, yet, before this film was given its glory. Like a few of the victims in the movie, it was dead on arrival and stayed underground.
The idea of a hitchhiking killer with a silent approach terrified viewers of the past and the present. It is unnerving to see a killer act completely sane like an average person you would see walking down the street. It was what Jim Halsey (C. Thomas Howell) didn't see happening to him. Of all the villains that Rutger Hauer has played during his lifetime as an actor, there has never been one quite like John Ryder. He was a character that knew the consequences of his actions, knew the risks of his traps on the road, and maintained a calm and cool demeanor throughout his endeavors.
The desert ambiance of the film gives a sense of isolationism for Jim Halsey in his job as a drive-away deliverer. Limitations on places to go to hide or seek help. The movie was inspired by The Doors classic 1967 song, "Riders on the Storm" the whole movie just feels like a live-action homage to the song that inspired this. And there is a coincidence I found after watching this movie with my research of the song's inspiration. The main character's name is Jim and his long messy brown hair. I don't think it was intentional for the semblance to be close to The Doors' lead singer. But I do find it ironic.
Ratings don't mean a whole lot of appeal nowadays with the audiences like a film than a film critic. When this film came out, Roger Ebert gave it zero stars out of five. Later in the years, it went on to rank as the 18th scariest movie of all time. Maybe Roger just couldn't handle the thrills like he couldn't handle Baby's Day Out. He missed out on a great movie.
Even though I love Rutger Hauer's performance in this film. It's hard to imagine anyone else in this rugged role. One of the contenders to give a chilling audition was Sam Elliot, the director went on to state that when he went to his car at night, he had to look over his shoulder. Some of the other rising star names in Hollywood were also mentioned as possible actors to portray Jim Halsey. Emilio Estevez, Charlie Sheen, and Tom Cruise.
What I love about this film is that it doesn't have to try hard enough. It's not a film out for frights, and it's barely any blood. It's a film that didn't have to rely upon the usual tactics to terrorize. That's what makes it a smart story to watch.
I feel as though it's a universal film for many reasons: To do a psychological profiling of the villain and his macabre motives. The idea of what happens when you push someone over the edge and test their limits. Most importantly the horror factor of this film is knowing our villain is a brand of danger that does exist.
The Hitcher is an underappreciated cinematic masterpiece that needs to be shared with those who want a different take on terror.
About the Creator
What's something interesting you always wanted to know?
Instagram: parrishpassages
tiktok: themysticalspacewitch
My book Inglorious Ink is now available on Amazon!
Reader insights
Be the first to share your insights about this piece.
Add your insights