The Forgotten Lighthouse
mystery story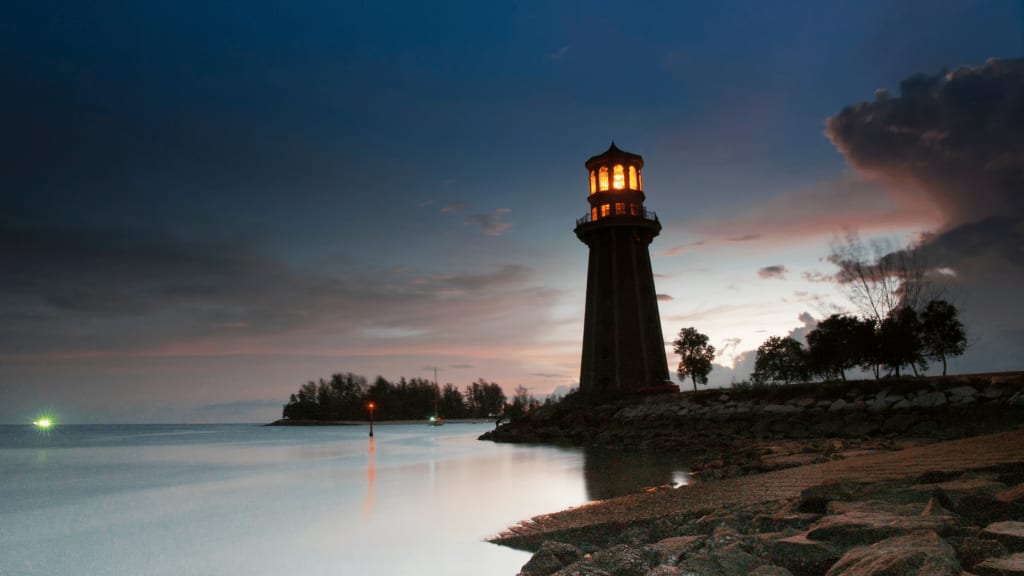 The Forgotten Lighthouse
The coastal city of Crestwood lay in a kingdom of serene slumber, cradled below the luminous include of a full moon. The streets, cobbled and slender, appeared to exhale memories of a time whilst the metropolis became colourful with life and wish. A bitter sea breeze drifted through the alleyways, caressing the worn façades of buildings and weaving enigmatic testimonies into the night time. In the coronary heart of this old fashioned town, nestled among the craggy include of age-worn cliffs, stood a monument to forgotten goals: the Crestwood Lighthouse.
Once, the lighthouse had served as the beating coronary heart of Crestwood, a steadfast father or mother that guided ships safely to harbor thru tumultuous seas. Its ivory walls, now marked with the aid of the ravages of time, had once shone with a remarkable luster, a testament to the resilience of people who had constructed it. The lantern room, the lighthouse's crowning jewel, had been a beacon of wish, casting its radiance a ways out to sea. Yet, over time, the lighthouse had fallen into disrepair, its mild extinguished, its cause forgotten.
Amelia, an enigmatic soul with an unquenchable thirst for the mysteries of the sector, had these days made Crestwood her new home. Her studio, a sanctuary for her art, overlooked the tempestuous sea, providing her a breathtaking view of the lighthouse's melancholic shape. From the moment she arrived in Crestwood, the lighthouse beckoned to her like a siren's call, igniting her creativeness with its silent, haunting presence.
Amelia's days were spent wandering the streets of Crestwood, talking with the town's aged residents, who shared tales of the lighthouse's glory days and its gradual descent into obscurity. Her nights, however, were committed to her artwork. With each brushstroke, she sought to seize the lighthouse's forlorn beauty on canvas, infusing her paintings with the very essence of the mysteries that enshrouded it.
One stormy night, as thunder echoed thru the heavens and rain battered her studio's windows, Amelia's existence took a amazing flip. A mysterious bundle, wrapped in tattered brown paper and tied with a frayed silk ribbon, appeared on her doorstep. Inside the bundle, she located an antique journal, its pages brittle and yellowed with age. The ink, diminished to a ghostly gray, had slightly survived the passage of time.
The magazine found out itself as a chronicle of a love tale—a love story of a sailor named Edward, who had once sought safe haven and solace inside the lighthouse's guiding mild. As Amelia delved deeper into the journal's cryptic entries, she exposed a story of affection, loss, and a hidden treasure—an enigma that had tantalized the city of Crestwood for hundreds of years.
Edward's words painted brilliant photographs of his love, a lady with starlight in her eyes, and the promise they'd made to every different underneath a blood-red moon. Clues to the location of a treasure, concealed within the magazine's pages, beckoned to Amelia with a magnetic pull. Each access hinted at a celestial map, its intricate styles woven into the starry tapestry of the night sky.
As days turned to weeks, Amelia's obsession with Edward's tale intensified. She spent sleepless nights interpreting the cryptic clues and riddles that seemed to maintain the key to Crestwood's elusive treasure. Her studio have become a labyrinth of journals, maps, and 1/2-finished artwork, all tracing the path of the mysterious sailor's quest.
Driven by an insatiable curiosity and an unshakable dedication, Amelia embarked on a perilous journey via the heart of the lighthouse. She traversed hidden chambers and secret passages, in which echoes of Edward's presence lingered like faint whispers of longing. Each discovery introduced her towards the truth, and the lighthouse itself seemed to respond to her quest, as if it had been awakening from a slumber of centuries.
On a moonlit night, just like the one whilst Edward and his cherished had exchanged their solemn vows, Amelia unlocked the very last enigma. With trembling arms, she exposed the lengthy-buried treasure hidden beneath the lighthouse's very basis. It materialized as an ornate chest, its wood nevertheless strong no matter the passage of time.
Inside the chest lay a trove of love letters, every a testomony to the enduring energy of affection and the sacrifices made in its call. Amelia's coronary heart swelled as she read the poignant words of a bygone era, a story of affection's triumphs and tribulations, and a promise stored through time's relentless march.
As she held the dwindled letters in her fingers, Amelia felt a profound sense of closure—a connection no longer handiest to the lighthouse's storied past but to the long-lasting mysteries of the human coronary heart itself. The lighthouse, as soon as forsaken and lost, were reawakened through her relentless pursuit of truth. It became not an insignificant structure of stone and rot; it had been reborn as a dwelling testomony to love's enduring legacy.
With reverence, Amelia resealed the chest, returning it to its rightful resting region. The lighthouse, bathed in a soft, airy light, regarded to emit a whisper of gratitude—a quiet acknowledgment of her unwavering determination to unveiling its secrets.
Crestwood, a town once enshrouded in thriller, located new existence through Amelia's tremendous journey. Its residents, stimulated by means of her tenacity, commenced to discover their personal forgotten stories and treasures. The lighthouse, a symbol of desire and rebirth, stood once more as a sentinel of the ocean, its mild rekindled, guiding individuals who dared to pay attention to the secrets of the ever-mysterious ocean.
The End
Reader insights
Outstanding
Excellent work. Looking forward to reading more!
Top insight
Excellent storytelling

Original narrative & well developed characters
Add your insights