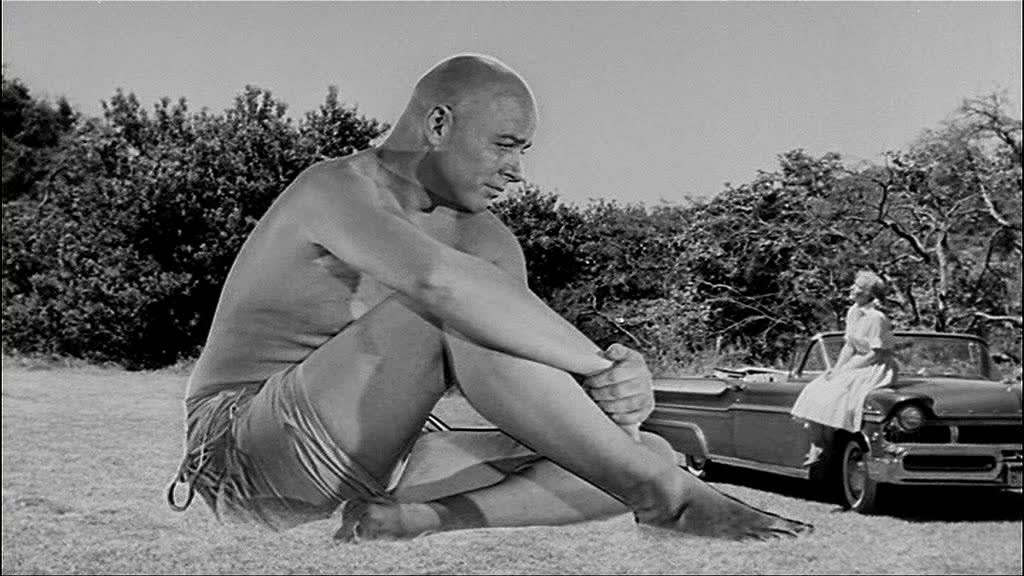 Glenn (Glenn Lagan) speaks with girlfriend Carol (Cathy Downs)
The Amazing Colossal Man is an amazingly funny film from 1957 about a big bald man in a diaper ("Glenn," played by Glenn Lagan). He got to be that way, poor Glenn, from rushing out onto the atomic test range to save a downed pilot, and having radiation from the new deadly "Plutonium Bomb" wash over him. As the scientist and doctor (William Hudson and Larry Thor, respectively) yack on (and on, and on) about afterward, this led to his "cells regenerating too rapidly" (not an exact quote), so that Glenn just keeps growing...and growing...and growing.
Pretty soon, Glenn is a fairy tale giant being fed huge slabs of beef which he thrusts into his mouth like chicken wings, while the scientists yack and his girlfriend Carol (Cathy Downs) comes to beg him to be a good boy while the doctors work feverishly to try and find a cure for his condition. (Being thirty feet tall, looking like Mr. Clean, and wearing a diaper while living in a big top circus tent, after all, can't be much fun.)
Glenn gets more and more bitter, as the newspapers have a field day trying to figure out if he's alive or dead. The Good Doctor (or mad scientist, depending on your perspective) informs Glenn's gal pal that his heart is the only thing on Glenn NOT getting any bigger or stronger; hence, pretty soon Glenn's ticker will pop and stop.
"He'll grow mad...then his heart will explode!" informs the Doctor. (Not an exact quote.)
Trailer
Bitter Glenn gets out of hand and goes walking back and forth poised against the Nevada mountain range, terrorizing Las Vegas (imagine that). He looks into windows, and common old Good Joe squarejack citizens are shocked and outraged. "Are you just gonna let him vandalize things like that?" one of them asks, and the viewer is left thinking, "What are they going to do? Arrest him?"
They do a weird, funny thing with a giant oversized hypo (!) wherein they try to inject something, maybe a tranquilizer or some anti-growth serum (I didn't quite catch which) into his foot, but it is no dice. Shot just make Glenn angry, roar! He spears one of them with the hypodermic needle in a really cool scene.
I won't give away the ending but you might be asleep once it gets to it. There are some cool scenes wherein Glenn, upon first beginning his ascent to Supersized, wakes up surrounded by miniature dollhouse furnishings (chairs, tables, etc.), designed to make him look huge. It's like The Incredible Shrinking Man in reverse.
There's a Cold War-era subtext about the U.S. entering Korea, which I can't figure out why it's there, and a picture of a Korean map with a hammer and sickle on it. Glenn has memories of being a grunt in the war (Korea), but I'm not sure how this fits in with the rest of the film, as I wasn't obviously paying close enough attention.
The film actually seems somewhat subversive: Glenn is exposed to radiation from a test range, making him grow to an unbelievable size. A metaphor, perhaps, of a Cold War-era arms race from a country that might have become "too big for its britches"? Is Glenn representative of U.S. nuclear policy run amuck? Hardly the kind of message you'd want to be sending out, even subtly, during the Red Scare days of 1957.
The Amazing Colossal Man spawned a sequel, War of the Colossal Beast (1968), which Iron Maiden used clips of in their classic video for the song "Number of the Beast" (1982). It was directed by the infamous auteur of shit Bert I. Gordon (who lived to an amazing 100), and released by American International Pictures. It was based on the novel The Nth Man (1928), by Homer Eon Flint. Very loosely, I might add, and Flint is not credited.
The film was mocked on Mystery Science Theater 3000 (remember that show?), as well as It Came From Hollywood (1982) [1], a compilation film of clips from various very-bad films, starring John Candy, Dan Ackroyd, Gilda Radner, and Cheech and Chong. At one point, Cheech Marin observes that if Glenn farts, it's going to be "chemical warfare!" Or something like that.
When Glenn throws a tantrum and exclaims "I don't want to grow anymore!" Cheech says to the screen, "You need to grow some hair!"
Funny stuff. Love me some Cheech and Chong. "Save the whales! Save them big, fat funky whales!"
Note.
[1] Such anthology films, consisting of clips from bad movies, were weirdly popular in the early 1980s, with Robin Williams hosting E.T. And Friends (1982), a compilation of scenes from alien and monster flicks, and Terror in the Aisles (1984), a film hosted by Donald Pleasance and Nancy Allen, which, like It Came From Hollywood, took place in a theater with a bunch of phony audience members; but, whereas It Came was humorous, Terror tried to pull off a serious "visual essay" with the wraparound narration. I don't think they've made such a compilation picture in decades, but I suppose I could be wrong.
The Amazing Colossal Man (1957)
About the Creator
Author of Haunted Indianapolis, Indiana Ghost Folklore, Midwest Maniacs, Midwest UFOs and Beyond, Scary Urban Legends, 50 Famous Fables and Folk Tales, and Notorious Crimes of the Upper Midwest.: http://tombakerbooks.weebly.com
Reader insights
Be the first to share your insights about this piece.
Add your insights