The 50 Best Action Horror Movies, Ranked
The action-horror genre is one that has not been getting much attention in recent years, but with the recent success of films like 'Don't Breathe' and 'The Purge' franchise, maybe we will start to see a trend.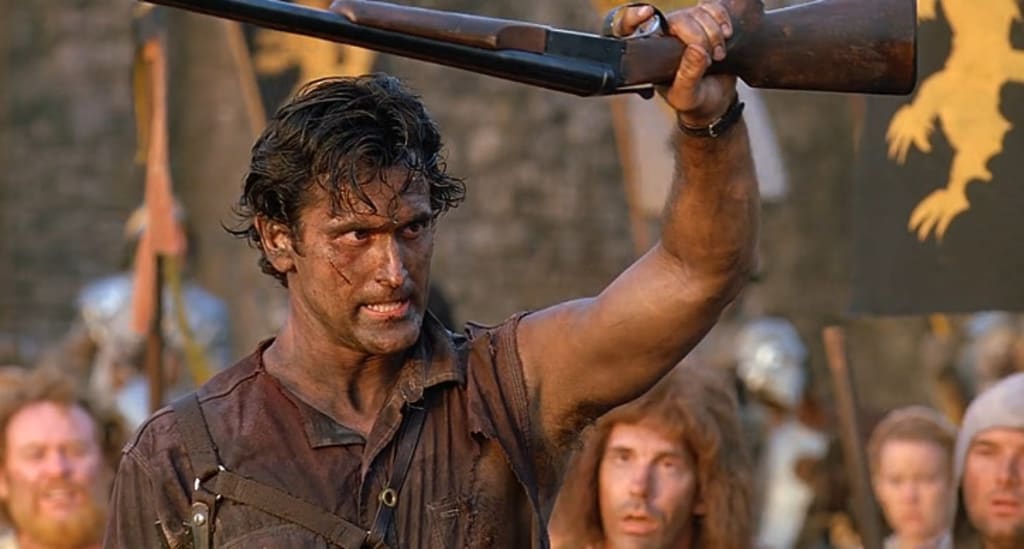 Are you looking for some great movies to watch this Halloween, but are over the same old slashers? How about adding a little spice to that routine and throwing in some action with your horror?
I want to present everyone with a fun list that is full of great movies that really can be a great change of pace from watching Friday the 13th or Poltergeist. While those are both great films, they can get old after a while. This Halloween could be much more action filled.
The action-horror genre is one that has not been getting much attention in recent years, but with the recent success of films like Don't Breathe and The Purge franchise, maybe we will start to see a trend. There are still plenty of action and gore filled horrors to make a huge list for them though, and that's what i'm going to do.
Turn the lights down low and the volume up for these action horrors!
50. 'Abraham Lincoln: Vampire Hunter'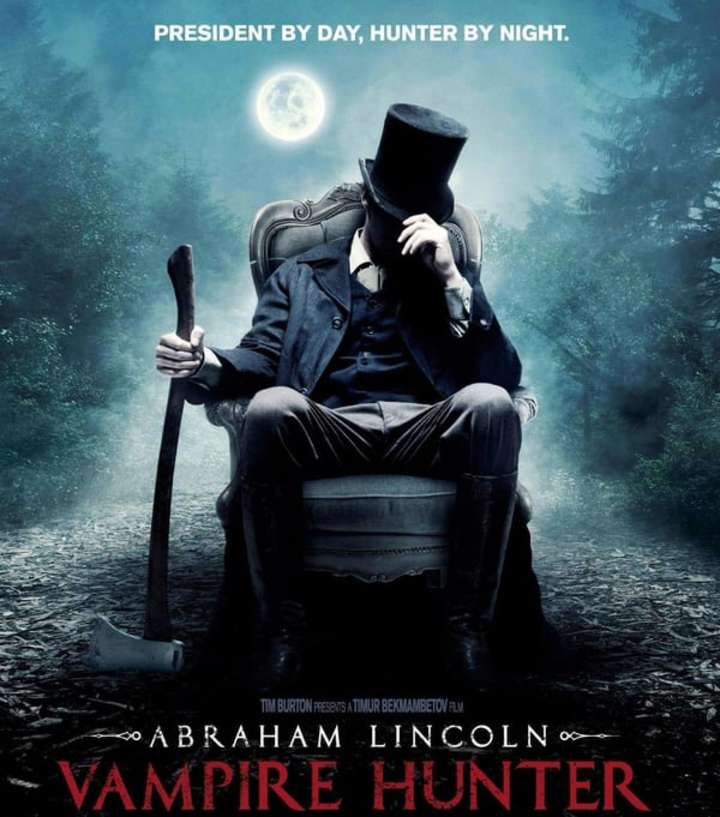 Released in 2012
Directed by Timur Bekmambetov
Starring Benjamin Walker, Dominic Cooper, and Anthony Mackie
Rotten Tomatoes Score: 35%
Starting off the list is possibly the most creative of all the movies. It was a movie that had an interesting idea but a bad approach. Instead of taking this silly idea and running with it, they actually tried to take themselves too seriously. While it is a bit too serious, it does present an interesting story and solid fighting choreography.
49. 'The Mummy' (1999)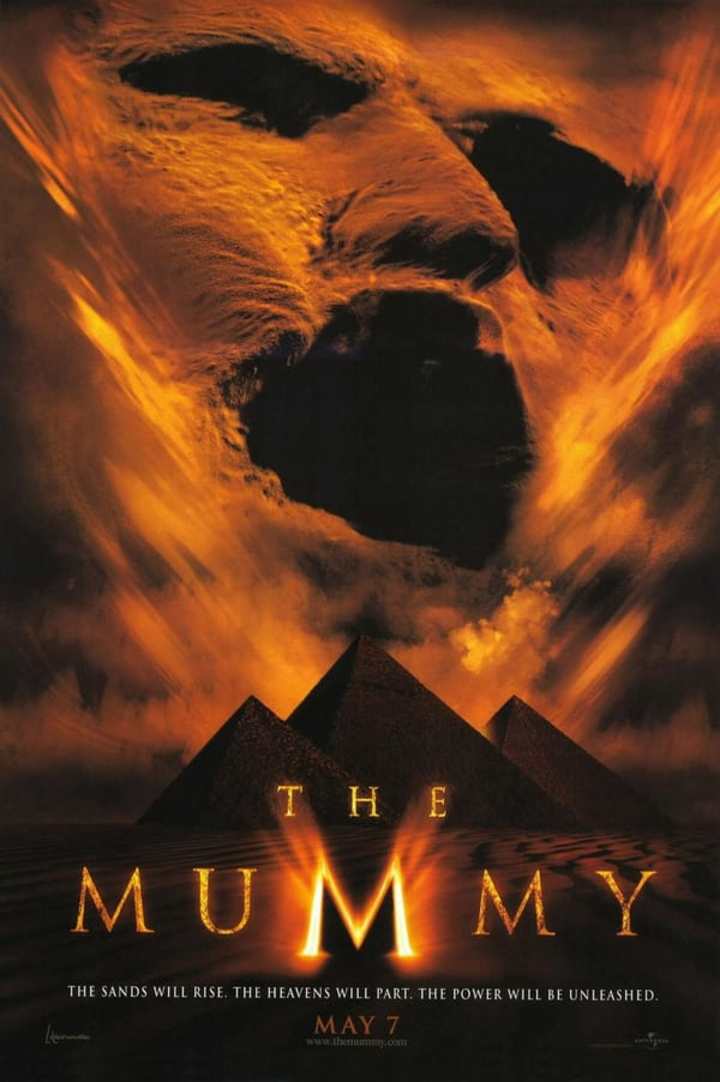 Released in 1999
Directed by Stephen Sommers
Starring Brendan Fraser and Rachel Weisz
Rotten Tomatoes Score: 56%
Brendan Fraser has been missing in action the last few years, but nobody will forget this fun action horror that centered around two explorers searching for riches, only to awaken a very grumpy and cursed priest. With plenty of wit to keep the tone light, and some fun jump scares, this film is always a good watch.
48. 'Pride and Prejudice and Zombies'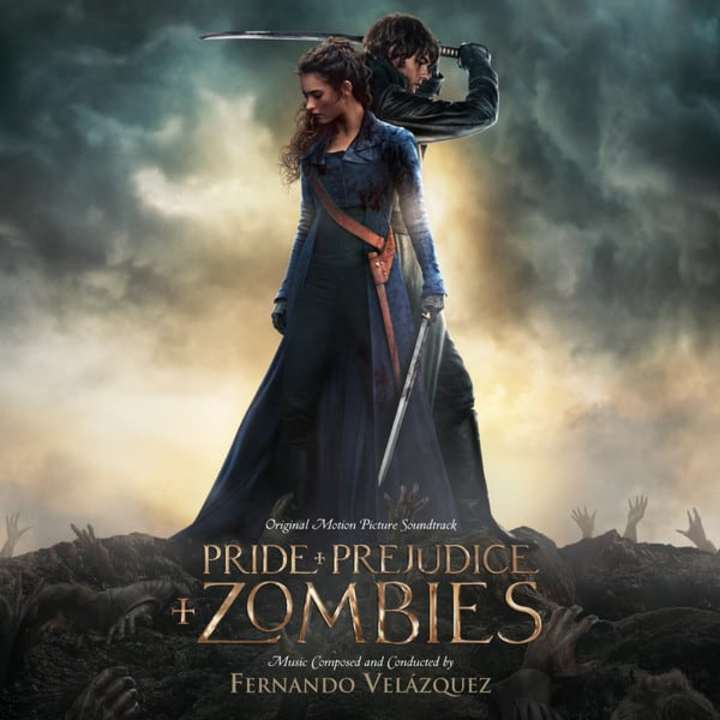 Released in 2016
Directed by Burr Steers
Starring Lilly James and Sam Reily
Rotten Tomatoes Score: 42%
Another creative idea, this film based on a book that is based off another book gives us a fun story to enjoy. The direction by Burr Steers is great with plenty of action and fun zombie makeup. It is also much more comedic then the film was originally advertised.
47. 'Death Proof'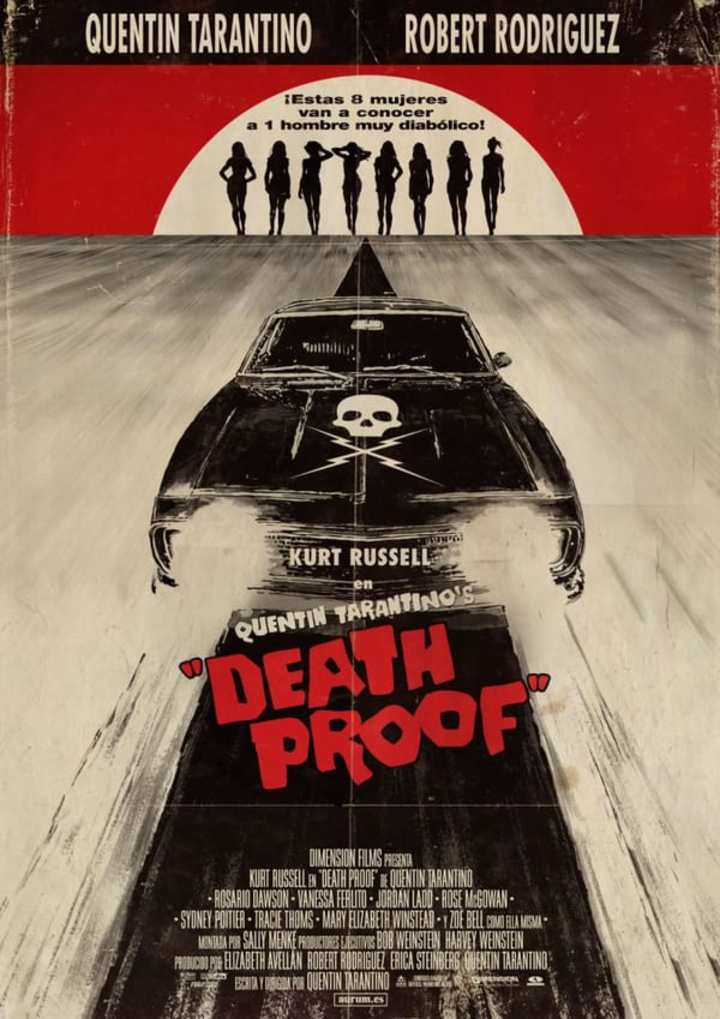 Released in 2007
Directed by Quentin Tarantino
Starring Kurt Russell and Rosario Dawson
Rotten Tomatoes Score: 67%
Kurt Russell stars as a 200 mph serial killer who is taking on a group of young friends on their way to a birthday party. This film is full of action and tremendous acting by Kurt Russell. It has that typical Tarantino style with plenty of edge. A must watch for any action lover.
46. 'Tremors'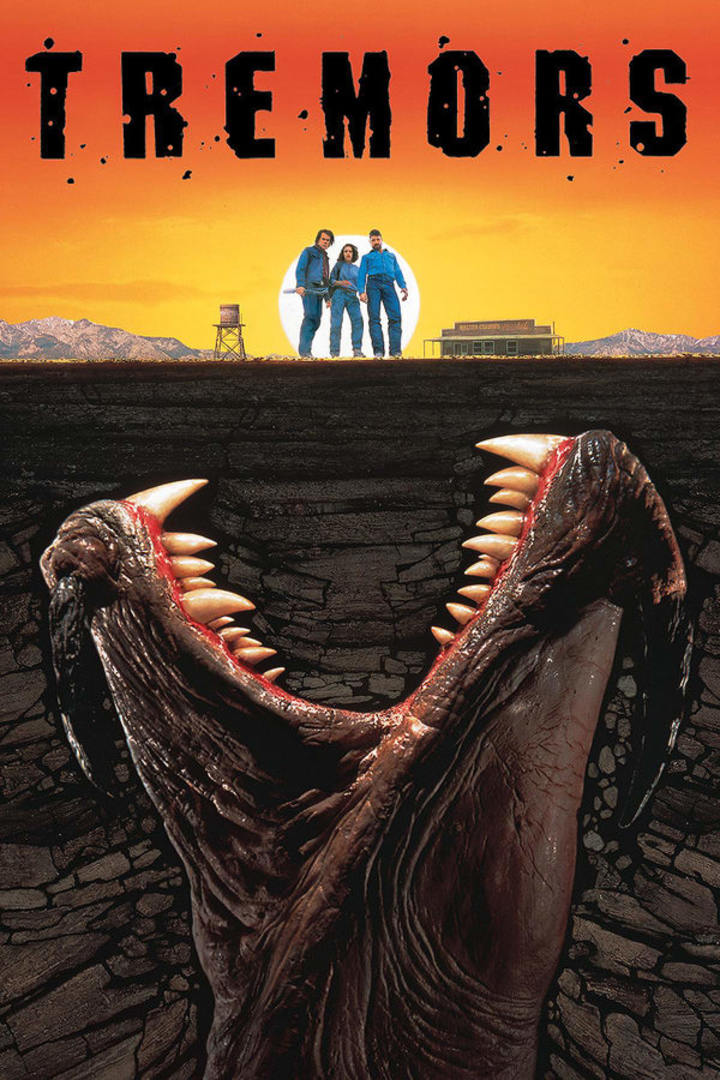 Released in 1990
Directed by Ron Underwood
Starring Kevin Bacon and Fred Ward
Rotten Tomatoes Score: 87%
This was a film that some say revived the monster genre. It has plenty of terrifying moments, but comedy to balance the film throughout. With Kevin Bacon as a star, this movie was anchored with a strong — and hilarious — performance. For a very low budget movie, it does a great job of keeping up with most horror films.
45. 'Underworld'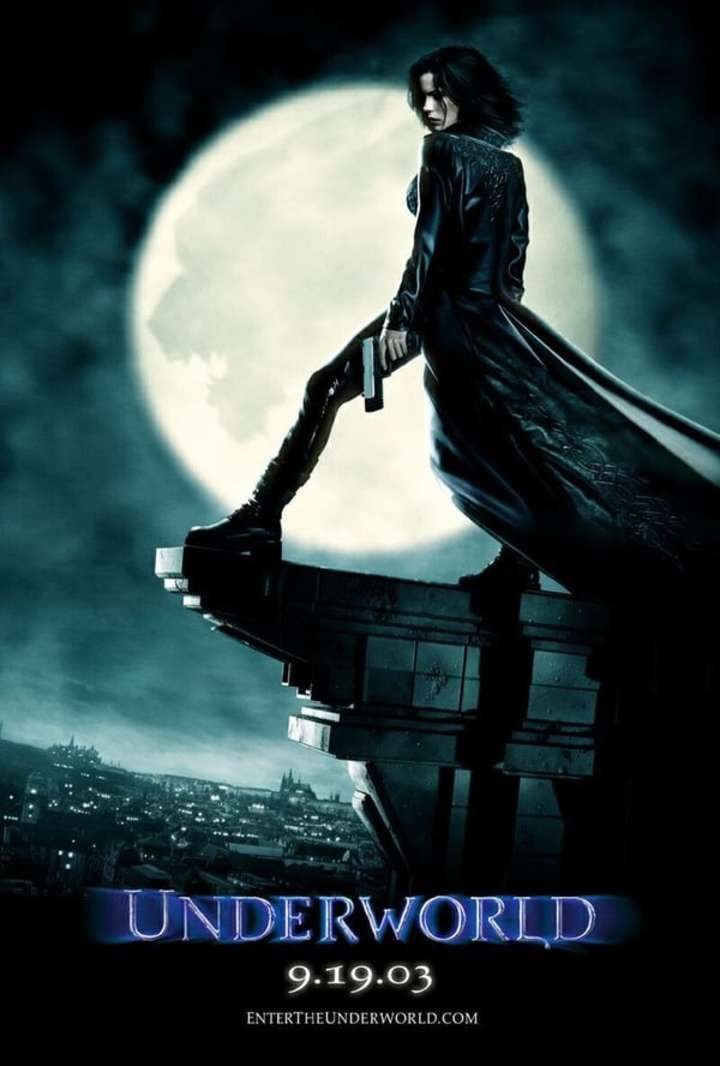 Released in 2003
Directed by Len Wiseman
Starring Kate Beckinsale and Scott Speedman
Rotten Tomatoes Score: 31%
One of the films that kicked off modern werewolf vs. vampire stories, this film has some of the best visuals that you will see in a horror film. This came out in the time when CGI was starting to grow and this film sets itself a part in that respect. Mix the great CGI with some amazing stunts, and this is a thrilling movie to watch this Halloween.
44. 'Freddy Vs. Jason'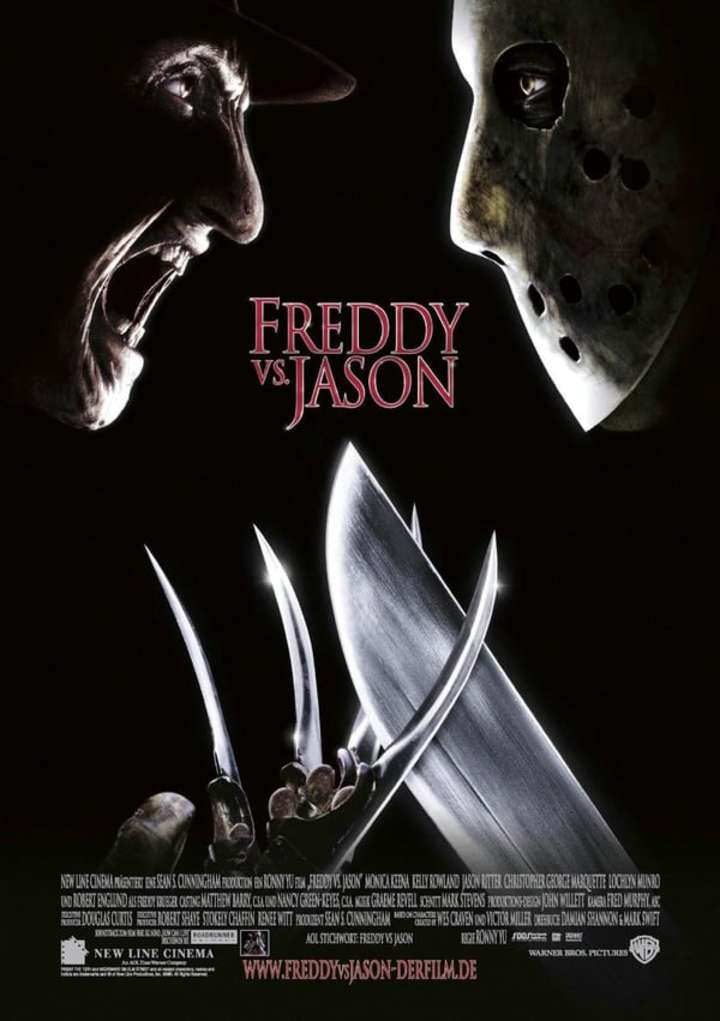 Released in 2003
Directed by Ronny Yu
Starring Monica Keena and Jason Ritter
Rotten Tomatoes Score: 41%
Unfortunately for most slasher fans, this will be the only film that includes these iconic horror figures. That is because movies on this list need to include that action moniker and neither Freddy nor Jason's franchises ever reached that level until this film. The showdowns between Freddy and Jason are well scripted and the overall story will keep you interested until one of the two killers is back on screen.
43. 'Shaun of the Dead'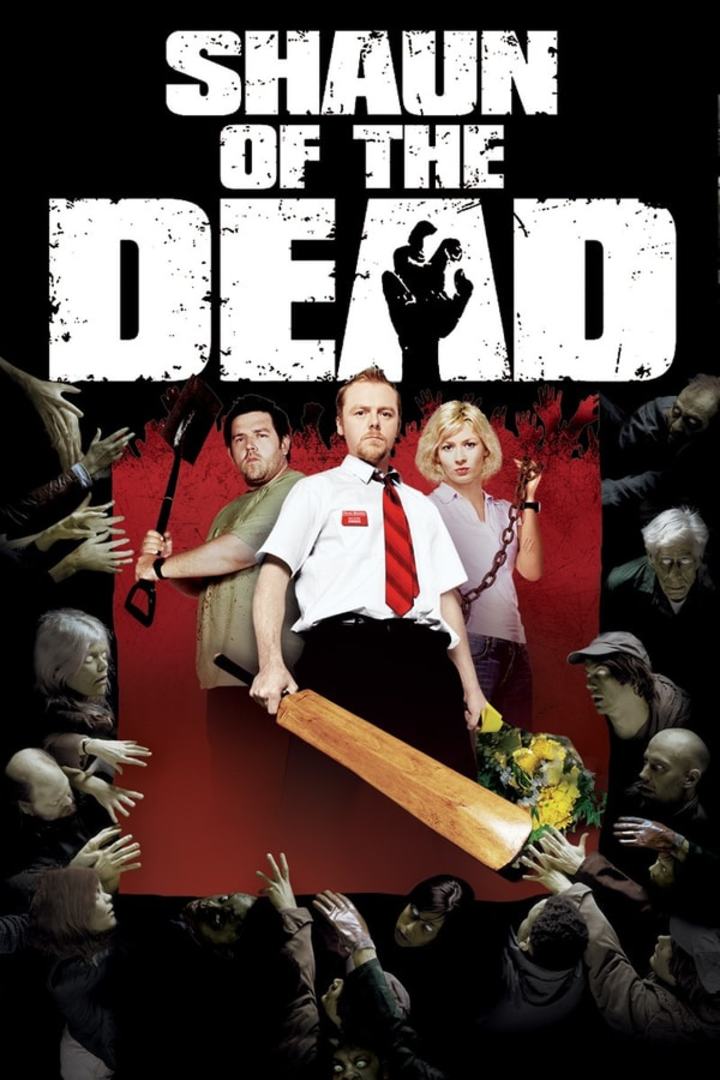 Released in 2004
Directed by Edgar Wright
Starring Simon Pegg and Nick Frost
Rotten Tomatoes Score: 92%
The creation of two brilliant men, Simon Pegg and Edgar Wright. This zombie thrill ride is what happens when you load a ton of wit into a over-used genre. The satirical nature of the film doesn't tread too far into the parody side of things and creates an organic story with thrill.
42. 'Planet Terror'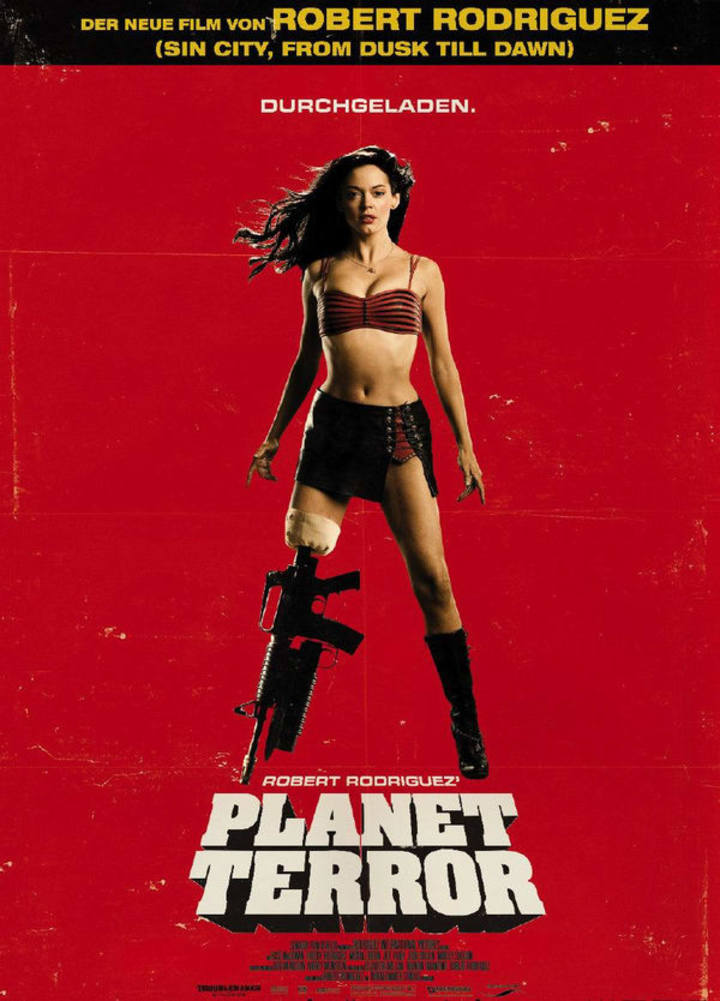 Released in 2007
Directed by Robert Rodriguez
Starring Rose McGowan and Freddy Rodriguez
Rotten Tomatoes Score: 77%
When the world is ending, the only hope left is a stripper with a gun for a leg. This is a Rodriguez masterpiece with beautiful action and a lot of character development. It is a thrill ride that keeps people guessing at what happens next, and no character is safe. This is a crazy action movie wrapped inside the horror genre that will make any adrenaline junkies day.
41. 'Deep Rising'
Released in 1998
Directed by Stephen Sommers
Starring Treat Williams and Famke Janssen
Rotten Tomatoes Score: 31%
I am a sucker for a good sea monster movie. I think it is the realism that comes with the thought of unknown creatures lurking in the uncharted areas of the sea, and Deep Rising hones in on this concept. While some of the action is overdone, the mystery is suspenseful and the writing is solid.
40. 'Pandorum'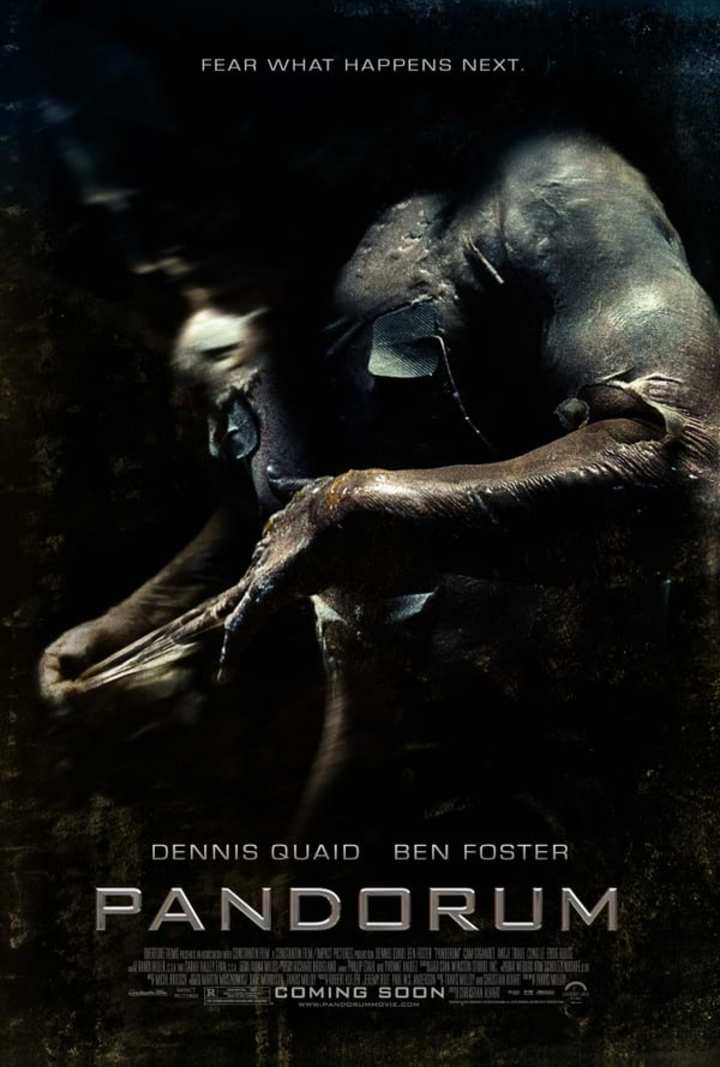 Released in 2009
Directed by Christian Alvart
Starring Dennis Quaid and Ben Foster
Rotten Tomatoes Score: 28%
Why this film was received negative reviews is beyond me. Maybe this speaks more to my ignorance as a moviegoer, but I loved the film. It is perfect for a sc-fi lover and had mystery and twists that were hard to see coming. The terrors were great and it was a space mystery that I would call a poor man's Aliens.
39. 'Joy Ride'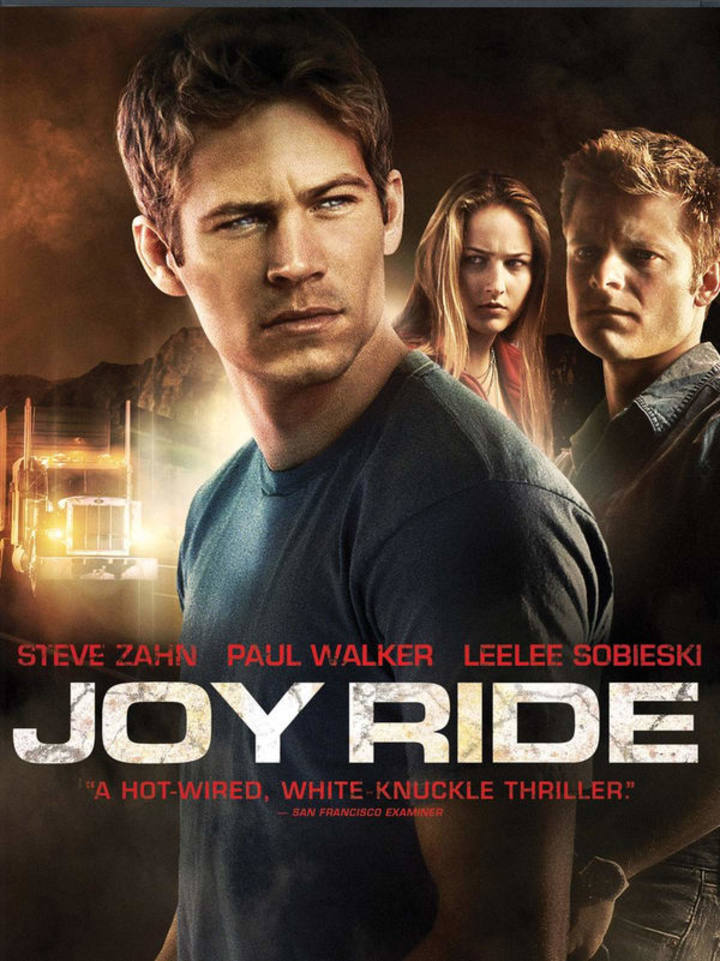 Released in 2001
Directed by John Dahl
Starring Paul Walker, Steve Zahn, Leelee Sobieski
Rotten Tomatoes Score: 73%
When two brothers go on a road trip and get a little too cheeky with a mean trucker, things start to get very thrilling. The film has a great performance from the late Paul Walker, and the story is full of suspense that will keep you guessing what will happen next.
38. 'Trollhunter'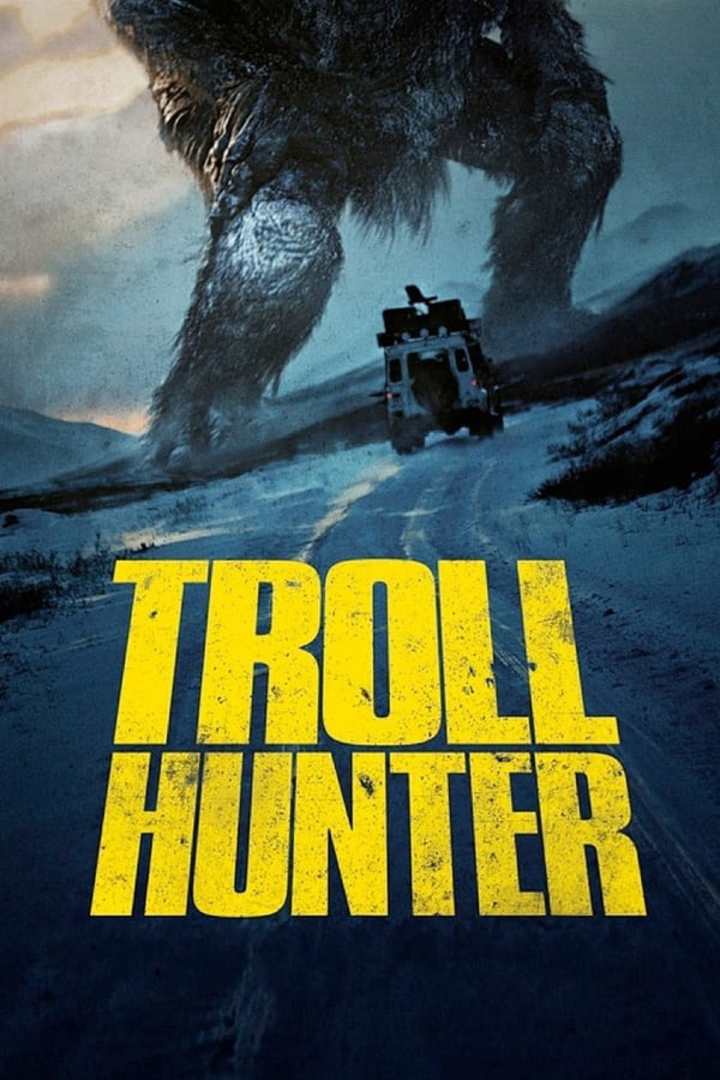 Released in 2011
Directed by André Ovredal
Starring Glenn Erland Trosterud
Rotten Tomatoes Score: 82%
Are you a fan of documentary films? This Norwegian movie might drive you crazy due to the subtitles, but its story is easy to follow and the dialogue is great. Any fan of dry humor will appreciate the comedy. The mystery and lore that is built up around the Troll is very suspenseful and keeps you interested till the end.
37. 'Spawn'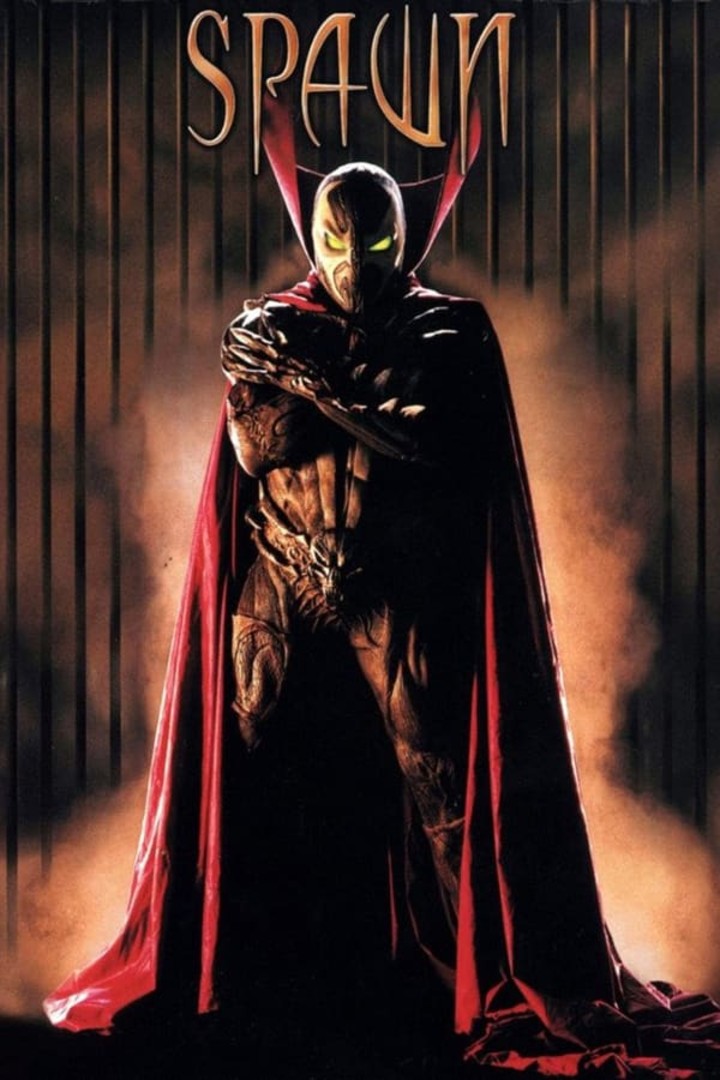 Released in 1997
Directed by Mark A.Z. Dippé
Starring Michael Jai White and John Leguizamo
Rotten Tomatoes Score: 19%
This Todd McFarlane product may not have hit it's mark, but it has great special effects that deserve praise and gives chills. If you are a fan of superheroes, and demonic deities creep you out, then this is the perfect film for you. There will be plenty of action with this movie and powerful performances by the cast in all.
36. 'From Dusk Till Dawn'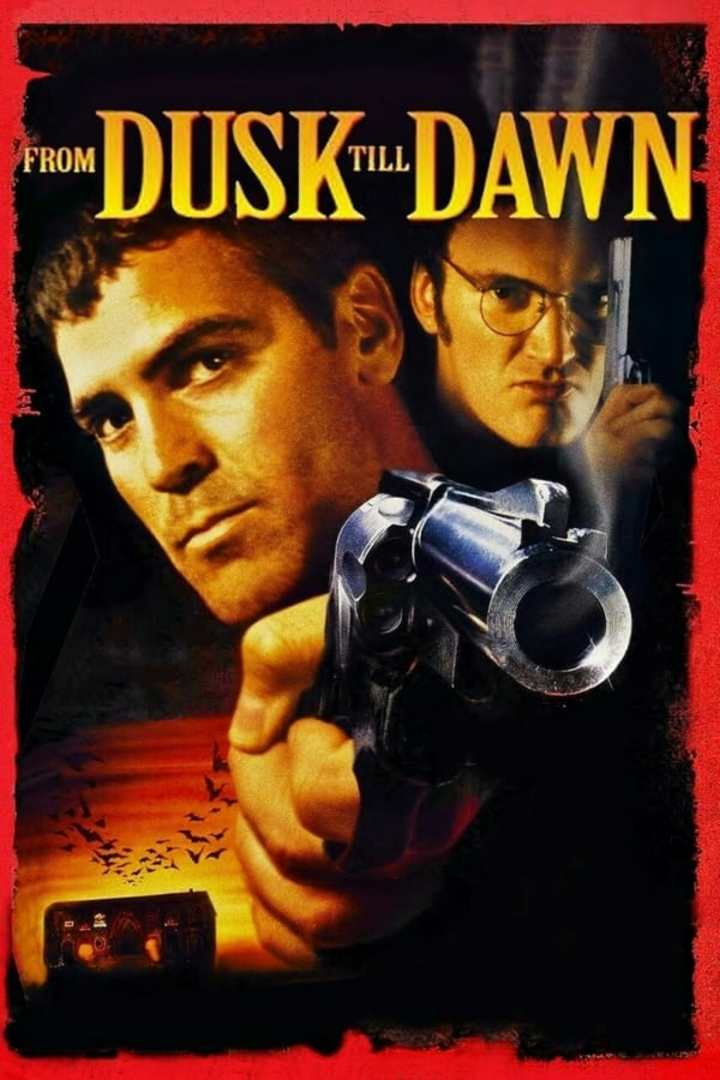 Released in 1996
Directed by Robert Rodriguez
Starring Harvey Keitel, George Clooney, and Quentin Tarantino
Rotten Tomatoes Score: 63%
This has the same crude humor that you would expect from Robert Rodriguez and Quentin Tarantino and everything a gory action lover wants. Rated R — a very hard R — this vampire film is one of the best horror movies to include violent action, and is a much watch for any horror fan.
35. 'Piranha 3-D'
Released in 2010
Directed by Alexandre Aja
Starring Adam Scott and Elizabeth Shue
Rotten Tomatoes Score: 73%
Coming out when 3-D was just hitting the big time, this film still gives me chills. It is a B-movie, but didn't take itself seriously and knew how to use a plot about prehistoric fish wreaking havoc as a good storyline. Plenty of gore, this film actually makes Jaws look somewhat tame.
Warning — NSFW:
34. 'Resident Evil'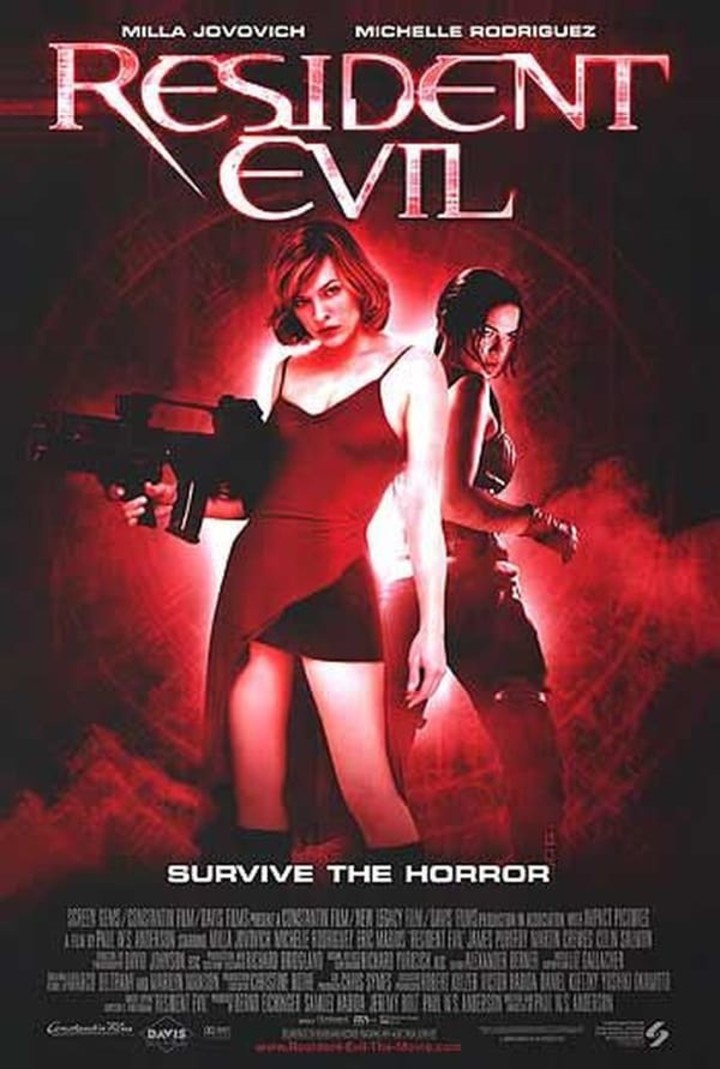 Released in 2002
Directed by Paul W.S. Anderson
Starring Mila Jovovich and Michelle Rodriguez
Rotten Tomatoes Score: 33%
Based loosely off the games of the same name, this is a film that follows a woman named Alice as she attempts to resurrect her memory and keep a deadly virus from escaping into the world. So much action is crammed into this movie that it can take away from the central plot at time, but all in all, this is a film that will keep you jumping out of your seat.
33. The Purge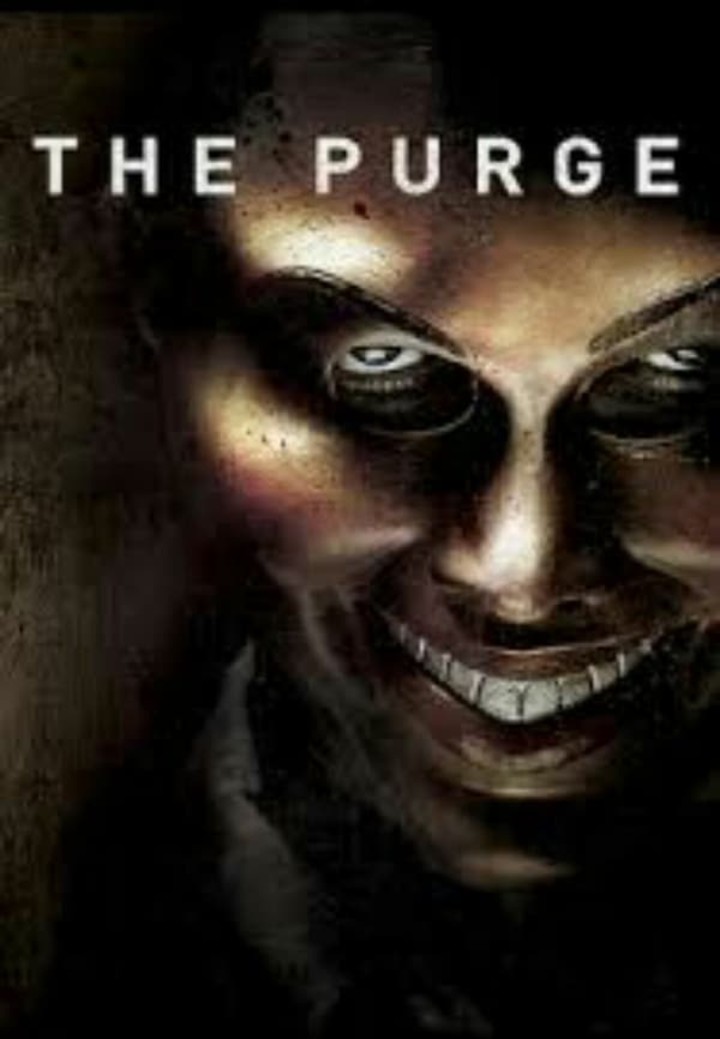 Released in 2013
Directed by James DeMonaco
Starring Ethan Hawke and Lena Headey
Rotten Tomatoes Score: 37%
This is the first entry of the latest horror film franchise to take America by storm. This film is what would happen if one day out of the year all crime — including murder — was legal. This film is full of jump scares and the plot is well thought out. At the very least, this is a horror film that will make you think about what would actually happen in this situation.
32. Army Of Darkness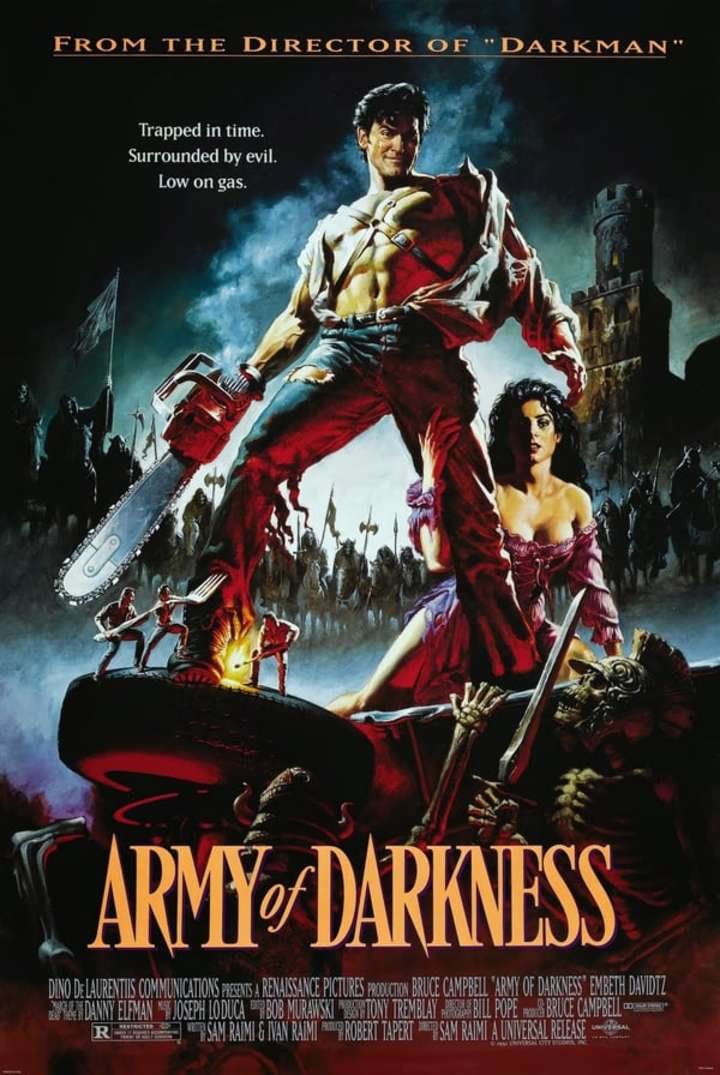 Released in 1993
Directed by Sam Raimi
Starring Bruce Campbell and Embeth Davidtz
Rotten Tomatoes Score: 72%
In the third installment of the Evil Dead franchise, we see Ash travel back in time to fight off an "Army of Darkness" in medieval times. This is an action comedy with horror elements wrapped in it. This film will have you dying laughing one minute and then scare the crap out of you the next.
31. Constantine
Released in 2005
Directed by Francis Lawrence
Starring Keanu Reeves and Rachel Weisz
Rotten Tomatoes Score: 46%
Based on the DC Comics character, Constantine follows the storyline of a man who can keep the balance on Earth from demons trying to rip it apart. This The Matrix meets the The Da Vinci Code, as Keanu Reeves muscles this action packed movie to cult legend. While we may be getting a new Constantine in an eventual Dark Universe movie directed by Doug Liman, this film will be a hard one to top.
30. Hellboy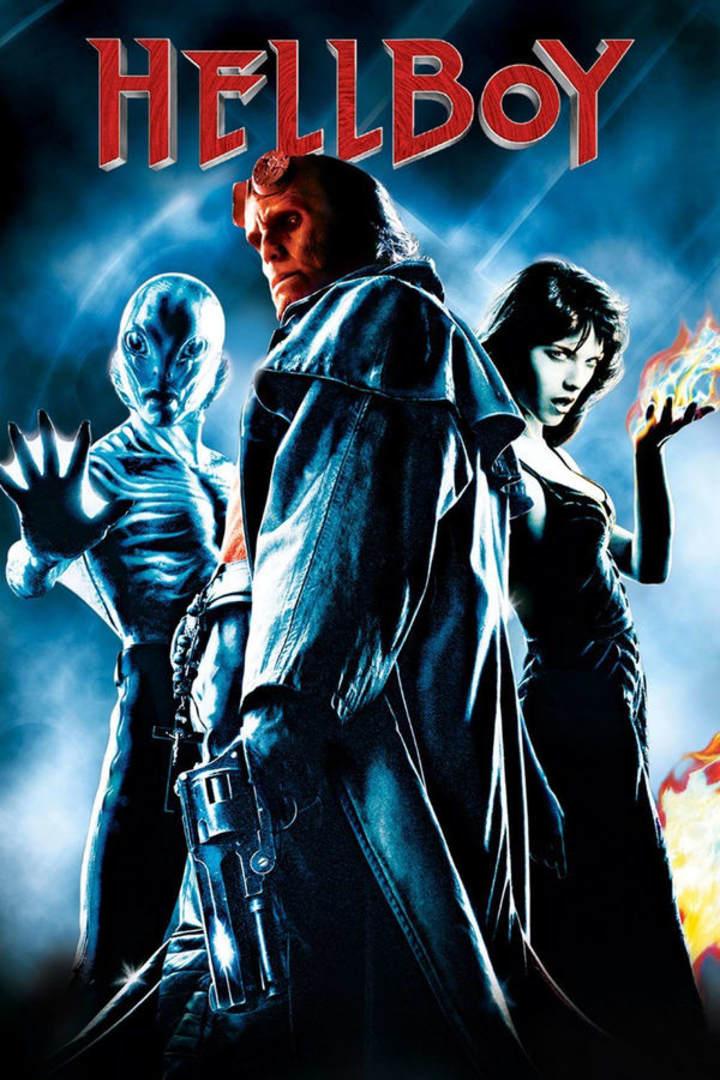 Released in 2004
Directed by Guillermo Del Toro
Starring Ron Perlman and Selma Blair
Rotten Tomatoes Score: 81%
Ron Perlman brought to life this beloved character and did an amazing job of it. This is the story of a demon from hell who is taken by the U.S. Army and raised to fight alongside the Bureau for Paranormal Research and Defense as a special unit to fight the forces of evil. Del Toro's vision is on display and this is a great pseudo-superhero film that is a favorite to many.
29. Pitch Black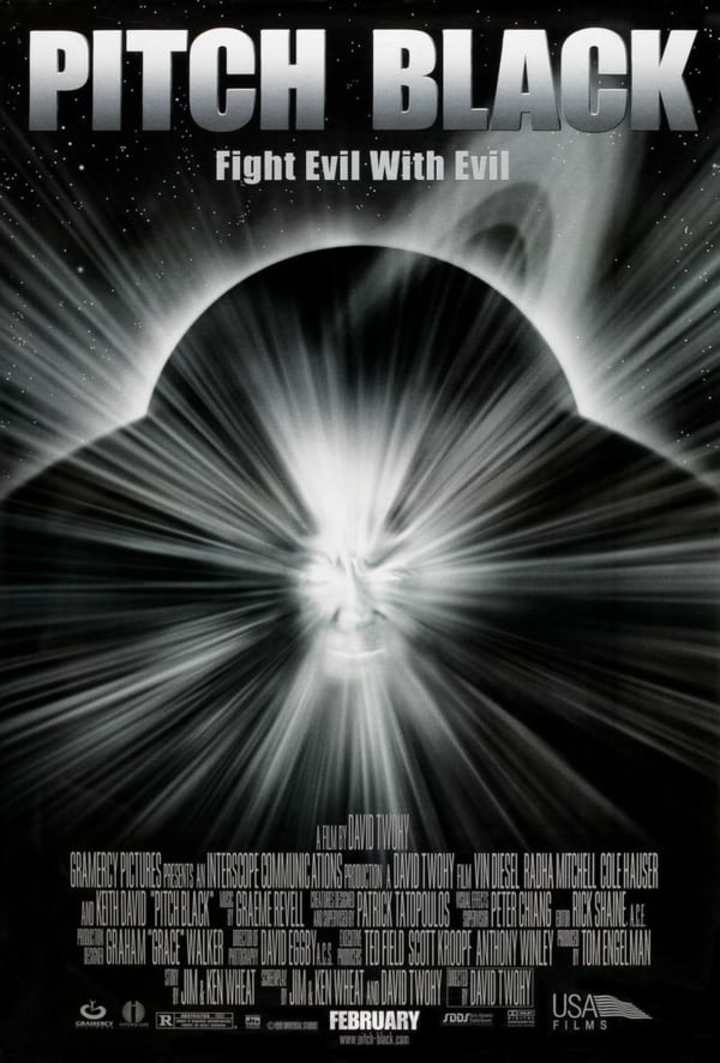 Released in 2000
Directed by David Twohy
Starring Vin Diesel and Radha Mitchell
Rotten Tomatoes Score: 57%
A sci-fi horror where a group travels to a distant galaxy only to get stranded on a planet inhabited by monsters who are afraid of sunlight. Only problem is that there is an eclipse due any moment. The film is thrilling and offers a solid performance by Vin Diesel and he makes a chilling anti-hero that will keep you guessing on his intentions.
28. 'Night Watch'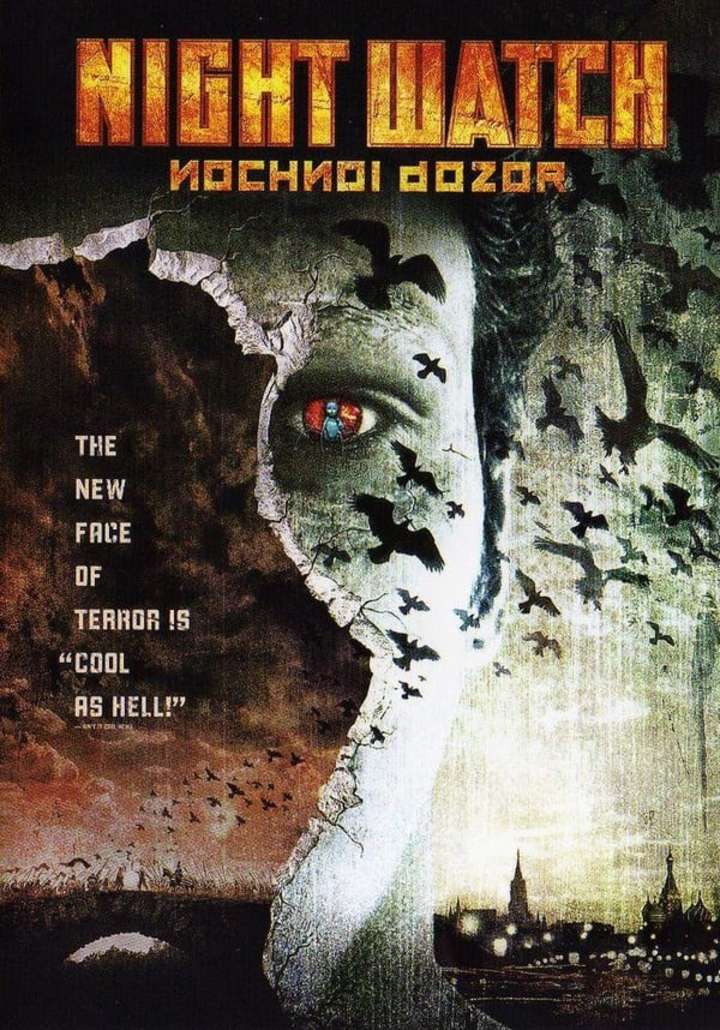 Released in 2006
Directed by Timur Bekmambetov
Starring Konstantin Khabenskiy and Maria Poroshina
Rotten Tomatoes Score: 58%
This German film sets to pit two fictional forces of light and darkness against each other. Two armies that embody each force go head to head in this cool take good vs. evil. It can be a bit cheesy at times, but the directing is great and the story will keep you entertained with plenty of thrills along the way.
27. 'They Live'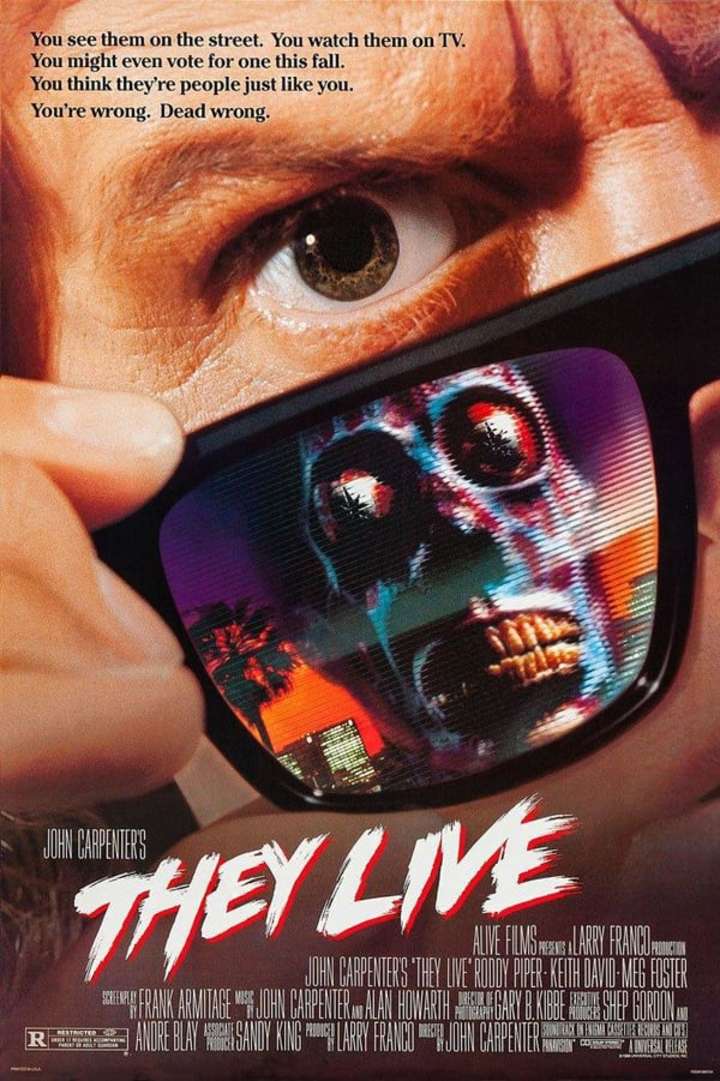 Released in 1988
Directed by John Carpenter
Starring Roddy Piper and Keith David
Rotten Tomatoes Score: 83%
A cult classic that stars one of the most iconic wrestlers of our generation. This film follows a drifter who must take on aliens who are trying to poison American culture. It was meant to be a satire, and in the end it actually says a lot about our society in a funny and scary way.
26. The Purge: Election Year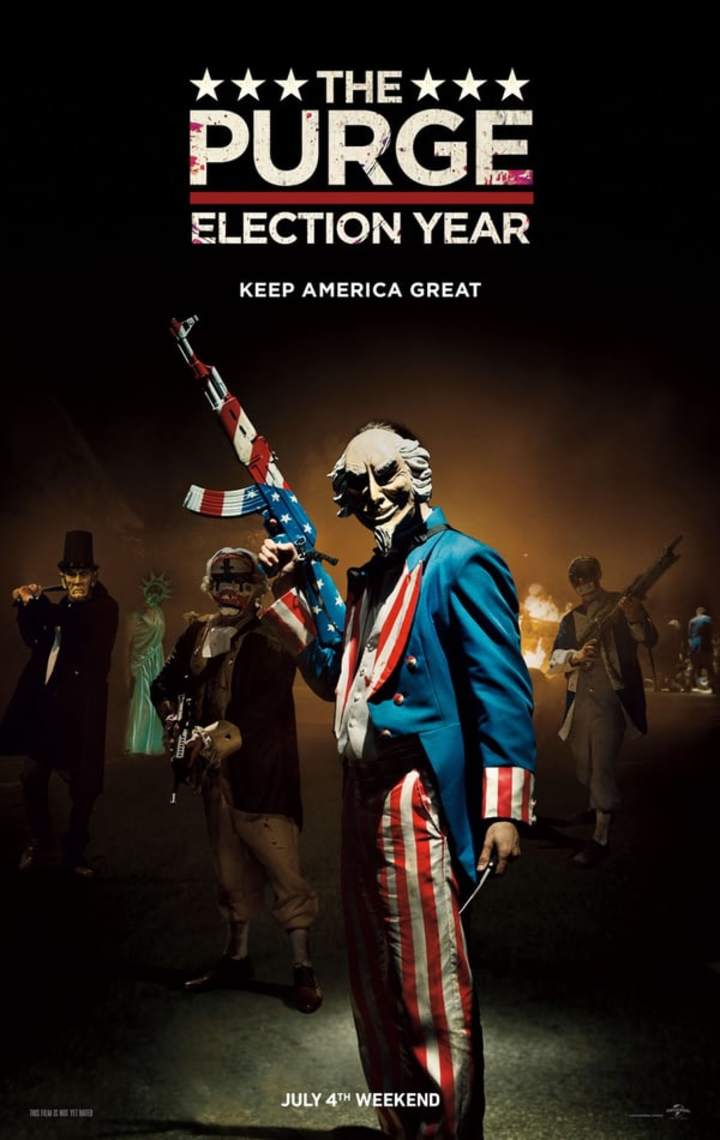 Released in 2016
Directed by James DeMonaco
Starring Frank Grillo and Elizabeth Mitchell
Rotten Tomatoes Score: 55%
The third installment in The Purge franchise follows a senator who is attempting to end "Purge Night" once and for all, to the chagrin of many people. She and her body guard must survive the night so that they can fight for their cause the next day. It is full of that same Purge fun, but with an interesting twist with its story.
25. 'Alien Vs. Predator'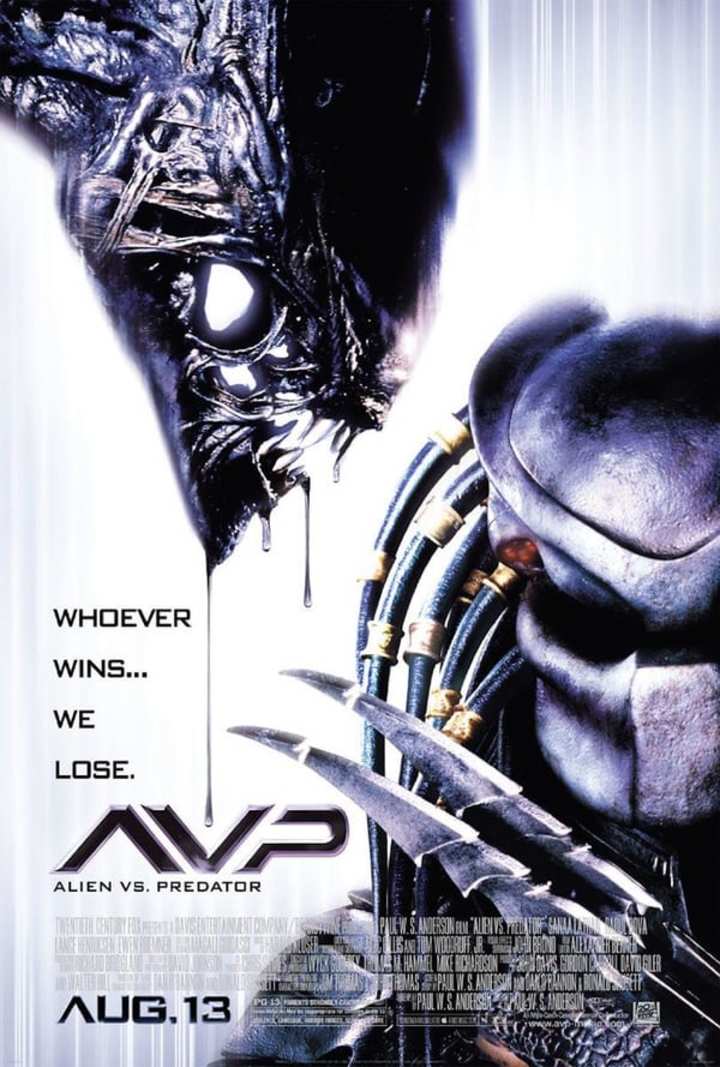 Released in 2004
Starring Lance Henriksen and Sanaa Lathan
Rotten Tomatoes Score: 21%
Not a critic pleaser, but for sc-fi enthusiasts and fans of the franchises, it is a dream come true. This film pits two of the most famous movie monsters of all time against each other and gives us an interesting twist away from their previous films.
24. 'The Host'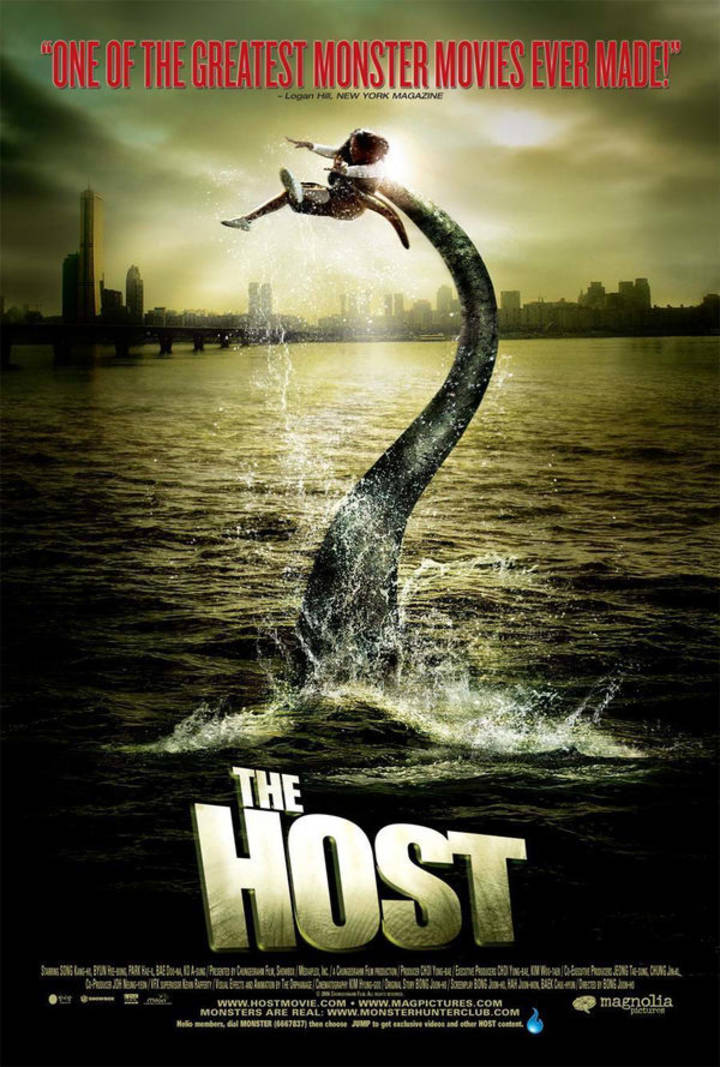 Released in 2007
Directed by Bong Joon-ho
Starring Song Kang-ho and Park Hae-il
Rotten Tomatoes Score: 93%
The Host is a foreign film with the familiara plot of a girl getting captured by an unknown monster, while the father must discover the secrets of the monster and save his daughter, but it is more well done then any before it. It has one of the better mixes of horror and comedy, and offers a great storyline and lovable characters.
23. 'The Hitcher'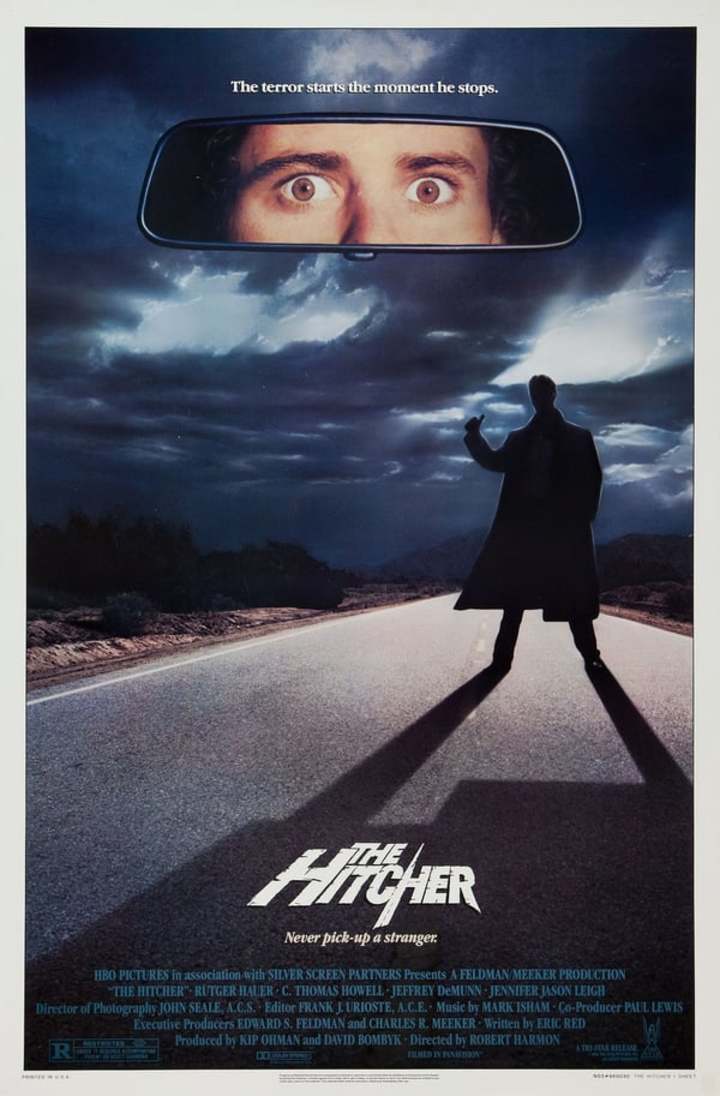 Released in 1986
Directed by Robert Harmon
Starring C. Thomas Howell and Rutger Hauer
Rotten Tomatoes Score: 61%
A classic slasher film that reminds us that the scariest things in the world will always be people. Robert Harmon did an amazing job with this film and the score was chilling. The true haunting nature of this film will send chills down your spine everytime as you watch a man slowly start to realize that the passenger he has picked up, is not who he thought.
22. 'Day Watch'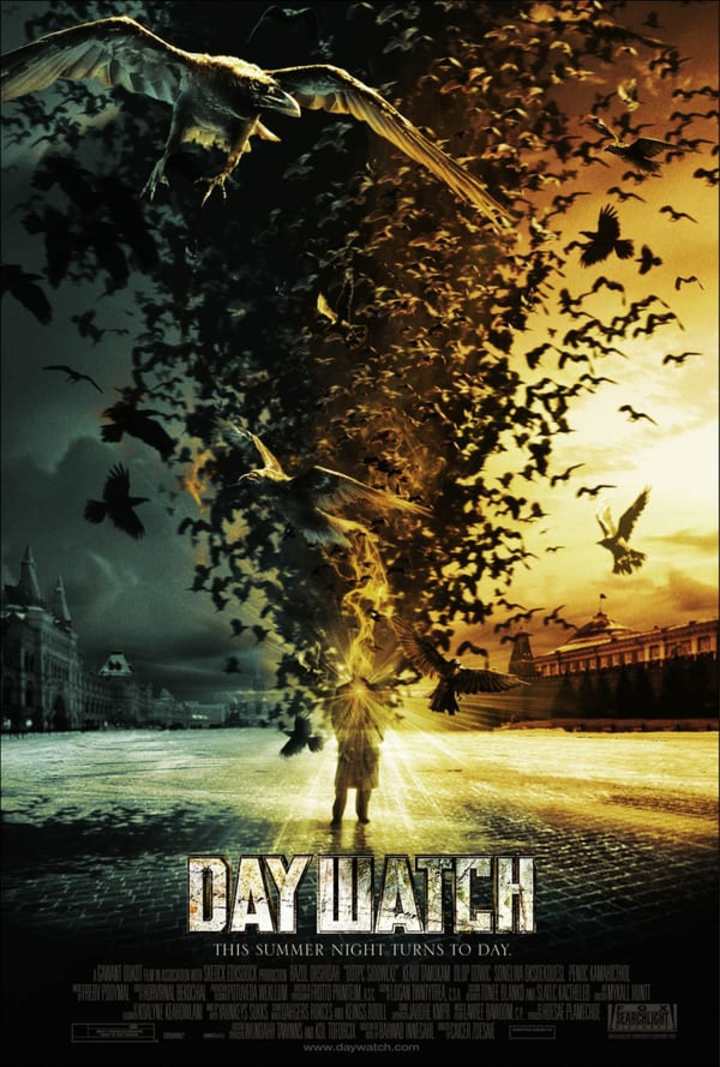 Released in 2007
Directed by Timur Bekmambetov
Starring Konstantin Khabenskiy and Maria Poroshina
Rotten Tomatoes Score: 64%
This is the sequel to Night Watch and far more diverse. The forces of light and darkness and now have a truce and monitor their world together. This film is full of twists and subplots that will require you to pay attention, but the story is worth it.
21. 'Predators'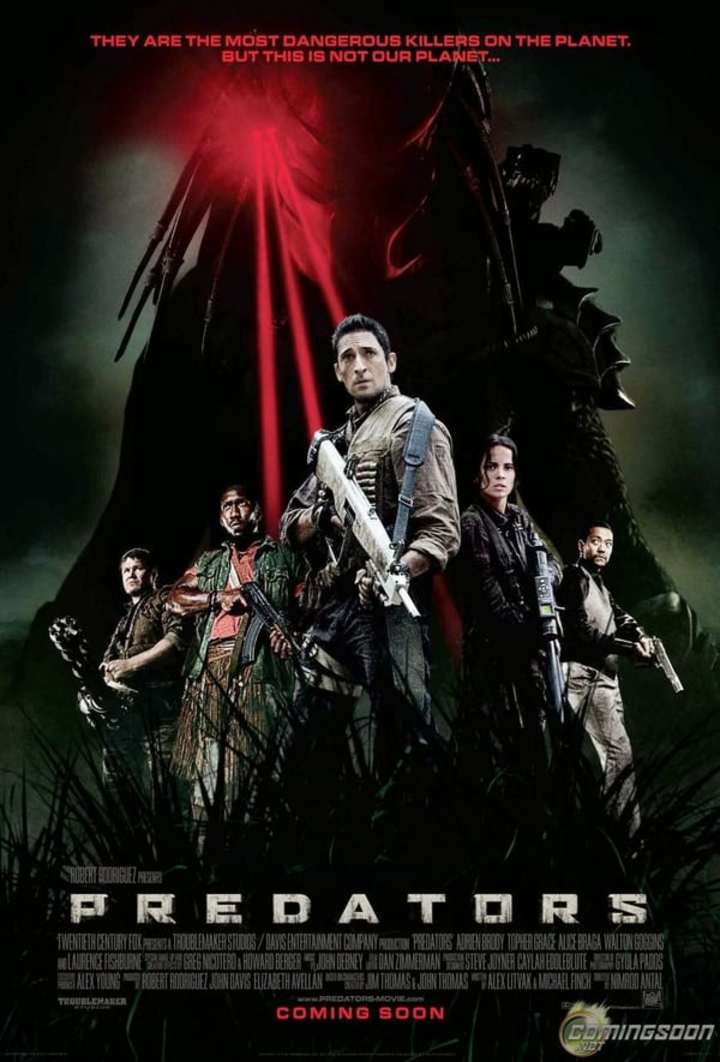 Released in 2010
Directed by Nimród Antal
Starring Adrien Brody and Topher Grace
Rotten Tomatoes Score: 64%
A reboot of the classic that is well worth the name. This was a very action packed film full of all the things that made people love the first film. While it can't live up to the first, its cast and direction give a nice different sense of style from the original.
20. Frankenstein's Army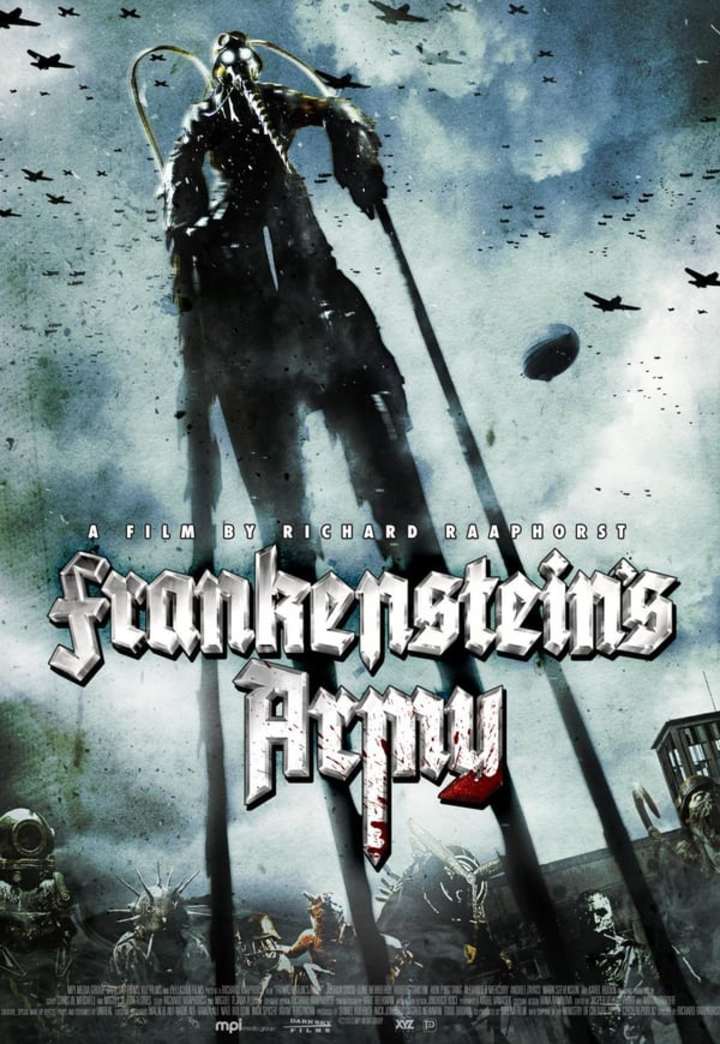 Released in 2013
Directed by Richard Raaphorst
Starring Karel Roden and Joshua Sasse
Rotten Tomatoes Score: 67%
The basic conceit of this movie is what if Nazi soldiers found the journal of Viktor Frankenstein and decided to create an army of super soldiers with it? It's a very creative idea that is played out well. There are so many ominous tones and scary monsters lurking about alongside an exciting story and plenty of amazing stunts.
19. 'Goosebumps'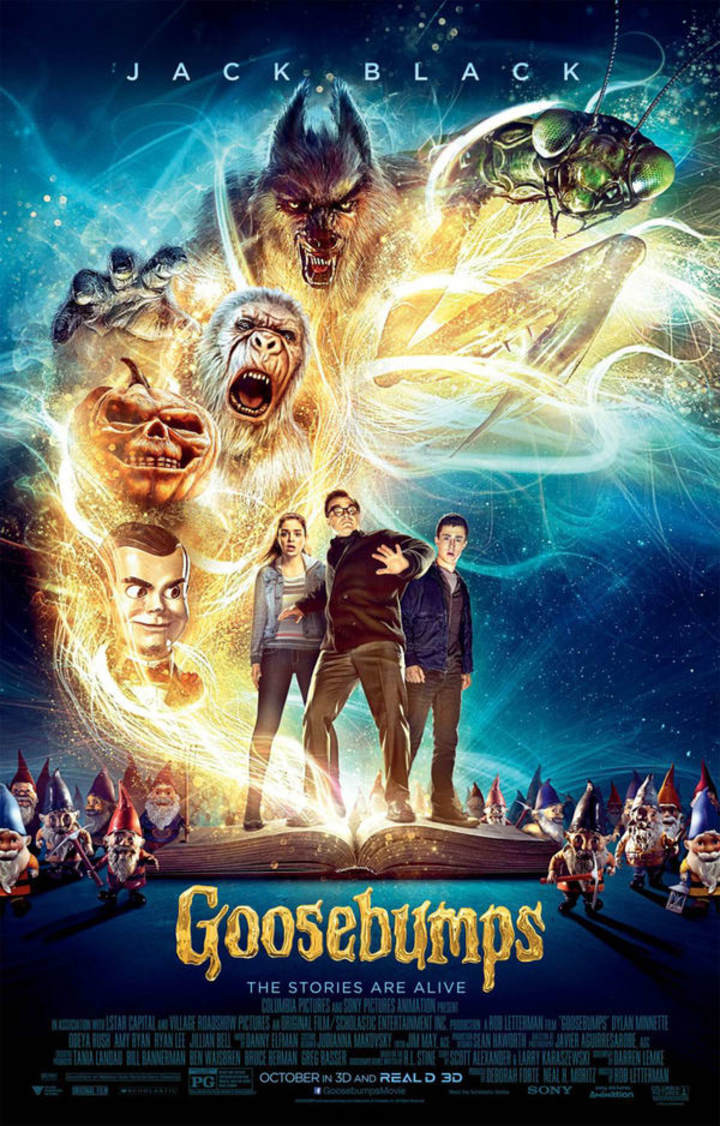 Released in 2015
Directed by Rob Letterman
Starring Jack Black and Dylan Minnette
Rotten Tomatoes Score: 76%
Some of you may be thinking that this shouldn't be counted as an action movie, but there is plenty of action to be found in this film. The film follows two kids as they release every monster that R.L. Stine has ever created into the world. It has a charming cast of characters and a story to warm your heart. If you just want to have a kid friendly laugh, then this is the perfect movie this Halloween.
18. 'The Lost Boys'
Released in 1987
Directed by Joel Schumacher
Starring Corey Haim and Jason Patric
Rotten Tomatoes Score: 72%
A classic vampire movie that follows two brothers who get involved with a group of vampires who have some cruel intentions. This film will make you laugh, jump, and even cry if you're faint of heart. The Lost Boys is a great film that sort of updated the vampire genre.
17. The Purge: Anarchy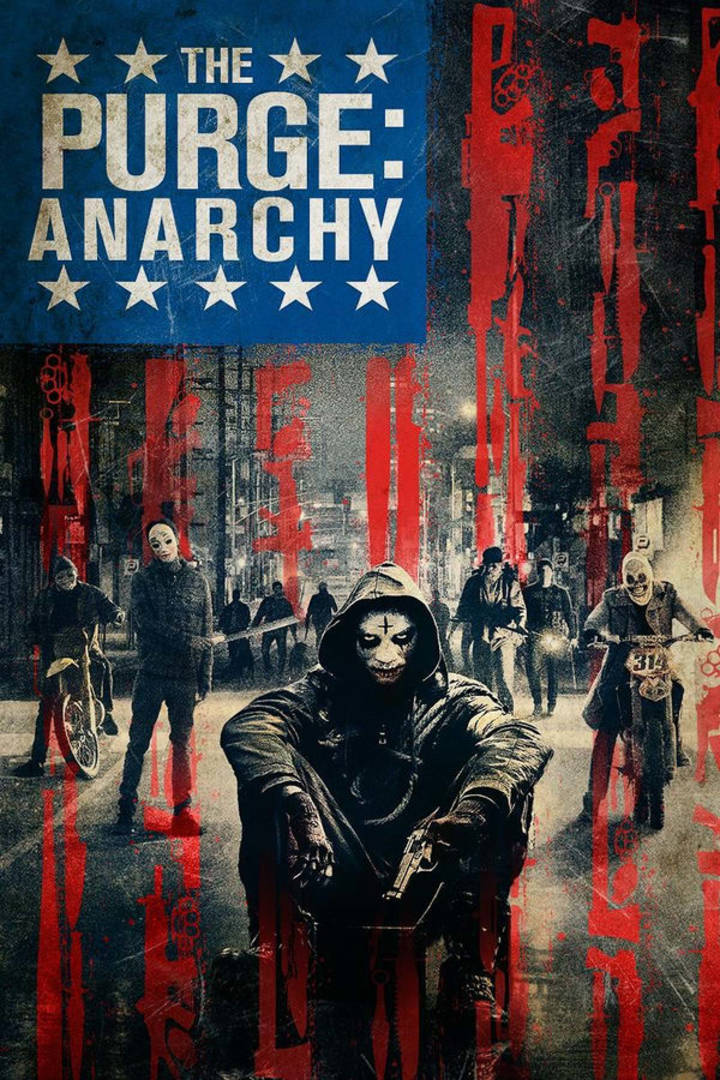 Released in 2014
Directed by James DeMonaco
Starring Frank Grillo and Carmen Ejogo
Rotten Tomatoes Score: 56%
This is the second movie in The Purge franchise and the third one to show up on this list. This film keeps true to what the original film did, but starts to build toward what this franchise can be. The world building is what sets this film apart, along with its much higher rate of action and plot.
16. 'World War Z'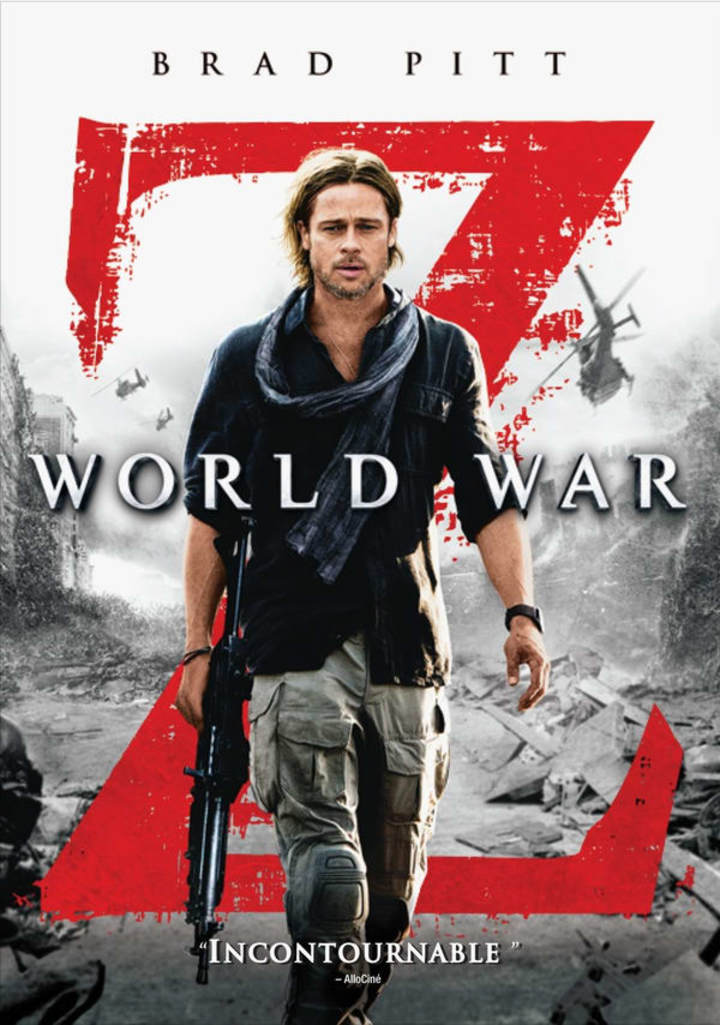 Released in 2013
Directed by Marc Foster
Starring Brad Pitt and Mirielle Enos
Rotten Tomatoes Score: 67%
World War Z is your basic zombie apocalypse film, but thanks to Brad Pitt's great performance we get an above average take on it. This film gives us a much more realistic feel to the zombie genre and doesn't rely on cheap jump scares. We get a strong story that keeps people thinking.
15. The Crazies (2010)
Released in 2010
Directed by Breck Eisner
Starring Timothy Olyphant and Radha Mitchell
Rotten Tomatoes Score: 71%
This movie is one of those psychological thrillers that messes with your mind. When a small town becomes infected with a virus that turns half the town crazy, it is up to a small group to try and survive the night. One of the best stories to come out of the horror genre.
14. 'Dawn Of The Dead' (1979)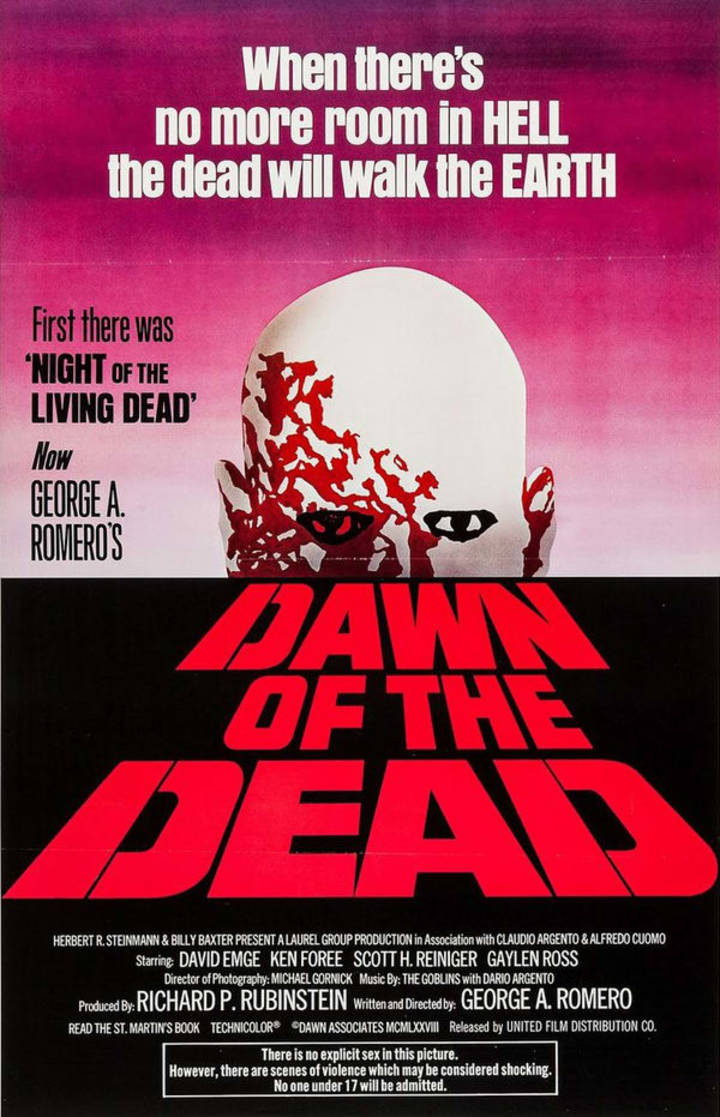 Released in 1979
Directed by George A. Romero
Starring David Emge and Ken Foree
Rotten Tomatoes Score: 92%
Fans of The Walking Dead should be thanking George A. Romero every time they watch an episode, because without this film, we would probably never have a great template for how a zombie film should be. This was a low budget masterpiece with an epic story that is a must watch for anyone.
13. 'Tucker and Dale Vs. Evil'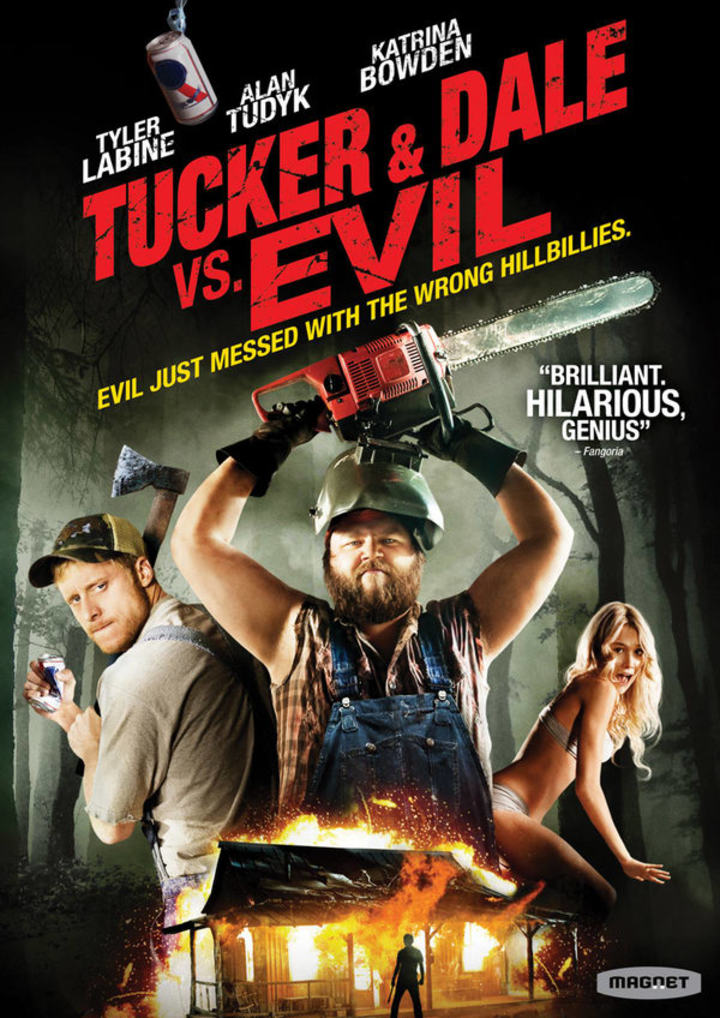 Released in 2011
Directed by Eli Craig
Starring Tyler Labine and Alan Tudyk
Rotten Tomatoes Score: 84%
This movie is like the love child of Evil Dead and Shaun of the Dead. This is a hilarious film where two kind hearted brothers are mistaken for killers and must try to unearth the true evil behind all the bad happening in their woods. It has gore and horror, but the comedy is what makes this film so special.
12. 'Blade'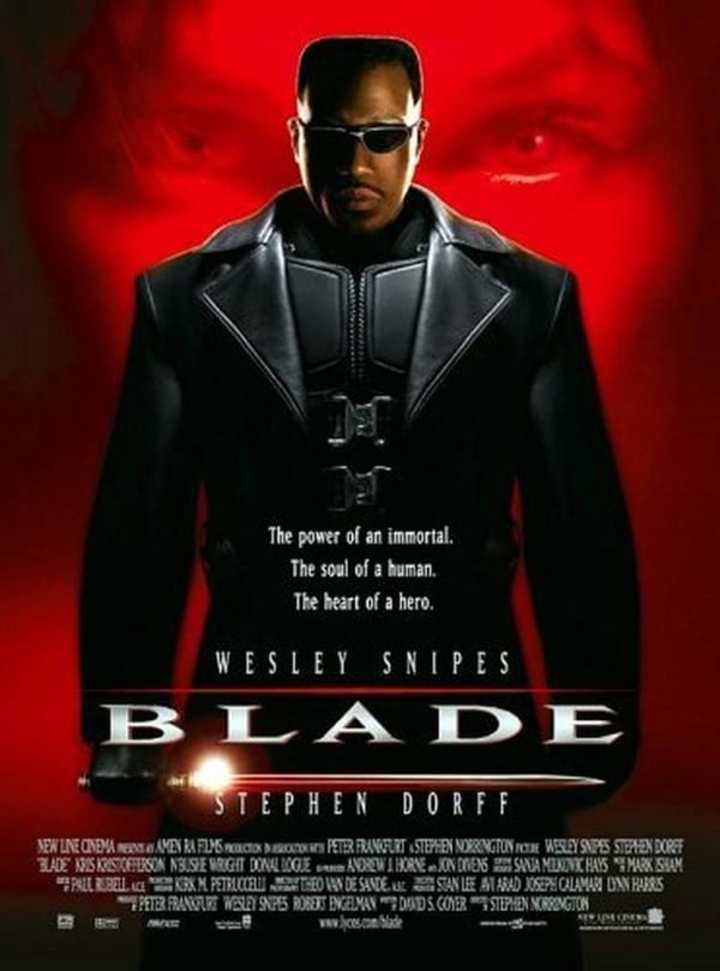 Released in 1998
Directed by Stephen Norrington
Starring Wesley Snipes and Stephen Dorff
Rotten Tomatoes Score: 54%
Blade is one of the best comic book adaptations prior to the big boom in recent times. This film is considered a cult classic and centers around a half-human half vampire hybrid that fights off evil vampires to protect humanity. There is plenty of action to be had and some chilling scenes with the great effects.
11. 'Dog Soldiers'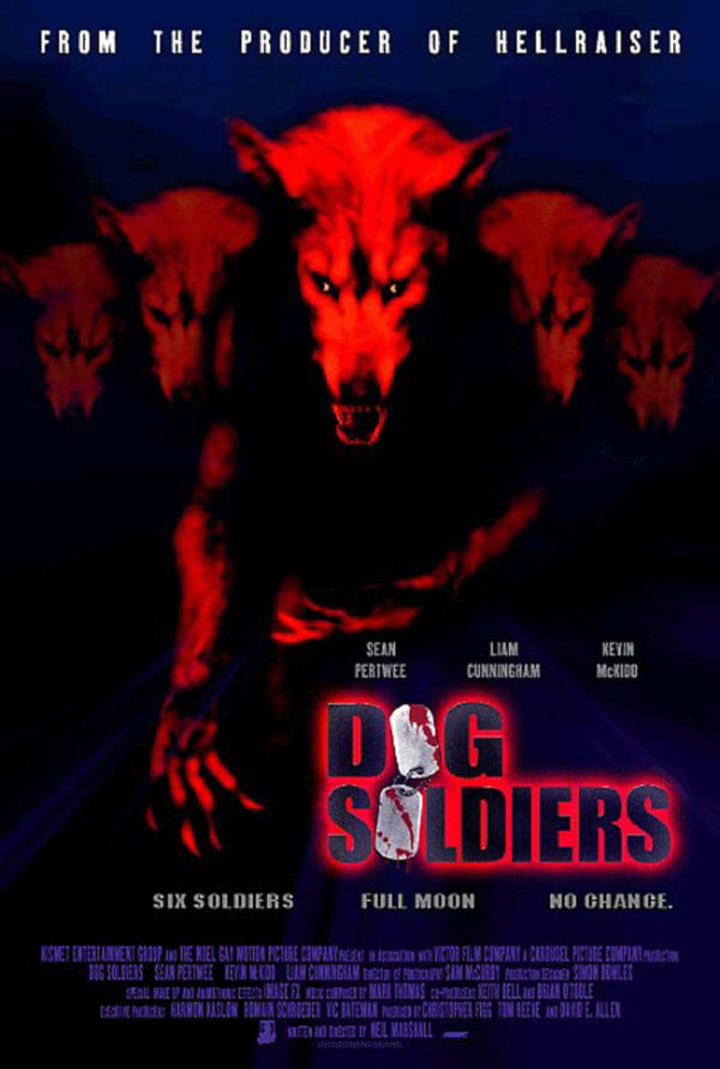 Released in 2002
Directed by Neil Marshall
Starring Sean Pertwee and Kevin McKidd
Rotten Tomatoes Score: 79%
Dog Soldiers is a B-movie that surprised many people including me. This film is actually one of the most exciting films I have ever seen. The concept of British soldiers getting pinned down and forced to fight off an angry pack of werewolves sounds pretty plain for today's standards, but it is actually well put together and doesn't take itself serious enough to actually be panned for its premise.
10. '28 Days Later'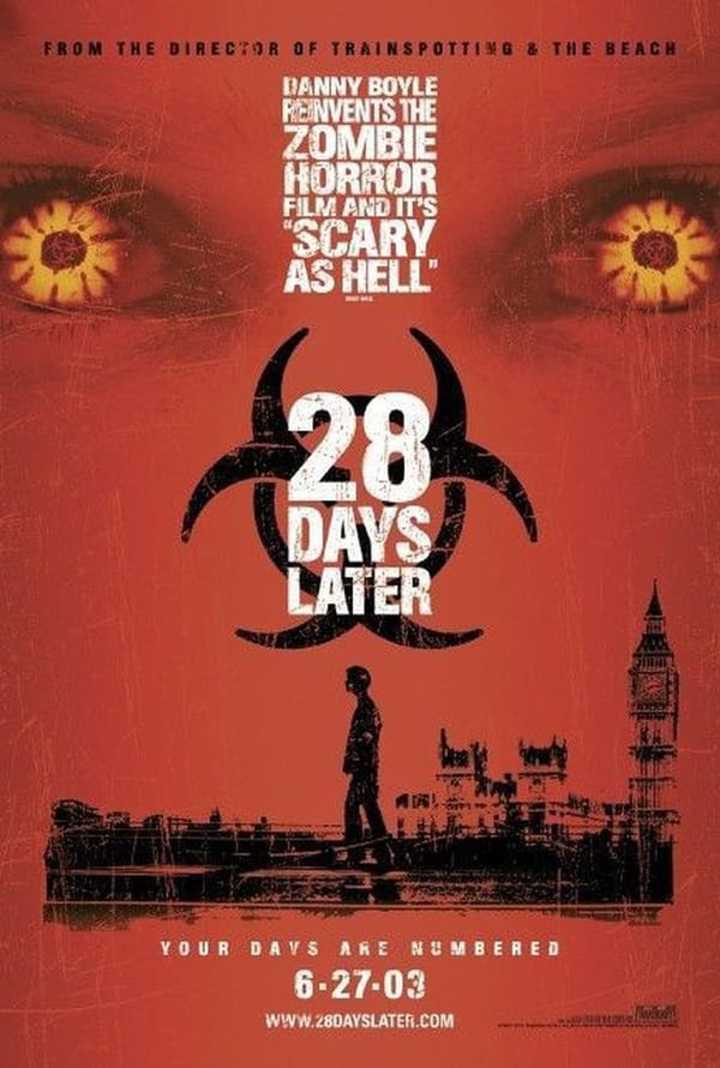 Released in 2003
Directed by Danny Boyle
Starring Cillian Murphy and Naomie Harris
Rotten Tomatoes Score: 87%
We start off the top 10 with this zombie apocalypse film. This starts with an animal rights group who went in search of some chimps that were being experimented on. When they found the chimps, they were warned that they were infected and should not be released, but they didn't listen. When a man named Jim wakes up 28 days later and the human race is on the brink on extinction, he is collected by a group of survivors who believe they can find a cure.
This film is given amazing direction by Danny Boyle with plenty of character development that makes you care about who you are seeing die. The film takes the idea of a zombie disease and makes it very much more real: The scariest thing is how possible this plot is.
9. 'Cloverfield'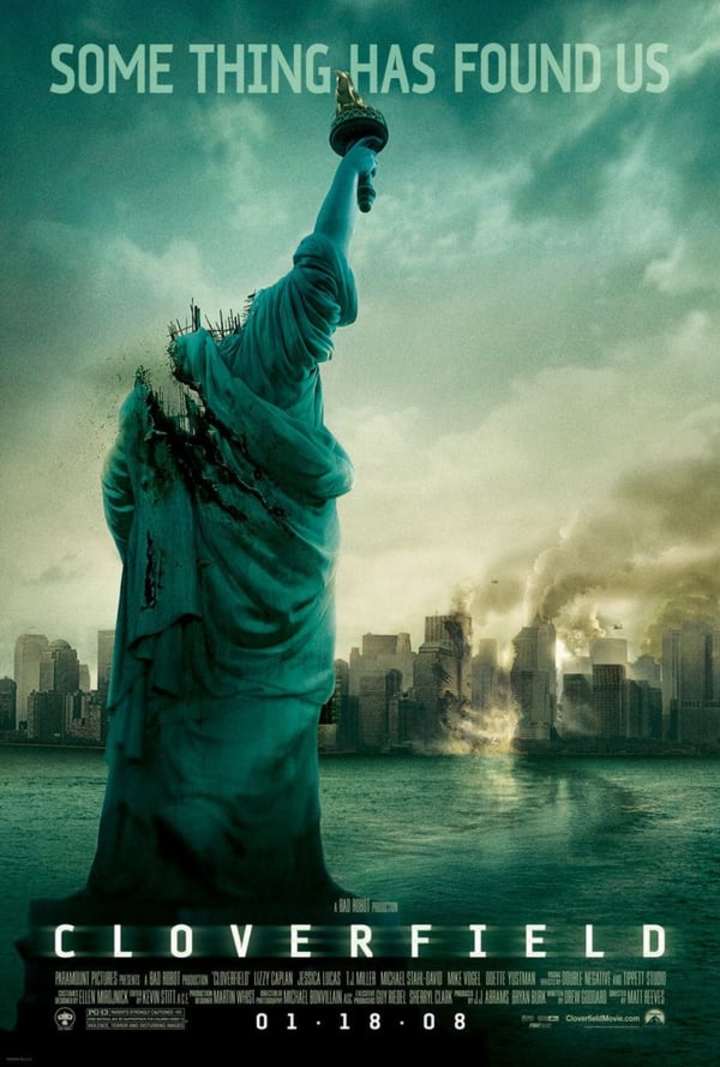 Released in 2008
Directed by Matt Reeves
Starring Michael Stahl-David and T.J. Miller
Rotten Tomatoes Score: 77%
What happens when an unexplainable monster attacks New York? When a group of friends start celebrating Rob's new job, a monster attacks the city. They must hit the streets to try and find shelter. It is a journey full of mystery that takes us on a crazy journey.
The film uses the sometimes-irritating art of found footage, but this film seems to do it right and actually have a purpose for them carrying around a camera the whole time. Throughout the entire film we are left wondering what the monster is and what it looks like. This film laid the foundation for how the modern kaiju movie was meant to be, and I think set the bar for what Godzilla and King Kong hope to strive for.
8. 'Don't Breathe'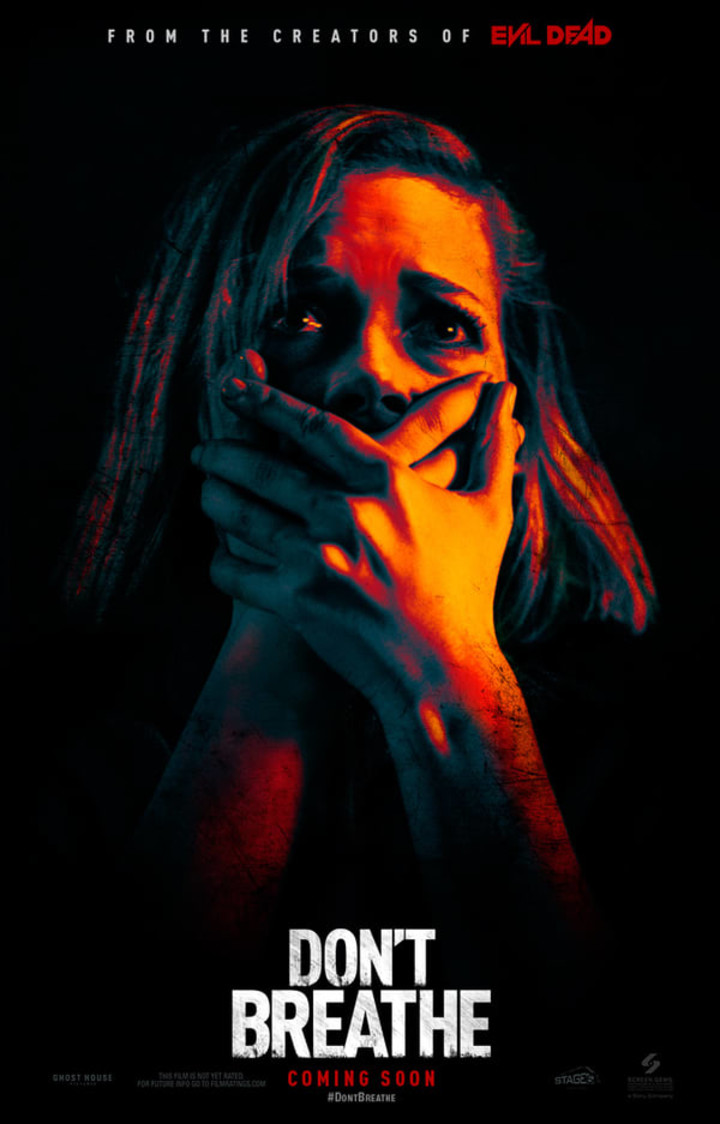 Released in 2016
Directed by Fede Alvarez
Starring Jane Levy and Stephen Lang
Rotten Tomatoes Score: 87%
This is a fresh film that came out just months ago, but if you have seen it, then hopefully you understand why I have it so high on this list. This is a film about three petty thieves who are looking to make one last big heist before they call it quits. They attempt to steal from a blind man who is sitting on a tremendous amount of cash in his home, but obviously things do not go according to plan.
This film will give you chills almost every scene and had amazing performances by the whole cast. Stephen Lang in particular is terrifying and gives one of the best performances of his career. There are twists that will widen your eyes and a story that is well developed. If you haven't gone to see it in theaters yet, I recommend you do while you have a chance.
7. 'I Am Legend'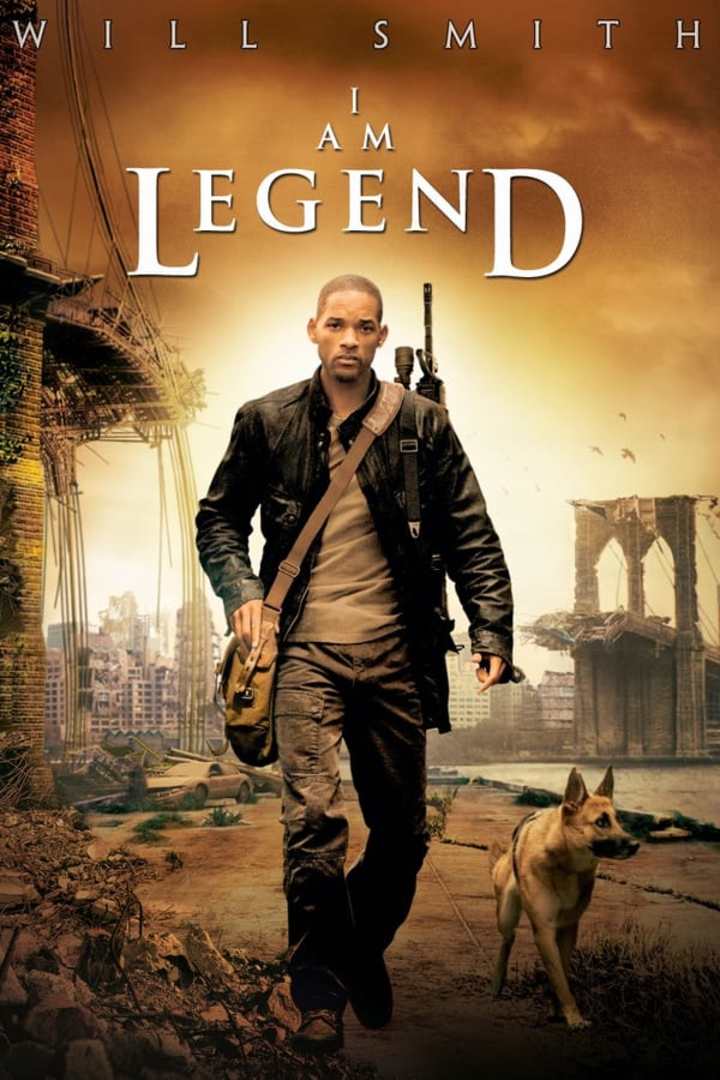 Released in 2007
Directed by Francis Lawrence
Starring Will Smith and Alice Braga
Rotten Tomatoes Score: 70%
Dr. Robert Neville is the last man on Earth as the entire world has suffered from a deadly disease that turns them into blood thirsty monsters that can only come out at night. Neville is attempting to find a cure, but is hit with more and more hardships along the way. Some being from forces of nature and others from his own sanity.
This film gave us an amazing performance by Will Smith; it truly showed the acting talent that he possesses to be able to pull off a role such as this where he is portraying a character sinking into insanity, and doing without any other actors or actresses to play off. The movie does a good job of keeping the story flowing and entertaining when most would probably fall into a somewhat boring trance. The movie is truly carried on the back of Smith's incredible performance.
6. 'Predator'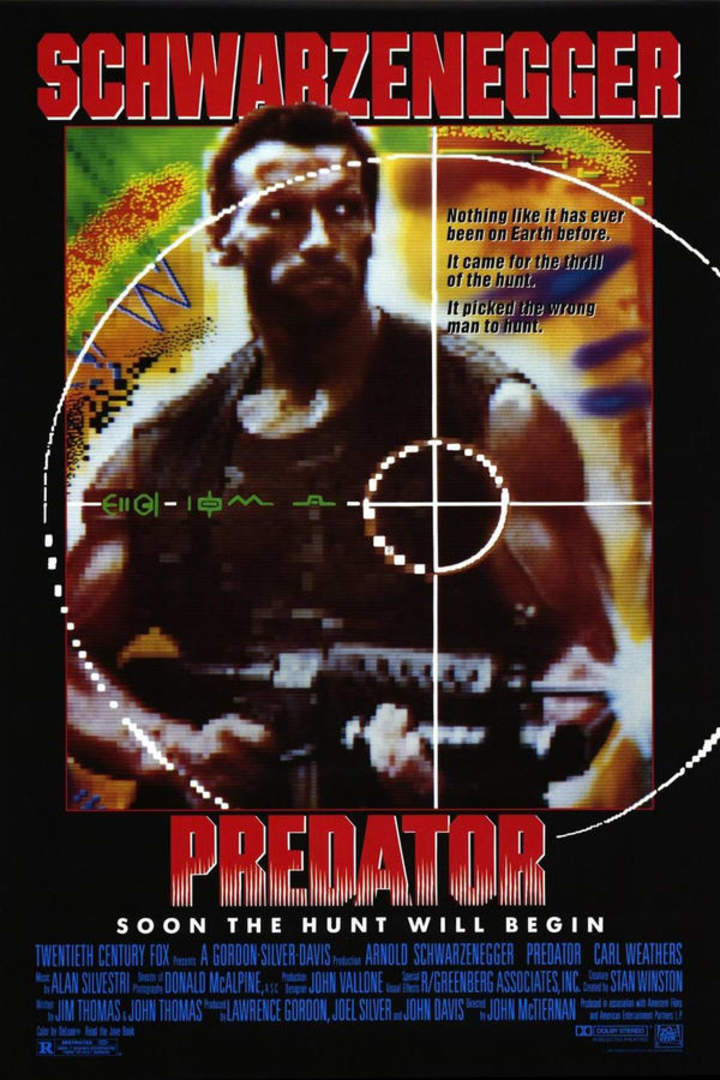 Released in 1987
Directed by John McTieran
Starring Arnold Schwarzenegger and Carl Weathers
Rotten Tomatoes Score: 78%
A classic action movie that has such a terrifying antagonist that it is also considered horror. When a military unit is sent into an uncharted jungle to search for and rescue another team, they start to realize they are not alone in the jungle. They see how horrendously the other team was butchered and slowly they are picked off one by one by an unknown predator.
Predator is full of action with little emotion, but the plot is so captivating just for the thrills. It is one of those films that is so exciting that it can be viewed multiple times and never get old. This is a great formula to follow: Just keep an action film pumped full of testosterone and a solid story with an intriguing antagonist, and you will always have an enjoyable product.
5. 'Scanners'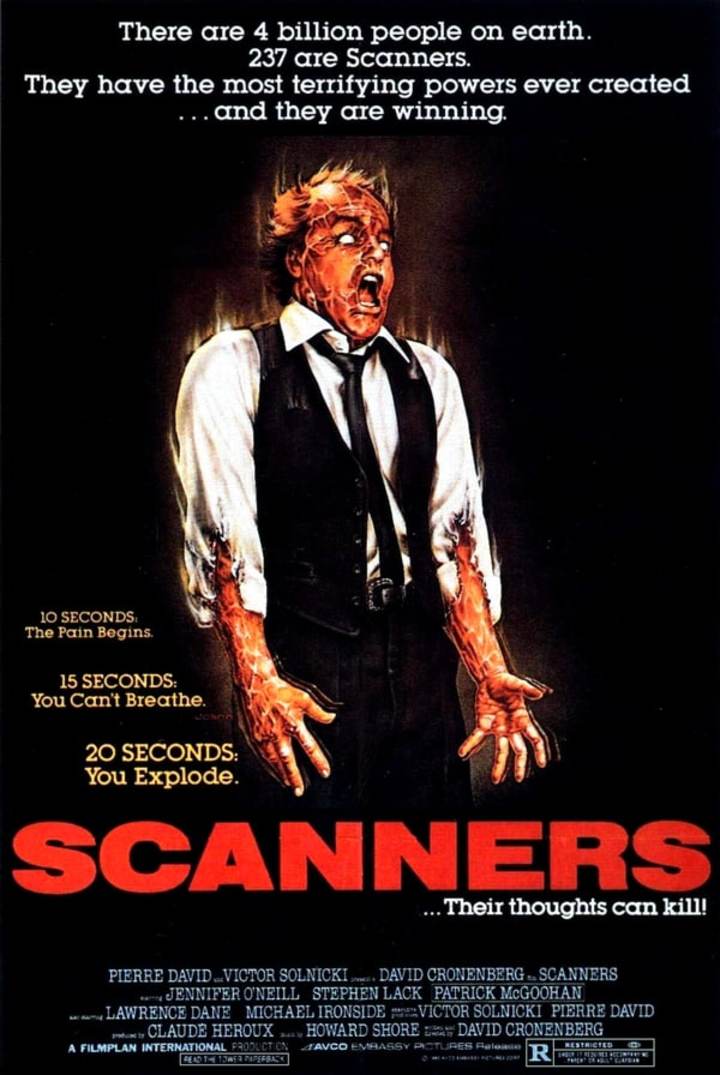 Released in 1981
Directed by David Cronenberg
Starring Stephen Lack and Jennifer O'Neill
Rotten Tomatoes Score: 80%
This film is about a large group of pregnant woman who took experimental tranquilizers before they had their children and the effects gave the kids special powers. Now all grown up and known as Scanners, they are viewed as outcasts, but one person has the bright idea to gather them all up and attempt to create an army to take over the world.
This is a brilliant idea for a film, especially in its era. While some of the effects are lacking, the overall story is a wild ride that has made this a cult classic. It flies under the radar for most horror fans, but for true followers of the genre, they can appreciate such a fantastic story.
4. 'Zombieland'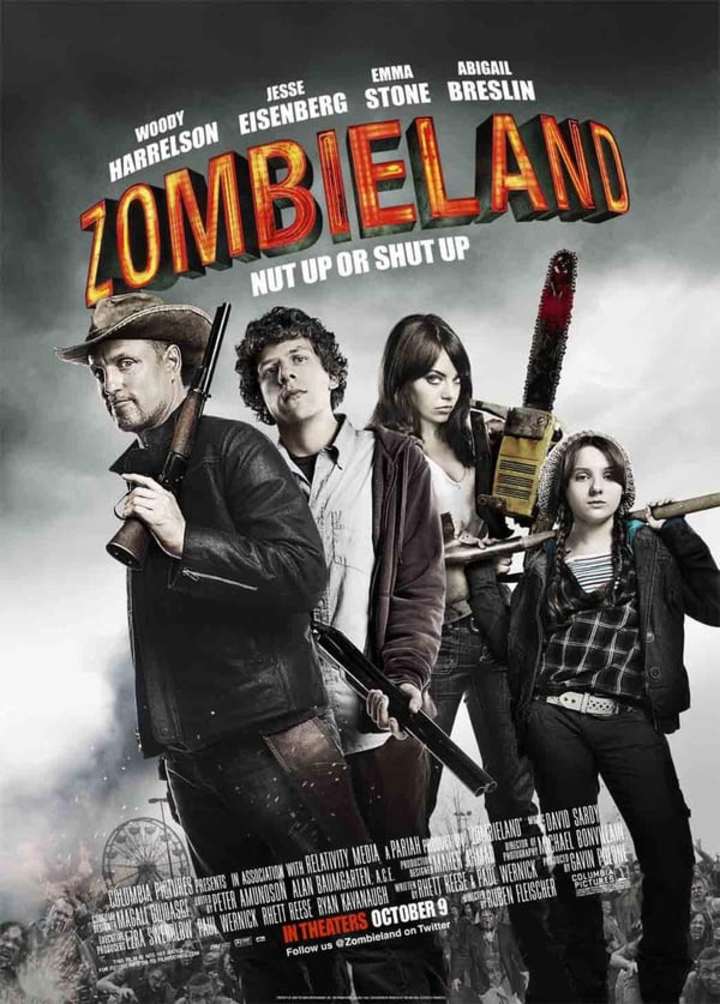 Released in 2009
Directed by Ruben Fliescher
Starring Jesse Eisenberg, Woody Harrellson, and Emma Stone
Rotten Tomatoes Score: 89%
Another zombie apocalypse film, I feel like I have beat this horse a million times, but this is my favorite of them all. When a young man is alone and scared, he is taken in by an abrasive stranger who takes him under his wing to survive the world together. They meet up with two sisters and the four of them partake in a hilarious journey to travel to hometowns and find meanings of survival.
This film will keep you entertained from start to finish with its outrageous action sequences that are mixed with the hilarity of the entire cast. Harrelson, Eisenberg, and Stone are all cast perfectly and the script plays to all their strengths. With all the gore that anyone could ask for, this film really doesn't leave much unwanted to horror fans.
3. 'The Cabin In The Woods'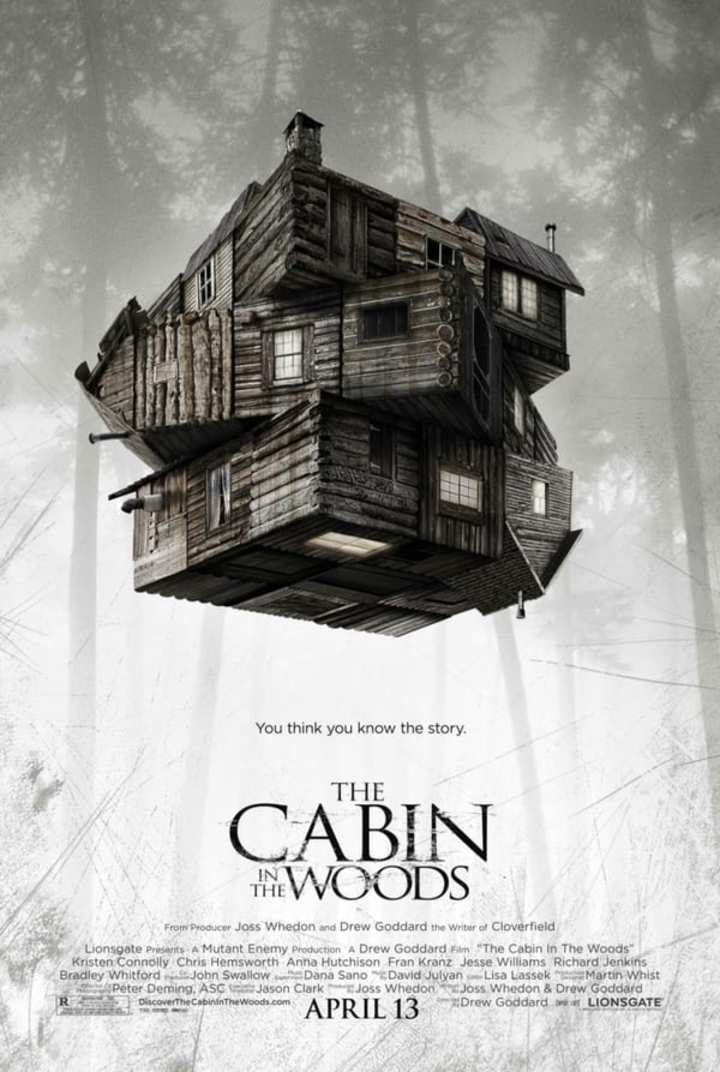 Released in 2012
Directed by Drew Goddard
Starring Kristin Connolly and Chris Hemsworth
Rotten Tomatoes Score: 92%
I am not going to go too far into detail on this plot, to avoid any kind of spoilers, because this movie has so many twists it would be doing it a disservice. Essentially, a bunch of teenagers head to a cabin in the woods (shocking right?) and they begin to be attacked by monsters and other terrifying phenomenons.
With so many plot twists and amazing moments in this film, it is easy to see why it is one of the most enjoyable horror films of all time. It is not just twists though; this film is capable of being hilarious and with Chris Hemsworth in the cast, that is probably not much of a surprise. This is one of those rare movies that almost everyone can enjoy, even if you're not a horror fan.
2. 'Aliens'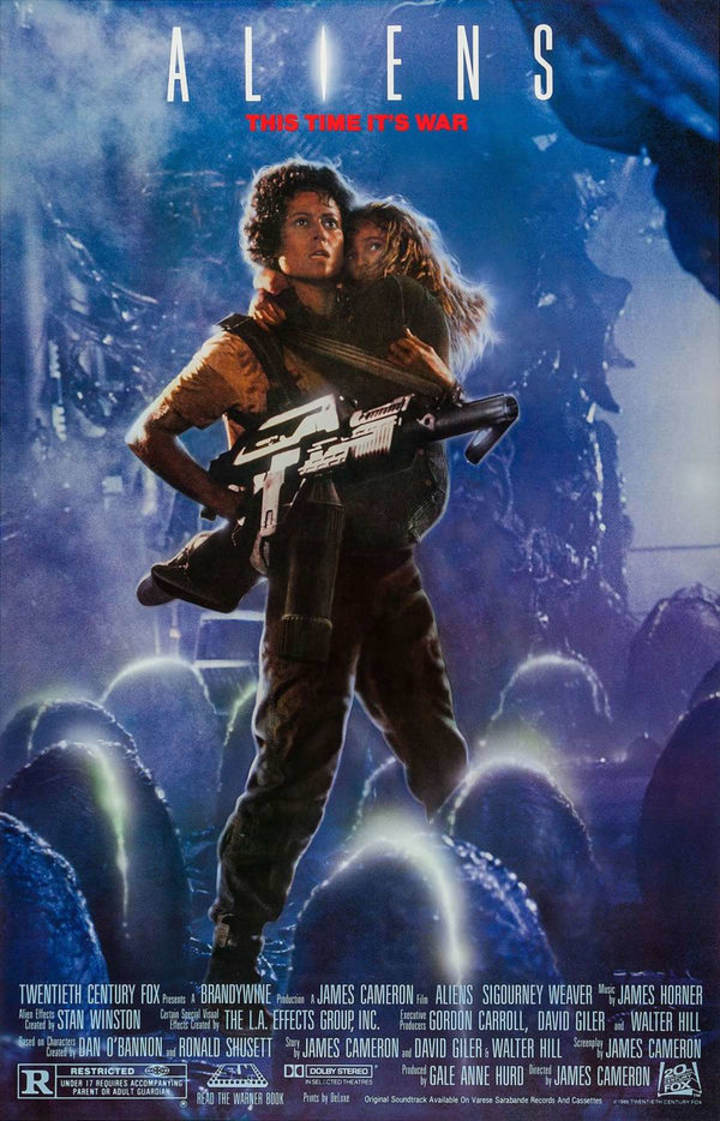 Released in 1986
Directed by James Cameron
Starring Sigourney Weaver and Paul Reiser
Rotten Tomatoes Score: 98%
When Ellen Ripley (Sigourney Weaver) is attacked by a vicious alien and adrift in space for 57 years before being picked up by her former employer. They tell her that the planet where her crew discovered the alien has since been settled by colonists. Contact with a colony was suddenly lost, so she and a detachment of colonial marines are sent to investigate. There they come in contact with the same aliens that attacked her the first time around.
This is one of the most thrilling films ever made, with tension in almost every scene. It is slow building, but worth the wait to see the epic conclusion. Weaver gives such a great performance and her character is one of the most memorable feminist icons in Hollywood. Aliens is a movie that can be watched countless times and never get old, and it would be a great watch this Halloween.
1. 'Evil Dead 2'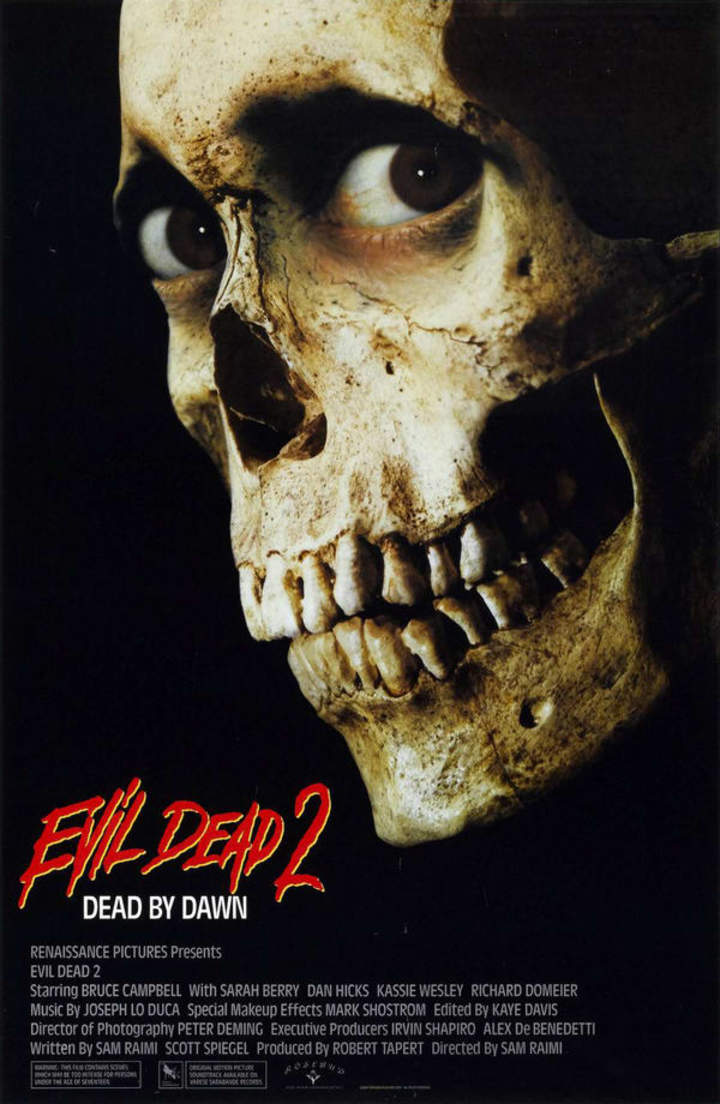 Released in 1987
Directed by Sam Raimi
Starring Bruce Campbell and Sarah Berry
Rotten Tomatoes Score: 98%
Ash is trapped in the woods by demons, with his beloved girlfriend slipping into insanity. Ash soon learns that he is not leaving the woods anytime soon. This is obviously the second film in this amazing franchise but the best one and in my opinion the best action-horror of all time.
When this film released, nobody thought that they could live up to what the first film did, but not only did they live up to it, they outdid it. This film upped the blood and gore with plenty of action packed fun. This is why the original film was not featured on this list, because it was not until this film where Evil Dead ventured into true action.
This film like all Evil Dead films is funny, gory, and has characters that you love. Bruce Campbell may not win any awards for his performance in this film, but it is that over the top acting that actually makes the film that much funner.