Season's Weepings: Ranking The Stories From 'Holidays', This Year's Creepiest Horror!
Whilst this post won't ruin the film for you (where would the horror be in that?), here is a definitive ranking from the worst to best of each of Holidays holidays!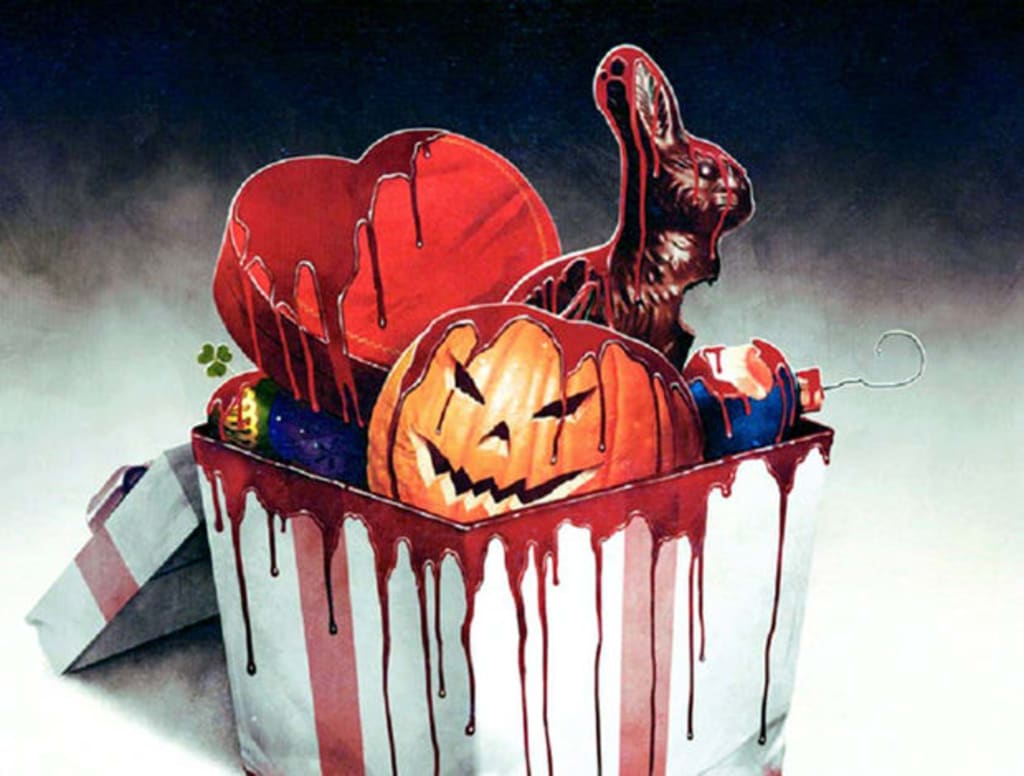 We do love a good horror anthology over here at Movie Pilot, and this year's offering Holidays is no exception! Whether it be taking the kids out of school, or the dreaded trip to the in-laws, the holidays can quite literally be hell. Holidays will do nothing to changes our minds, whilst its unnerving stories will have you reaching for the cushions. Across 100 minutes and eight segments we witness mutant rabbits, snake babies, and even a cameo from Seth Green. Starting with "Valentine's Day" and culminating in "New Year's Eve", the film gives eight directors the scope to give us their own bloody take on what should be the happiest times of the year. Whilst this post won't ruin the film for you (where would the horror be in that?), here is a definitive ranking from the worst to best of each of Holidays holidays!
8. Mother's Day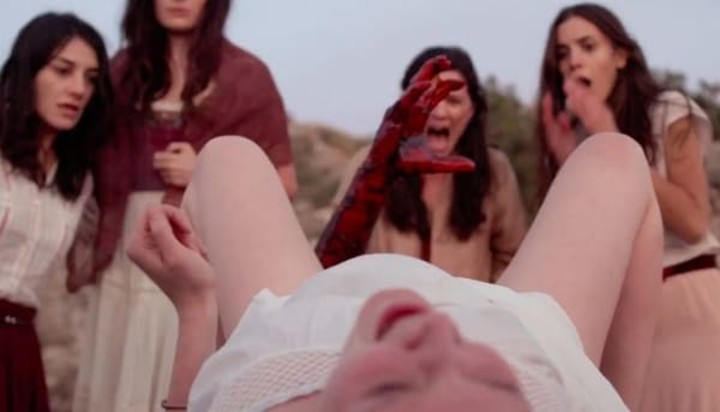 Written and Directed By: Sarah Adina Smith
Starring: Sophie Traub, Aleksa Palladino, Sheila Vand, Jennifer Lafleur and Sonja Kinski
Synopsis: Baby Bump (In the Night)
The first of the film's two segments to focus on pregnancy, and the first of the two to rank bottom of the pile. A doe-eyed Sophie Traub blunders through "Mother's Day" and kind of has you hoping she won't make it to the next scene. She plays a woman who finds herself pregnant every time she has sex, which is quite the problem for anyone! Turning to a Pagan fertility group, she hopes to cure herself of the affliction, but is warned "every time you get rid of it, it grows stronger." Sarah Adina Smith is unfortunately the only female director present in Holidays, but shoves the tired story of fertility over good ol' fashioned scares. Things take a slight detour into the macabre, but "Mother's Day" is truly a yawn of the film, so to be blunt...skip on by!
7. St. Patrick's Day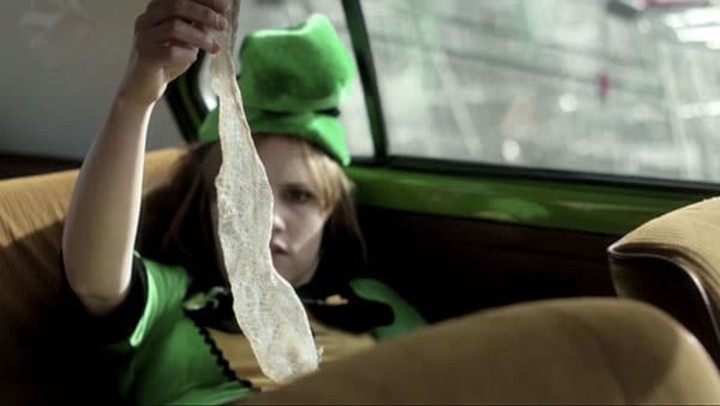 Written and Directed By: Gary Shore
Starring: Ruth Bradley, Peter Campion and Isolt McCaffrey
Synopsis: Snakes in the Grass
A ludicrous story and some appalling homage to Jim Henson puppetry, "St. Patrick's Day" loses the plot past scene one. Ruth Bradley is a teacher, who surrounded by children, is desperate to have one of her own. She takes a shine to a creepy problem child and her curly ginger locks as Isolt McCaffrey channels her best Damien from The Omen. This is where the trouble begins - bathtub snakes, unwanted pregnancy, and YET more ritualistic chants. "St. Patrick's Day" is just a bit too out there, with its sinister start and a campy conclusion, it should slither off into the grass. It may be a cliche, but take a leaf out of Jennifer Aniston's book, "St. Patrick's Day" warrants the evil Leprechaun treatment.
6. Christmas
Written and Directed By: Scott Stewart
Starring: Seth Green, Clare Grant, Kalos Cluff, John C. Johnson
Synopsis: See Life With a New Perspective
"Oh hey Seth Green, what are you doing here?". Packing the films best-known star should should rank this segment right at the top?!? Sadly, no. Even the inclusion of Seth Green can't shy away from the lacklustre story of virtual reality headsets that allow you to see you. "Christmas" had the interesting premise that you would expect to see in episode of Charlie Brooker's upcoming Black Mirror, but it is never fully explored. Green plays the hapless father who just wants to do right by his adorable son and bitch wife. Clearly unable to ditch his comedy C.V., Green plods along through the festive romp, whilst it is his wife (Clare Grant) who actually steals the limelight. "Christmas" proves that big budget names and low budget horror don't necessarily work.
5. New Year's Eve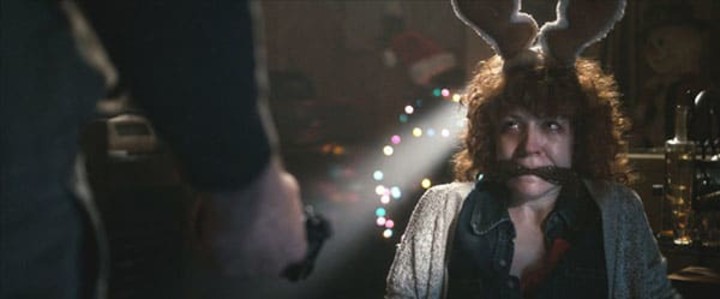 Written By: Kevin Kölsch & Dennis Widmyer
Directed By: Adam Egypt Mortimer
Starring: Lorenza Izzo, Andrew Bowen and Megan Duffy
Synopsis: Plenty More Fish in the Sea
The final holiday is the only one that in any way attempts to connect what has come before it. "New Year's Eve" opens as our titular villain flicks through a scrapbook of holidays spent with what appear to be his other half. Being a horror flick, not is all as it seems and his 'loved one' is merely a hostage in his creepy (probably mother's) basement. Looking for new love, Andrew Bowen's killer looks for a new lady, just in time for his New Year's resolutions. Lorenza Izzo is the Bridget Jones who has all but given up on love, turning to online dating in a "what's the worst that could happen" scenario. Again a tenuous link to the actual holiday in question, where "New Year's Eve" does triumph is spinning a classic formula on its head in a WTF twist that I can't spoil!
4. Valentine's Day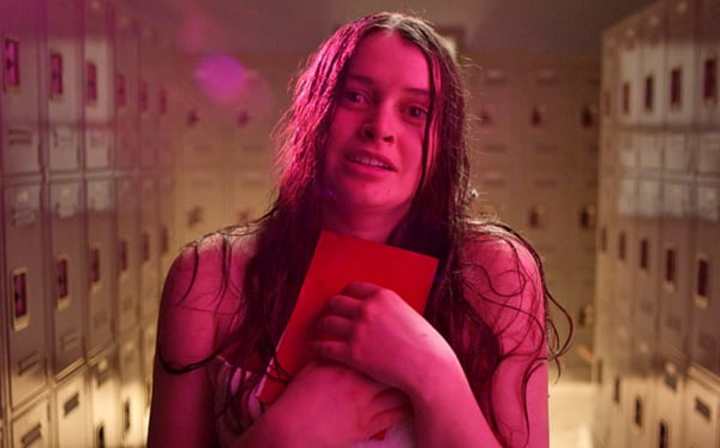 Written and Directed By: Kevin Kölsch & Dennis Widmyer
Starring: Madeleine Coghlan, Savannah Kennick and Rick Peters
Synopsis: Heart-wrenching Love Story
This is a grisly and unhinged tale, not too dissimilar to Sean Byrne's Aussie prom night - The Loved Ones. Madeline Coghlan plays Maxine 'Maxi-pad', bullied by the rest of her swim team as she dotes unrequitedly on the school coach. Describing itself as a 'modern day' Carrie, unfortunately "Valentine's Day" doesn't manage to distance itself far enough away from that premise. Suitably gory and saddening at the same time, you have to give Coghlan's film debut a thumbs up; however, an ending you could see coming from the start, "Valentine's Day" won't cause your heart to skip a beat.
3. Halloween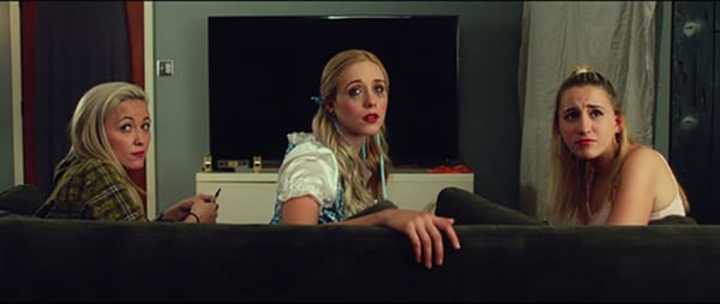 Written and Directed By: Kevin Smith
Starring: Ashley Greene, Olivia Roush, Harley Quinn Smith, Harley Morenstein and Shelby Kemper
Synopsis: Halloween Horror Whores
"Show me your pussy"! A meta take on the webcam-porn industry, "Halloween" would work perfectly with a different title. Suffering from 'Seth Green syndrome', you would expect the film's best-known director (Clerks/Mallrats) to have the best story. A flimsy link to the actual holiday means wasted potential on what is arguably the best title to have for a short in a horror anthology. Harley Morenstein is the douchebag boss of three young women as he runs an internet porn site. Luckily there is comeuppance on the wrong end of a car battery and justice is gleefully dished out behind the cold screen of a computer. Made all the more sinister by winking emojis and typed threats, "Halloween" is oh so close to being good. I can assure you though, you will never look at Hot Pockets the same way again.
2. Easter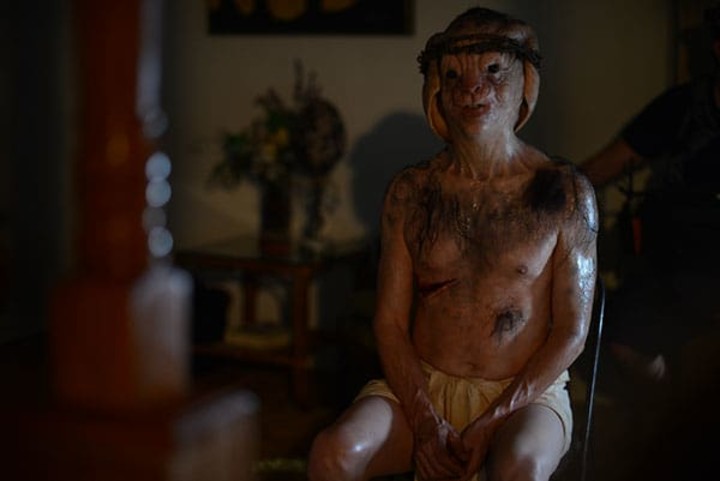 Written and Directed By: Nicholas McCarthy
Starring: Ava Acres, Petra Wright and Mark Steger
Synopsis: Egg-cellent Religious Rabbit
"Easter" stars a mutant Jesus Rabbit (I am not lying), with the ability to lay chicks from the stigmata in his hands. Nicholas McCarthy is sure to rattle the cage of Christian groups everywhere, but nonetheless, "Easter" is a genuinely sickening affair. Put to bed by her mother, Ava Acres plays a young girl who wakes on Easter eve whilst waiting for the Easter Bunny - what she actually meets is a Guillermo Del Toro creature, which could actually have held a whole film to itself. One of the darker stories that manages to put a demonic twist on the cutesy Easter Bunny, coupled with impressive costumes and your classic monster-under-the-bed formula makes "Easter" uncomfortable viewing.
1. Father's Day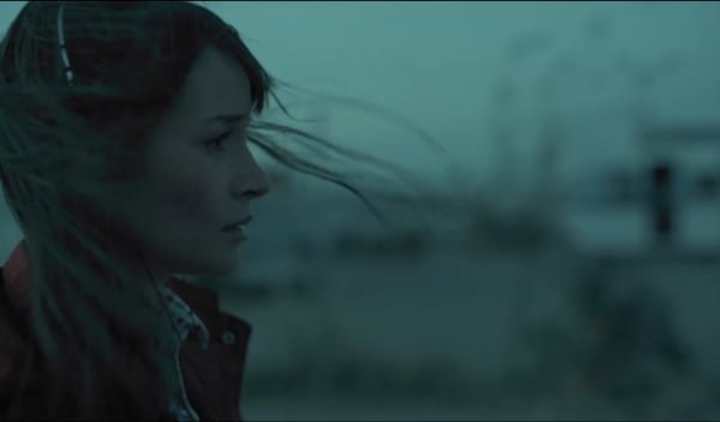 Written and Directed By: Anthony Scott Burns
Starring: Jocelin Donahue, Michael Gross and Jana Karan
Synopsis: Daddy Issues
Doing away with the campy comedy that dogs the weaker segments of the film, "Father's Day" will haunt you both emotionally and physically. A young woman receives a tape from her 'long dead' father, telling her to return to where they were last together. After leaving her mother a furious voicemail about "how could you lie to me?", she sets off to meet her father in a desolate seaside setting. As Jocelin Donahue's Carol listens to the voice of her father through headphones, she can hear her own voice in the background, revealing that the tape was made on the very last day she saw her father. Setting in motion a chilling series of events, "Father's Day" culminates in the promise one more meeting. Well over a week after watching Holidays, and "Father's Day" is still firmly etched on my mind. A modern Blair Witch of horror telling that seems like it was torn from the pages of Poe. Hats off to Anthony Scott Burns for scaring the bejeesus outta me!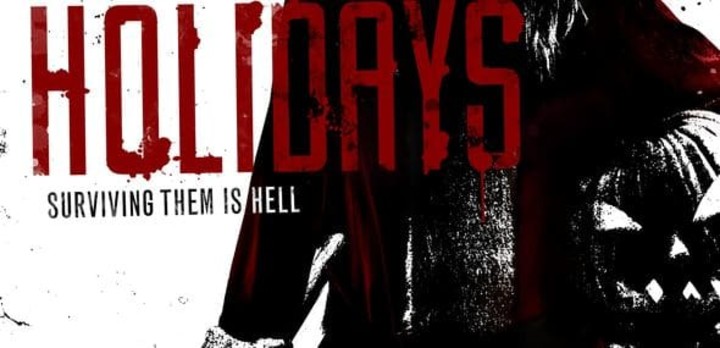 As with all of these horror anthologies, they are a mixed bag. Trick 'r Treat is one of my favourite films ever, but even that was a similar story. Whilst we still wait for a sequel to Trick 'r Treat, Holidays has you questioning whether it warrants a sequel too? ABC's of Death (also wonderful) already has two under its belt, and you certainly can't argue that anthology films run out of steam. There are thousands of budding young horror directors waiting to sink their teeth into this genre, so if we get more like Holidays, I say get biting!