Scream-A-Geddon
Best Scare Ever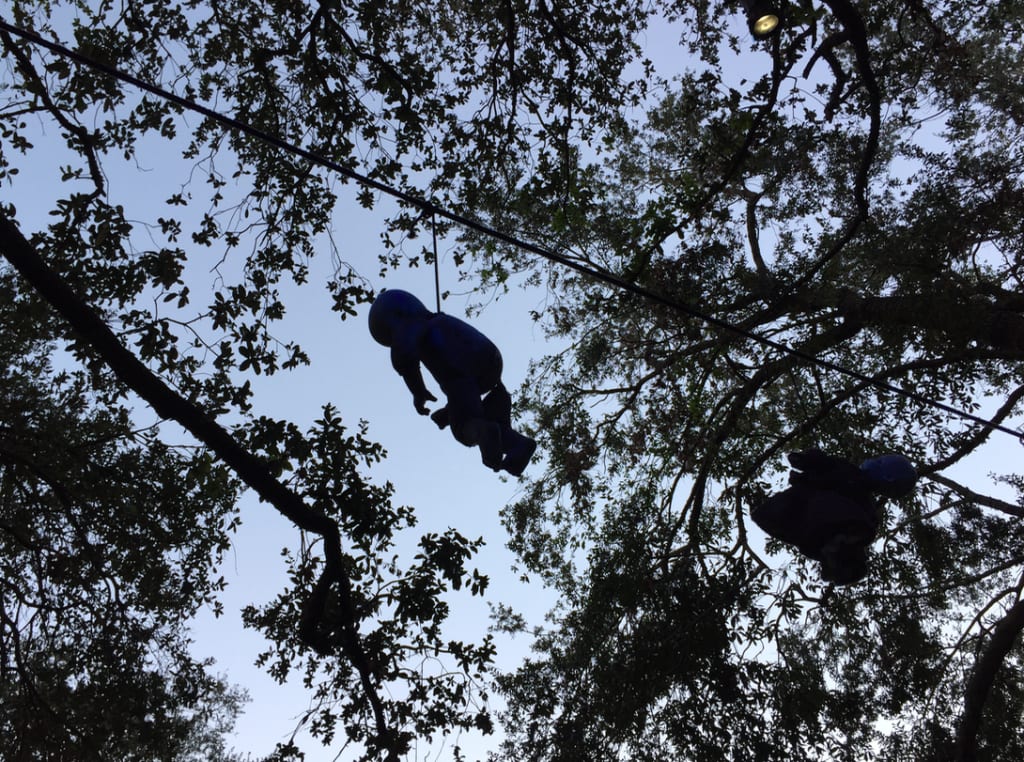 Halloween Horror Nights at Universal (HHN). Howl-O-Scream at Busch Gardens (HOS). ZooBoo at Lowry Park Zoo. The Horror Trail in 1980s' Carrollwood where actual cows' heads hung from the trees and a headless horseman roamed the woods. I've seen quite a few attempts at instilling fear, but haven't felt it. I think I found it at Scream-A-Geddon in Dade City, Florida.
I passed the empty acreage on my way to class at PHSC-Dade City, and in the beginning of September I started to see something being constructed. The posters along the side of the road said "Scream-A-Geddon" (SAG). I'd seen the billboards for this event as far as Tampa and didn't realize this was it. It was only when my instructor, an expert in the horror genre, said he'd never go there that I became intrigued. What was he afraid of? What did he mean "it's sketchy"?
I planned to attend this sketchy horror-fest one night after our Monday night class ended at 8:30, the moon looking beautiful up in the clear sky. I brought my 23-year-old son with me in case a human sacrifice was involved. I didn't have much cash on hand because I figured it was a low-cost haunted house. I first had to fork over $10 for parking. When I asked how much to get into the event, the money collector had no idea. I asked the people in the car parked next to us and they said it was cheaper to buy the tickets online. I went online and had to download a confusing app called Eventbrite where it shows prices from $10-$119. I couldn't navigate that app easily, so I hoped that the box office accepted credit cards. Thankfully, they did, and I learned that having Facebook up on my cell phone counted as ID. The $35 per person for general admission seemed steep, but we paid and went in. Next time I will buy the tickets directly from the place online because it's cheaper. Prices go up on the weekends and later in the season.
Campfires and kettle corn are the first smells to hit us. Contrast this to the smell of piped-in-poo and rotten dirt at Howl-O-Scream. SAG has a cozier atmosphere; the big parks are spread out over thousands of acres, and the inclusion of roller coasters and movie sets just makes them more tiring to walk through. The helpful map posted just inside the entrance outlines the place: five haunted areas around the outside of a central outdoor courtyard replete with creepy trees. There are additional events along the perimeter such as a Zombie Paintball Assault, Monster Midway, and a Climbing Wall. Scattered between these events are food vendors, beer places, gift shops, photo booths, and other county-fair type booths. In the center courtyards are fire pits and picnic tables to enjoy pretzels and lemonade (or a Strawberita). The fire pits would have been perfect if the weather were chilly. Some of the scare actors could be following you throughout the central common areas. I thought that was a very nice touch. We decide to start with Infected: Ground Zero, an interactive event.
The general admission ticket has us standing a long while in a dark area where mosquitoes dance around our necks. Line jumpers who didn't feel like standing in line bother me to no end. At the front of the line some people opt to take a glow-in-the-dark necklace; those are for people who don't mind "being touched, moved, or killed" according to the sign. I said, "No thanks, not this time," and my son, the brave one, opts in. The scare area is set up as a zombie contamination unit. Lots of zombies. Then one of the undead takes my son away to I-don't-know-where and leaves me alone with the other mutants. After wandering through a maze of tents I meet up with him at the exit. They had tried to cut his beard off because they said he was contaminated. I don't know if he was joking or not.
After waiting that long and seeing line jumpers, I visit a booth and buy the upgrade to VIP passes which allow us to bypass the lines. WELL WORTH THE EXTRA MONEY. Before we leave for the night, we use the last punch on the card to do Ground Zero again, this time we both have neon necklaces. In one area I am thrown down into a dentist's chair while a zombie attempts to pull out my teeth out or cut my fingers off. I talk excessively when I'm nervous, so here I am crouching in a fetal position shouting, "I love you!" to a zombie in hopes he'll leave me alone. But then he does, and now I can't get up (I have no core strength). I shout back at him, "Hey! You put me here, now help me up!" Mr. Zombie gets my son to come back and help me up. 'Twas all fun.
There is Blackpool prison, another interactive, where they throw me in a jail cell and make me crawl through little openings into the next room. They separate me from my son and lock me in a closed room with a "dead" convict. This adventure is not for the faint of heart. However, I must admit it is fun as hell.
How does this compare to Busch Gardens and Universal? First of all, the houses at HOS and HHN have to follow safety guidelines and ADA rules; the paths through the houses are much farther apart there, and there is strictly no touching. At SAG, the walkways became narrow and short at times, putting me up close and personal with the actors. The pathways in the outdoor Deadwoods are barely lit with tiny candles (Think: Deliverance). I couldn't see in front of me most of the time, increasing the startle factor. SAG also tends to separate the groups more, so I can't see what happens to the group in front of us. Many of the actors follow me around and scare the bejeezus out of me while at the big parks the actors have smaller areas they have to stay in. Many of the places at SAG have multiple paths and exits, and they are planned that way so you don't know which way to turn while you're inside. If you get separated from the other people in your party, you are there terrified and alone while multiple crazy people come up to you to inches away from your face and breathe on you and talk about how they're going to murder you.
The drink selection was better than HOS; SAG had more beer and adult beverage choices. The drink and food prices, though, were similar to Busch Gardens in that one drink could cost eight dollars. Timing is also important to consider; we attended early enough before Halloween that it wasn't crowded. It was a little bit warm and muggy and mosquitoes got really bad. There was a light breeze going and the lines kept moving as long as you had that VIP pass.
I felt safe with the security there. There are many officers hired for the event, and we saw them in action when patrons became unruly. We saw the officers take charge a few times throughout the night. Some of the people couldn't refrain from vaping in line even though they were told not to. The demographic consists mostly of high school students and young twenty-somethings addicted to their vapes.
I plan on returning next year. I will start with the liquid courage which might make the 3-D glasses work better in the Rage 3-D house. It is easy to get from place to place, and having a VIP pass is a must. Don't forget to bring your ID for the over-21 wristband to make it much easier to get a drink between houses when it becomes necessary. Long pants and closed-toe shoes are other important things to bring.
I can understand some people calling this place "sketchy": we didn't know when or if something was going to fall down or if something was going to attack me at any given moment. If you fear port-a-potties, go before you go. Just remember that if you are wearing that glow-in-the-dark necklace, you could have someone grabbing at your ankle, or pushing you along, sometimes taking your arm and moving you away into smaller places. For your scare value, this is the way to go. It's a good fright all around, and I enjoyed all the blood, sweat, and tears they put into this event.
psychological
Ready for a new direction after 32 years of teaching high school English. I wrote my first poem about green socks in 1977; I hope I've improved since then.