'Scary Stories to Tell in the Dark' Movie Review
Man, "Reading Rainbow" Got Dark!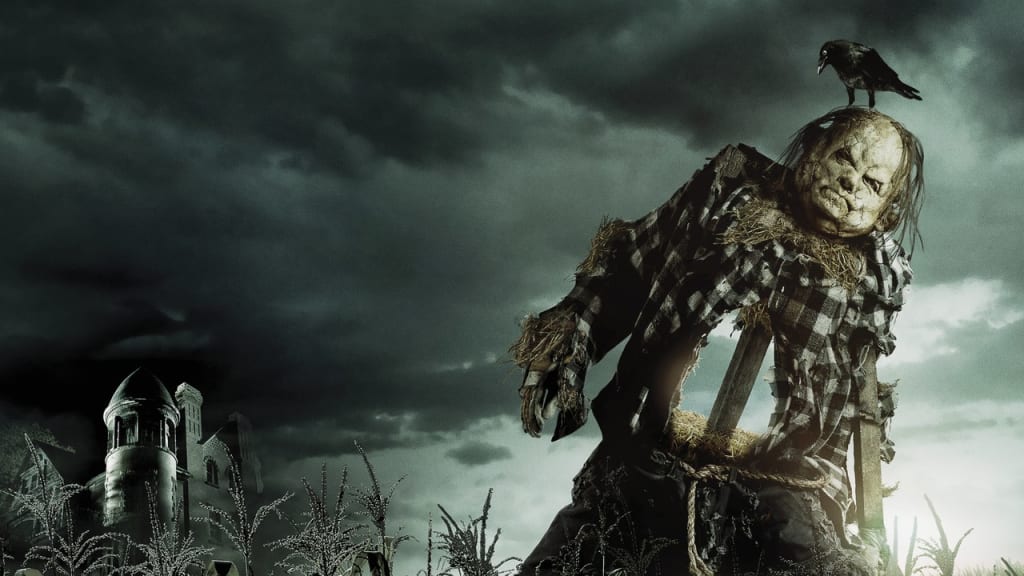 Based on the popular trilogy of books of the same name, Scary Stories to Tell in the Dark involves a group of kids in the late sixties who sneak into an allegedly haunted house on Halloween night. After finding a book of scary stories written in blood (supposedly by a vengeful spirit), it quickly becomes clear that these local legends are true. And before long, new stories begin writing themselves—with them as the characters!
I remember these books being super popular when I was a kid. They staples of sleepovers, recess, camp, etc. I was very easily scared back then; hardly the horror fanatic I am now. But these books had a certain "forbidden fruit" quality to them. I knew they would keep me up for days, but I was always curious to see if I would be brave enough this time. I was pretty much always wrong. I have memories of my friend Patrick tormenting me by quoting these stories, and I now look back at those memories fondly. I feel like this new movie version will operate very similarly. It's just edgy enough to make 10 to 12-year olds feel like they're watching something just a little bit too mature for them, but other than some fairly steady PG-13-level profanity, there's nothing truly "inappropriate" for them. Scary Stories to Tell in the Dark actually manages to find some really creative ways to work around its PG-13 rating. There's a couple of instances of truly unsettling body horror that they manage to make entirely bloodless, and I was pretty impressed by that. The plot is somewhat similar to 2015's Goosebumps, but whereas that was more of a family-friendly adventure that featured monsters, this one is a true horror film. Much like last year's The House with a Clock in Its Walls, but aimed at slightly older audiences, this is a film that is entirely unafraid of being truly frightening, despite its demographic. I really respect that. The only downside to that is that there were a couple of times where I thought they were going to go a little darker (especially towards the end), and that's when you're reminded that it is still geared toward teens and preteens. That was a little disappointing, but the film still feels braver than most in that category.
The acting is good enough. There's one girl (Zoe Margaret Colleti) who is given some heavier subject matter to work with than the other kids, and she does a pretty good job. Her father, played by character actor Dean Norris, is also able to show some slightly more dramatic moments, and he's great. Other than that, nobody is bad, or even mediocre, per say, but it's just not that kind of movie.
One of the coolest and scariest aspects of the books were the surreal illustrations by Stephen Gammell. And those drawings are brought to life exquisitely. The attention to detail in the recreation of Gammell's designs is astounding, especially with two particular monsters (which I won't spoil). The effects are also really good. A fair amount of them are done practically, but even the CGI is pretty effective. Most of it is hidden in shadows, so it's never too distracting.
Scary Stories to Tell in the Dark feels very much in the spirit of the original books, and recreates the stories therein rather well. The creepy, often unsettling, artwork by Stephen Gammell is recaptured perfectly, and despite a few instances of unearned relief, it's still surprisingly unrestrained for its target audience.
SCORE: 4/5