Rock & Howl
You Just Might "Lycan"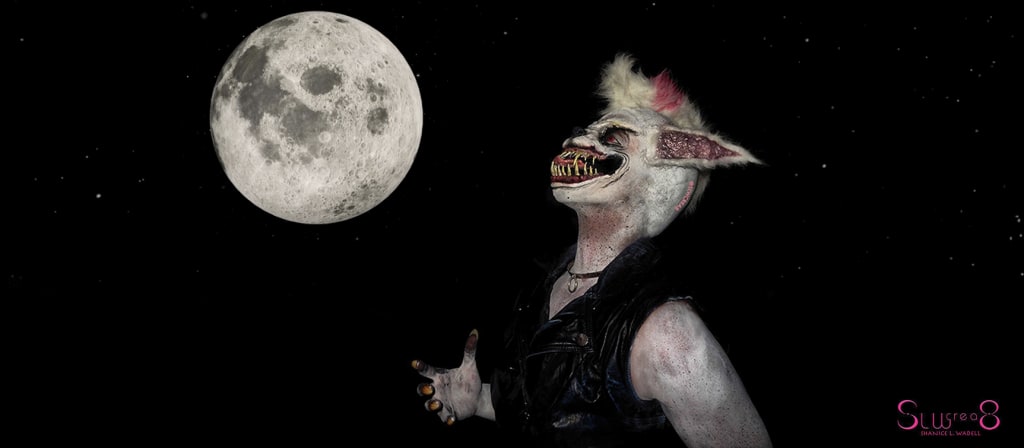 Makeup Art / Model / Photography / Short Story: Shanice L. Wadell ~ SLWcrea8
Did you know this Halloween (October 31, 2020) it will be this month's 2nd Full Blue Moon? The perfect combination for all the ghost and ghouls to come out and play. And even more fitting for a werewolf set out and prowl the night! Well what do you say? Are you ready to…
Rock and Howl!
The night was cool and dark. It's only silver lining was the great radiant moon, complete and robust. With the full moons presences, it brings out a different kind of rowdy crowd. Here comes on of them now… Roxi Girl. Ohhh, don't be fooled by her intimidating mug. You see, Roxi is not like the other werewolves. When the moon shines bright, all she wants to do is Rock & Howwwwwwwl! ~ Short Story By: Shanice L. Wadell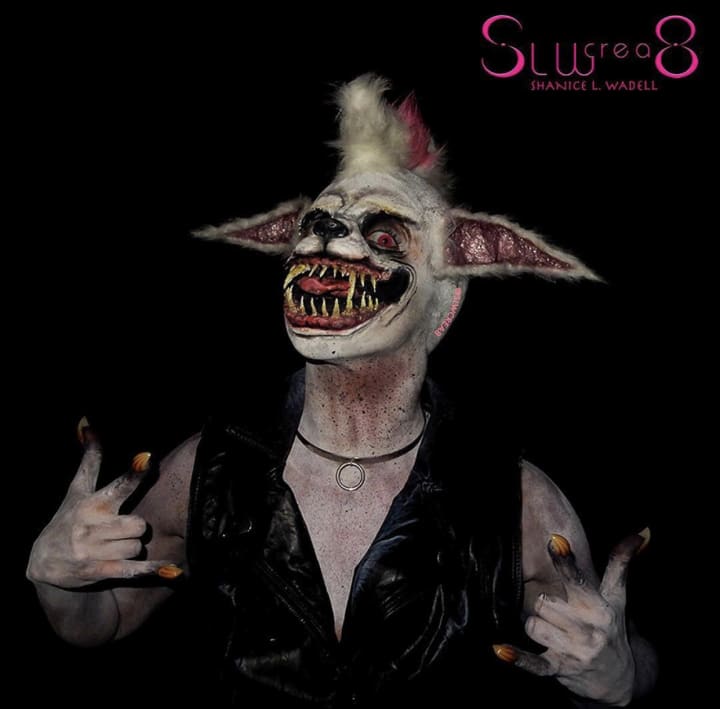 This look was definitely a fun one. Still bringing my dark edgy flare but also giving a quirky playful touch. Certainly outside my "norm". Being that there will be a full moon on Halloween night this year, rolling up in my finest Werewolf Attire is a no brainer! With that said, let us get into how I accomplished my rocker lycan!
The Prosthetics + Accessories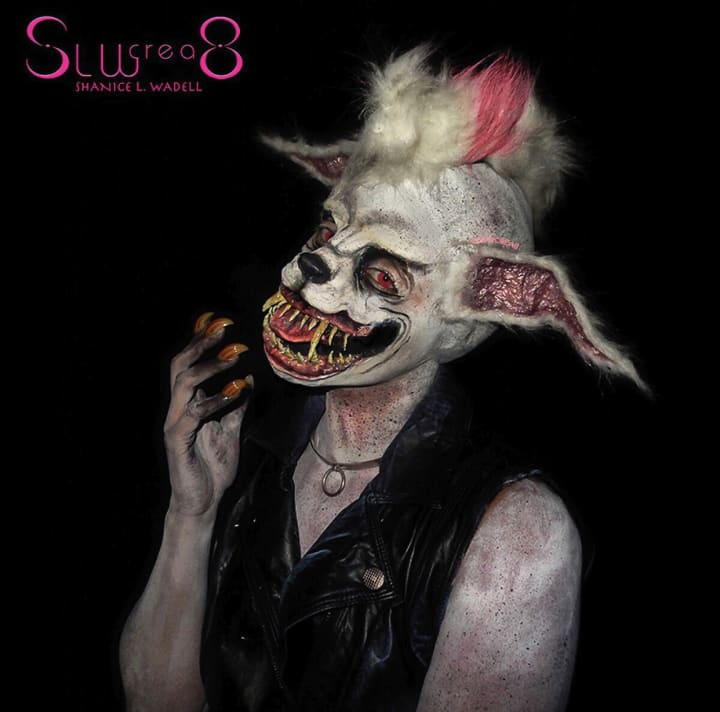 Of course all of the prosthetics and accessories were homemade, including Roxi's "mean" mug, the werewolf ears, and the pink streaked Mohawk. Tinfoil can be a Halloween enthusiast, SFX Makeup Artist, or Cosplayers best friend when it comes to creating a look! And that is exactly what I did for the Werewolf Ears and the Mohawk.
For the ears I shaped them with tin foil making them look long, pointy, and narrow. There were plenty of horror movies to reference for me to get an idea of how a "werewolf" ear should look like. I then covered the tin foil shaped ear with a layer of liquid latex, let it fully dry, and then layered it with setting powder (this step makes it easier for me to paint the tinfoil later on. Next, I took some old leftover white faux fur fabric that I had been holding on to from Halloween years prior. I actually cut the hair off from the fabric backing and then individually laid the hair down with fabric glue. I made sure that all the individually faux fur was going in the same direction. I also made sure that I started laying the faux fur from the tip of the ear going downward so that the hair would look more natural. Once laying the hair front I took some water activated paint and put a hint of pink where the inner ear would be and lastly took some darker shades of eyeshadow and gave the inner ear some depth.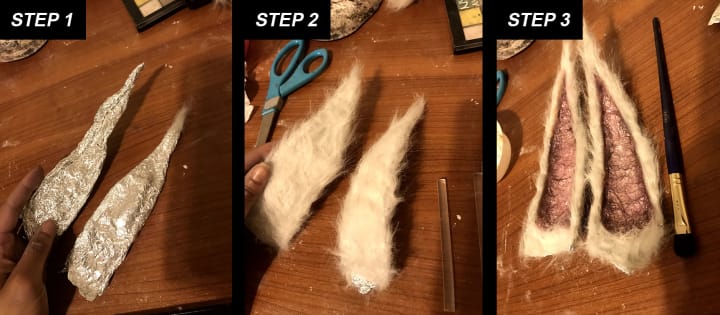 Next came the Mohawk. Again, using some tinfoil I shaped the form of what I wanted my Mohawk to be. I used a styrofoam head form with the similar head shape as me so it would have a nice fit to my own head. Using the same white faux fur fabric (this time keeping the fabric backing attached) I cut pieces out and shaped them up onto the tinfoil form with hot glue. Once that was finished I gave it a nice pink rock-star stripe.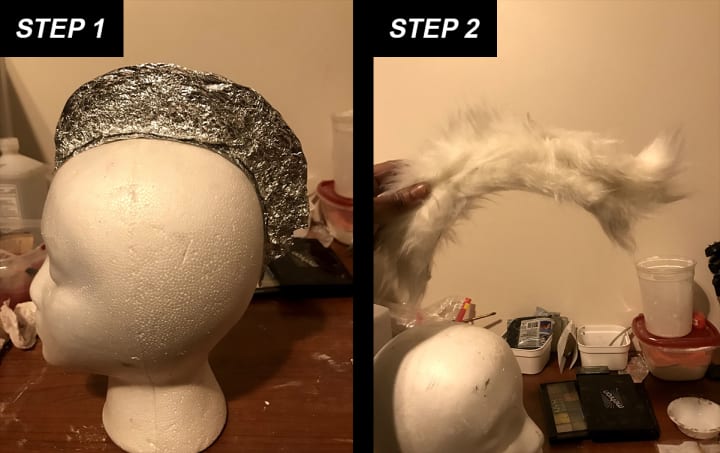 Last but not least, there was Roxi's mean muzzle of a were wolf nose and mouth. For this I actually wanted the bottom jaw to move freely so it looked like it was a natural movement when opening and closing my mouth. First, I used my own plaster face cast form so I would have my exact face measurements. Using modelit lightweight air dry clay I shaped out and carved the bottom jaw piece, the upper mouth piece, the tongue, the nose and the brow. I let that air. Before the face piece was completely dried down, I made tin foil werewolf teeth and coated each individual one with liquid latex and let dry (again to make it easier to paint over). I place the teeth were I wanted them to lay in the gums of the mouth. Once the face piece and teeth were completely dry, I began the painting using a mixture of water activated body paint and acrylic paint. To hold the teeth in place I hot glued them within each designated gum hole. For the final touch to make the nose, lips, and gums look like they were wet, I put a coat of clear nail polish. It gave it a nice lifelike touch!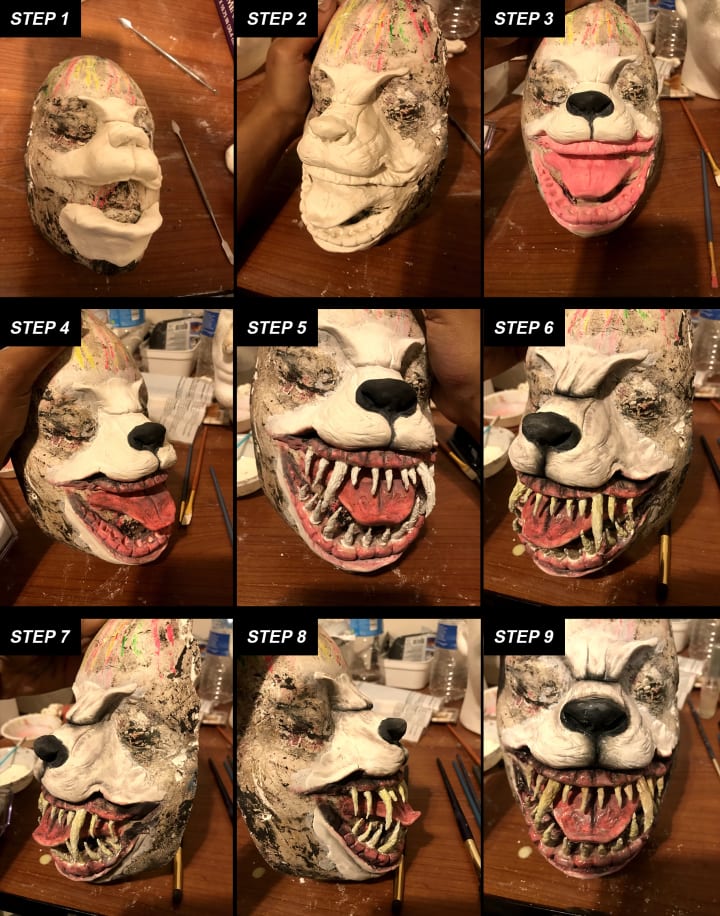 The Body Paint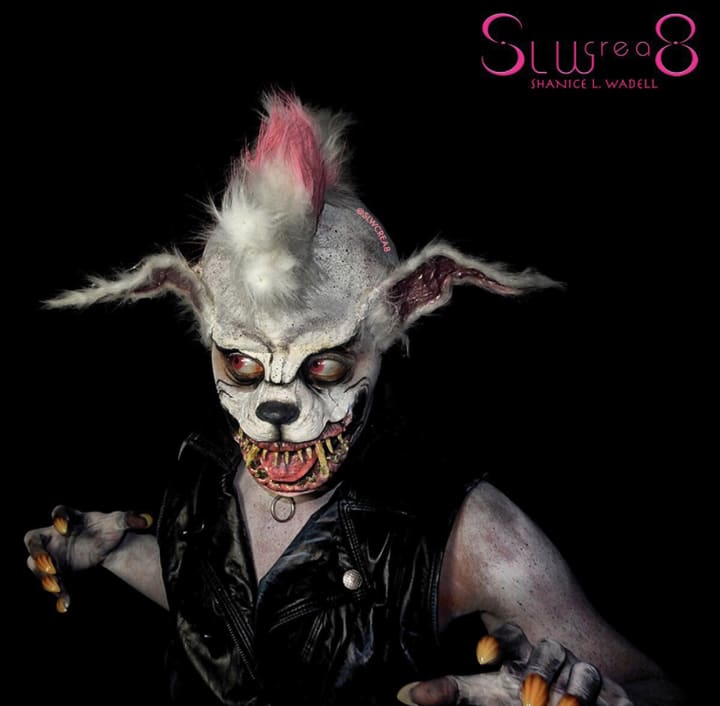 Using a mixture of my favorite items, I brought Roxi to life! Please see below for products used.
Bald Cap ~ To cover my own hair
Mehron Makeup~ AQ Paradise Body Paints in White, Black, Pink, Yellow
NYX Cosmetics ~ Ultimate Brights Palette, Avant Pop Palette, and Perfect Filter Palette
Anastasia Beverly Hills ~ Powder Contour Kit in Medium Palette
Funky Eyes Lenses ~ Pink Lenses
Graftobian Makeup ~ Pros Aid (it's what holds everything in place without budging!)