Robert Kirkman: A Life of Comic Horror
A Small Biography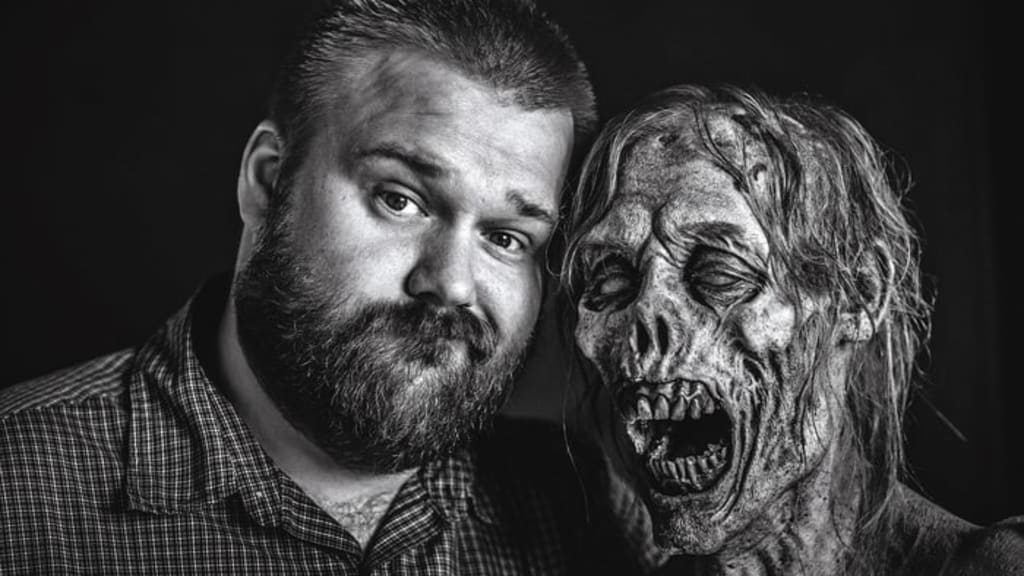 Robert Kirkman: A Life Of Comic Horror
The Walking Dead is one of the most gut wrenching television shows of all time. From the survivors encounters, their personal emotions, and especially the drama and horror that eludes the show. The Walking Dead has gained a huge immense of popularity, with over 15 awards and 8 seasons. This famous series wasn't created in a board room full of executives though, but based off a post apocalyptic drama comic. With three compendiums, 28 volumes, and 165 individual comics under his belt, this series was made by the comic book genius, Robert Kirkman.
Early Life
Robert Kirkman grew up in the large city of Lexington, Kentucky. He didn't have too many memories of Lexington, but his mom worked as a homemaker and his father worked as a sheet metal maker and an entrepreneur on the side. There was not a huge inspiration around him, but there was on the family tv. His parents always rented out horror movies, but he wasn't allowed to watch them at a young age. So he always snuck behind the couch the night they were watching horror flicks, and was always fascinated by them. The one Robert especially loved, was Night Of The Living Dead with George Romero. The concept of zombies breaking into a house, and he has to fight them off to survive was an amazing concept/inspiration for him when he started making the comics. Robert Kirkman still remains a huge fan of George Romero.
Working with Image Comics
Robert Kirkman first created his first parody superhero comic,called battle pope. He co-created this comic with his long life time friend, Tony Moore. After they both wrote the series under the publisher Funk-O-Tron, they were approached by Image comics to do a superhero miniseries called Super-patriot. Both Robert Kirkman and Tony Moore were both working well on the superhero comic line, but while in the works of the writing, Robert met up with Cory Walker and collaborated on a comic called invincible. The comic boosted Images super hero line to fame, by adding authenticity of what superheroes have to endure, with gore inducing fight scenes to the confrontations the hero's face. Robert Kirkman made a strong bond with Image, after boosting them to the top.
'The Walking Dead'
Shortly after writing the popular superhero series Invincible in 2003, Robert Kirkman pitched the idea to Image comics, about a zombie outbreak in Atlanta. Robert Kirkman didn't want to let this idea fail, so he lied about some parts of his idea, in order to go through the next stages. Tony Moore helped Robert for the first six issues, until Robert switched Tony to draw the cover art. Robert switched Tony, since he took too much time on the plot drawings. The series was gaining traction, and he needed to hire someone fast to release more issues. This is when Robert met up with the now present plot drawer, Charlie Aldard. After continually making new issues for long time followers and new discovers, The Walking Dead finally hit its big break.
'The Walking Dead' Publicized
In 2010, Robert Kirkman signed with AMC to make his comic into a t.v. show. The first episode was released on October 31, 2010, with over 5 million U.S viewers. Robert Kirkman also became a producer on the show, and worked with director Frank Darabont. On August 23, 2015, a spin-off of the walking dead aired, showing what happened before the virus. Over 10 million viewers watched the premiere. The Walking Dead has also expanded on their merchandise, by even teaming up with McFarlane toys, to create action figures and statues of the cast in the comics and on the TV show. After all the huge acclaim the show and comics were getting, Robert Kirkman announced in 2010, that he would be making a separate company that pairs up with Image comics, called Skybound Entertainment.
The Legacy Of 'The Walking Dead'
With the major gain of popularity The Walking Dead has been gaining, almost nothing could stop Robert Kirkman, until Tony Moore came back and filed a lawsuit. He claims that Robert fired him, so he could take all the publicity and money for himself. Robert said with his agents, back with the original contract negotiations, that Tony would receive 60 percent revenue for the comics and 20 percent revenue for the t.v. show. He figured out later on, that he was not gaining that much money that he should have. Robert Kirkman stated, "this lawsuit is ridiculous," and also said that he only hired Tony for the first six issues. Tempers flared for both parties, until the case was settled in a federal court in July. A notice of settlement was filed and the rest was confidential, but it seems like Robert Kirkman kept all of his entitlements. The Walking Dead's legacy is still going, with more comics to come and a season 8 of the TV show. Robert Kirkman and his wife live in Kentucky now, with their son named Peter Parker Kirkman, after Spider-Man.