'Pearl' Movie Review
Original Cinema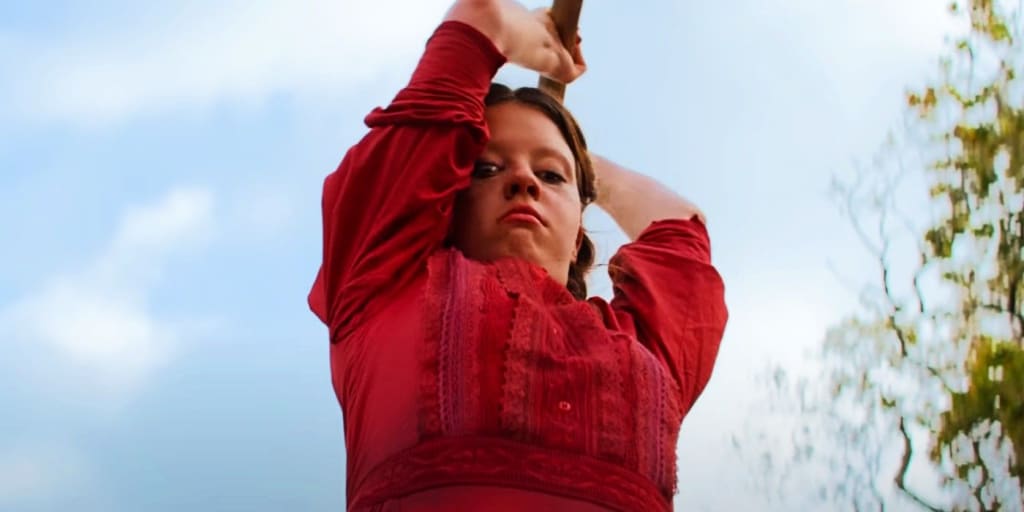 Pearl is the story of an ambitious young dreamer (Mia Goth) who lives on a farm in Texas as the end of WWI approaches. She wants nothing more than to leave her overbearing mother (Tandi Wright) and paraplegic father (Matthew Sunderland) and be a dancer on the big screen, and she'll stop at nothing to get it. Nothing.
When Ti West's new slasher X came out this past March, after the credits finished rolling, viewers were given a surprise teaser for Pearl, a prequel nobody even knew was in the works. With Mia Goth's stellar dual performance in X, everybody was stoked to find out she would be doing more with the Pearl character. I don't know if I'd say that Pearl is better than X, but it's most certainly in the same tier. The two films are surprisingly different, especially from an aesthetic standpoint. While X was very gritty and sleazy, Pearl is, for the most part, very bright and saturated. Both styles and color palettes are indicative of their respective settings, with X paying homage to 70's exploitation films and Pearl being more evocative of golden age Hollywood. I love the stark colors on display here. The old-fashioned Technicolor look makes the sequences of gruesome violence that much more jarring, especially with the prominent, popping reds.
While Mia Goth only plays one character in this film, Pearl is still no less of a showcase for her immense talent. This is also Goth's first screenwriting credit, having collaborated with West on the script, and you can really tell that she put her heart and soul into every frame of her performance. While X was an ensemble film, Pearl is an actor's calling card. This is not to say that the other players onscreen are unremarkable. Tandi Wright is excellent, embodying elements of both Nurse Ratched and Margaret White, while still never being quite as evil as either. It's obvious from her performance that her character also has something of a traumatic past, which is only further exasperated by her husband's condition. It's also clear that she knows her daughter is unstable, despite the limited knowledge of mental illness at the time, so she is constantly on edge. I appreciated that Wright chose to go this route instead of playing up the malice towards Pearl as cartoonish. It makes both characters that much more fascinating.
While it isn't quite as thematically heavy as X was, Pearl still has plenty beneath the bloody surface. Repression is still a recurring theme, although this time it's less about sex specifically and more about simply wanting to experience more than what one's immediate surroundings have to offer. There are actually quite a few parallels to The Wizard of Oz, both visually and thematically, and I got a good chuckle out of that. The movie is surprisingly humorous (in a very bizarre way, of course), and this is also largely a testament to Mia Goth's committed performance. There's a particular gag involving the end credits that I found incredibly funny. The film also creates a clever parallel to the present day by involving the Great Influenza epidemic, even including the use of face masks. While I would have liked to see some actual commentary involving this, rather than it simply being a plot detail, it was an amusing touch, and it makes me wonder what it will be like to see future movies set in 2020-2021.
Pearl is exactly the kind of nasty (and darkly comic) further exploration the titular character needed in a prequel. Mia Goth commands the screen with marvelous conviction and continues to prove that she is a force with which to be reckoned, not just in the horror genre, but in the industry as a whole.
SCORE: 4.5/5
TRIGGER WARNING: parental abuse
About the Creator
I'm an actor and director of stage and screen. But I also dabble in standup, and on this site, horror movie criticism. I'm just a guy who loves horror movies, and I like to share that love with the world.
Reader insights
Be the first to share your insights about this piece.
Add your insights