Nope review: Is Jordan Peele's latest sci-fi horror his best film yet?
Jordan Peele and Daniel Kaluuya team up again for Peele's latest sci-fi horror: Nope.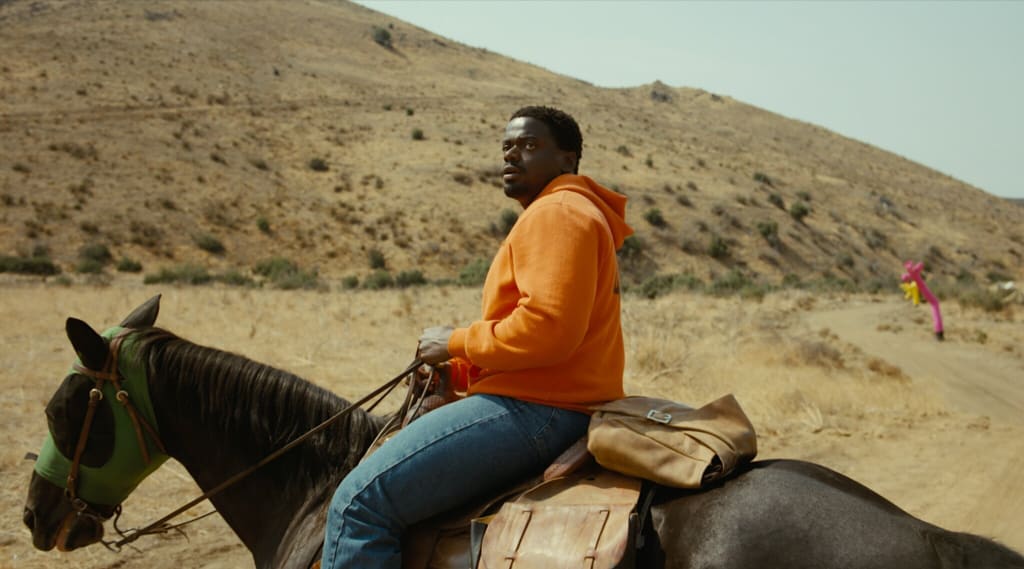 Daniel Kaluuya as OJ.
In 2017, Jordan Peele, best known, at the time, for his comedy work on the popular sitcom Key and Peele, and a variety of feature film outings, including Keanu, shocked cinemagoers around the world with his horror film debut, Get Out, which singularly redefined the genre, receiving critical acclaim and later earning the director/writer his first Oscar for Best Original Screenplay. The mixed response from audiences over its genre notwithstanding (something Peele later lamented when acknowledging the genre confusion caused by the Oscar-winning flick), Peele created something truly special with Get Out, providing a terrifying and wholly unique look at liberal racism through intensely provocative social commentary and a deeply unsettling premise.
Five years on, and two memorable film outings later (Get Out and 2019's Us), Jordan Peele returns with Nope, another genre-bending horror, which tells the story of two siblings running a horse ranch in California and making a mysterious discovery that could change their lives forever.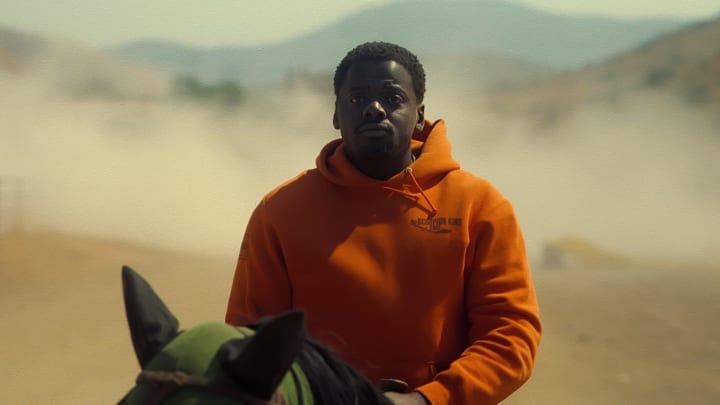 In typical Jordan Peele fashion, Nope is, at times, bizarre, side-splittingly funny, and much like Get Out and Us, rife with pertinent social commentary. On this occasion, Peele explores society's obsession with spectacle and the detrimental lengths an individual is willing to go to, to observe it. Nope cleverly examines the various ways in which this obsession can affect society by highlighting its impact on the individual alone, as well as society as a whole.
Nope opens with an excellent and immediate introduction to its premise, briefly outlining the devastating impact of an event in the 90s involving a chimpanzee named Gordy that later becomes a "spectacle", as described by Steven Yuen's Jupe Park, sought out by members of the public with Park even profiting from the incident. When the event is later unveiled in its entirety (an extraordinary scene that not only serves as the film's highest moment but also splendidly fulfills its premise), it quickly becomes apparent just how desensitised society is. This is so well-executed, it's a shame the rest of the film fails to affect the same level of intrigue generated by the lead-up to and the eventual revelation of what happened on the set of Gordy's Home!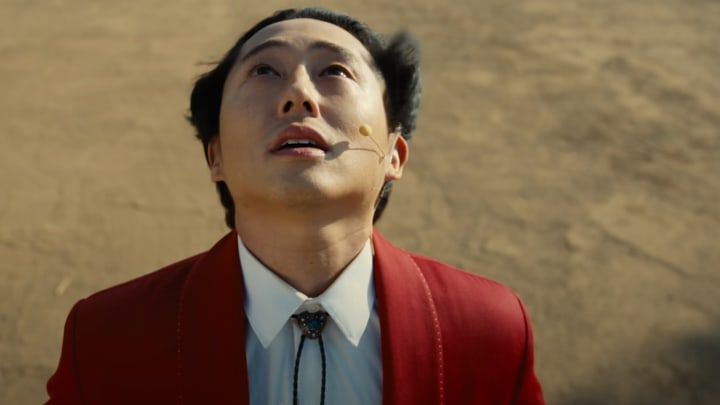 Nope is rich with motifs and visual metaphors, which both elevate the story and accentuate its themes. Throughout its 135-minute runtime, Peele highlights the various ways in which individuals capture or review spectacle, emphasising the fanatical connection today's world has with the Internet and digital technology. Whether it is a smartphone or a film camera, each character is concerned with the idea of preserving some elusive footage of this alien entity for financial gain. In essence, Nope holds a mirror up to western society (and beyond) and quite starkly reflects just how damaging this obsession with spectacle can be.
Nope puts a creative spin on an all too familiar trope to expose an incredibly harrowing side of popular culture. What makes Peele's Gordy's Home revelation so powerful is not merely its execution and extraordinary attention to detail (there is something immensely haunting about Nope's opening scene on the set of Gordy's Home and the flashing "applause" sign overlooking the bloody chaos before it), but also the strength of its allegory. The significance of the Gordy's Home scene's underlying message cannot be understated and lingers in the mind long after the flashback has concluded.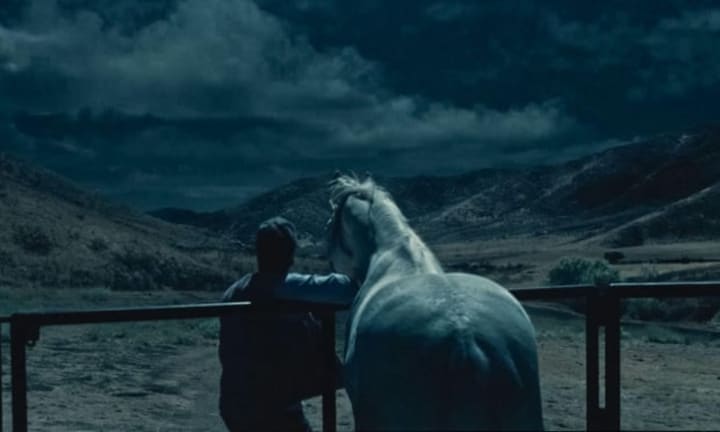 That said, while Nope certainly manages to be bizzare, thought-provoking, and occasionally funny, it lacks the multi-layered complexity of Get Out and the sheer horror and thought-provoking depth of Us. The story, though highly relevant, fails to leave a lasting impression (beyond Gordy's Home) in the same manner that Peele's previous films did. Undoubtedly, Nope's social commentary is both germane and time appropriate, but the film itself leaves a lot to be desired when the final credits roll. Its third and final act lacks finality, as its conclusion fails to provide the memorable apotheosis present in Get Out or the shocking and revelatory denouement found in Us.
In the end, some commendable ideas notwithstanding, Nope simply does not reach the heights of Peele's antecedent outings, inevitably making it the least formidable film from among the director's growing body of work. Nevertheless, Peele continues to demonstrate exactly why he is one of the most creative storytellers in film today, and why, despite its shortcomings, Nope is another solid effort from a filmmaker operating at the top of his game.
6/10
pop culture
movie review
monster
fiction
About the author
Spoken word artist, screenwriter, writer, aspiring filmmaker and visionary from south London! Founder of poetry-based company Just Rhyme; list writer for Comic Book Resources on all things anime.
Reader insights
Be the first to share your insights about this piece.
Add your insights