Neighbours (Part 6)
Chapter 6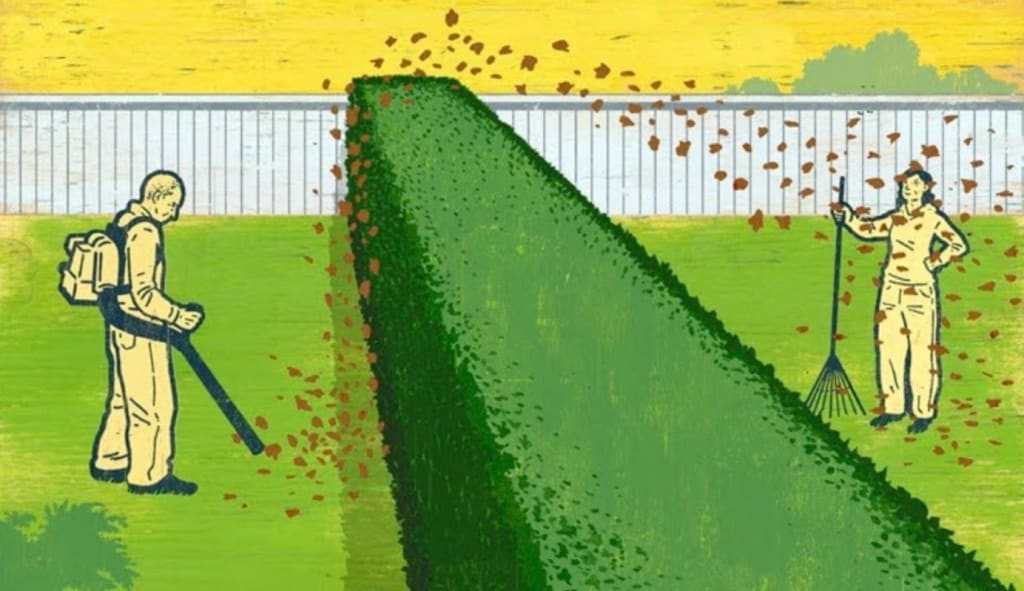 Is it normal to fall in love with a stranger? Is it normal to fall in love with a murderer?
7 AM
I wake up feeling an overwhelming sense of dread, which I cannot escape and I'm rather exacerbated by the fact that I have to go to work just like any other mundane person must. Why is it an obligation? A devotion? It should be the other way around. My company should be committed to my persona and my ideas. They should beg for me to come up with new ways to establish their footprint in this complicated and complex world. Yet they don't. Only Roy makes me feel as though I am something much more intrinsic to this society than just for my organisational skills or punctuality. He makes me feel special and different, like my whole self is being accepted by this stranger who oversees me from his window. Every day.
I get up while the sunlight filtering through my windows blinds me. I feel cold instantly, even though it is mid-September and summer attempts to remain a bit longer, unwilling to allow for autumn to settle in. I get dressed and brush my hair lazily, as I always do. My image is no longer that youthful, fresh, and hopeful look I had throughout my marriage. It's shifted to this obscure and unwilling attitude that keeps me alone, yet not lonely in my opinion. My shirt has a stain and I notice it as soon as I give myself one last look in the crooked mirror standing at the entrance. It's old, yet it allows me to reminisce on past days, when my father brought it inside my previous household. My husband looked at it like it was the most disturbing thing he had ever seen, yet I fell in love with it. It was an antique from a hidden boutique somewhere in New York.
"I got it for you both," I still remember my progenitor say. "Your mom thought it would look nice—give it a more... retro look."
I smile watching myself laugh, thinking my father had not wholly understood the word retro. I shake my head as I look at the stain again. It's somewhat brown, probably from coffee which marks the fact that I'm relying on it too much lately, even though I barely do anything outside of work—except for a few drinks some Saturday nights that I truly do not enjoy. I ensure everything is in my bag, ready to go and I come back for five when I'll be able to see Roy again, even if it's just for a brief period of time.
7 PM
I just met Roy before I entered my apartment. My mind is blooming with love and satisfaction. He barely noticed this girl with her dark stain on her white blouse. He did not force a smile, but rather an unsettling smirk, like he recognises me from somewhere, but does not want to ask. And that is exactly what I like about him. His subtleness and sibylline way of conducting himself.
For a while I didn't move, waiting for him to approach me or at least seem more interested in me. He looked back again, but not quite at me. His eyes were locked on mine with a chain that felt unbreakable.
"Do I know you?" he asked, his blue irises still focusing on mine and connecting in a way I have never felt before.
"Oh, I'm... I'm just your neighbour. Building in front of yours, ya know?"
He realised I knew all about it. The accident (I refuse to call it a murder) I had witnessed it, and he knows about it, yet he did not want to mention it quite yet. He stood, his grocery bag on one hand occasionally crunching, letting us know that there are still duties to fulfill and the conversation should end soon.
"You don't know many people, right? I mean... they aren't so friendly here."
He let out a laugh and raised his arm to hold onto my shoulder. It immediately went stiff as it subconsciously it wanted to protect itself from something... perhaps someone. However, I still believe it's partly due to my past with a husband who never loved me, yet still held me in his arms every day. I know it's not a gut feeling but instead an instinct I have developed after such a failed marriage—never trust no one, because no one can give you the satisfaction of your own company.
"Then why are you talking to me? That seems kinda friendly," his hand is still grasping my arm, caressing it with his fingers.
"Well..." I can feel myself turning red and hope my makeup is doing a better job than me at hiding it."I'm not like them. Come to my house this week. I'll cook something." I gave him my address shortly after since the conversation had to sadly come to an end. As soon as he released his grip from me I felt as though some part of me had gone with it and I need it to regain it. I felt alone as I watched him go and his grocery bag following his footsteps towards a kitchen, where a woman had enjoyed his company before leaving us, this world. Seeing him disappear made me anxious, each step marking our distance further, slowly making me feel as though the love of my life was leaving and I had to find a way to convince him to enter my life, to give myself to him.
Is it normal to fall in love with a stranger? Is it normal to fall in love with a murderer?
psychological
I love writing fiction stories, especially thrillers and fiction. Hope you guys like my stories!