Mysterious Judaculla Rock
A Strange Place You Can Actually Visit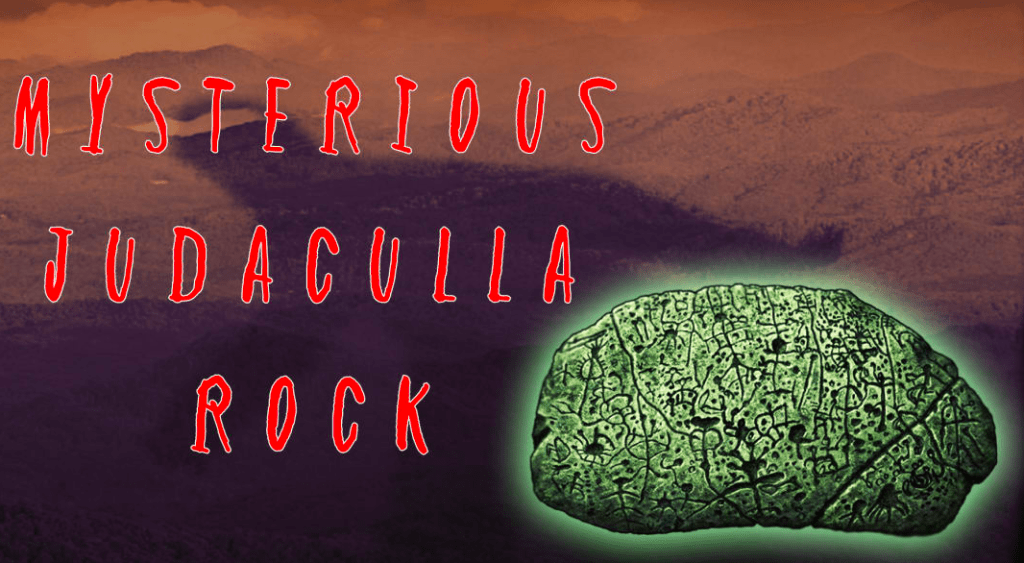 Way up in the mountains of Jackson County, near Sylva, North Carolina, there exists a giant, mysterious stone. What makes this large rock so mysterious is that it's literally covered with weird marks and pictures, that scientists believe to be thousands of years old—perhaps tens of thousands. Even Cherokee Indians think that the area is ancient, as they claim the rock was already there when the tribe moved into the area long, long ago.
This large soapstone boulder, filled with an array of strange symbols and writing, has been called "…one of the greatest archaeological mysteries of the North American continent…"
Everyone from college professors to codebreakers, to mountain shamans have tried—and failed—to decipher the meaning and true origin of Judiculla Rock.
Is it written in code from ancient people, or perhaps ancient astronauts, as a message or warning to those of us here in the future? Maybe it's even stone age graffiti, or even an advertisement "See Rock City," indeed. While no one can say for sure, the Cherokee have a legend that the carvings were done by a "slant-eyed giant with seven fingers on each hand" who once inhabited the area (contrary to popular belief, the giant most likely wasn't a resident of nearby Cosby or even a Walmart shopper).
The legend continues that the giant, named Judiculla, was also the "Great Lord of the Hunt," and dominated the mountains back in those days. Judiculla was a powerful being, and could jump from one mountain to the other, and could even create whatever weather phenomenon he desired. It's said that the giant even used the rock once to steady himself, leaving his seven-fingered handprint on the soapstone in the process. This is the same seven-fingered hand that Judiculla used (along with the talons on his feet, the legend says) to carve all the strange symbols and weird figures on the rock.
As it turns out, the Cherokee are not the only people to consider the site of the rock as a sacred area. It's rumored that in modern times, the rock is used in strange and bizarre "secret" initiations in the dark of night by a number of secret societies, fraternal organizations, and even some student-led groups from Western Carolina University, which is located not too far away.
The local folks can tell you that—possibly because of these occult-like rituals—that the stone has a become somewhat of a paranormal "vortex" or hot spot, complete with weird noises, ghostly apparitions, strange lights around and even above the boulder—ghosts, UFOs, general creepiness… What more could you want from an already historically significant site? And, if that's not enough, there's an ancient cemetery just a hundred yards or so away, which is also purported to be actively haunted…
If you have any interest in historical archeology, ancient peoples, folklore, and the paranormal (or all the above), then make sure you visit Judiculla Rock on your trip to the nearby Great Smoky Mountains National Park.
Here are driving directions, courtesy of JudicullaRock.com:
"From US 74, take Exit 85 to Business Route 23 through Sylva. Stay on 23 1.3 miles to NC 107, then turn left onto 107. Drive 8 miles south on 107 and take a left onto Caney Fork Road, County Road 1737. Go 2.5 miles then turn left onto a gravel road and drive 0.45 mile. The rock is on the right, and parking is on the left."
Please note that although Jackson County owns the property that Judiculla Rocks sits on and you can visit totally free of charge, there are no toilets or concessions or anything other than the rock itself, and a boardwalk-style viewing area. Please do not play on the rock—soapstone is very soft by nature and human contact can result in speeding up the erosion of this ancient site.
I recently narrated this story for my YouTube channel: Thirteen Past Midnight.