My First Halloween Horror Nights
The announcement of my favorite Horror Event's cancellation had me feeling a little maudlin and I hope you can oblige my whining . . .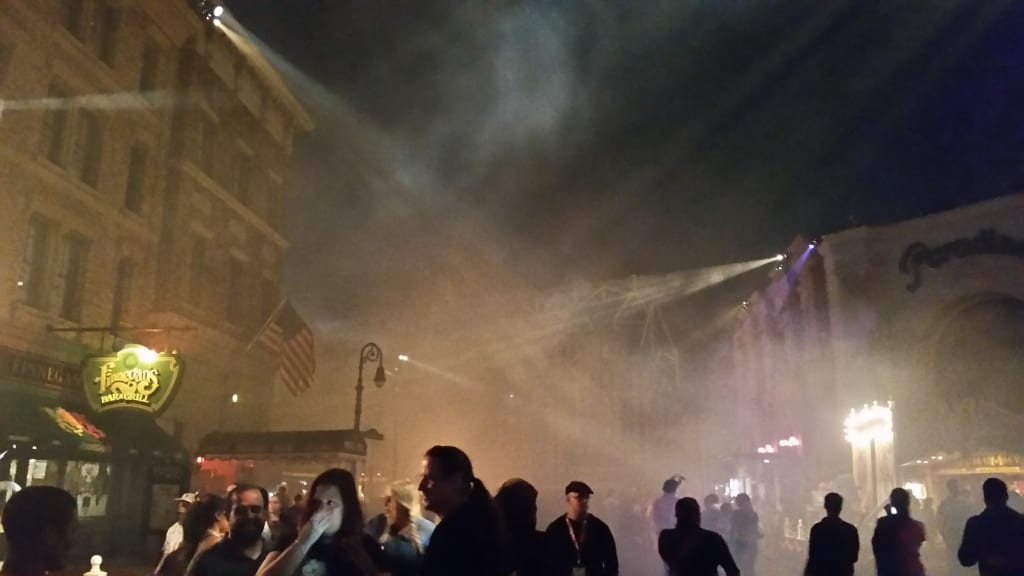 I cheated, this is actually a picture from HHN 25 but . . . !
Halloween Horror Nights 30 is cancelled. There won't be a fantastic anniversary bonanza, not an Academy of Villains show, or a chance to wear old HHN memorabilia in a silent war of event elitism.
It Sucks.
I've been to seven Halloween Horror Nights. Seven years of visiting, two years of working them. One year as an R.I.P Tour guide, the other as a scare actor. I was looking forward to working this momentous year in whatever fashion I could but . . . we all have had to make some adjustments on what our expectations should be for 2020 huh? With the E-Stop hit on this special event, I couldn't help but reminisce on that first, special year.
How Did This Beautiful Relationship Begin . . .
My first year of college, actually this was my first semester of it. I was attending the local college at the time and living at home still. I think my mom had surprised my brother and I with this trip about two-three weeks before we would actually go. Man we were so stoked about this trip. We were no strangers to Universal Studios, having been annual passholders while I was still in middle school, and having taken plenty of trips up there from the time I was 3 until about five years old when I started school. We've got pictures of my brother as a very confused infant swaddled in blankets by Fivel's Playground.
One thing we'd never done though? Halloween Horror Nights. The event didn't land on my radar until I was nine years old actually. I saw the old Coca-Cola commercial, with the sweaty dude running through blindingly white rooms with walls that moved and a weird body bag. At that time I was more intrigued with Coke's cool horror themed ad and didn't even realize it was an ad to help promote the event. The next year though, was 2005 and the year of the Storyteller. That ad on the TV had me hooked, and though I didn't realize it at the time, would help cement a lifelong fascination for the horror genre. I still remember it- that sweet looking old lady telling a story to what I assumed would be a child, her sweet kitty lying comfortably at her feet . . . only for her to move to the bedside of a whimpering man, wrists shackled to a BED OF NAILS; the scream he loosed when she cut the cord that signified his end . . . ugh, it still gives me chills. I kept a careful eye on the television for more ads, and gabbed to my parents about how scary it all was. They of course brushed it aside, content I wasn't asking to go to the event and feeling no need to further explain it.
All I knew at the time was that it was an event that came around every Halloween at a park I had once been to as a small child. I needed no more than that to dream about it. Every year after 2005 I eagerly awaited the newest advertisement for Halloween Horror Nights. The years passed . . . Sweet 16, Carnival of Carnage, 20 Years of Fear, Lady Luck . . . they all passed by and I watched with ever increasing envy for those who got to go. It's funny, I look back and I was the only one of my friend group talking about this year after year. Not too many other kids cared about going to this. The only one who shared my desire to go was my little brother, but no matter how much we begged our parents to go we were staunchly denied. Our parents absolutely refused to grant our wishes; mom didn't think we were of the appropriate age (she wasn't wrong and it was a valid reason) and my dad did not approve of us doing anything to celebrate halloween or events like it (you can't even imagine how disappointed he is in my life choices every fall since I've moved out).
Somewhere a little after 2008 my family got high speed internet. No more watching that yellow thick stick from AOL running around for me, no sir . . . the arrival of high-speed internet brought about an obsession with Youtube for me. Remember early mid 2000's Youtube, with the Anime AMVs and Llamas with Hats? That same Youtube also hosted a cornucopia of Halloween Horror Nights memories for my brother and I. There were so many people who happily, graciously posted their slightly shaky walkthrough videos of the scare zones and mazes, of the Bill and Ted's Excellent Halloween Adventure show. God I loved that show! We watched video after videos ome years, drinking in the fun everyone seemed to be having even while they screamed and ran. Year after year we sighed and gave our mother knowing looks as an ad, a mention, a mere scream related to the event came up. Year after year she stared right back at us until we backed down. Strong woman, my mother . . .
2013 came along and it was a wonderful time. I adored my college campus in my city's downtown area, going there with friends I'd had and cherished since middle school, and even the return of an old friend from elementary school who moved back from Georgia. Her name was Shyan and I remember being this strange mixture of weirded out and happy that we had seemingly picked up where we left off. My mother finally, finally decided it was the right time to allow us to go. She even decided to bring Shyan along, since we were two strange peas in a deformed pod. I . . . can't really tell you what all happened before the night; I don't remember any preparations beyond us getting into the car and hopping on the Turnpike to Orlando.
It was so odd driving there at one in the afternoon. All our previous trips had been started at 5:30 in the morning to make the most of the day and get in as many rides, as many times as we wanted. That wasn't the game we were playing this time around; We were there to get scared.
Halloween Horror Nights is a Spectacle at Universal Studios Orlando. The lights change . . . the area music at the gates change . . . the entire atmosphere is carefully curated to represent the taint of fear that permeates the park. The stench of blood mingles with that signature Fog scent, and the theme music is interrupted periodically with the screams of tortured souls. It. Is. Perfection. The sun was sinking and the shadows crept ever closer to you the nearer you got to the gate. God I remember how it felt to smell that HHN Fog, to almost gulp it in because the smell was so . . . unique! I wanted more of it!
I stayed close to my mom. Not out of fear, but because I was so excited and grateful to her for making this happen; she wasn't a fan of horror movies, and absolutely hated people getting in her face. Anyone who has gone to HHN knows very well this combination is an absolutely horrible clash with the event, and yet she walked in with us without even a grumble. I stayed near her to celebrate the newness of the event, and to try and offer some comfort when she inevitably got anxious in the crowds. My brother was at that surly age of puberty where his face could have been carved from marble in a brazen display of his unaffected state, and my mother appreciated that surefootedness a lot more than my hyper vibrating. Luckily I had Shyan to squeal with me and scream at every jerk and glare from the scare actors. It was so strange to look at my favorite theme park and barely recognize it! The broken "bodies" strewn about . . . the gratuitous amount of zombies since every damn scare zone corresponded to some season of the Walking Dead . . . the blood and agony! I ate it up like the sweetest dessert.
2013 was a hell of a year for houses and scare zones that I remember. There were 8 houses, and nearly all of them had waits upwards of forty minutes. But what could you do? We were in no way prepared to fork over the cash for express passes, but boy we were determined not to let the money go to waste. There were so many houses we were eager to try, especially the names we were all very familiar with- Resident Evil: Escape from Raccoon City, and Evil Dead were two houses I demanded we had to accomplish. It was near impossible to know someone who wasn't aware of the series of movies headed by Milla Jovovich, or the game series where nearly everyone loved Alice, and I had really enjoyed the recent remake of Evil Dead with probably quadruple the blood and pain.
Our first house ended up being the Walking Dead as we had arrived at the gate exactly at opening time and thus the usually crowded house was about 40 minutes. I was a huge fan of the show at the time, and had dragged my parents into knowing practically everything about the show. My father became a huge fan with me while my mother begrudgingly acknowledged it just because I loved it, and she loved me. I recall there being a major, nearly devastating case of butterflies in my stomach as I waited to enter my first ever house in my first ever HHN. I bounced on my toes, annoyed my mom and brother, and speculated over Evil Dead with Shyan. Those 40 minutes went by so fast, and then the house itself was both the longest walkthrough ever and over in the blink of an eye. The strobe lights took me off guard and made the movements of the "zombies" so much more abrupt and scary.
We stumbled out that house, with my mom complaining about the strobe lights and my brother brushing it off as not that scary, and I was absolutely hooked. I needed more. I wanted more of that heart pounding adrenaline, that panicky gallop of my heart and the involuntary screams I couldn't stop myself from letting come from deep in my chest. I turned to my family with a feverish haze in my eyes, a smile that was near manic stretching my cheeks painfully.
"That was AMAZING."
That night was one of my most precious memories. I won't go through a whole rundown of the entire event but, whoa . . .
My favorite house from that year? Urban Legends: La Llorona. It wasn't the most extravagantly constructed, and was one of the smaller houses, but there was something about the atmosphere that absolutely still gives me chills. The video pre-show they played while we waited in line, a mature female voice telling the legend in a dark and embittered voice was such a perfect introduction to the small, dark house. The blackened pews with veiled bodies, half of which moved, thrilled me. The beautiful designs that sought to transport you to once upon a time in Mexico were lovely to see; the candles, delicately embroidered cloth . . . The real kicker though? The one, single scene in that house- the two small bodies floating in a pond, the entire scene awash in monochromatic tones, a little boy and girl with dark hair plastered to their skulls and wrinkled clothes . . .
It made me sick to my stomach. I had tears in my eyes the whole rest of the way through the house. Even when Shyan joked about how that wasn't scary at all, I snapped at her about how badly shaken I was from that scene alone. I had to bite my lip to shut up when she just shrugged. That house has never left me, not once despite all the new horrors I've come to enjoy down the years.
I have fond memories about Afterlife: Death's Vengeance because it was a house that required 3-D glasses, such a wonderful concept to me at the time! It's not even the house I remember the most though. It's waiting in the queue, standing side by side with my mom, and swaying to Glenn Miller's "Moonlight Serenade." It was such a wonderful moment in the cool night, hearing that sweet melody from an old band. It was such a lovely contradiction, you know? That sweet song, sometimes tinged with melancholy, being the song I hear before plunging into the dark hell of a serial killer and his eternal torment from his poor victims.
There are so many moments that pop up for me thinking about that night . . . how my brother actually jumped from a scare by a clown in Cabin in The Woods, my mother cringing in Havoc, and just in general how starry eyed I was and full of a sweet heartache. There was never a doubt in my mind on that night, that HHN would be a part of my life for probably the rest of my life.
And just because it's been cancelled this year, doesn't mean that sentiment changes.
I'm okay with the fact that there won't be new memories to make this year, because I have so many years of memories to foster my spirit. Halloween Horror Nights helped me grow a deeper appreciation for horror, and the season of Halloween. That love and respect it still there regardless of any events trying to say otherwise. I can still read dark lore, still watch scary movies, still burn candles at the witching hour and shudder through chills under Gibbous Moons. None of that is gone, even when HHN isn't there. It's so solidly embedded in me in thanks in part to HHN, and it seems to me that to pretend otherwise is rather an insult to how impactful those special nights are to me.
I won't have Jack, I won's have Chance, or werewolves, zombies, chainsaw noises, or stilt walkers . . . but I will have Spooky Season. And that will be plenty enough until next year.
I'll be smelling HHN Fog real, real soon.
halloween
About the author
I write about Halloween, music, movies, and more! Boba tea and cheesecake are my fuel. Let's talk about our favorite haunts and movies on Twitter @ThrillandFear
Reader insights
Be the first to share your insights about this piece.
Add your insights