Movie Review: 'Project Wolf Hunting' is a Bloody, Gory, Gross, and Fun Horror Flick
Absurd levels of blood are spilled, sprayed, and splattered in the South Korean horror movie Projecting Wolf Hunting.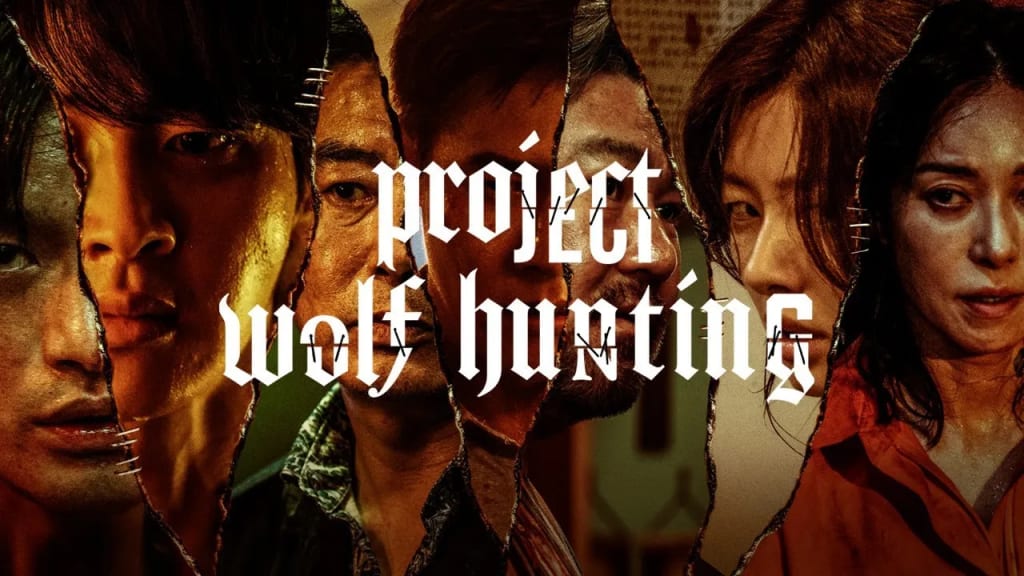 Project Wolf Hunting (2023)
Directed by Hongsun Kim
Written by Hongsun Kim
Starring Seo In-Guk, Dong Yoon Jang, Jung So Min
Release Date February 14th, 2023
Published February 9th, 2023
Deep within the bowels of a freighter steaming from the Philippines, traveling to Busan, lies a secret that most of the men on board are not aware of. The freight ship is carrying a group of criminals that had escaped to the Philippines back to face justice in South Korea. The secret cargo in the basement appears to be a living corpse. He's being seen to by a doctor and there are indications that he is somehow, miraculously alive, though how that's possible is a deep, dark secret.
The living corpse is clearly very dangerous. He's being held down flat in a metal cage structure. He's heavily sedated and constantly under guard. This being a movie however, we know that this monster will not remain locked up for long. Then there are the inmates, a dangerous lot of murderers, rapists, and assorted scoundrels. They know their fate back in South Korea and at least one of them, with a lengthy rap sheet and endless amount of tattoos, is determined not to see Busan any time soon.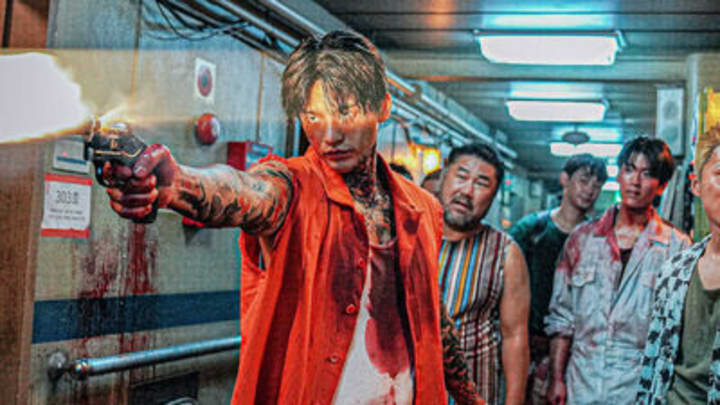 Aiding the malevolent inmates are a group of gang members posing as boat staff. They've managed to smuggle guns, drugs, and money on to the boat with the intent of hijacking the boat and directing it wherever their captured leader wants to go. Standing in their way is a strangely calm, fearless, and stalwart fellow inmate. This man carries a secret that is loosely related to the caged zombie monster in the lower decks and the shady pharmaceutical company that has had a hand in arranging this boat trip.
That's a lot of plot and there are several notable characters but that is not what Project Wolf Hunting is all about. Instead, the monster man in the lower decks is at the heart of the movie. His escape and ensuing, bloody, gory, violent, rampage takes up most of the action of the movie. This is a terrifying monster, part Frankenstein's Monster, part zombie. and seemingly unstoppable, one of his first acts is to punch an inmates jaw right off of his face in explicit fashion.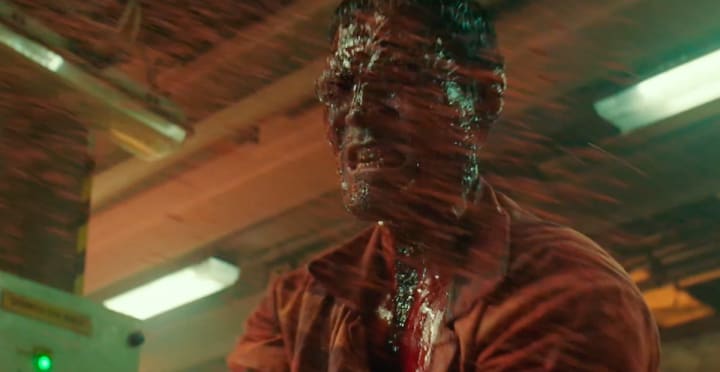 Once this unstoppable monster is loose, Project Wolf Hunting is a very different movie. The conspiracy plot, involving the pharmaceutical company is still playing out, but that's very much not the point. Rather, the movie changes to become a series of ever escalating violence and gore. The monster unceasingly pursues anyone he can get his hands on, brutally crushes their bones as their blood sprays uncannily in all directions.
Director Hongsun Kim doesn't make much time for characters or stories to be told. Rather, he's more interested in his special effects, especially blood spatter. If watching the ways Kim can spray blood on walls, on other people, on various boat components, is of interest to you, you will love Project Wolf Hunting. I must say, it worked for me. The shift from a rather mundane narrative to the absolute nuttiness of a gorefest was kind of a fun twist. Imagine if Con-Air suddenly became a latter years Friday the 13th movie and you can get a sense of the wild crazy world of Project Wolf Hunting.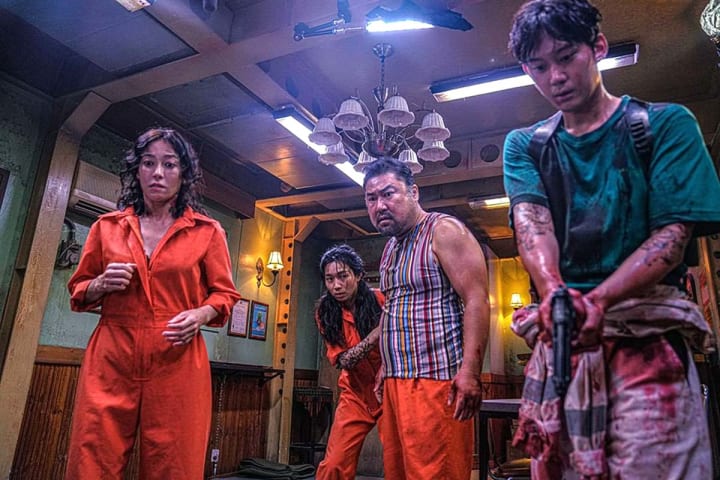 I was aware that that was where Project Wolf Hunting was headed based on the reputation the film has built from brief runs in festivals last year. But that knowledge did not take away from the experience of Project Wolf Hunting. You might think my description will prepare you for the amounts of blood and the vast array of ways it is spilled, splattered, and sprayed, but I don't think you. This is a lot of blood and a lot of bone crushing violence and knife wounds to get to this much blood.
Did I enjoy Project Wolf Hunting? Yes, yes I did. There is an air of absurdity that makes the extreme violence and bloodshed palatable. If you are someone who enjoys this kind of extreme horror and violence, Project Wolf Hunting is incredibly appealing. It's all very well accomplished on a technical level, with just the right level of absurdity to leaven the insanity and gore. I was genuinely impressed, especially with the main man monster, a supremely scaring looking monster. His eyes are stapled shut and there is something deeply unsettling about that. Then there is the exceptional sound design that makes his every step sound like he's made of a heavy, indestructible copper.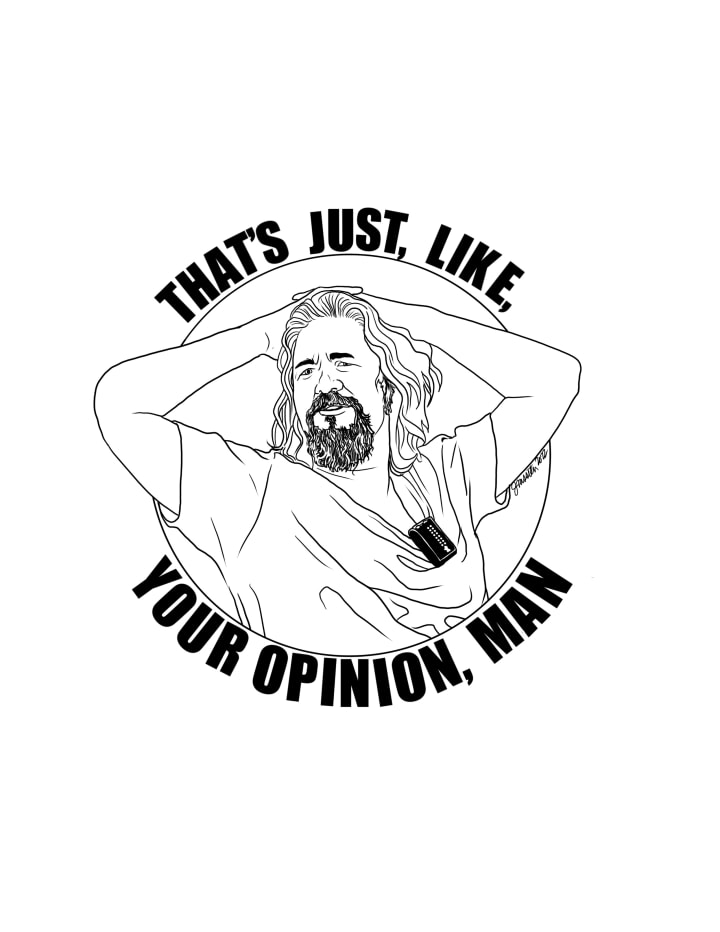 That's fun. That kind of nonsense is fun for me. If that sounds fun to you, Project Wolf Hunting is a must see. If you don't enjoy that kind of crazy level of horror violence, stay far away. The film doesn't have another gear below constant blood and guts. There is no room to breathe between the endless sprays of blood and cracking of bones. Project Wolf Hunting arrives on most digital on-demand rental services just in time for Valentine's Day, February 14th, 2023.
Find my archive more than 20 years and nearly 2000 movie reviews at SeanattheMovies.blogspot.com. Find my modern review archive on my Vocal Profile, linked here. Follow me on Twitter at PodcastSean. Follow the archive blog on Twitter at SeanattheMovies. Listen to me talk about movies on the Everyone's a Critic Movie Review Podcast. If you've appreciated what you have read, consider subscribing to my writing on Vocal. If you'd like to support my writing, you can do so by making a monthly pledge or by leaving a one-time tip. Thanks!
About the Creator
Hello, my name is Sean Patrick He/Him, and I am a film critic and podcast host for Everyone's a Critic Movie Review Podcast. I am a voting member of the Broadcast Film Critics Association, the group behind the annual Critics Choice Awards.
Reader insights
Be the first to share your insights about this piece.
Add your insights